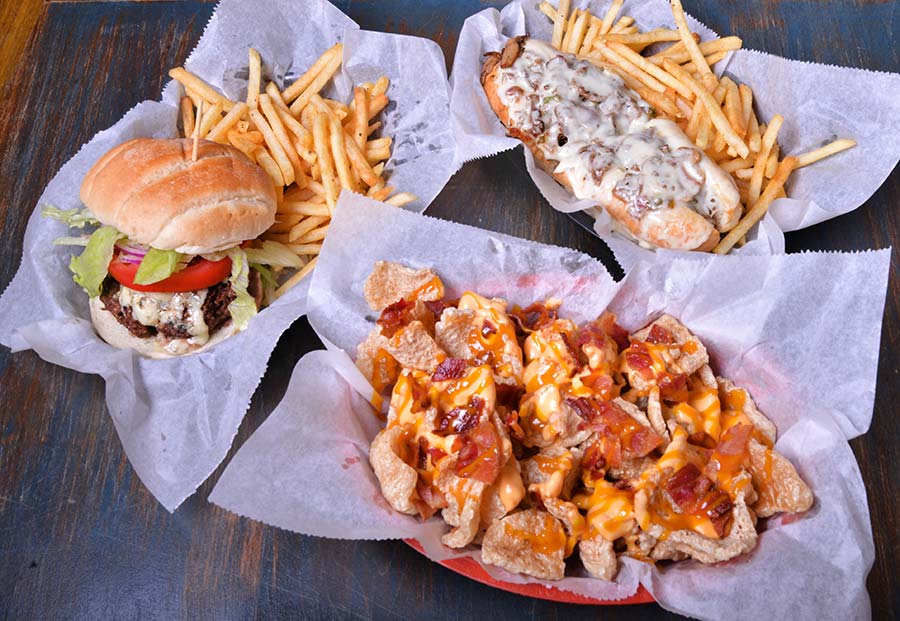 Food, glorious food!
Enjoy a burger and cake with some of the music greats.
Located on Donnelly Street in Mount Dora, Rockin' Café is a place where you can start your meal with Pigskin Nachos. I have to say, the fresh pork rinds topped with cheese, barbecue sauce, and bacon are really good.
My friends and I hit the Rockin Café at lunchtime and enjoyed the ambience while waiting for our food. You'll see rock stars, concert posters, and album covers decorating the walls. If you see one you really like, you can buy it. 
Though we all looked at the salads, we couldn't resist the sandwiches. While I enjoyed a piping hot, stuffed-to-the-rim Philly cheesesteak, one coworker had the Ultimate BLT, which had seven pieces of thick Applewood bacon and melted Swiss cheese. We both ordered the homemade chips, which were cooked to perfection. Our other lunch partner is a hamburger aficionado, and he picked the Rock 'n' Roll Burger, which is topped with smoked bleu cheese crumbles along with lettuce, tomato, and onion.
Everything was excellent. The meat was tender and juicy on both the hamburger and the cheesesteak, and the bacon was pronounced the "best I've ever had." To top everything off, when you dine in, you get a free piece of cake that's made fresh every morning.
5 Forks
(Out of a possible 5)
Rockin' Cafe
622 N. Donnelly St., Mount Dora
352.720.5951
Hours: 11am-8pm daily
Fork report:
Casual dining $
Seated immediately (lunch hour)
Wait for meal: 10 minutes
Appetizers: ($5.99-$6.99): Fresh-baked pretzels with beer cheese sauce, or pork rind basket with your favorite hot sauce
sandwiches: ($8.99-$10.99)Gryo, double-stacked Reuben, chicken cordon bleu, mahi tacos, Rock 'n' Roll Club, build your own club.
burgers: ($8.99-$10.99): All burgers made with Angus beef. Tour Bus (sautéed mushrooms and red onions, Applewood thick bacon); Roadies (pepper jack cheese, signature sauce); The Manager (grilled turkey patty, pepper jack cheese)
Leigh Neely began her writing career with a weekly newspaper in the Florida panhandle, where she not only did the writing, but delivered the papers to the post office and dispensers. She has been writing ever since for a variety of newspapers and magazines from New Jersey to Leesburg. With her writing partner, Jan Powell, Leigh has published two novels as Neely Powell.
Share This Story!