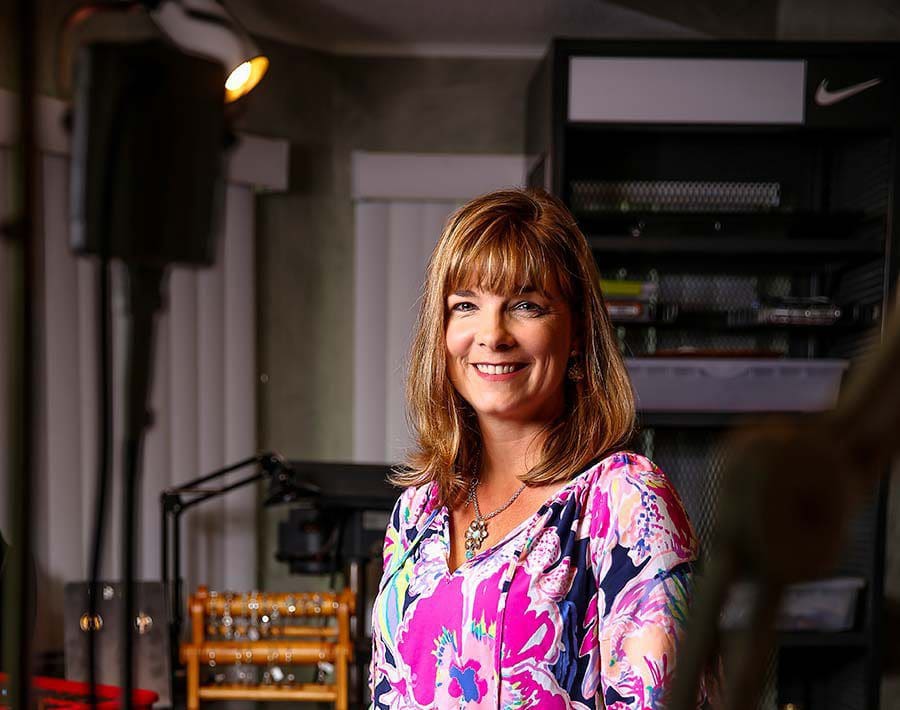 Military veteran and stay-at-home mom creates one-of-a-kind jewelry from quarters and pennies.
Story: Theresa Campbell // Photos: Fred Lopez
Tabitha Lauer remembers hearing stories from her late grandfather about trench art made by World War I and II soldiers passing the time while away from the front lines.
Her grandfather served in Korea and talked about his uncles in the earlier wars. Tabitha was in the military, too, stationed in Germany from 2000-03, working in personnel with the U.S. Army.
"I loved the sense of being part of something bigger than me," Tabitha, 38, of Tavares, says of her service.
And while she marveled hearing about trench art from shell casings and other objects, Tabitha was inspired to use non-collectible coins to create artistic jewelry.
It was around four years ago when she began hand drawing and cutting out designs of nature and wildlife on coins. Each necklace or bracelet takes about six hours to create. She often uses a small file, a little saw, hammer, and doming tool to create each piece.
"It's relaxing," she says. "I have overwhelming peace when I make a piece, and it is exciting to me that someone is going to wear a piece that I have put a lot of love into. I never thought people would like what I make, but they often say that it's cool. They can't imagine that it's from a coin."
Tabitha loves seeing customers find that one jewelry piece that speaks to their hearts; some request special orders of designs they have in mind.
"The fact I can make something that gives them a memory that is meaningful to them means a lot to me," she says.
She meets many customers at art shows. Her next one will be May 6-7 in Sanford.
"I want to leave as much detail as I can on the coin," she says, showing an eagle on the back of a Kennedy half-dollar. "It's a cool factor."
One of her favorite creations is a flower made on a silver half-dollar with copper penny petals and a turquoise setting in the center.
"I would absolutely love to make a cut-out of my children, a profile of their faces," she says of a future jewelry piece for herself that she longs to do of her kids, ages 13 and 10.
"I'm a little nervous about trying that because people's faces are difficult," Tabitha says. "One day, I will get there."
Originally from Anderson, Ind., Theresa worked for The Herald-Bulletin for many years. After experiencing a winter with 53 inches of snow, her late husband asked her to get a job in Florida, and they headed south. Well known in the area, Theresa worked with The Daily Sun and The Daily Commercial prior to joining Akers.
Share This Story!