SCORE offers more online workshops to assist small businesses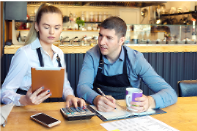 In keeping with safe distancing guidelines, the SCORE Mid-Florida Chapter now offers all workshops online, with a broader selection of workshops and business events than before, according to a news release.
SCORE Mid-Florida serves Lake, Sumter and Marion counties by helping small businesses through a network of volunteer, expert business mentors. SCORE is a 501(c)(3) nonprofit organization and a resource partner of the U.S. Small Business Administration (SBA).
Here's the lineup of online webinars:
"Successfully Marketing Your Business"
7pm Wednesday-Thursday, May 13-14
This workshop will give you the skills you need to successfully market your product or service.
"Managing Cash to Survive the Pandemic"
7pm Monday, May 18
You must decide if you have the cash to survive until things turn around.
"Simplified Business Plan Preparation"
7pm Wednesday, May 20
Learn how to efficiently create your business plan.
"Managing Finances for a New Business"
7:30pm Wednesday-Thursday, May 27-28
Proper management of finances is crucial to the success of any business.
"Creating a Cash Flow Analysis for the Pandemic"
7pm Monday, June 1
Learn the basics of cash-flow analysis so you will be in a position to analyze your own business.
"Managing Cash to Survive the Pandemic"
7pm Wednesday, June 3
This webinar is for Spanish speakers.
"How to Start a Business"
7pm Monday, June 22
This webinar is for Spanish speakers.
Register for your personal invitations at https://tinyurl.com/yahzoqn5
See https://midflorida.score.org/content/take-workshop-6 for more information.