This 'N That: Seuss on the loose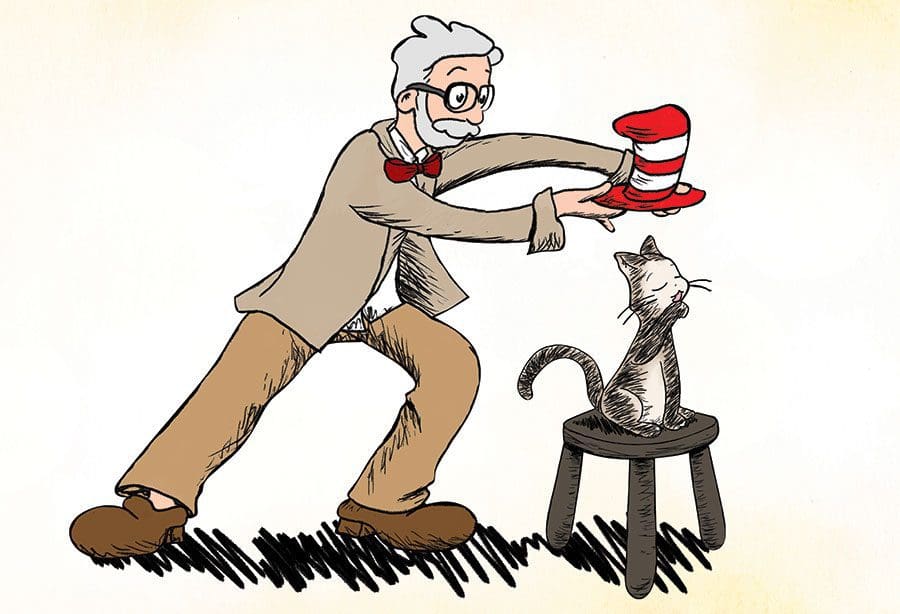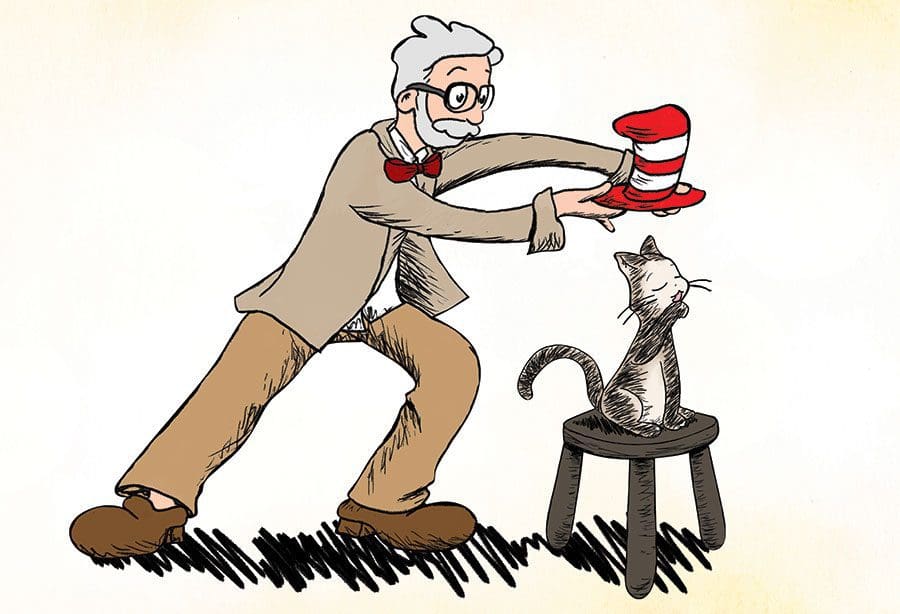 Journal tells tall tales about the good doctor.
Sad news in the world of whimsy: Audrey Geisel died recently at 97. She was the widow of the late Theodor Geisel, better known as Dr. Seuss, the author of dozens of children's books. The couple was married for 23 years, and Audrey continued to champion her husband's works after his death in 1991, according to news reports.
The old adage "You can't judge a book by its cover" certainly doesn't apply literally to Dr. Seuss' books. One look at the colorful illustrations of wacky characters tells readers that they're in for a fantastic journey.
In real life, however, what could we tell by looking at Dr. Seuss? Audrey's secretly obtained journal reveals that life was not always a hoot in Whoville. Here are some random examples:
July 7, 1973: Not sure what to do with Ted anymore. He keeps trying to put a hat on the cat.
Jan. 3, 1983: He wants me to always address him as "Doctor." If he's a doctor, then I'm a lorax.
Sept. 26, 1968: Ted's family was over for dinner tonight. What a cacophonous calamity. There were rooters and tooters and funky fandangos, jeepers and creepers and tumultuous tangos, rumblers and tumblers and hullabaloos, and to top it all off, they ate us out of food and drank us out of booze.
March 15, 1971: I'm growing suspicious of Ted. Last night, I could not find him here or there, I could not find him anywhere. I could not find him on a boat, I could not find him with a goat. I could not find him on land or air, I think my Ted is having an affair.
June 18, 1970: Since he stopped experimenting with LSD, Ted's creativity has really tailed off.
Aug. 8, 1985: "Horton Hears a Who" is being reprinted for the millionth time. He refuses to try my idea, "Horton Hears the Who," in which an elephant loses its hearing at a Who concert but is befriended by the hearing-impaired band members.
Aug. 11, 2002: Little-known fact: The band Foo Fighters took its name from one of Ted's early works, "Horton Fears the Foo."
Dec. 1, 1989: Ted keeps calling me "sneetch." I haven't the foggiest clue what he means by that, but if he calls me sneetch one more time, oh, the places he'll go!
Feb. 28, 1985: People don't realize "The Butter Battle Book" is based on a true story. He eats his bread butter side down! Drives me nuts. Then he made a book out of it. The nerve of that man.
Jan. 31, 1969: Ted's in the basement, mixing up the medicine. I'm on the pavement, thinking about the government. Oh, wait. Those are Bob Dylan lyrics.
May 28, 1990: Ted keeps yelling at the neighborhood kids to stay off our grass. He says it's sacred Zax land. What a grinch.
June 21, 1988: 20th wedding anniversary today. Ted gave me an autographed photo of Boris Karloff. Just what the hell am I supposed to do with that?
June 22, 1988: I can't get his incessant rhyming out of my head. Hop on pop. Fox in socks. Lox in box. Mouse in house. Policy on life goes to wife. Plan in hand, hire hitman. Ted in bed, hit on head.
June 23, 1988: Oh, of course, I was only joking yesterday. I would not leave him on a dare, I would not leave him for a bear. I would not harm him like a flea, I would not harm him for a fee. I took a vow, won't have a cow. I'm not a miss, I am a ma'am, I'm Dr. Seuss' wife I am. Please, somebody stop this madness!
Oct. 14, 1984: Nuclear war. Politics. Social activism. Enough already, Ted. Just write something cute about a pink bunny.
Dec. 31, 1982: Every morning, the same thing: green eggs and ham.