Local Talent: She's a natural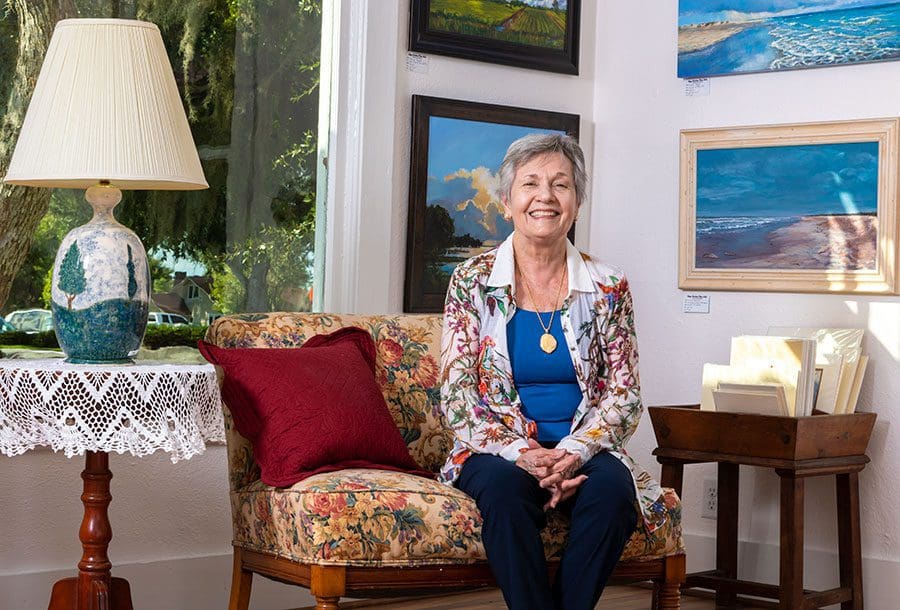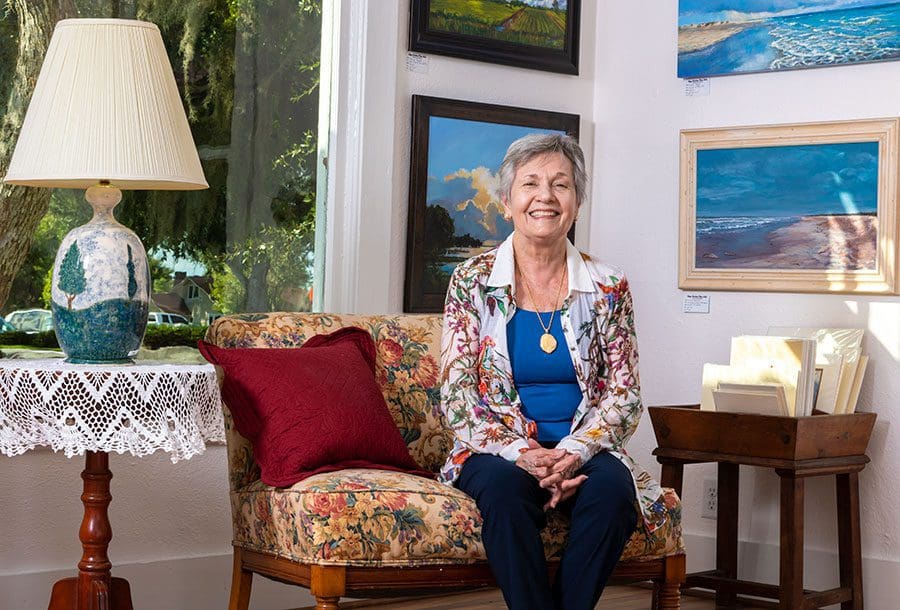 Artist Hope Barton features Florida scenery at her Clermont gallery.
Florida's natural beauty is recognized worldwide, so it's no wonder that an artist would want to capture it. Hope Barton, for example, has a simple motivation behind her artwork.
"I like swamps," she says. "The palm trees and cypress trees, the part of Florida that nobody sees when they come down 75 or 95. I like the real, old native Florida."
An ideal locale to find "real Florida" is Suwannee on the Gulf Coast, where Hope and her husband, Ed, have a place. She takes photographs there and works from them to paint realistic landscapes in green, brown and orange acrylics. Since August, she's had a new venue to display those scenes, the Hope Barton Fine Arts Studio and Gallery at 647 Lake Ave. in Clermont.
The gallery, located in a house built in 1915, opened after six months of renovations. In addition to displaying the work of several talented artists from the area, Hope also paints in the space—often while watching movies on Netflix.
Hope has hosted a show by the South Lake Art League, an exhibition titled, "A Celebration of Light and Color," by Leesburg artist Sharon Repple and workshops for budding artists.
"I'm doing this by the seat of my pants actually," says Hope, a former printmaker. "I think what I'd like to do is have a workshop a month. I want to invite some artists from Orlando that I know. I used to do the show circuit all over the state, the big juried shows, so I know a lot of fine artists."
The gallery displays pottery, glasswork, jewelry, watercolors, acrylics and crafts. The walls are also filled with her work, such as "Stormy Day at the Beach" from near St. Augustine, "Demry Creek," a forest of cypress along a creek, and her latest, "Grasses and Reflections," a Suwannee marsh scene that is an impressionistic departure for Hope.
This studio is a sequel to one she owned from 1997-2002 at Montrose and 7th streets in Clermont. She later moved to St. Augustine, where she found a home for her artwork in galleries, hospitals and health centers. The couple returned to Clermont in 2017 and downsized, leaving Hope looking for new studio space.
"My original vision was just to have a little place for me and my artwork," she says.
But those plans may be growing like a cypress on the Suwannee River.
If you go
What: Open house for "Florida Fields and Trees," by Gainesville artist Linda Blondheim.
When: 2-5pm Jan. 26.
Where: Hope Barton Fine Arts Studio and Gallery, 647 Lake Ave., Clermont.