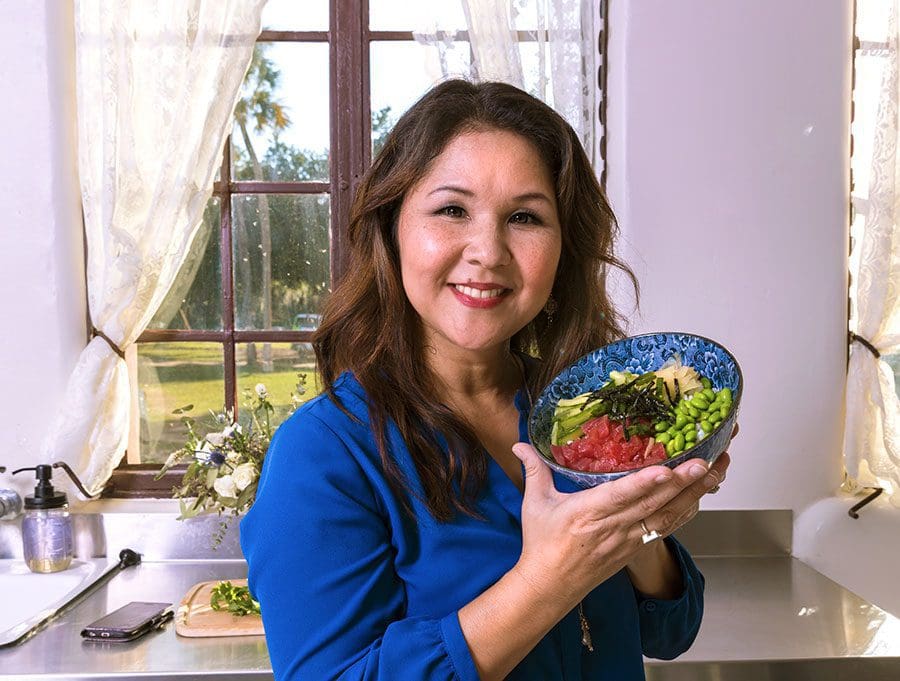 Howey Mansion's artistic director and opera singer cooks healthy Japanese dishes.
s executive and artistic director of the Howey Mansion Music Series in Howey-in-the-Hills, Arisa Kusumi Sullivan organizes concerts at the mansion and balances it with her active career as a light lyric soprano opera singer. She has sung in more than 300 opera performances throughout the United States, Europe and Mexico and is a regular adjudicator for international voice competitions.
Arisa also relishes being creative in the kitchen.
"I love cooking and, yes, sometimes I do sing as I cook," says Arisa, who agreed to share her favorite recipes with Style. 
Food chat with Arisa
Strive to be health conscious: Being a performer and mom in my 40s, I am very health conscious, not only because I want to be as healthy and fit as possible for my public career, but also because I want to be a mom that can be active and live a long time for my two children, ages 8 and 12.
My thoughts on healthy eating: I have always eaten relatively healthy for my whole life. My parents are Japanese, and we ate a lot of Japanese food at home, which is naturally healthy. Japanese people are known for their longevity and are some of the oldest people in the world. I actually feel more uncomfortable indulging in too much fatty food, and I prefer to live a healthy lifestyle. For my family's sake and mine, I generally choose local, fresh, organic and/or hormone/pesticide-free whenever I can.
Indulging now and then: I am health conscious year-round, but I still believe in enjoying the good things in life. I try not to deprive myself of things, especially around the holidays when there is so much good food to be had.
Guilty food pleasure: My main weakness is carbs. I love rice and pasta.
When feeding my children: I try to avoid giving too much processed or colored food to my kids. I also tell my kids to limit the amount of sugar they take in on a daily basis (special occasions are exceptions), because that can be quite a lot of work for your pancreas and can send you on a blood sugar roller coaster.
Food rule I live by: My general rule is a popular saying in the Greek culture: "Everything in moderation." When you avoid depriving yourself, you are better able to prevent overindulgence. So, letting yourself have a moderate amount of this or that seems to be a good rule to live by.
Pad Thai
Ingredients
8 ounces wide rice noodles
1 tablespoon lime juice
1 tablespoon orange juice
2 tablespoons brown sugar
2 tablespoons fish sauce
1 tablespoon rice vinegar
1/4 teaspoon paprika
2 tablespoons vegetable oil
1 bell pepper, thinly sliced
2 cloves garlic, minced
2 eggs, lightly whisked
1 lb. shrimp, peeled and deveined
2 green onions, thinly sliced
1/4 cup roasted peanuts, chopped
freshly ground black pepper
chopped cilantro (optional)
Directions
Soak noodles in warm water until they are softened and flexible. Drain. In a small bowl, whisk together lime juice, orange juice, brown sugar, fish sauce and vinegar. Set aside.
Heat oil in a large nonstick pan (preferably a wok) over medium-high heat. Add bell pepper and green onions and cook until tender, stirring occasionally, about 3-4 minutes. Stir in garlic and cook until fragrant, about 1 minute more. Add the shrimp and season with salt and pepper. Cook until pink, about 2 minutes per side.
Push the shrimp and vegetables to one side of the pan and pour in the egg. Scramble until just set, then mix with the shrimp and vegetables. Add the softened noodles, the fish sauce mixture and paprika. Toss gently until the noodles are coated and cover for two minutes, tossing the noodles intermittently until soft and they have absorbed the liquid mixture.
Serve the noodles on a large platter and garnish with roasted peanuts (add chopped cilantro if desired) before serving. 
Asian Poké Bowl
Ingredients
1  1/2  cups sushi rice cooked and steamed (cooked ideally in a rice cooker or instant pot)
2 tablespoons sushi vinegar (or 2 tablespoons of rice vinegar mixed with 1 tablespoon of sugar)
1/2 cup frozen shelled edamame
1 scallion, thinly sliced
1 tablespoon fresh lime juice
1 tablespoon fresh orange juice
1 tablespoon of mirin (sweet rice wine)
1 tablespoon low-sodium soy sauce
1 tablespoon toasted sesame oil
1 teaspoon pickled ginger sliced thinly (from the jar)
1 lb. sushi-grade tuna, cut into 1/2 inch cubes (substitute with sushi-grade salmon, smoked salmon or cooked beef/chicken to taste)
1/2 English cucumber, peeled and finely chopped
1/2 sheet of sushi nori finely sliced with kitchen scissors into 1-inch strips
1 tablespoon of canned fried onions (optional)
toasted sesame seeds for topping
Directions
Mix together all of the steamed rice with the sushi vinegar mixture in a large, wide and flat bowl and allow to cool to body temperature. Make sure not to mix the rice too much or it will become gummy. Mix the rice with a rice paddle or flat wooden spatula in vertical strokes for best results.
Meanwhile, mix the lime juice, orange juice, mirin, soy sauce and sesame oil in a separate bowl, stirring well.
Once the rice has cooled to body temperature, place the rice in a deep individual bowl or rice bowl. Fill the bowl to about 3/4 full of the rice.
Carefully arrange the raw tuna cubes (or your choice of meat), the cucumber, pickled ginger and edamame neatly and artistically on top of the rice in sections.
Pour the soy sauce mixture on top of the bowl ingredients. Then sprinkle the nori, sesame seeds and scallion (and optionally canned fried onions) on top to finish.
Eat immediately after preparation to keep the fish fresh. 
Japanese Hambahgu (hamburger steak)
Ingredients
3/4  cup Panko bread crumb
1/4 cup milk
2 lbs. ground turkey dark meat (or lean ground beef)
1 medium onion, chopped fine
1 egg
1/2 teaspoon salt
1 teaspoon Worcestershire sauce
1-2 teaspoons oil
pepper 
Sauce
1/2 cup ketchup
1/4 cup Worcestershire sauce
2 tablespoons soy sauce 
1/4 cup of water
Directions
Put Panko in a large bowl, add milk and stir. Add meat, onion, egg, salt, pepper and Worcestershire sauce to the Panko mixture. Mix with your hands well.
Divide the meat into 8 parts and form into hamburger patties about 1.5-inches thick. Push an indentation into the middle with your thumb.
Heat oil in a frying pan at medium temperature, place the patties in the hot oil and fry for 2-3 minutes on one side until browned. Flip over and fry for 2-3 minutes covered and brown on the other side. Meanwhile, mix ketchup, water, soy sauce and Worcestershire sauce in
a bowl.
Uncover the pan, add the ketchup mixture and simmer on medium heat until the liquid becomes a thick and tasty sauce (gravy consistency). Serve with hot white rice.
Originally from Anderson, Ind., Theresa worked for The Herald-Bulletin for many years. After experiencing a winter with 53 inches of snow, her late husband asked her to get a job in Florida, and they headed south. Well known in the area, Theresa worked with The Daily Sun and The Daily Commercial prior to joining Akers.
Share This Story!