Six lake county fire rescue firefighters promoted to lieutenant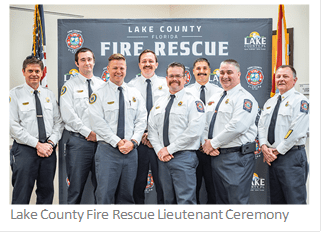 Lake County Fire Rescue held a pinning ceremony on Jan. 29 to promote six firefighters to the rank of lieutenant, according to a press release. Fire Chief Jim Dickerson and Deputy Fire Chief Chris Sievert led the ceremony. 
"I challenge the six new lieutenants here today to always be agents of change as they continue to serve the public," says Fire Chief Jim Dickerson.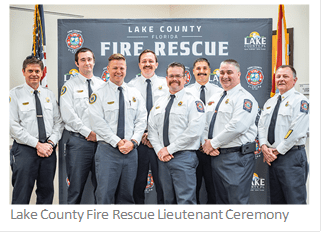 Lieutenants are selected out of quality candidates who attend in-house classes and pass a lieutenant's exam. They are evaluated for interpersonal skills, tactical consideration and public speaking. These skills will help them in taking control of fire scenes, overseeing equipment and ensuring it is in proper working order, and managing their teams.
"Not only will these new lieutenants serve as co-officers and leaders, but they will also take on the role of mentor to those serving under them," says Deputy Fire Chief Chris Sievert. 
Each new lieutenant's promotion will be honored at the annual pinning ceremony on March 13 at Lake-Sumter State College. 
Find more information on Lake County Fire Rescue at lakecountyfl.gov/offices/fire_rescue.