Soaking up the atmosphere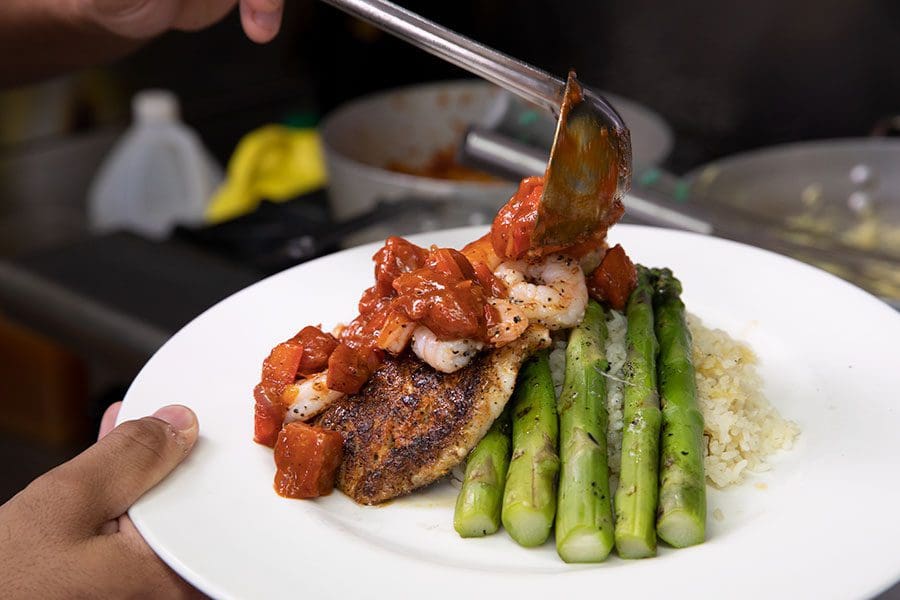 Bluefin's culinary manager delights in cooking seafood and steaks and mingling with guests.
Story: Theresa Campbell ≈ Photos: Anthony Rao
Before the start of a busy workday, Bluefin Grill & Bar's head culinary manager Ezekiel "Zeke" Springs savors the moment in one of the restaurant's comfortable and classy dining areas near the elegant cocktail bar where the contemporary décor is striking in colors of turquoise, white and gray.
"I just love the atmosphere. It's a beautiful restaurant and the food is great. We have a really good time. It's like a family," Zeke says of the restaurant that opened in September 2018 at Brownwood Paddock Square in The Villages. He has been with Bluefin since November 2018 and manages a team of 25.
He was used to a slower, more casual pace at a previous upscale restaurant in South Carolina, so his first days at Bluefin took him by surprise.
"I've seen us serve 700 people a day," Zeke says. "The volume here is crazy. Every day, there's always something new." Even on a slow day, he adds, Bluefin will average 300 to 500 people.
Zeke takes pride in Bluefin's refined menu where everything is made from scratch, including the special finishing touch of sauces that top some of Bluefin's seafood dishes and steaks. The sauces include ginger soy reduction, butter braised tomato sauce, lemon butter, mango salsa, dark rum beurre blanc and garlic tarragon butter sauce.
Among Bluefin's popular dishes are scallops, coconut haddock, filet with shrimp, tuna and salmon.
"I enjoy coming to work, cooking and feeding people. I feel proud every day when I look at the food we serve. The ahi tuna pepper steak is one of my favorites," Zeke says.
The ahi tuna is enhanced with cracked black pepper and served with roasted wild mushrooms, roasted garlic mash potatoes, creamy garlic tarragon butter sauce and toasted sesame.
"Our fish and chips turn out great every time," Zeke adds, referring to the red beer-battered haddock served with fries and slaw.
Cooking seafood dishes has been his gig for "pretty much all of my life," says the South Carolina native. "My first restaurant I worked in when I was 16 was a nice fine dining restaurant and I was there for seven years."
He began by bussing tables and learning restaurant skills as he worked his way into the kitchen to master cooking seafood dishes.
"I make food for people of
the things I would want to eat," he says. "I don't serve something I wouldn't eat."
He delights in knowing some diners have been regulars since Bluefin opened and they visit two to three times a week. One diner asked Zeke if he could prepare a special off-the-menu birthday dinner of Tomahawk steak, which he was pleased to do.
He moved to Ocala one year ago and relishes preparing meals for The Villages' residents and visitors.
"The people are super-nice," he says. "Everyone is here to have a good time. The bar is always busy and it's always fun to mingle with the guests."
It's not unusual for Zeke to get asked for seafood cooking tips or receive special food requests.
"I love listening to people and seeing what I can bring in. Things that they request, I try to make it happen," he says.
---
AHI PEPPER STEAK
Ingredients
7 ounces fresh ahi tuna or personal preference
1 – 1/2 cups raw wild mushrooms
Your favorite mashed potatoes
1/2 cup Alfredo sauce
2 tablespoons fresh chopped tarragon
2 tablespoons course black pepper
Salt to taste
2 tablespoons butter
1 cup mushrooms (for topping)
Directions
Sauté wild mushrooms with salt, pepper, butter until slightly tender. Set off to side. Coat tuna with black pepper until fully covered. Sear on each side for 30 seconds to 1 minute on each side. Slice tuna against the grain into thin slices. Heat up Alfredo sauce and add chopped tarragon. Place potatoes in a mound in a bowl. Then add cooked mushrooms. Put about 3-4 ounces of sauce on top of mushrooms and potatoes. Add sliced tuna on top.
---
CREOLE SNAPPER
Ingredients
1 cup demi glaze
1/2 cup of tomato paste
1/4 cup red onions diced
1 tablespoon garlic
1/4 cup of red peppers diced
1/4 jalapeño diced
1 tablespoon Cajun seasoning
1 tablespoon blackened
seasoning
Skinless filet of snapper
6-8 per plate of 31 / 40 shrimp size
Directions
Sauce
Warm demi glaze to a nice constituency. Add tomato paste until it's smooth. Add garlic, red peppers, jalapeños and seasoning. Let it reduce and simmer.
Fish
Season fish based on level of spiciness desired. Get nonstick pan hot and use just a little oil. Lay fish down face up. Sear 3-5 minutes each side. Sauté shrimp and then cut up and add to sauce. Ladle sauce over fish. This entrée is best paired with rice.

---
Chef chat
Favorite way to chill out: I am a sports fanatic. I love football, basketball, soccer, baseball. I love watching sports. I'm a big Clemson fan and a Carolina Panthers fan, too. I love going to the beach and hang out with my family. I'm a very easy-going and a relaxed person.
Favorite comfort food: Fried chicken. Anytime I go out of town, I try to find the best fried chicken. I like it to have a little spice, a nice crunch and not be dried out.
Seafood cooking: Seafood is really delicate. There are different ways to cook seafood. Some fish you can grill and some you can't; things that you can fry or can't fry. Do a little research. A very firm fish is not good for frying; you want more of a flaky fish. When grilling, you don't want a flaky fish, you want more of a pan-seared item to hold the flavor. Grilling kind of drains all the juices out, so you want a firm fish that is going to hold the flavor together.
People would be surprised to know:I love to get in a nice workout about five days a week, early in the morning, and then I can eat what I want. You don't see a lot of chefs work out, but I always feel motivated and great when I do.
Thanksgiving with Zeke: I don't do the traditional Thanksgiving meal. I'll get some really nice steak and grill steaks for something different.
My guilty pleasure:I'm a sucker for a good, warm chocolate chip cookie with milk, and I will kill a dozen at night.
Eat at home or go out:I normally go out to eat after a long day of working.
No fast food, except:I try to stay away from fast food, except my go-to is Chick-fil-A, where I get the No. 1 with cheese.
If I could cook for a celebrity, it would be: Peyton Manning, he was my favorite quarterback. I'd also cook for the Rock or any of the celebrity chefs. I have been to Gordon Ramsey's steakhouse in Vegas, and it was the best steakhouse I've been to. I was really impressed.
Originally from Anderson, Ind., Theresa worked for The Herald-Bulletin for many years. After experiencing a winter with 53 inches of snow, her late husband asked her to get a job in Florida, and they headed south. Well known in the area, Theresa worked with The Daily Sun and The Daily Commercial prior to joining Akers.
Share This Story!