Social Spotlight: A float-away getaway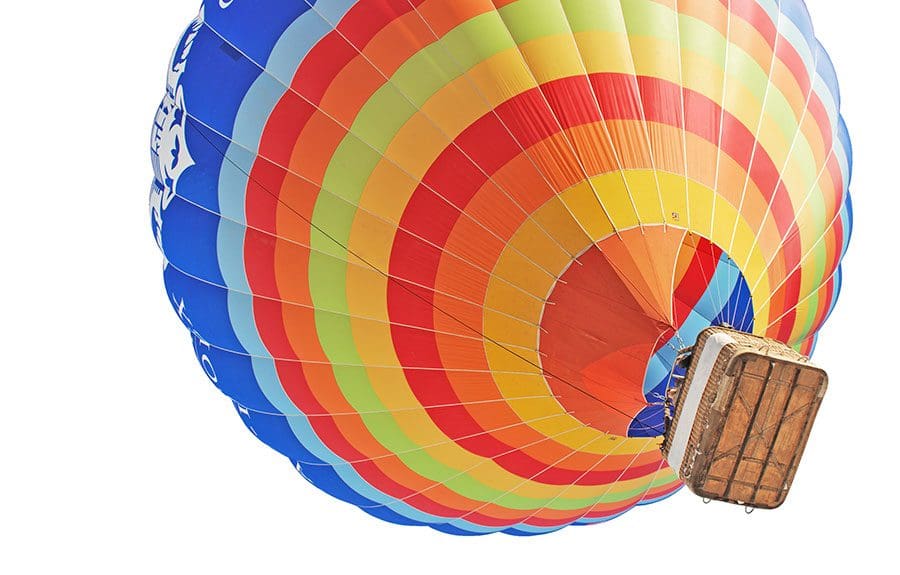 Hot-air balloon rides allow passengers to see the Central Florida landscape in a new way.
Bob Carlton has flown hot-air balloons for four decades all over the United States and the world, and he still marvels at seeing serene, breathtaking sights with each flight.
The bird's-eye view, he believes, is simply stunning.
"Early morning is the prettiest time," says Bob, 67, a pilot for Clermont Balloon Rides for nearly 20 years. "We like to launch early enough to watch right at sunrise. It's the coolest, calmest and most peaceful time of the day."
Passengers have been excited to see a new perspective of familiar attractions, including the Disney skyline. Many also have been surprised by unexpected sightings of deer and wild animals from 1,200 to 3,000 feet in the air.
"And that's even the neatest part of it for me, to be able to see nature," Bob says. "You're floating along and you've got all this wildlife below you that you normally never get a chance to see."
Bill Moran, another pilot with Clermont Balloon Rides, learned to fly with Bob.
"Bob is one of the most competent pilots around, and I always felt 100 percent safe flying with him. He's quite the entertainer," Bill says.
The company has 35 different launch sites in Lake County, and the winds on a given day determine where the takeoffs and landings will be. The company often works in conjunction with five to 20 area balloonists to launch in the same fields around the same time, making the visual experience more enjoyable for passengers and spectators alike.
Bob has participated in balloon festivals in The Villages, and he's eager to soar into the skies again.
Because of COVID-19, everything is up in the air (no pun intended) as to when Clermont Balloon Rides can allow passengers to enjoy hot-air balloon rides. The business falls in the entertainment, nonessential sector, and Bob was hoping to return to flying by Phase II of the state's reopening.
Passengers obviously are in close proximity while riding in the gondola. Couples and small families make up most of the riders.
"One of the big concerns is that we cannot give passengers the 6-foot distancing in the basket," Bob says.
Since his first flight in 1976, the Miami native has flown for several companies and amassed thousands of hours of flying all over the United States, Australia, Canada, New Zealand, United Kingdom, France and Switzerland.
From 1978 to 1980, Bob flew the Budweiser, Black Angus and Westinghouse balloons for World Balloon Corp. in Albuquerque, New Mexico. He also guided balloons for 12 years for Walt Disney World, flying the Mickey Mouse, Donald Duck, Cinderella's Castle and Spaceship Earth balloons.
"We like to launch early enough to watch right at sunrise. It's the coolest, calmest and most peaceful time of the day."

– Bob Carlton
"I've been blessed," Bob says. "I've been fortunate to be able to travel, and Disney put me in places that I could not fly on my own."
He remembers picturesque flights over Niagara Falls, Mount Rushmore and the mountains in New Mexico, and he aspires to participate in a balloon event at Oljato-Monument Valley, Arizona, noted as sacred land of Native Americans.
"The sunsets are beautiful. The rock formations are just stunning," he says. "I'd love to go to Monument Valley and fly there. That is one thing on my bucket list as a balloonist."
Bob recalls being mesmerized in the 1970s by the sight of a balloon race from the Bahamas to Fort Lauderdale. He got in his car and chased after the balloons and instantly knew he wanted to buy one.
"I couldn't afford it, but another kid was interested and couldn't afford it, either, so we bought one together and that's when I learned to fly," Bob says. "I had bought a balloon before I had taken my first ride."
And that first flight?
"It was just so magical," he says. "If you stop and look at it, you're floating around in a bag of hot air … A hot-air balloon is so simple with a basket, and at the time, I was thinking, 'Oh, how cool.'"
He still feels that way. Since his first flight four decades ago, Bob enjoys every opportunity to maneuver hot-air balloons and share the experience with others along for the ride.
To learn more, visit clermontballoonrides.com or call 407.761.5964.
Originally from Anderson, Ind., Theresa worked for The Herald-Bulletin for many years. After experiencing a winter with 53 inches of snow, her late husband asked her to get a job in Florida, and they headed south. Well known in the area, Theresa worked with The Daily Sun and The Daily Commercial prior to joining Akers.
Share This Story!