Social Spotlight: Let there be lights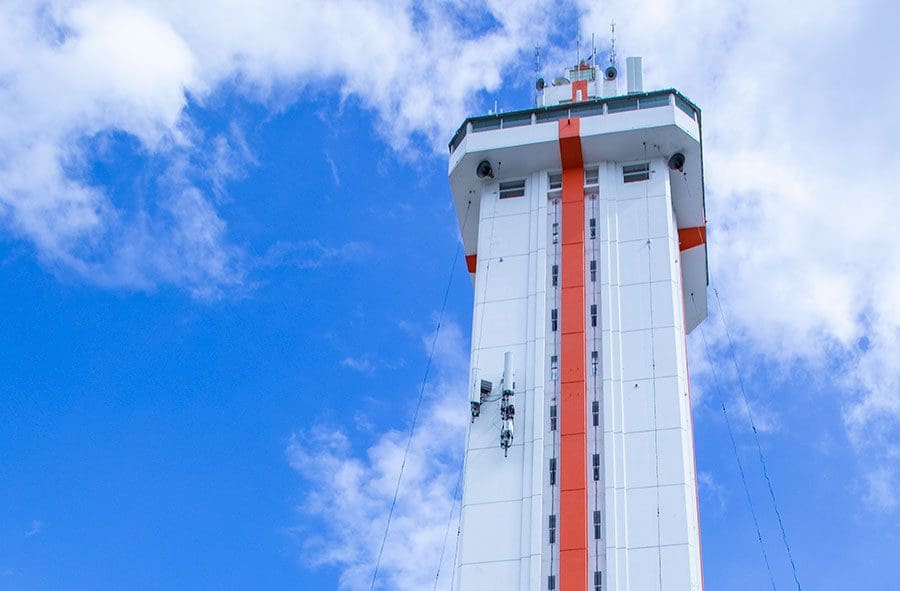 Citrus Tower owners hope the return of their Christmas Light show inspires happiness.
Photos: Nicole Hamel
The extremely popular Citrus Tower Christmas light show featuring snowfall, over 25,000 lights synchronized to music and more has returned after a two-year hiatus, and it's bigger than ever before.
Citrus Tower owners Scott and Heather Homan decided to finish off 2020 with a bang – or at least a lot of lights – at the 226-foot-high landmark at 141 North Hwy. 27 in Clermont in response to an outpouring of community support.
Scott credits locals and area businesses for stepping up to make it happen. He promised to reward that support with a more amped-up show.
"A lot of people wanted the light show," Scott says in reference to comments he heard around town about how much people missed his holiday display.
The Citrus Tower Christmas light show was introduced in 2010 by Scott's father Greg Homan, who then operated the tower. The show ran for seven years, until Greg cancelled it due to concerns about space, safety and lighting in the parking lot at the tower's base where people gathered to watch.
Greg gifted the lights to Real Life Christian Church, and Jay Peterson of Jayslights LLC – the creative mastermind behind the Citrus Tower Christmas light show since its beginning – went on to engineer Real Life's show as well.
In February 2019, after taking over operations at the Citrus Tower, Scott and Heather looked into bringing the show back. The following year, influenced by two years of comments on social media by people who missed the Citrus Tower light show, they announced their intent.
But there was a catch – they couldn't afford the more than $40,000 needed to present the light show. In January 2020, they posted this appeal on the Citrus Tower Facebook page: "WE NEED YOUR HELP!"
"I'm glad it all worked out because I feel people really need something to get excited about this year."
—Rocky DeStefano
Scott's idea was to sell 400 $100 annual memberships (good for daily rides to the top for the purchaser and four guests) to cover the cost of new lights and equipment, safety barricades, and LED lights to brighten the parking lot and make it safer for pedestrians. Scott promised nightly snowfall if he sold 500 memberships, and other surprises if 600 were sold.
"We were trying to think creatively about how we could bring it back, so instead of just doing a fundraiser, we thought about what product we have that was underused, and it was the membership," Scott says.
Scott and Heather set a deadline of April 1 to allow enough time for planning.
The community immediately jumped on board and within weeks, more than one fourth of the goal had been reached. Wheatley Realty Group and Success Mortgage Partners donated to the cause, as did Texas Roadhouse with an amount equivalent to about 50 memberships. Real Life Christian Church even gifted a portion of the equipment back – a gesture Scott says was worth about 68 memberships.
The game changer, however, came when Chick-fil-A of Clermont owner Rocky DeStefano heard of Scott's plight and threw in vouchers for 20 free chicken sandwiches (a $73.80 value) for each person who bought a membership. Sales spiked and goals were surpassed.
"We love partnering with other great businesses in the community, and I think the Citrus Tower is awesome," Rocky says, explaining that he and his kids loved driving by the Tower to watch the light show. "I was sad to see it go, although I understood why, then happy to see it come back, so we wanted to do whatever we could to help in any way."
Scott says he appreciates the community outpouring. To honor Rocky's continued support, he dubbed the show "The Chick-fil-A Christmas Spectacular at the Citrus Tower."
Since July, Jay worked on engineering a show that provides a treat for the eyes and senses like nothing before – more than 50,000 lights, new and exciting music and sequences, double the snow, nearly seven miles of electrical wiring, and more.
"Nothing can ever, ever compete with the tower. I've looked around all over the country and haven't found anywhere that lights up a building like this from all sides," Jay says.
Scott, Jay and Rocky say they are enthused about the smiles they hope and believe the light show spectacular elicits.
"I'm glad it all worked out because I feel people really need something to get excited about this year," Rocky says.
The 20-minute light show started Nov. 27 and runs all month on a continuous loop from 6 to 10 p.m. each night and through midnight on Dec. 31.
For more information, visit citrustower.com or follow the Citrus Tower on Facebook.
Originally from Nogales, Arizona, Roxanne worked in the customer service industry while writing independently for years. After moving to Florida in 1999, Roxanne eventually switched her career path to focus more on writing and went on to become an award-winning reporter for The Daily Commercial/South Lake Press newspapers for 16 years prior to coming on board with Akers Media as a staff writer in July 2020 – her dream job come true.
Share This Story!