Social Spotlight: Scottish for a day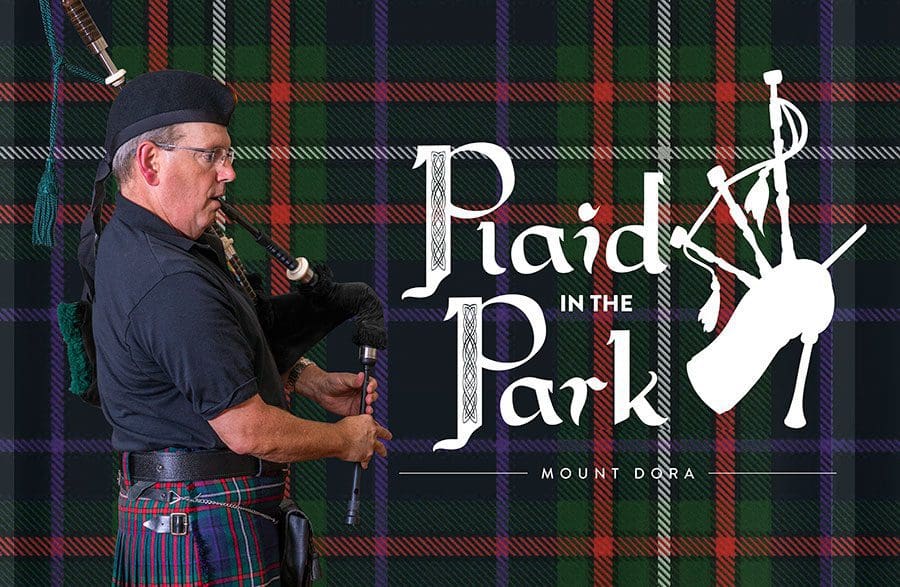 Mount Dora Sister Cities teams up with Mount Dora Pipes and Drums Band to bring Scottish culture to Lake County.
Mount Dora Sister Cities, an international organization, joined the City of Mount Dora with Forres, Scotland back in 1990, and since then, the two cities have worked together to promote one another's tourism and economy. Beginning in late 2020, Mount Dora Sister Cities will host a monthly event called 'Plaid in the Park,' where attendees are "Scottish no matter where you're from," says Mount Dora Sister Cities Vice President, Julie Campbell.
Sister Cities had previously hosted a monthly 'pub night' at The Magical Meat Boutique in Mount Dora, when they were approached by the City of Mount Dora Pipers and Drums Band, a local bagpiping group. "The Pipers came to us a couple of months ago and said 'hey, we have an idea that would elevate this,' so we decided to team up," Julie says. The event started as a way to gain exposure for both organizations while promoting the Scottish heritage.
"Part of Sister Cities' goals is always to build economic development in our own town as well as in Forres, so we've involved local merchants as much as we could. The Pipes will be performing and we have other Scottish and Celtic musicians coming to perform each month," Julie says.
The monthly gathering will include outstanding Celtic-style entertainment around Sunset Park, highlighting performances by the Mount Dora City Pipes and Drums Band. Entertainment and event details will differ month to month, but confirmed acts include music by The O'Possums, McIntyre, and Stewart Walker, and the Center for Dance and Performing Arts Scottish Dancers will perform monthly. Musician Ennis Pruitt will serve as Master of Ceremonies each month.
Music will fill the air alongside an engaging Scottish and Celtic evening street market with food, drink, raffles and unique, quality vendor items to discover. There will be raffles by Mount Dora Sister Cities, a raffle by Walkers Shortbread and a Putting Green raffle by the Mount Dora Golf Club that will both benefit Mount Dora Sister Cities and the Pipes Band.
Down Fourth Avenue you can find local Celtic and Scottish vendors. "We have a Scotsman from Ocala that makes jams, and one of our local tea blenders has created a special blend of tea for Mount Dora Sister Cities. So we'll have that available moving forward on our website," Julie says. We're Jammin' will be selling fresh made jams, bread, scones and other goodies, and Tantalizing Teas will feature a Sister Ci-Teas Scottish tea blend along with other loose teas and accessories.
Magical Meat Boutique will post a "pop-up pub" where they will serve fried Mars Bars and other goodies, and Triple Threat Desserts will sell treats to benefit the American Legion.
Albion Grove will be selling handcrafted jewelry, books and gifts, and The Thistle Club will have a variety of beautiful Scottish items for sale. Green Bunny Hats will attend the events in August and October, and are also working on providing Tartan Tams. Ashley's Corner is a merchant in Mount Dora and a member of Sister Cities, and will be featuring exclusive Scottish and Celtic-themed items. There will be many more vendors and food options attending as well.
The Sister Cities organization, which the Scots refer to as "Connected Twinnings," has participated in student exchange programs for years, where Mount Dora sends two high school students to Forres and vice versa.
"Since Brexit, Forres has struggled so we haven't had an actual student exchange in the last couple of years, and we're working to just kind of revamp what we do and how we can continue to promote Forres and Mount Dora," Julie says.
Mount Dora Sister Cities wants to start a new tradition in the community, and bringing Scottish culture will be a great way of providing unique entertainment and events to Lake County. Their goal is to create exposure to the culture and traditions of Scotland, all while enjoying the music, food and crafts that originated in the country.
The event planners are being sure to follow social distancing guidelines at the events, so masks will be required and there will be signs as a reminder to stay six feet apart. They want to make the event as safe as possible for visitors. To find out more about Plaid in the Park events and to stay up to date, follow their Instagram @plaidinthepark.md or their Facebook page at facebook.com/PlaidinthePark.
Originally from Buffalo, NY, Victoria graduated from Canisius College in 2018 with a bachelor's degree in English and Writing. In August of 2019, she relocated to Eustis, Florida, and soon began at Akers Media Group assisting with social media projects. Later that year, she was promoted to a full-time writing position at the company and has since found her niche telling the stories of so many of Lake and Sumter County's awesome people.
Share This Story!