Social Spotlight: Toe the vine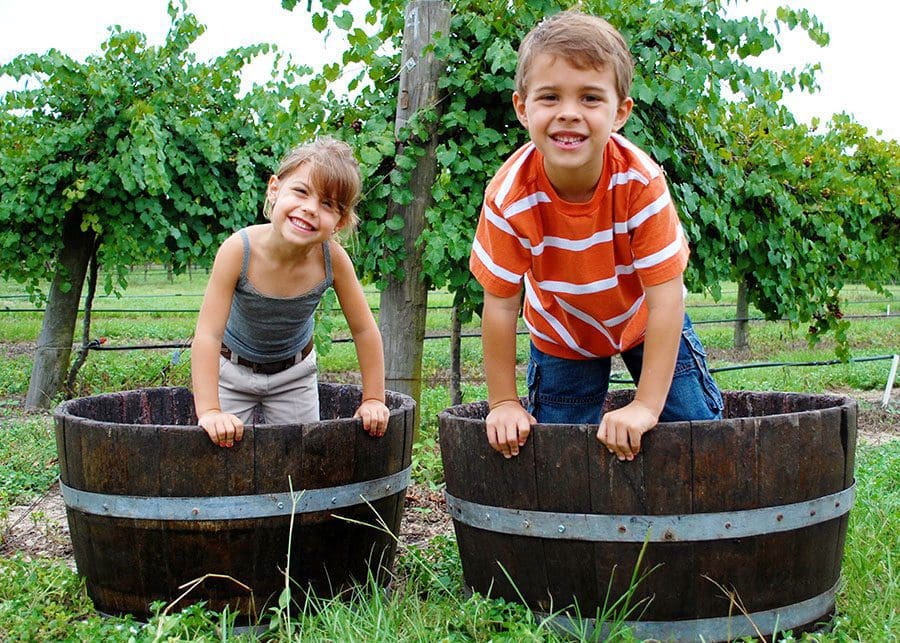 Lakeridge Winery & Vineyards' annual Harvest Grape Stomp is a barrel of fun.
Photos provided by Lakeridge Winery
Denise McLeod doesn't mind jumping feet first into an activity that oozes with excitement.
A shipping manager for Lakeridge Winery & Vineyards, she is a regular participant in the company's annual Harvest Grape Stomp, scheduled for Aug. 15-16 at the Clermont winery.
Denise kicks off her shoes, takes off her socks and bares her soles as she steps into a one-person barrel. For the next 60 seconds, she stomps on grapes, trying to get as much juice as possible to flow into a jug connected to the barrel. With grape juice swirling around her ankles and oozing between her toes, she enjoys the organic pedicure.
"It's very exfoliating," she says. "When you step into the barrel, it's cold and slippery, but the coolness feels good because it's so hot outside in August."
However, she does have a warning for would-be stompers.
"It only lasts a minute, but you're tired by the time it is over," she says. "It's a nice little workout. You're going to work for your next glass of wine or work off your last glass of wine."
Stepping on a few pounds of ripe grapes is one of the highlights of the annual Harvest Grape Stomp. During each round, 10 competitors step into barrels and begin stomping furiously. Whoever can extract as much juice as possible out of their barrel of grapes receives a festival T-shirt. Food-quality table grapes are used instead of Lakeridge's homegrown muscadine grapes, which have tougher skin and are less than ideal for stomping. Plus, they are far too valuable to be stomped to an early death.
While there are no strict rules for attire, wearing your Sunday best isn't advisable.
"You should wear something that you're OK with getting a little grape juice on," says Sam Cloward, events manager at Lakeridge Winery. "After the stomp, competitors have a place to spray off their feet and put their socks and shoes on."
The festival is wildly popular, Sam says, because there are not many opportunities in Florida to participate in a grape stomp.
"Florida doesn't have a lot of large wineries like ours to provide this type of offering," Sam says. "It's a unique experience for Central Florida residents and something they look forward to every year."
For some, one round of grape squashing is not enough. They are ripe and ready to see if they can extract more juice a second time. And a person's size does not offer an advantage.
"It's all about who can get their feet moving the fastest," Denise says. "I've seen kids take on full-grown adults and beat the pants off them. The crowd will energize you to move as fast as you can. Everybody is clapping and cheering, so you want to do your best."
In addition to the grape stomp, festival visitors can tour the company's two-story, 28,000-square-foot facility and learn about the finer points of winemaking. The tour begins with a 12-minute video about Lakeridge's past. Then, visitors will see the large stainless-steel tanks where wine is fermented and stored prior to bottling.
They also can sample eight of the company's award-winning wines, which include the smooth and rich Southern White, the classic semi-sweet Sunblush, the fruity Pink Crescendo and the spicy, semi-dry Blanc Du Bois.
On both days, musicians will perform outside on the festival grounds, as well as in the second-story wine and cheese bar. The musicians had not been announced at press time.
---
If you go:
Lakeridge Winery Harvest Grape Stomp
Aug. 15 @10am-5pm — Aug. 16 @ 11am-5pm
19239 U.S. Highway 27, Clermont // 1.800.768.9463 // lakeridgewinery.com
Admission: $10
---
Akers Media Group's James Combs has been a staff writer for several local publications since August 2000. He has had the privilege of interviewing some of Lake County's many fascinating residents—from innovative business owners to heroic war veterans—and bringing their stories to life. A resident of Lake County since 1986, James recently embarked on a journey to lead a healthier lifestyle. He has lost 60 pounds and walks nearly five miles a day. In his spare time, he enjoys target shooting, skeet shooting and watching his beloved Kentucky Wildcats!
Share This Story!