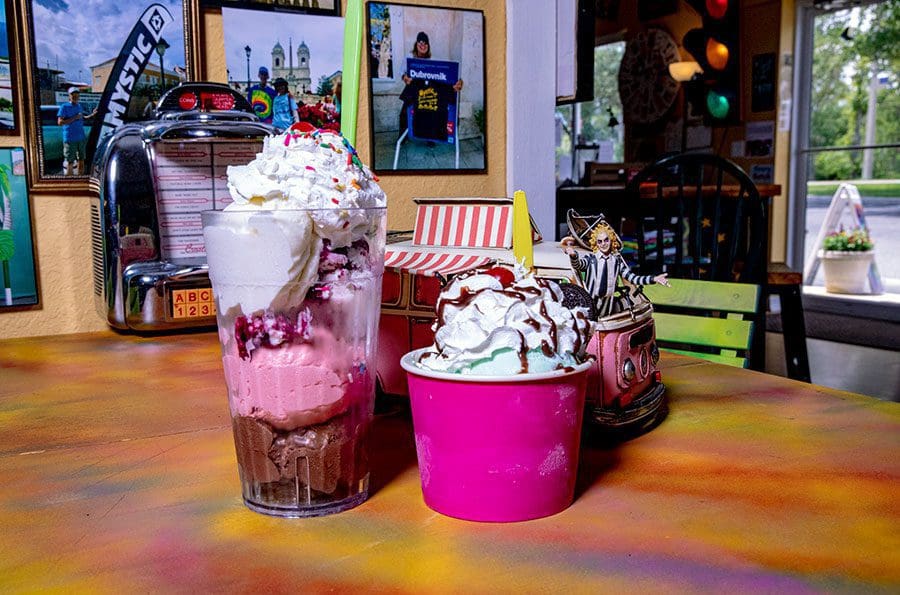 Mystic Ice Cream constructs alcohol-infused creamy concoctions while building relationships.
Photos: Nicole Hamel
It's hot. It's August, the infamous dog days of summer. A time of the year when a scoop or two of cold, creamy, made-from-scratch delicious ice cream is the most idyllic refreshment. Or perhaps an adult beverage is what you need.
If only you could have both. You can! Mystic Ice Cream in Fruitland Park offers an array of ice cream infused with liqueur. Yes, you read that right–ice cream enhanced to an adult level of enjoyment.
"I love making ice cream and I love making people happy."

—Lisa Day
All flavors are made on the premises from natural ingredients, with alcohol added in the process. One of the most popular is the Mystic Slide, featuring chocolate ice cream with Kahlua and amaretto. "It's like a Mudslide," says Darrell Day, who has co-owned Mystic Ice Cream with his wife, Lisa, since December 2019. "We have another great adult ice cream called the Kahlua Fudge, which is chocolate ice cream with Kahlua in it and fudge on top."
"The thing that is interesting is that I have never had an (alcoholic) drink. I've never had a beer, and I've never had (the liqueur-infused ice creams)," says Darrell, who leaves it to his wife to make and taste the adult ice-cream flavors.
Lisa's favorite is the Butterscotch Crunch, vanilla-based ice cream with butterscotch schnapps and Heath Bar crumbles. "We also have the Caribbean Orange, which is orange sherbet with Caribbean rum," adds Darrell. "There's a little bit of ice cream in that so it's creamier."
Rum Raisin is another alcoholic offering. The ice cream has rum in it and the raisins are soaked in rum. "We also have Coconut Rum and I've been told ours is the very best in the world," says Darrell. "It's a very, very good ice cream."
The Pineapple Midori features a vanilla-based pineapple ice cream with a melon liqueur. "Midori is like a watermelon-type of liqueur," says Darrell. Other "adult" flavors at Mystic Ice Cream are Baileys, Cherry Amaretto, Mint Chocolate Chip, White Russian and Grand Marnier.
The combination of ice cream, alcohol and fruit make for some irresistible combinations.
"Our Black Raspberry Chip is black raspberry ice cream with black raspberry liqueur with chocolate chips, while the Peaches and Cream features pureed peaches with peach schnapps in a vanilla-based ice cream," say Darrell.
Lisa has created over 100 ice-cream recipes. However, not all are available at once. On any given day, Mystic Ice Cream offers about 15 ice-cream flavors with liquor and 17 non-alcoholic flavors. Flavors are changed every three weeks.
"I love making ice cream and I love making people happy," says Lisa.
Her husband favors non-alcoholic varieties, including the Charlie Brown Peanut Butter Crunch, a creamy light peanut butter ice cream with Reese's crumbles and Reese's Pieces, and key lime pie ice cream.
"It's like a key lime pie cheesecake, which I love, and I really love the Hog Heaven, a vanilla-based ice cream with maple syrup, brown sugar and candied bacon," says Darrell.
Besides offering refreshing ice cream, Mystic Ice Cream is a worthwhile attraction to visit to see the parlor's eclectic interior and décor. Colorful record album jackets of The Beatles and other artists from the 1960s and 70s cover the walls along with movie posters. The parlor resembles a pop culture museum that's bound to evoke sweet memories for the over-50 crowd. Baby Boomers will feel right at home.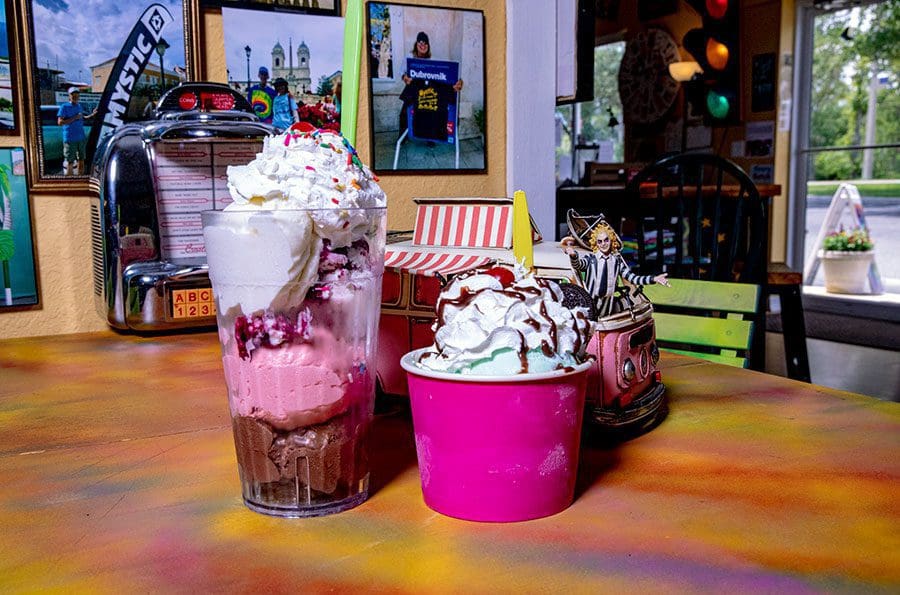 Darrell loves that Mystic Ice Cream can seat 80 people and is a fun place to go for nightly entertainment, including karaoke. Darrell says he and Lisa will reopen the entertainment portion of the parlor once Gov. DeSantis says places can reopen at 100 percent capacity after being limited due to COVID-19.
Before the virus, entertainment had been the nightly draw between 6 to 9:30pm. Karaoke on Tuesdays and Fridays drew 15 to 30 singers singing everything from country, Broadway and American standards. Wednesday was "Name That Tune," (mostly 1960s to 70s music); and Thursdays at 7pm was Trivia Night. On Saturdays, the ice-cream parlor offered a show called "I Got a Secret." On Sundays, live music was the attraction, with Darrell playing music and being joined by guitarists, singers and pianists.
The Days recently purchased an ice-cream truck that they plan to take to Villages events, including the Brits and U.S. polo match in November.
"No one else has an ice cream place like Mystic Ice Cream or a truck or cool parlor to enjoy nightly entertainment," says Darrell. "This is more than ice cream. It's about relationship building, and we think we do it pretty well."
---
Mystic Ice Cream
1217 W. Miller St. (County Road 466A), Fruitland Park
352.812.1366
Hours: 1-9pm Tuesday to Sunday
Originally from Anderson, Ind., Theresa worked for The Herald-Bulletin for many years. After experiencing a winter with 53 inches of snow, her late husband asked her to get a job in Florida, and they headed south. Well known in the area, Theresa worked with The Daily Sun and The Daily Commercial prior to joining Akers.
Share This Story!