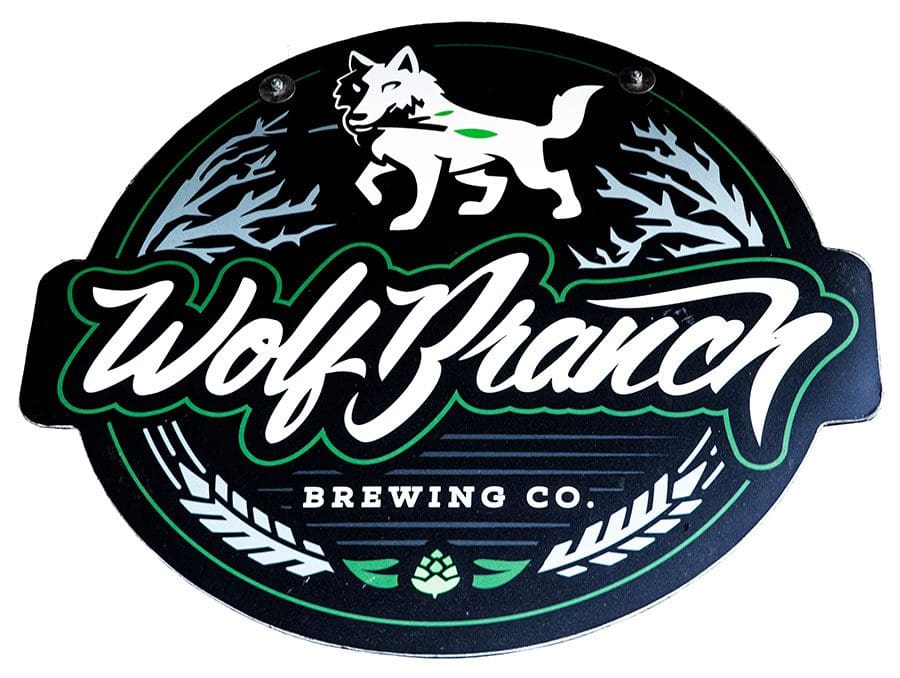 Jose Villafana, Jr. taps into the increasingly popular craft beer scene.
Photos: Nicole Hamel
Pam Gordon remembers the first time she saw the dark brown liquid cascading into a glass with milky white bubbles rising to the top. She brought her nose to the glass and inhaled the wonderful aroma.
Her favorite craft beer, a coffee stout called Coocha, was love at first sip.
"I love the creaminess and richness," says Pam, a resident of Eustis. "This is a very smooth, easy-drinking beer."
It's one of many brews readily available at her preferred watering hole, Wolf Branch Brewery.
"This is my favorite place to come," she says. "The craft beer here is out of this world."
Those words warm the heart of Jose Villafana, Jr., who opened Wolf Branch Brewery in December 2017 with the help of his father and brother-in-law. Jose previously spent 18 years in the U.S. Army, serving two tours in Iraq and one in Afghanistan. His military travels allowed him to visit craft beer venues in other countries. One day, he realized he could "serve" his country in a different capacity.
"I was able to go to places like Munich, home of the Hefeweizen beer, as well as the Belgian Brewers Museum in Belgium. I also visited a monastery where beer is brewed by Trappist monks. I began falling in love with the whole craft beer culture and wanted to do my part in promoting it here."
The veteran-turned-businessman has successfully accomplished that mission. Much like serving in the military, owning a brewery requires long hours and hard work. But it's all been worth it. His original location in downtown Eustis fared so well that he opened a second location in downtown Mount Dora. Both venues are popular hangouts where friends and strangers alike order drinks and socialize with fellow craft beer enthusiasts.
Jose is more than an astute businessman. He is also a certified master brewer who spends much of his time concocting new craft beer recipes. Jose graduated from the master brewer program at Siebel Institute of Technology, the 143-year-old school that produced legendary beer makers August Busch III and John Stroh. Jose also spent four months in Munich and two months in Chicago learning from some of the world's most renowned brewers.
"That was a very hard and demanding program, but it gave me the knowledge I needed to brew great-tasting craft beer," he says.
He uses that knowledge to provide Wolf Branch Brewery customers with a world of creative flavors and innovative ingredients at their finger—and tongue—tips. The styles and flavors are endless. Hearty stouts. Fruit- and herb-infused ciders. Citrusy pale ales.
Sometimes, customers come up with creative ideas for new craft beers. Jose has no qualms about fulfilling their wishes. That's how one of his most popular beers—Uncle Mikey's Peach Blonde Ale—was born. Several years ago, Mike Straughan, who owns a peach grove in Umatilla, approached Jose about making a beer using his homegrown peaches. The deal came with a stipulation. "He said it has to be a blonde ale and it has to be named after him," Jose says. "Turns out that customers loved it. As soon as this beer goes on tap, it only lasts a couple of days."
Jose also enjoys making experimental beers customers may never find anywhere else or ever taste again. In the past, he has tapped into his creativity to produce a peanut butter and banana brown ale, an oatmeal crème pie beer, and a strawberry pepper porter.
"We get lots of special requests from customers, and since we're a small brewery, we will at least entertain their ideas," he says. "However, when I make unique beers, I typically don't repeat them."
The honey jalapeno cream ale is an exception.
"That's one of the few we've actually repeated," he says. "It tastes good, it makes for easy drinking and has full flavor. You can taste the jalapeno, but it's not in-your-face-hot."


Paul Griffin and Greg Nall
Don't let the names of Jose's creative concoctions scare you off, beer purists. The taste of beer is still prominent.
"Let's take the peanut butter and banana brown ale, for example," Jose says. "Yes, adding a peanut butter and banana flavor gives the beer a little nuance and more of a complexity, but I still want beer to taste like beer."
At Wolf Branch Brewery, the craft beer experience isn't only about trying palate-pleasing flavors. It's a gathering place where strangers can pull up a chair or barstool, order a drink, banter about life, and forge new friendships. The brewery offers special events such as trivia nights and bingo nights.
"Everyone is welcome here," says Jose's wife, Whitney, who serves as operations manager. "It doesn't matter who you are, what you like, or what your opinion is. You can come here and enjoy great beer and great conversations. To see people build relationships is exciting, and we're more like a family now."
That family has become close-knit. In fact, Pam, the aforementioned craft beer enthusiast, formed the Wolf Branch Run Club in February 2019. The group, consisting of Wolf Branch Brewery regulars, runs twice a month in Eustis and twice a month in Mount Dora.
"We run a couple of miles then come back to the brewery and enjoy several beers," Pam says. "I've made some incredible friends here. There have even been times we've gathered at each other's houses."
Flavor. Variety. Friendships.
Those key ingredients have helped Jose brew up success in the craft beer business.
---
Wolf Branch Brewing Co.
119 N. Bay Street, Eustis, FL & Mount Dora Marketplace
Hours:
Monday through Thursday: 3-10 p.m.
Friday: 2-11:30 p.m.
Saturday: 1:30-11:30 p.m.
Sunday: Noon-8 p.m.
wolfbranchbrewing.com
Akers Media Group's James Combs has been a staff writer for several local publications since August 2000. He has had the privilege of interviewing some of Lake County's many fascinating residents—from innovative business owners to heroic war veterans—and bringing their stories to life. A resident of Lake County since 1986, James recently embarked on a journey to lead a healthier lifestyle. He has lost 60 pounds and walks nearly five miles a day. In his spare time, he enjoys target shooting, skeet shooting and watching his beloved Kentucky Wildcats!
Share This Story!