Spirits: Mastery of Muscadines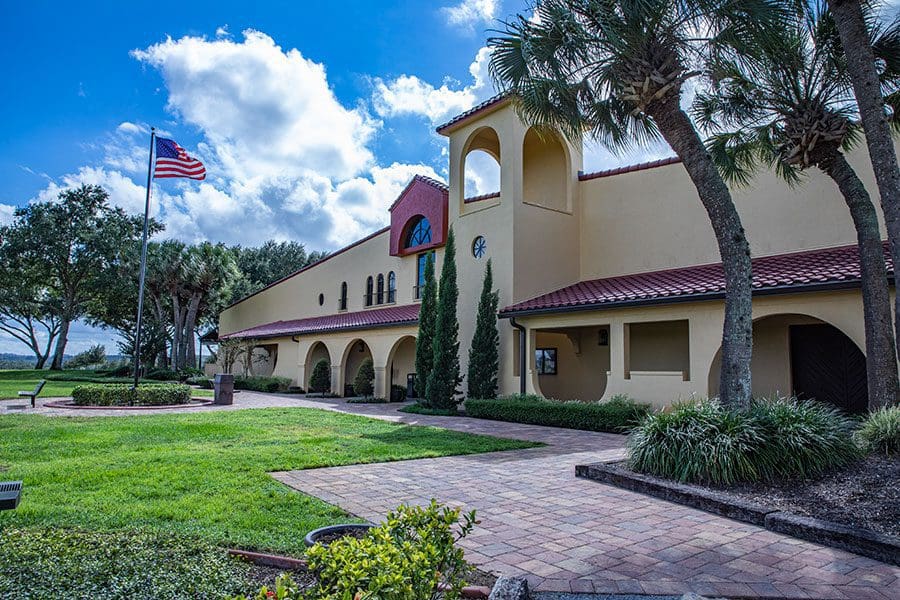 Lakeridge offers 1,600+ reasons to visit Florida's largest premier winery.
Photos: Nicole Hamel
Jeanne Burgess' eyes light up when she talks about wine, and her words clearly indicate she knows her stuff.
That's no surprise considering she has been the one-and-only winemaker at Lakeridge Winery & Vineyards since it opened.
Her specialty? Anything Muscadine, the first native grape species cultivated in North America.
"Muscadines are pretty over the top. They're intensely fruity and you can ferment the wine to dryness. But it's not very appealing that way because you've got this extra fruity aroma and your expectation is that there is going to be some level of sweetness with that," Jeanne says about the muscadine wines she helps produce.


Jeanne's knowledge and passion is shared by the winery's entire team. Muscadines are Lakeridge's pride and joy.
"Here at Lakeridge, we focus on Muscadine wines. In fact, Muscadine grapes are the only grapes that grow here naturally," says Barry Hus, Lakeridge's chief operating officer and overseer of vineyard productions. "We can't grow the same grapes you grow in California or upstate New York, only Muscadines, and we pride ourselves on that and what we produce from our harvest each year."
Lakeridge Winery is Florida's largest premium winery, founded in 1988 when Gary Cox and other Orlando investors decided to open a winery in Central Florida.
The 125-acre facility opened in 1989. Gary's son Charles joined the Lakeridge team in 1992. The business prospered, so the Cox family opened a second location – the San Sebastian Winery in St. Augustine – and began marketing their wines in retail stores throughout Florida and southern Georgia.
Each year, the winery processes 1,000 tons of Noble, Carlos, and Welder Muscadine red and white grapes, and bottles 130,000–150,000 cases (12 bottles per case) of wine per year. And there's nothing ordinary about the wine. Lakeridge has won over 1,600 awards for their wines (most for its Southern Red and Southern White).




In Clermont, free tours of Lakeridge include a complimentary wine tasting to sample the goods before deciding on a favorite or two. And Lakeridge has a large gift shop where wine and other items can be purchased. The winery also hosts themed outdoor festivals throughout the year.
Not sure where to start? Expert wine tasters Thomas Murphy and Nick Herrera are there to steer people in the right direction and offer words of wisdom regarding Lakeridge's 13 varieties of wine.
"We start with dry, and then we graduate into sweet and we do it in that fashion because you're tasting a lot of wine in a short period of time and your tastebuds are gonna go kind of crazy," Thomas says of the tasting process. "If you put sweet wine in your mouth from the get-go, what happens is that it kind of dominates your tastebuds and it will mess up your tasting."
With that said, I – with help from Style photographer Nicole – got to tasting. Like most people, we found the Muscadine varieties quite tasty.
At the very top of Nicole's list was Lakeridge's Southern Red, described to us as "smooth and bursting full of fruit" and "light bodied." The wine, served slightly chilled, pairs well with rich desserts and cheese, but we had it solo, and for Nicole, the verdict was, "My favorite! Smooth, fruity, and delicious."
Nicole also liked that the Southern Red can be purchased in a regular bottle or one shaped like the St. Augustine lighthouse, with part of the proceeds reserved for its preservation, (a San Sebastian shout-out).
As for me, a self-proclaimed Pinot Grigio fan, I actually leaned towards Muscadine varieties like the Chablis, labeled as semi-dry, and the Sunblush, considered semi-sweet with coloring Nick calls "a homage to the Florida sunset." Both were delicious, light-tasting, and not necessarily sweet, but still fruity.


Nick also sold us on the Pink Crescendo, a sparkling wine he says is great for mixing. "It's made from the double fermentation process from Muscadine grapes and it tastes phenomenal mixed with guava juice, mango juice, and orange juice for Bellinis and Mimosas," Nick says, adding that it's perfect for holiday functions.
Thomas pointed out that the Pink Crescendo's label features a musical stanza and actual notes to "Swanee River" by Stephen Foster.
Looking for drier, non-Muscadine wines? Lakeridge offers a few varieties it produces and labels in collaboration with wineries throughout the country, including a 2016 Cabernet Sauvignon from Napa Valley, a killer 2017 Petite Sirah from California, a Chardonnay, and a very nice, semi-dry, fruity, and un-oaked Pinot Grigio.
Keep in mind that, much like other businesses nowadays, some of Lakeridge's normal practices and events have been modified because of COVID-19 concerns and masks are required inside. However, many of Lakeridge's weekend music and wine centric events are still a go.
---
Lakeridge Winery & Vineyards
19239 U.S. 27 North
Clermont, Florida 34715
Hours: Mon. – Sat. 10 a.m. – 5 p.m. Sunday 11 a.m. – 5 p.m.
(Wine tasting and special event hours may vary).
For more information call 352.394.8627 or visit lakeridgewinery.com.
Originally from Nogales, Arizona, Roxanne worked in the customer service industry while writing independently for years. After moving to Florida in 1999, Roxanne eventually switched her career path to focus more on writing and went on to become an award-winning reporter for The Daily Commercial/South Lake Press newspapers for 16 years prior to coming on board with Akers Media as a staff writer in July 2020 – her dream job come true.
Share This Story!