Spirits: Not for the weak of heart (or liver)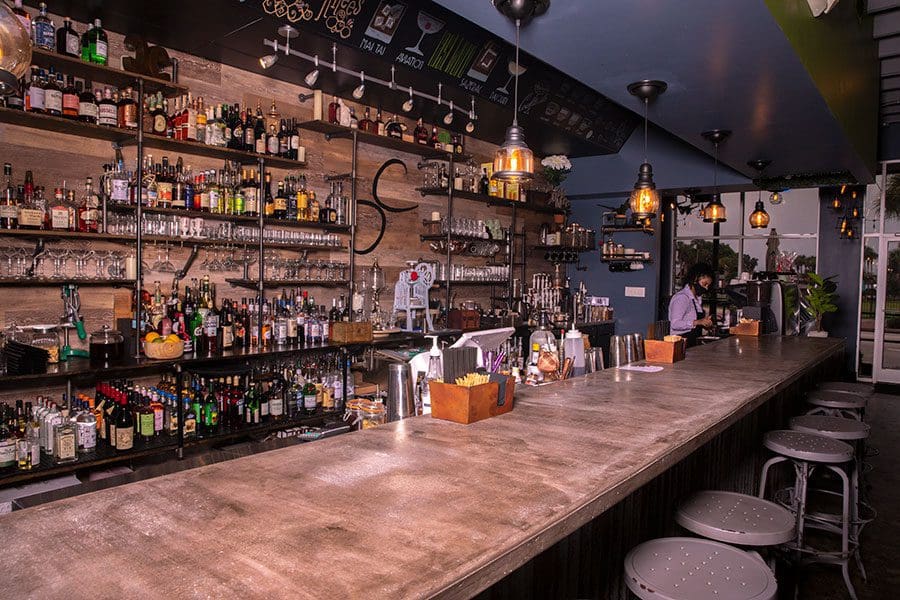 The strong drinks and countless options at Crafted Concoctions in Tavares will have you coming back for more.
Photos/Videos: Nicole Hamel
Craig Williamson and Rebecca Doherty, owners of BTW (Burgers, Tacos, Waffles) in Tavares, decided to branch out, about three weeks before what they described as, "all the craziness that we are dealing with today."
"We were just getting our feet wet when we had to shut down. We quickly changed the way we operate to help to ensure the safety of our guests whether they are dining in or taking their cocktails to go," Rebecca says.
Originally from New England, Rebecca has been in Eustis since 2001, and Craig moved to Florida from Pennsylvania many years ago. The couple relocated from Orlando when their kids, who are now 24 and 21, were starting school. The couple's first business was Brü Taphouse, a craft beer bar, which opened in 2015, followed by BTW in March of 2018, and now Crafted Concoctions, which as of February 2020, has joined the bunch.
With those three businesses all wrapped into one, Craig and Rebecca are guaranteed to serve you anything you may be craving. As for Crafted Concoctions, the café/bar was made to be a casual and fun hangout spot for people of all ages. "We let the atmosphere, and the show put on by our crafted cocktail bartenders, speak for itself. We save the partying and events for Brü Tap House," Rebecca says.
Happy hour is 5pm-7pm on weekdays, during which you'll get $1 off all coffee concoctions and certain cocktail concoctions, plus a "Happy Hour Bites" menu, which includes a lot of shareable options for your party.
Adventurous visitors will also have to try the absinthe. You have a choice of five different options. It is poured into a special absinthe glass, topped with a spoon and sugar cube. Cold water is then slowly dripped onto a sugar cube over the drink, which is referred to as "releasing the green fairy." "This not only counters the bitterness, but in well-made absinthes, it seems also to subtly improve the herbal flavor-profile of the drink," Rebecca says. Some Style writers and photographer Nicole Hamel tried the absinthe ordinaire, which reminded us of ouzo or black licorice. Definitely an acquired taste.
The House Ol' Fashioned is a popular choice, made with brown butter infused Old Forrester, as does their twist on a classic Boulevardier. The House Ol' Fashioned also comes smoked, if you so choose. After being crafted by the outstanding bartenders, the glass is placed in a small treasure chest with smoking wood, that makes the drink an experience. The Boulevardier is made with High West double Rye that is run through a Japanese cold brew system that infuses the liquor with locally roasted espresso beans, Orange Spiced tea and toasted cardamom pods. "It is a real delight," Rebecca says. Both drinks are not shy on the liquor, and you'll taste the flavors of everything in them.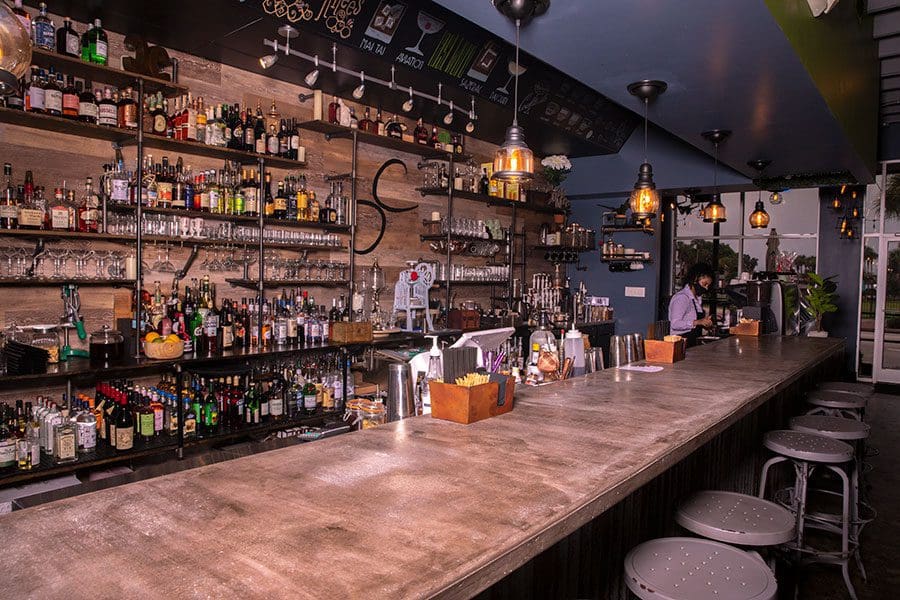 For a hot day you may want to try the Mur-Man, which is served with a shaved ice cone in the middle, and was on the sweeter side of the drinks we tried, as was the Friki Tiki, "because every good craft cocktail bar needs a good tiki drink," she adds. The Friki Tiki was a favorite among my drinking companions, with a creamy almost milkshake-like texture, it is made with matcha tea, coconut milk, lime bitters, clement orange rhum agricole and garnished with crushed pistachios, served in a cute tiki mug.
Because circumstances for bars and restaurants changed due to the coronavirus pandemic soon after Crafted Concoctions opened its doors, Rebecca and Craig found a way to continue to serve their customers. They started offering adult "Kapri Sun" pouches, which are 16-ounce clear pouches filled with some "rather strong" cocktails. They're great for a summer day, Rebecca says, and have become a definite favorite amongst all guests.
To come up with a lot of their drink recipes, the team brought on Chelsea Harkness, who many know from the bars at 1921 Mount Dora and 1884 Restaurant and Bar. "We have been great friends for many years, and she was excited to help me build a new brand in her field. She has come up with many of our creations as well as had some help from our other bartenders. We have a creative vibe around here," Rebecca says.
As for the coffee concoctions, Rebecca's favorite is the Lavender White Mocha Latté. This I had to try for myself. The hot latté is served in a fancy glass mug, garnished with foam and dried lavender. The blend of coffee and lavender flavors is different than any coffee I've had previously, and it will definitely bring me back to try more of their coffee concoctions, like the Cinna-yum, with a cinnamon bun, cookie butter, espresso and milk. The Nutty Professor also piqued interest, with pistachio, espresso and milk.
Rebecca is glad to constantly see customers of all ages enjoying the drinks and atmosphere at Crafted Concoctions. "Our unique blend of flavors and custom creations keeps everyone intrigued and coming back for more."
---
Crafted Concoctions
115 E. Main Street, Tavares
352.508.9287
Hours: Tuesday-Thursday 11am-10pm, Friday 11am-11pm, Saturday 12pm-11pm, Sunday 12pm-8pm, Monday closed.
Happy hour Monday-Friday 5pm-7pm
facebook.com/btwcrafted
btwtavares.com
Originally from Buffalo, NY, Victoria graduated from Canisius College in 2018 with a bachelor's degree in English and Writing. In August of 2019, she relocated to Eustis, Florida, and soon began at Akers Media Group assisting with social media projects. Later that year, she was promoted to a full-time writing position at the company and has since found her niche telling the stories of so many of Lake and Sumter County's awesome people.
Share This Story!