Spirits: Sunny days for beer lovers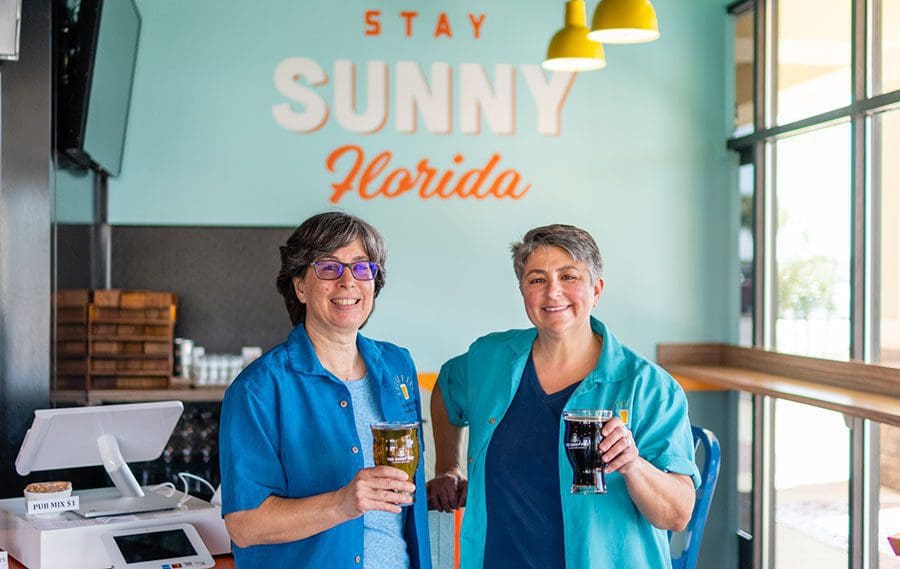 Tap into a variety of craft brews at a bright new spot, the Sunny Pint in Wildwood.
For most people, the phrase "dream job" is an oxymoron.
For beer lovers, however, you can't beat Sue Sidoti's job. As a beer connoisseur and buyer for the Sunny Pint in Wildwood, Sue has tasted about 2,000 different craft beers. That's enough to make your head spin. Sue and co-managing partner Simone Waddell opened the Sunny Pint in February.
"I'm always up for trying something new and it depends on my mood," Sue says. "Everything we have has been excellent, because some of them, I've had to buy without tasting them, just going on recommendations. But I've been very pleased with everything we've put on tap."
The Sunny Pint offers 36 taps of local, regional and national brews—it also serves wine, but we're here for the beer. The tap wall is like a scoreboard for beer. A large display is a big plus for novice craft beer drinkers, listing all 36 beers from light to dark, the style from IPAs to Belgians to porters to stouts, where they are made, alcohol content and how much is left in each keg.
Beerista Vaughan Gantrelle also gives a rundown of the beer menu to customers when they walk in the door. A high percentage of the beers are made in Florida. 
"I think we have more Florida craft beer than most places around here," Sue says. "Some people will have a big list of beer, but they'll also have the more familiar stuff mixed in as well. We try to do as much with Florida as we can."
Customers can also get the untappd app that shows in real time what's on tap, how much is left in the keg and what's on deck in the cooler. The Sunny Pint continually rotates all of its beers. 
"Every time a keg blows, we'll put something of similar style on but a different beer, so we don't replace things with the same (beer). It's always changing," Sue says.
Flights of four 4-ounce samples allow drinkers to try many varieties. My first flight included Ciderboys Grand Mimosa, an apple-orange hard cider from Stevens Point, Wisconsin; 7venth Sun Maibocks & Diamonds, a light, smooth amber beer with a hint of bitter from Dunedin; Left Hand Milk Stout, a definitely milky brew with a heavy chocolate-bitter coffee taste from Longmont, Colorado; and Barrel of Monks Single in Havana, a guava-infused ale from Boca Raton that tastes like pineapple juice.
My colleague's flight included DuClaw Sweet Baby Jesus, from Maryland, which is like chocolate milk with a kick of alcohol; Lake Tribe Red Cloud IPA, from Tallahassee, a citrus-flavored beer that goes down smooth and easy; Infinite Ale Works Witfinite, from Ocala, a Belgian white with a hint of citrus; and Central 28 Sunshine Greetings, from DeBary, a wheat beer with a mild wine flavor. To top it off, Lexington Brewing's Kentucky Vanilla Barrel Cream Ale was a refreshing day cap.
A third flight was a must. The foursome included Woodchuck Amber hard cider, like apple juice with alcohol, from Vermont; JDub's Bell Cow Milk Chocolate porter, indeed like chocolate milk and slightly bitter but not enough to ruin it, from Sarasota; Playalinda Robonaut Red Ale, a little too bitter for this taster, from Titusville; and Highland Gaelic Ale, an amber red ale from Asheville, North Carolina, that had an unusual aftertaste that was hard to place.
But there's so many more to try, and the revolving kegs ensure an endless choice of options. Sunny Pint also offers beer to go in cans, bottles and 32-ounce crowlers.
Simone handles the food side of the business, preparing a menu that includes meatball subs, Cuban sandwiches, appetizers and salads. A patio for outside dining also is dog-friendly. Food actually was the key ingredient in the business plan for the taproom.
Sue and Simone relocated from Oregon, where they found booming craft beer scenes in both Bend and Portland. But most places didn't offer much food, Simone says.
"We said, what if we could marry up food and beer and kind of bring those things together—not too heavy of a menu so it'd be manageable, but enough that it would keep people here and interested," Simone says.
In The Villages, they discovered an untapped market for craft beer. They looked at franchises that had similar concepts but decided they could do it better on their own.
"We thought The Villages is a unique place, it's got a lot going on, it's a really great location between the Space Coast and the (Gulf)," Simone says. "And then when craft beer started coming, we said this is a really good spot because there's nobody really picking it up here."
The co-owners place an emphasis on getting to know their customers.
"We really wanted to be focused on our community and to be part of the community that we're in," Simone says.
And what better way to bring a community together than through beer. We'll drink to that. 
---
If you go:
The Sunny Pint
Freedom Plaza, 4110 E. State Road 44, Wildwood
info@thesunnypint.com
thesunnypint.com
---