Spirits: Taking the town by storm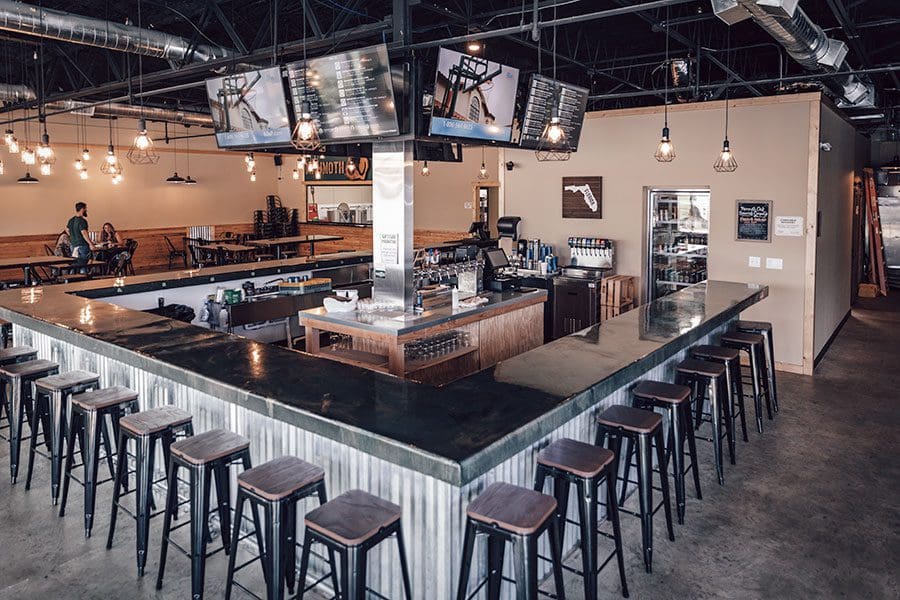 Restaurateur adds brewery, more nightlife on tap for downtown Leesburg.
Photos: Douglas Tyler
The owner of Pint Sized Pub, Main Street Cantina, Brick and Barrel, and the former 24 Tap Room is again bringing events and nightlife to the City of Leesburg. Alberto "AC" Cisneros's Mammoth Oak Brewing Company is open for business, offering a selection of craft beers made in-house by head brewer and co-founder Isaac Johnson.
While Isaac is the mastermind for most beer flavors, AC and the third co-owner, Kenny Romero, are very helpful with tastings. "Isaac used to host a home brewers club at 24 Tap Room, so he wanted to open up his own brewery but didn't have the financial status to do it. We (Kenny and I) wanted to open up a brewery but we didn't know how to brew beer, so we just merged together, and all the beer you see now is his," AC says. "We just let him have free range and it's working out so far because it's amazing – really good reviews."
One beer AC likes to brag about is the Lightsaber Dance Party, which he inspired. "So at 24 Tap Room, I'm a big Star Wars geek so I had lightsabers, and I love to dance so I used to do a little show with my lightsabers, so they named that beer after me or my parties," he says. The Lightsaber Dance Party is a hazy double IPA with tropical notes like lemon, mango and pineapple, although the orange flavor stood out the most to me. I found it to resemble a beer-mosa, if you're familiar with that collaborative cocktail.
If you're into fruitier drinks, you'll also enjoy the Sunset Beach, "which has a distinct fruity sweetness to it," says Style writer Roxanne Brown, who is not much of a beer drinker. I enjoyed the Coffee Snob, a smooth Porter that reminded me of a nitro cold brew coffee because of its smoothness and coffee smell and flavor. I don't normally drink my coffee black, but for this I'll make an exception.
Another enticing option is the Cookies and Cream Stout, which will greet your nose before your taste buds with the rich smell of chocolate. Style writer James Combs had a lot to say about the sweet treat. "Who doesn't love cookies and cream? We order cookies and cream cakes, milkshakes and ice cream. Now, we can try this tasty combination as a craft beer. Mammoth Oak Brewery's Cookies and Cream Stout comes with a blend of sweet milk brewed with cocoa and vanilla. Truthfully, if it wasn't for the taste of alcohol, you might think you're drinking a big glass of chocolate milk. You'll experience a delicious flavor to start and enjoy a sweet finish."
Traditionalists need not fret. Mammoth Oak offers the Ultra Bros. James comments, "I have steadfastly refused to budge from the mostly watered-down beer I have religiously stuck to since my college days. Yes, Bud Light. So when I'm forced to drink craft beer, I always look for a familiar flavor that doesn't deviate too far from what I'm accustomed to. The Ultra Bros. at Mammoth Oak Brewery is that beer. It's smooth, has a low alcohol by volume (ABV) and is refreshing. In other words, it's a transitional beer that can safely pull people like me into the world of craft beer."
Like a lot of other small businesses, Mammoth Oak had to adapt to survive during the COVID-19 shutdown. The brewery opened March 16th and closed on March 20th. "Because we had such a big following, people still came in and bought growlers of beer. So we bought all the growlers we could in a five-mile radius; we sold out. We ended up having to go to Orlando and buy some over there," AC says.
The events calendar at Mammoth Oak Brewing is definitely not lacking. You can find live entertainment on Fridays and Saturdays, trivia on Tuesdays, and Wednesdays are for musicians. "Wednesdays we do open mic night so any local musician or anybody really that just knows how to play any instruments can come in here and plug in and start playing. We're trying to bring more people out and if that's your passion why not do it," AC says.
The brewery is also trying to bring back virtual reality (VR) games which were very popular at 24 Tap Room. At 24 Tap Room they only had about 1,100 square feet of space, but Mammoth Oak has nearly 4,000, so AC looks forward to the opportunities made by the extra space. You can also come in for Saturday morning yoga, where for just $10 you'll get a yoga class and a free beer afterwards. Talk about a great start to the weekend.
Originally from Buffalo, NY, Victoria graduated from Canisius College in 2018 with a bachelor's degree in English and Writing. In August of 2019, she relocated to Eustis, Florida, and soon began at Akers Media Group assisting with social media projects. Later that year, she was promoted to a full-time writing position at the company and has since found her niche telling the stories of so many of Lake and Sumter County's awesome people.
Share This Story!