Spirits: Uncorking a wine culture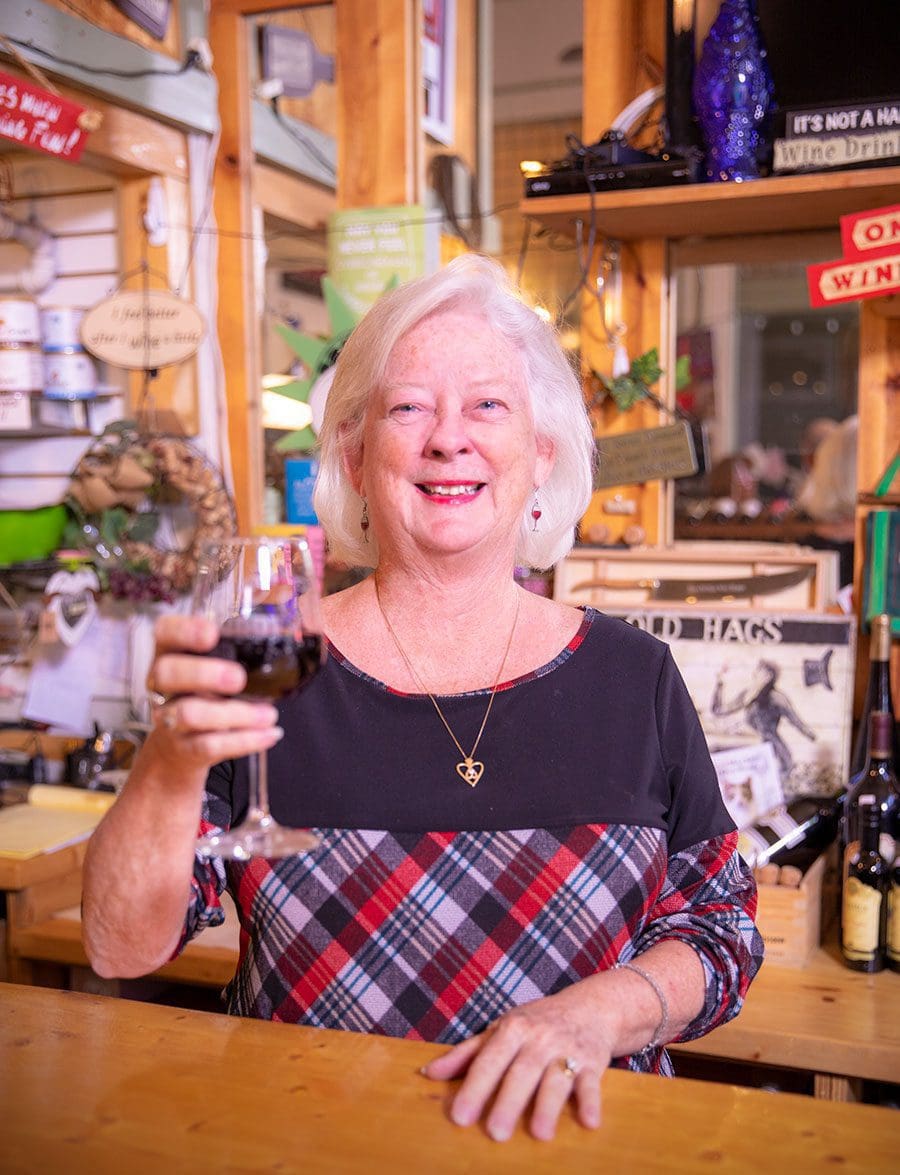 Two Old Hags creates quite a buzz in Leesburg.
Photos: Nicole Hamel
There's no telling where wine connoisseurs might find their next favorite wine.
Maybe during a visit to a popular wine region like Napa Valley in California. Maybe at one of the wineries throughout Florida. Or, if you're Cheri Sutherland English, a small wine shop and bar where laughter is intoxicating.
Cheri enjoys discovering new wines at Two Old Hags Wine Shoppe, located in the heart of downtown Leesburg.
"I come here for the wine and the friendships," says Cheri, a resident of Leesburg. "Here, everyone knows your name even if you don't want them to."
Indeed, Joyce Huey, who owns the wine shop, makes sure there are no strangers. And she takes the snob factor out of the wine bar experience.
"The conversations around here range from anything to everything," she says. "I love to roast my customers with love. If I don't pick on them, then they assume I don't like them."
When she's not roasting, conversations revolve around a question that customers ask on a daily basis.
"Why did you name your company Two Old Hags?"
Actually, Joyce cannot take credit—or blame. The shop's original owners, Beatrix Isaac and Linda Kohlmeyer, came up with the name when they opened it 12 years ago. When Beatrix left to focus on her ballroom dance studio, Joyce, a former medical office manager who was working at the wine shop part time, bought her out and partnered with Linda. Joyce became the sole owner after Linda died of cancer in 2010.
Today, Joyce works alongside her son, Michael Huey, who is affectionately known as the "son of a hag." During the busiest times on weekday afternoons, the wine bar inside the shop and the umbrella-covered tables outside are filled to capacity.
They sell a distinctive selection of red and white fine wines ranging in price from $20 to $210 and everything in between. All types of wine are represented, from cabernet sauvignons and merlots to pinot noirs and zinfandels. Most come from wineries in California.
"I try not to sell wines that can be found at grocery stores and liquor stores," Joyce says. "I cannot compete with their pricing. I switch up the selection constantly. When people go on vacation and find a wine they enjoy, they'll come back to Leesburg and ask me if I can order it here."
Wine-drinking newbies need not worry. Wine is no longer a fancy drink for fancy people. And while learning about wine can seem intimidating, getting to know the different types and varieties also can be lots of fun.
For beginners, Michael recommends trying a $20 bottle of Sangue du Guida, which comes from northern Italy and whose name translates to "the blood of Judas." This sparkling, sweet and mild red wine with purplish reflections contains only 6 percent alcohol and is pleasant to drink.
"When people are new to wine, you have to start them off with something sweet," Michael says. "This particular wine has a crispiness to it like when you drink a beer. It's very enjoyable."
More experienced wine virtuosos may prefer a $42 bottle of the Prisoner, a red wine blend made by a company in Napa Valley. It features a mix of grapes and varieties like pinot noir and cabernet sauvignon.
"People like blends because they're more versatile," Michael says. "You can drink the Prisoner by itself, with dinner or with dessert. You taste the essence of fruit without the sweetness."
People who don't mind shelling out extra dough can buy a bottle of Michael's favorite wine for $210. Caymus Vineyards' Special Selection boasts a "bold, rich earthiness" taste and, according to Michael, should be paired with "a nice steak dinner." Fair warning: After opening the bottle, give it time to breathe so aromas can be released.
Of course, not every customer is ready to hit the bottle. Joyce gives them the option of paying $5 for a 6-ounce glass of any variety. She also caters to loyal beer drinkers who refuse to make the switch to wine. Among her popular craft beers are Sweetwater 420 Strain, featuring natural hemp flavors, and the German beer Schofferhofer Pomegranate, known for its mild wheat taste.
Beer lovers and wine enthusiasts are equally welcome. And newcomers should expect some harmless heckling.
"Whenever somebody walks in here for the first time, I say, 'Hey, we have a hag virgin in the house,'" Joyce says.
Joyce's playful personality is reflected in comical signs throughout the shop, like "If you are peeing here, you better be drinking here, too" or "Beer: Helping ugly people have sex since 1862." She even had T-shirts printed with the words: "What happens at Hags gets all over town."
The fun atmosphere is what keeps customers like Pat Schaefer coming back. Well, that and the availability of her favorite wine, riesling.
"We talk, we laugh and we have a good time," says Pat, of Leesburg. "We all know each other's names. And if we don't know someone when we walk in, we know them by the time we leave."
---
Two Old Hags Wine Shoppe
410 W. Main St., Leesburg
352.435.9107
---
Akers Media Group's James Combs has been a staff writer for several local publications since August 2000. He has had the privilege of interviewing some of Lake County's many fascinating residents—from innovative business owners to heroic war veterans—and bringing their stories to life. A resident of Lake County since 1986, James recently embarked on a journey to lead a healthier lifestyle. He has lost 60 pounds and walks nearly five miles a day. In his spare time, he enjoys target shooting, skeet shooting and watching his beloved Kentucky Wildcats!
Share This Story!