Strawberry fields forever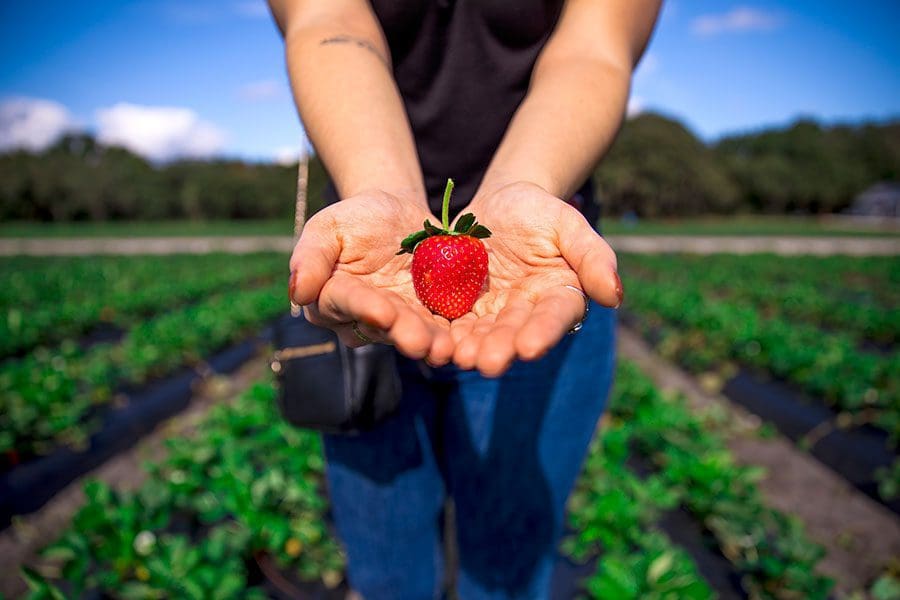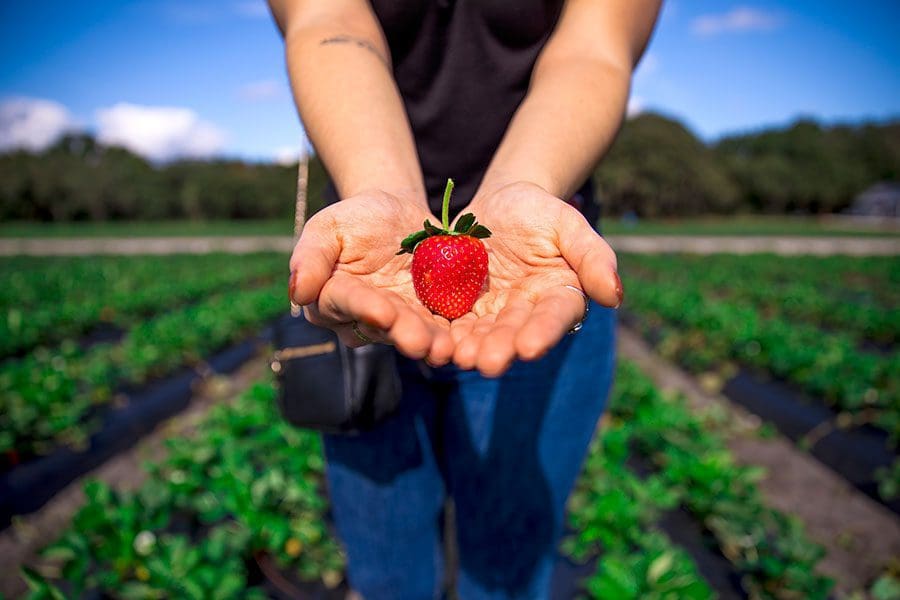 … plus homemade wines make Oak Haven Farms special. 

Oak Haven Farms & Winery in Sorrento has been around for nearly 25 years, allowing guests to pick all the strawberries imaginable. But an excess of strawberries one year led owner Harry Stauderman to think about getting into making strawberry wine.
When the experiment turned out well, Harry branched out to the grape wine business and started buying muscadine grapes locally to test the waters. He bought the muscadine grapes for a year and once he realized the wine was something that people liked, Oak Haven started growing its own grapes and has now been doing it for 10 years. The winery produces and sells seven wines: strawberry, blueberry, dark rosé, two whites and two reds.
About 14-16 pounds of grapes are needed to make one gallon of wine, Harry says. This translates to about 250 grapes per bottle. The farm grows two kinds of grapes: bronze white and red muscadine. White wine is made using bronze-colored Carlos grapes. Carlos is a muscadine grape that's very common in the Southeast. Oak Haven has two forms of wine from that grape, the Carlos Dry and the Carlos, which is a bit sweeter. The red grapes are called Noble and also come in dry and sweeter versions.
Red wine
For grape wines, the grapes are picked, crushed using a machine and run through a press to get the juice out. For red wine, fermentation starts with the skin and the pulp and draws the color out of the skins, unlike white wine where the skins are removed after crushing to create the clear juice. When the red wine is done with the partial fermentation, winemakers press the fermented juice out and remove the skins. Secondary fermentation continues, and the wine is done after about three weeks.
The wine is then sealed off and covered in tanks so no oxygen can get to it. At this point, the wine is OK to drink but is best enjoyed after six months to a year of aging. The red wines sell best in colder weather. The Carlos and Carlos Dry are best paired with red meats, pork, pasta and aged cheeses, according to the winery's tasting guide.
White wine
For white wine, the grapes are crushed and then pressed immediately. The ones grown at Oak Haven are a bronze color and they make a clear juice. The pulps and skins are removed immediately after crushing, and the clear juice can begin fermentation.
"White wines sell better in the summer months and pair best with chicken, seafood and salad. They make a nice poolside beverage and they're very refreshing," Harry says.
Blueberry wine
Some wineries use frozen blueberries, but Oak Haven buys fresh blueberries because so many are available locally.
"There are no grapes in the blueberry wine. It's made from 100 percent blueberries," Harry says.
Blueberry wine is made in almost the exact same way as the reds, with the partial fermentation including the skins, then the filtering and secondary fermentation process. This wine pairs well with Asian food, pasta and cheeses, Harry says. Oak Haven's blueberry wine won an award several years ago at a competition in Michigan, where blueberry wine is popular.
Strawberry wine
The strawberry wine is made when Oak Haven has an excess of strawberries at the end of the season, which usually happens around April.
"They're treated similar to the red grapes, where you ferment the pulp and everything until it's partially fermented and then you press off the fermented juice of the strawberries just like any other wine," Harry says.
The strawberry is a dessert wine, which pairs well with chocolate and fruit, and Harry likes to pour his over ice cream. He adds that the strawberry wine also makes a great wine cooler if you mix the wine with club soda and put it over ice.
Southern Belle
The Southern Belle, a blend of the Carlos and Noble grapes, is a dark rosé on the sweeter side. It's more of an after-dinner wine rather than a table wine, Harry says, and pairs well with grilled vegetables, al fresco dining, and cheese bread or toasted bread. 

Fun Fact
What is muscadine wine?
Simply put, it is wine made from muscadine grapes. It's popular in the South because the grapes are native to the Southeast and south-central United States and thrive in hot weather, which is why they are abundant in Florida. They typically are too tough to eat on their own but are great for making jams and wine. The grapes are also high in antioxidants, making them good for heart health.

Originally from Buffalo, NY, Victoria graduated from Canisius College in 2018 with a bachelor's degree in English and Writing. In August of 2019, she relocated to Eustis, Florida, and soon began at Akers Media Group assisting with social media projects. Later that year, she was promoted to a full-time writing position at the company and has since found her niche telling the stories of so many of Lake and Sumter County's awesome people.
Share This Story!