In the Kitchen: Tacos with a twist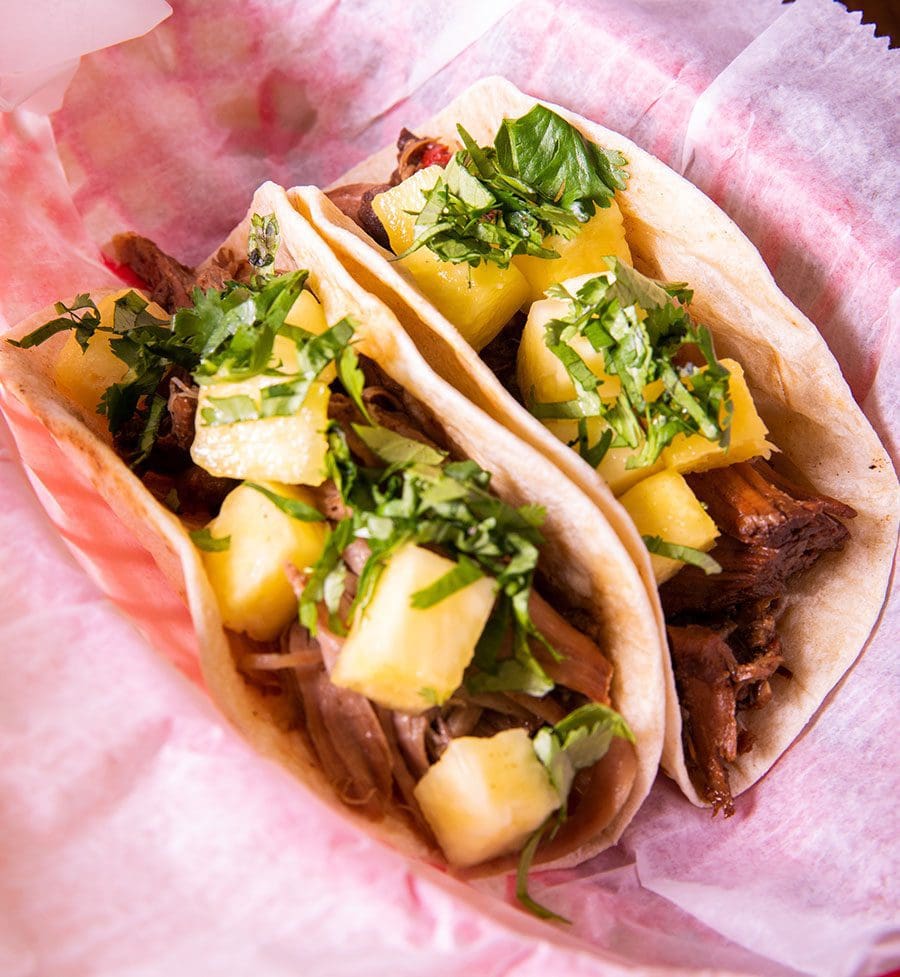 Papa Pineapples' aromatic Hawaiian-influenced foods are made with 'a whole lot of love.'
Spend time chatting with Papa Pineapples general manager Telly Carr and his assistant, Brannon DeGraw, and one can't help but chuckle hearing about the aromatic "power" of the restaurant's enticing foods. 
Brannon was walking past the window of the Leesburg eatery at 314 W. Main St. when she caught a whiff of slow-cooked chili lime chicken and pineapple salsa being slightly grilled. 
"It was just a fragrant aroma in the air, and I had to come in and check it out," Brannon recalls with a giggle. "My nose was dragging me in like a cartoon with a pie. It was intoxicating. I came in and said, 'Are you hiring? Oh, please tell me you're hiring.'" 
Her nose landed her a job.
"Boy, I'm glad it did because I landed on a gem," Brannon says. 
She had restaurant and food truck experience when she began working a couple of days a week, first assisting on the Papa Pineapples food truck at events before she joined full time to work with Telly at the Leesburg location.
The business was the brainstorm of owners Scott Snyder and his wife, Natalie, of Summerfield, both Army veterans. Scott was stationed for five years on the island of Oahu in Hawaii, where he loved the culture, cuisine and fresh pineapple, so it seemed natural to bring the island theme to the food truck circuit. 
"When we started on the food truck, we had to have something quick to get out the window when we'd go to events," Scott says. "We figured tacos were great, but I didn't want to have the same thing that everybody did. We wanted to do something trendy, and because of my military background in Hawaii, we wanted to tie it all together."
One of his friends suggested the name Papa Pineapples.
"I think it became more popular than we ever thought it would," Scott says.
The success of the food truck led to customers requesting a brick-and-mortar location, so the Snyders opened their first Papa Pineapples in September 2019 in Leesburg, followed by a second location in Ocala. Scott says the Leesburg site was successful within the first two months, which led to branching into Ocala.
"I would like to have five total," says Scott, who envisions another spot in Ocala, along with possible locations in Gainesville, Wildwood or Inverness. 
"Scott is ambitious. He is the only person I know to open two restaurants in less than three months," Telly says. 
Papa Pineapples is in good hands with Telly and Brannon running the Leesburg restaurant, according to Scott. As a trained chef with many years of experience, Telly says he has tasted a lot of different food combinations, but Papa Pineapples' menu offerings have tantalized his taste buds like no other. 
"I believe in the food. It's fresh, real food. We are really proud of the product we put out and proud of the service we provide. We use really simple ingredients and a whole lot of love," Telly says. 
Telly notes that the chili lime chicken tacos were instantly popular on the food truck. In addition to the chicken and pineapple salsa made with fresh pineapple, the tacos include red bell peppers and sweet red onions, and the salsa has bits of jalapeño peppers
"We take out all the seeds and all the hot stuff out of it, and we dice it. Before we serve it, we grill it a little bit and then we put a fresh avocado crema on it," Telly says. 
Other taco combinations, available in grilled flour or corn tortilla shells, are pineapple-cilantro pork, mango black bean, Hawaiian BBQ chicken and the Ohana, which features fiesta grilled steak topped with tomato-lime red onion salsa and sriracha mayo.
The Korean, one of Telly's and many customers' favorite tacos, has tender, marinated ribeye steak topped with shredded cabbage, carrots, tomato-lime red onion salsa and sriracha mayo.
Brannon can't name just one as her favorite.
"The pineapple-cilantro pork is amazing, the chili lime chicken is amazing and the Korean is wonderful ribeye steak that is really tender and the Ohana is a little spicier," she says. 
Papa Pineapples also offers burritos made with steak, pork, chicken stuffed with white rice, black beans and the diner's choice of toppings, including cheese, pico de gallo, sour cream, cilantro, jalapeño, red onion, pineapple, guacamole, avocado crema, jalapeño cilantro lime or sriracha mayo. The restaurant also serves quesadillas and burrito bowls without the shells. 
"We give out samples of our stuff all the time," Telly says. "Most people come in are not quite sure what Papa Pineapples is. Most of the time, we get people who walk in out of curiosity." 
Telly and Brannon love talking about food and experimenting with new ideas. They recently created tasty queso and salsa made from scratch for people to enjoy with tortilla chips. 
"Everything we do is small batch, so we're always cooking something. Whether it's steak on the grill, grilling our salsas, there's always some kind of aroma in the air and there are times when we prop that door open and let it go out," Telly says, grinning. "One day it was really slow, and Brannon was sitting at the outside table eating. It wasn't too long before people came in." 
Brannon savored her tacos, saying "Mmmm" with each bite.
"I wasn't even discreet," she says. "I looked like this poor hungry girl on her break who was really enjoying her food. It was amazing how quick it happened (drawing customers in)."  
Scott noted that the pineapple-cilantro pork tacos have been on the menu since the beginning five years ago, and the tacos are just as popular in Ocala as in Leesburg and at food truck events.
"A lot of the stuff on our menu, we slow-cook the meat and that is why it is really flavorful," he says. 
The Papa Pineapples food truck still traverses the Florida circuit, often going to weekend events in Orlando and Gainesville, and the tacos have been a hit at Leesburg's Food Truck-N-Flick Night. 
Diners may be surprised that there is no microwave at Papa Pineapples. The staff relies on slow cookers and grills to create their menu items in an open kitchen format, where people can watch some of the foods being prepared. 
"And whenever my coffee gets cold," Telly says with a chuckle, "they laugh at me because I put it on the grill to warm it back up."  
---
PAPA PINEAPPLES CHILI LIME CHICKEN
Ingredients
10 pounds boneless, skinless
chicken breast
2 cups olive oil
2 cups lime juice
1/3 cup chili powder
1/3 cup brown sugar
1 tablespoon cumin
1 tablespoon garlic powder
1 tablespoon onion powder
1 tablespoon paprika
Directions
Combine all dry and wet ingredients. Add chicken to slow roaster or crock pot. Next, pour combined wet and dry ingredients over chicken. Put lid on and set to 250 degrees for at least 4 hours. When done, shred meat with two forks. Serve in grilled flour or corn tortilla shells with a pineapple salsa made from fresh pineapple, red bell peppers and sweet red onions, and top with fresh avocado crema. 
Originally from Anderson, Ind., Theresa worked for The Herald-Bulletin for many years. After experiencing a winter with 53 inches of snow, her late husband asked her to get a job in Florida, and they headed south. Well known in the area, Theresa worked with The Daily Sun and The Daily Commercial prior to joining Akers.
Share This Story!