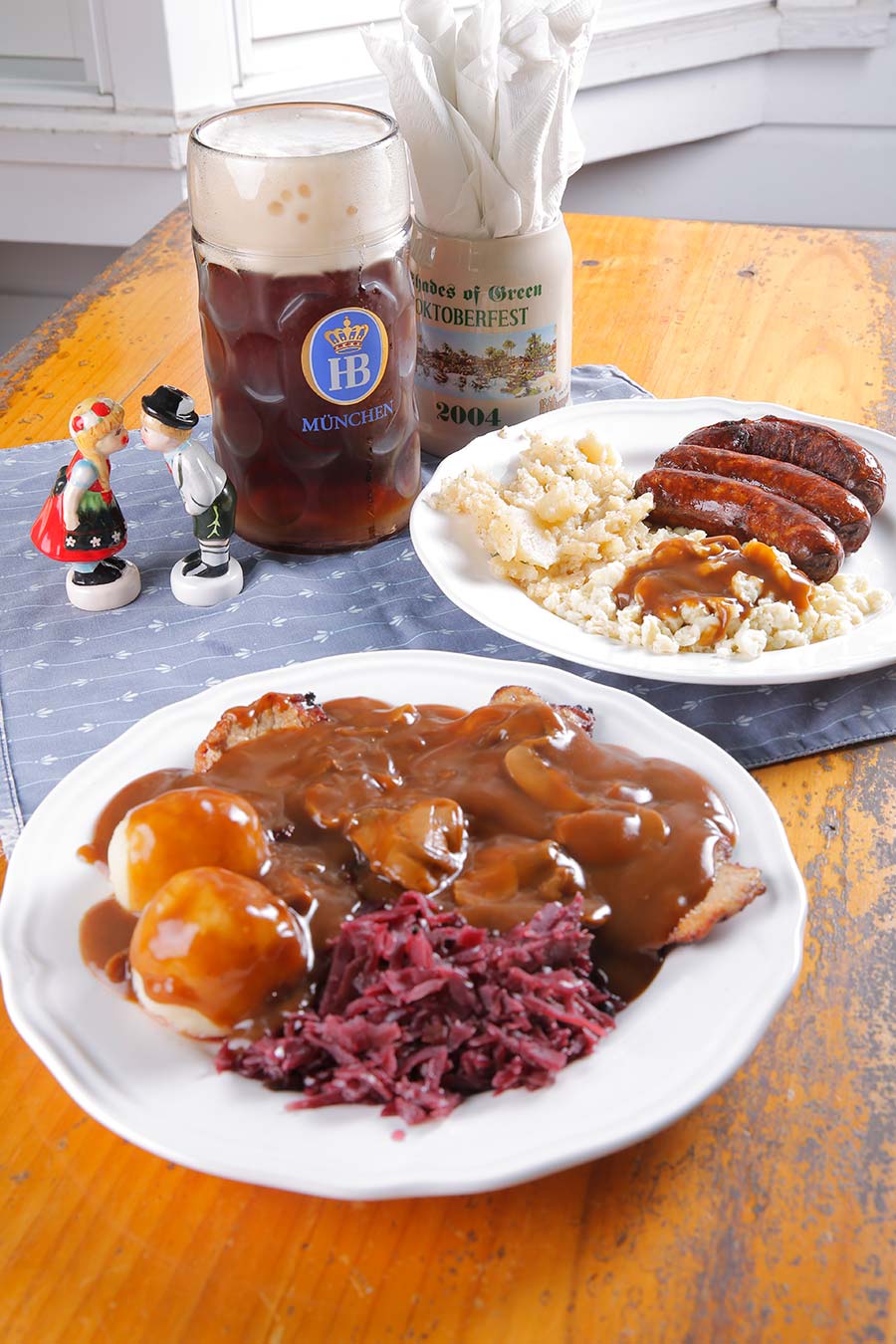 Photos: Anthony Rao
A taste of Germany
Restaurateur stays true to his German cuisine roots.
At the Bavarian Haus, there's the German beers and the atmosphere where bier steins are lined along shelves and waitresses don traditional dirndl dresses on the weekends. 
But for patrons like Josh Thomas, it's all about the authentic German food. That's why he doesn't mind driving from Ocala to downtown Mount Dora. "I take my family here whenever they come to visit," he says. "I love the schnitzel, and the potato salad is the best in the world."
After eating an enjoyable lunch there recently, I echo Josh's sentiments. I was also pleased to meet owner and restaurateur Achim Weyer, a Munich native who opened the Bavarian Haus six years ago. He capitalizes on his 25 years of culinary experience to make classic German entrees such as schnitzel, sauerbraten, and bratwurst. 
"I try to make my restaurant as authentic as possible—both with the food and décor," he says. 
Everything I ate was delicious, starting with the kalte platte appetizer of Black Forest ham, pork roast, kielbasa, obatzda cheese, and Swiss cheese. For my main meal, I ordered pan-cooked bratwurst mixed with pork and veal sausage. The bratwurst oozed juices with each bite. 
My dining partner ordered jagerschnitzel, a slice of tender pork topped with a generous portion of mushroom gravy. Because of the way the pork is cooked, he concluded that "it has the flavor of a steak."
Three simple words summed up our meal: Das war lecker. In English, that translates to "This was delicious." 
4½ Forks
(Out of a possible 5)
The Bavarian Haus
433 Alexander St., Mount Dora
352.735.8387
Hours: 11am-9pm Tuesday-Thursday; 11am-10pm Friday-Saturday; 11am-4pm Sunday.
Fork report:
Casual dining $$
Seated immediately (lunch hour)
Wait for meal: 15 minutes
Out-Of-The-Ordinary Appetizers: ($5.95-$12.95):  Homemade chicken noodle soup, frankfurter sausage and bread, homemade goulash soup.
Lunch and Dinner: ($7.95-$18.45):  Wiener schnitzel, bratwurst baguette, sauerbraten, schnitzel baguette, roulade.
Akers Media Group's James Combs has been a staff writer for several local publications since August 2000. He has had the privilege of interviewing some of Lake County's many fascinating residents—from innovative business owners to heroic war veterans—and bringing their stories to life. A resident of Lake County since 1986, James recently embarked on a journey to lead a healthier lifestyle. He has lost 60 pounds and walks nearly five miles a day. In his spare time, he enjoys target shooting, skeet shooting and watching his beloved Kentucky Wildcats!
Share This Story!