The Flavors of Sagrantino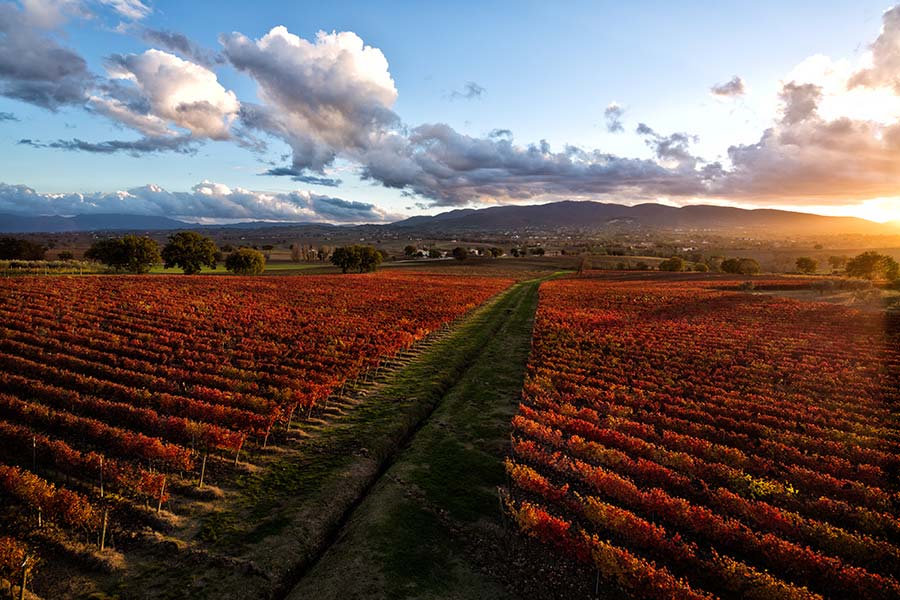 The "Green Heart of Italy" is awash with red vineyards this month as Umbria's indigenous Sagrantino grapes ripen to produce award-winning wines in the future.
Only 31 kilometers from the Italian town of Assisi in the northeast corner of Umbria are the vineyards of Montefalco, another picturesque hill town. While Assisi is known for its Basilica of St. Francis, Montefalco is more known for its wines, specifically, the Montefalco Sagrantino—often called the "holy wine" as it was once reserved for religious celebrations. 
Umbria, nicknamed the "Green Heart of Italy," is the region just south of the more famous Tuscany. While its wines have not had the same popularity or fame in the U.S. as Tuscany's chianti, sangiovese, or "super Tuscans," winegrowers have an indissoluble connection with their land with ambitious goals for the future. 
Guido Guardigli is among those progressive, yet reverent, winegrowers whose wines are receiving international attention. He founded Perticaia in the 1990s when he saw Umbria's extraordinary potential and that of its indigenous Sagrantino vine. Today, Perticaia—which means plow in Umbria's archaic dialect—has 15 hectares of vineyards and a new cantina. And Perticaia is not alone in focusing on Sagrantino grapes—more than 50 producers* are now making the wines whereas only a handful existed in 2000. [*Source: umbriatouring.it/en/il-vino-sacro-di-montefalco]
"The Sagrantino grape grows almost solely in the Montefalco area in Umbria, and its unique characteristics set it apart from every other grape variety in Italy," said Alessandro Meniconi, winemaker and winery director for Perticaia, in a recent email. 
He explained that one of the Sagrantino's main differences from other grape varieties is that its skin is very thick and rich in polyphenols. "This acts as a natural defense against mold and parasites, a very important aspect considering that it is harvested in the second half of October, which is late compared to other varieties," he said. "It also gives it the structure to develop and evolve over a long time, making a wine that can age in the bottle for many years."
I recently tasted the 2008 vintage of the Montefalco Sagrantino DOCG. The Denominazione di Origine Controllata e Garantita is the highest classification Italian wines can be awarded. In order for a Sagrantino wine to receive the DOCG classification, it must be made from 100 percent Sagrantino grapes, with a minimum of 37 months aging before release. The aging process also must include one year in oak barrels. 
The wine was indeed quite tannic and could have even been cellared a few more years; it did smooth out significantly after I let it breathe for over an hour, which is expected of most age-worthy Italian wines. The aromas of black cherries were delightful, and the smoky and earthy flavors were enhanced by a rich Italian-seasoned pot roast, known as "Peposa." 
The only thing better than this particular wine pairing would have been walking among Sagrantino vines in the fall. Painters have long been inspired by the rich Umbrian landscape, and the bright red leaves in the Sagrantino vineyards are described as melodies of music to wine lovers.
The grape
Grown almost solely in the Montefalco area of Umbria, Sagrantino grapes are thick-skinned and packed with flavor. Wines made from these grapes were once reserved for religious and family celebrations. In fact, the name "Sagrantino" originated from two Italian words: "sacro" (holy) and "sagra" (celebration). In the 17th century, laws existed in Montefalco to protect the Sagrantino vines that made "holy wine." Anyone caught cutting a piece of vine belonging to another was condemned to death. Luckily, things changed and by the 1990s, dry red wines made from Sagrantino grapes gained international attention for their extraordinary fruit flavors and vivid tannins. In fact, it's one of the world's most tannic varietals.
Wines
Perticaia Montefalco Sagrantino DOCG 2008 (SRP $40-$50): Great with a juicy steak, pot roast, or well-seasoned burgers. A dry Italian wine from Umbria made of 100 percent of the native Sagrantino grape, this bold, tannic red shows distinct characteristics like smokiness, earthiness, and notes of cherry, wild berry, and star anise.
Montefalco Rosso (SRP $20-$25): The perfect pairing with lighter grilled meats like chicken, pork, and salami. Aged for 18 months and blended with 60-80 percent Sangiovese, it is light and approachable but still shows notes of complexity in its dark fruits and good structure.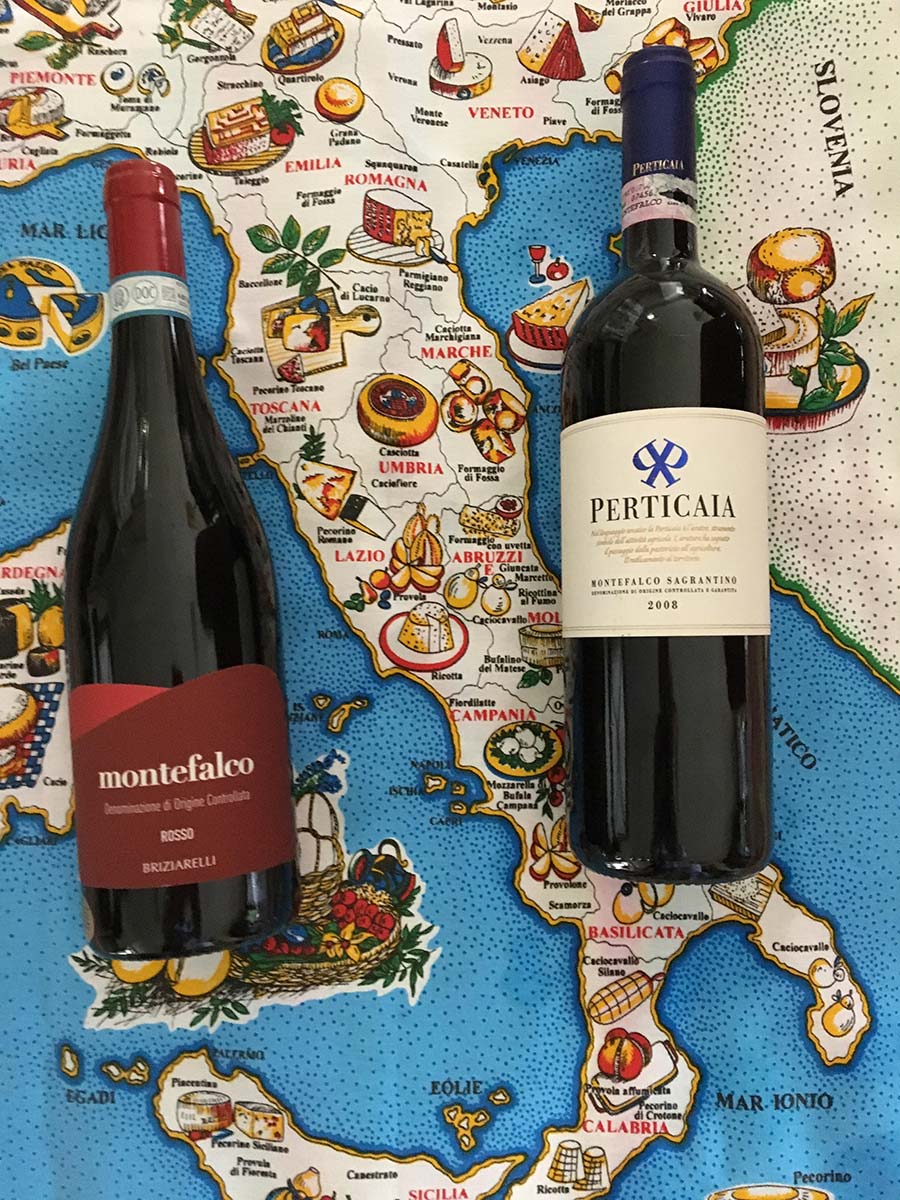 Tasting notes defined
Tannic
Wines are described as tannic if they have high levels of tannins, the naturally occurring compounds known as polyphenols. When the skins, seeds, and stems soak in the juice after grapes are pressed, polyphenols are released and give wines, especially red wines, a dryness or astringency. Strong black tea and dark chocolate also have tannins and create the same dryness-in-the-mouth effect. Tannins add structure and complexity to wines, and winemakers love them because tannins are a natural antioxidant to protect the wine. The more tannins a wine has, the longer it can be held or cellared.