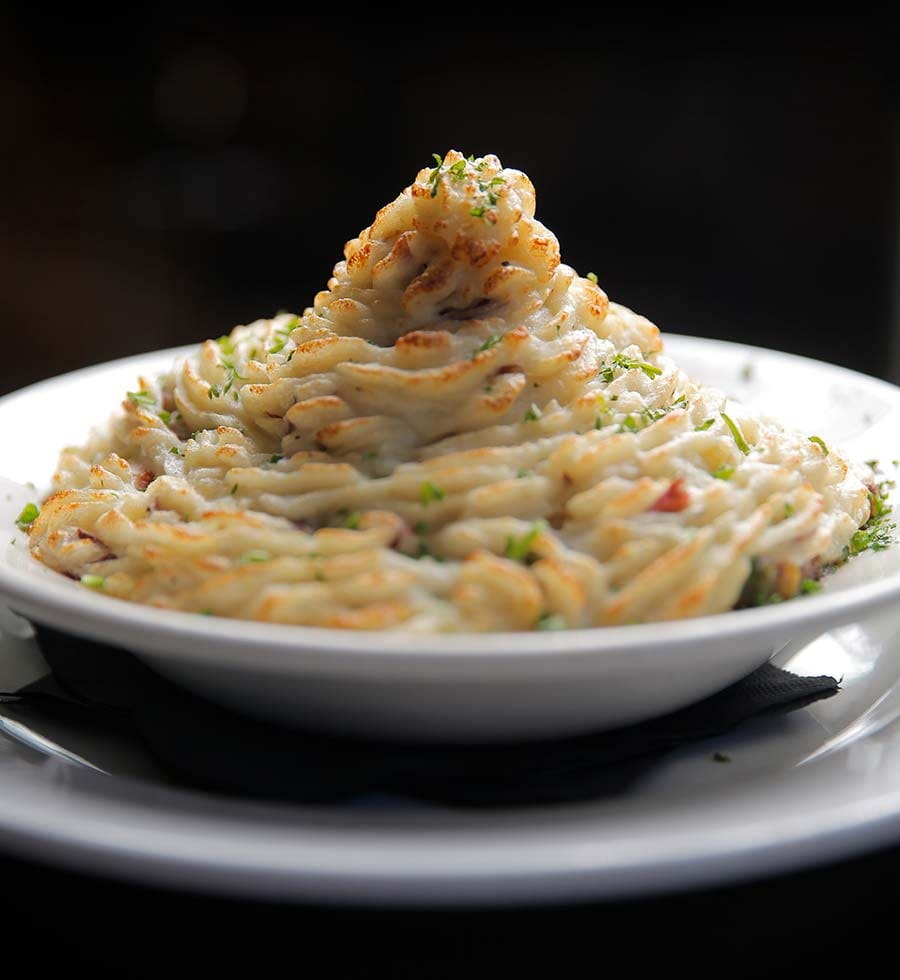 Invade the British restaurant
The Friar Tuck in Cagan Crossings in Clermont is a place where you can experience full-on English dining in a delightfully casual atmosphere. The menu is full of English classics that will tempt you to ask for a sampler tray—wait! They have that, too. Emily's Tour of England includes two sausage rolls, Scotch egg, and your choice of flip flops, pillow, or baked bean bag.
My friend and I enjoyed lunch on a Monday, and it was delicious. Our appetizers were au gratin potato cakes. These are oven baked but crispy on the outside and cheesy on the inside. They're served on drizzled sour cream with spring onions. You can also have them loaded with cheese and bacon. Highly recommended by the two of us.
In honor of my two grandchildren who live in England, I had a ham-and-cheese toastie. Just the right amount of ham with cheddar cheese on white bloomer bread. It becomes a toastie when it is pressed and toasted to perfection. Delicious, crisp, and gooey. This item doesn't come with a side, but it's very filling and tasty.
My companion enjoyed one of the Royal Wraps, the CBR (chicken, bacon, ranch), which also has lettuce, tomato, shaved red onion, and cheddar cheese. She had hers in a spinach wrap with creamy potato salad as a side, which she pronounced better than the familiar Southern potato salad with mustard in it.
Of course, we can never leave without dessert. My friend had homemade bread pudding, nice and hot with caramel sauce and filled with delicious raisins. I opted for the homemade cream doughnut, which was shaped like an éclair and filled with light, sweet cream topped with raspberry sauce. Very good.
They also have cottage pie, Cornish pastry, the classic Reuben, sundried tomato and brie pillow, and the Sunday Roast of the Week always features a different protein with lots of veggies and gravy.
The Friar Tuck // 16640 Cagan Crossings Blvd., Ste. 302, Clermont // 352.404.6818
Leigh Neely began her writing career with a weekly newspaper in the Florida panhandle, where she not only did the writing, but delivered the papers to the post office and dispensers. She has been writing ever since for a variety of newspapers and magazines from New Jersey to Leesburg. With her writing partner, Jan Powell, Leigh has published two novels as Neely Powell.
Share This Story!