Social Spotlight: The Highwaymen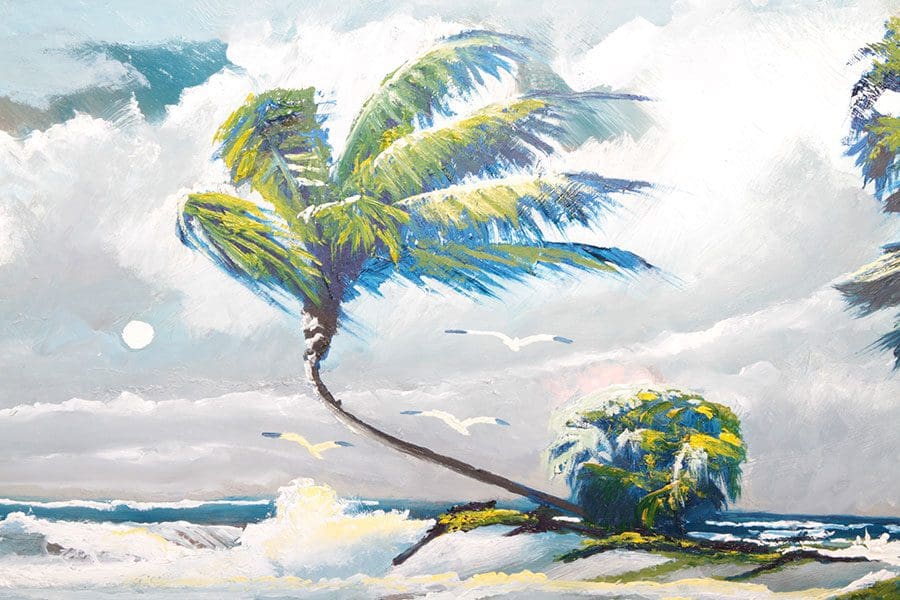 These famous artists still show the world the unique and beautiful areas of Florida.
Story: Leigh Neely // Photos: Anthony Rao
The Highwaymen are a group of artists who enjoy painting. The name was coined in an article written in the early 1990s for a group of African-American artists who have traveled Florida's roads selling their original paintings since the 1950s. Their paintings stand out and are easily recognized by Floridians because of the distinct look of the landscapes and the vivid, rich colors used.
Every year, the Highwaymen have presented two art shows in Mount Dora hosted by Margie Salyer and Randy Burgener, the innkeepers of Heron Cay Lakeview Bed and Breakfast. This year's show, however, will be the first without Randy, who died in May. The paintings will be available for purchase when the exhibit sets up from 11am-5pm Saturday and Sunday, Aug. 10-11, at Donnelly Park Pavilion.
"It has been fantastic working with these artists," Margie says. "I used to see them around West Palm Beach and just thought it was cheap art. After buying one of the paintings, Randy and I both became fascinated with them, and this is our 23rd show."
The 26 original Florida Highwaymen artists were inducted into the Florida Artists Hall of Fame in 2004. They are Curtis Arnett, Al Black, Robert Butler, Mary Ann Carroll (the only Highwaywoman), Willie Daniels, Rodney Demps, James Gibson, Isaac Knight, Robert L. Lewis, John Maynor, Roy McLendon, Lemuel Newton, Sam Newton, Willie Reagan, Cornell Smith, Charles Walker, Sylvester M. Wells, and Charles Wheeler. Deceased members include Hezekiah Baker, Ellis Buckner, George Buckner, Johnny Daniels, Alfred Hair, Alfonso Moran, Harold Newton, and Livingston Roberts.
The show will not only feature first-generation artists Mary Ann Carroll, James Gibson, Isaac Knight, Robert L. Lewis, and Roy McLendon, the second generation also will be represented by Kelvin Hair and Roy McLendon Jr.
"They're just such nice people," Margie says. "They've all worked hard and most of them had other jobs while they were painting."
The late Alfred Hair is often thought of as the leader of the group. He was ambitious and very talented. When he discovered he could sell his landscape paintings, he eventually came up with the idea of an "assembly line" style where other artists would paint the clouds and background, and he would paint the landscapes, doing as many as 20 paintings in one day. With his good looks and charm, he would walk into businesses along A1A and offer paintings for $25. Unfortunately, he was killed in 1970, but his paintings, and his son, are his legacy.
Kelvin Hair, Alfred's son, says he loves doing the show in Mount Dora and loves the town. He always enjoyed working with Margie and Randy and says they developed the process of getting the show there. 
"I don't take for granted that I'm a second-generation Highwaymen artist," Kelvin says. "There are plenty of artists out there trying to make it. I count my blessings every day because I had a step up on other artists."
Though Kelvin does paintings in the Highwaymen style, he also has his own unique style.  
Mary Ann, who will be at this year's event, was the only woman in the group. She asked Harold Newton, another of the original Highwaymen, to teach her to paint, and he did. Her paintings are distinctive and colorful. She and James Gibson, also attending the show, were recognized for their talent by First Lady Michelle Obama in 2012 in the Florida House of Representatives.
As part of the fundraising efforts, Margie will sell posters for the show with the artist's autograph. She also will have posters from past shows. The posters are framed and start at $50. A raffle for one of the late Johnny Daniels' paintings also will be conducted. Admission to the art show is free, though donations are accepted to offset the expenses of the event. 
---
Facts and Notes
A.E. "Bean" Backus served as inspiration, mentor, and teacher to many of the Highwaymen artists and helped them develop their unique styles. 
Of the original 26 artists, 18 are still alive today and collectors like Michelle Obama and Jeb Bush own their paintings.
Mary Ann Carroll was the lone woman in the group and took up painting while raising her seven children as a single mother.
Many of the painters began their work with Alfred Hair, who set up an "assembly line" of painting. His helpers would paint the background and he would finish the landscape.
Zanobia Jefferson was an art teacher at Lincoln Park Academy and encouraged many of the Highwaymen in their art.
---
Florida Highwaymen Art Show
Aug. 10 & 11, 11am – 5pm
Donnelly Park Pavilion
5th and Donnelly, Mount Dora
Free admission
Entertainment
Featuring original artists: 
Mary Ann Carroll
James Gibson
Isaac Knight
Robert L. Lewis 
Roy McLendon
Leigh Neely began her writing career with a weekly newspaper in the Florida panhandle, where she not only did the writing, but delivered the papers to the post office and dispensers. She has been writing ever since for a variety of newspapers and magazines from New Jersey to Leesburg. With her writing partner, Jan Powell, Leigh has published two novels as Neely Powell.
Share This Story!