Social Spotlight: The nuns return to The Villages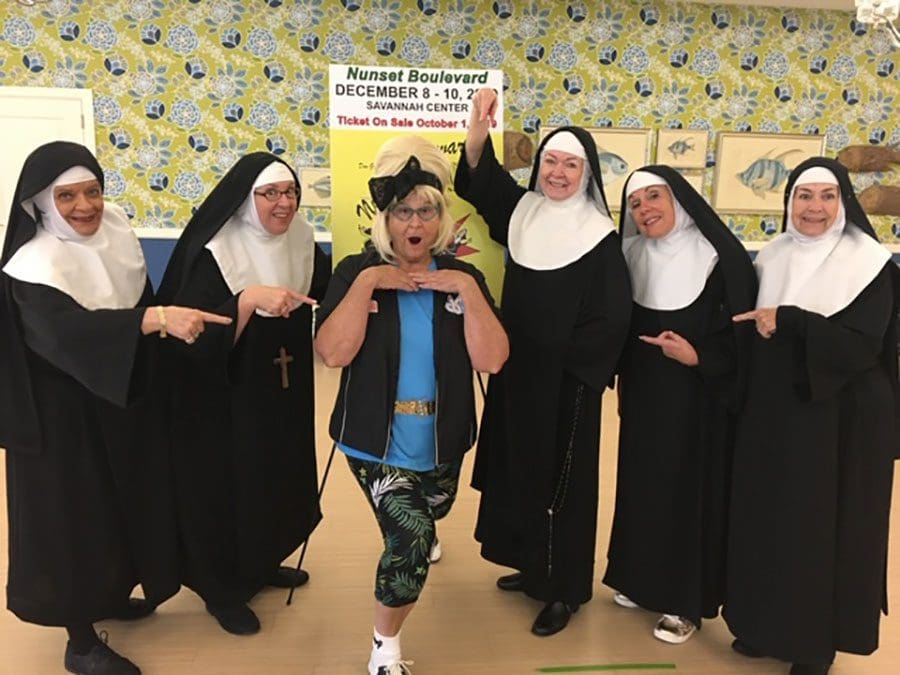 The Little Sisters of Hoboken will sing at the Hollywood Bowl(-A-Rama).

A musical that includes a scene with Bette Davis' 1962 film character "Baby Jane" surrounded by nuns in wheelchairs might sound like a bunch of nonsense. Actually, it's just a bunch of nunsense.
After sold-out performances the past two years, another production in the "Nunsense" theatrical series is back in The Villages. "Nunset Boulevard" shows are scheduled for 7pm Dec. 8-10 at the Savannah Center, 1545 N. Buena Vista Blvd.
Writer Dan Goggin's musical features a song inspired by "What Ever Happened to Baby Jane?" starring Bette Davis and Joan Crawford. The popular actresses were well-known for their real-life competition, and the movie was a low-budget, black-and-white parody about the two women, says Bob Stehman, director of the upcoming show.
In the movie, Bette plays Baby Jane, a child star, and Joan plays her older sister Blanche, who becomes a famous actress as an adult, even surpassing Jane in fame. After years of jealousy, Jane ends up hitting Blanche with her car, paralyzing her and putting her in a wheelchair—the reason for nuns in wheelchairs in "Nunset Boulevard."
The song plays into the musical's "Hollywood stardom" premise in which the nuns, the Little Sisters of Hoboken, are offered the opportunity to sing at the Hollywood Bowl, so they're told. When they arrive in town, however, they find out they actually will be performing at the Hollywood Bowl-a-Rama, a bowling alley.
"Nunset Boulevard" is the seventh installment of Dan's series that started in 1985 with "Nunsense." So, why nuns?
"It started really as a joke. A friend of mine who was a Dominican brother gave me a mannequin dressed as a Dominican nun," Dan says.
His friend got the full habits and dressed up the mannequin, and the two decided to make a greeting card out of her. People ended up loving the card series and it was a huge hit. Dan worked in the theater at that time as well and had the idea to make her story into a cabaret show—one small idea snowballed into a series. The play took on a life of its own simply because of the popularity created by the innocent, kooky comedy.
"It was more like it was leading us than us leading it," Dan says.
Dan says that what makes the plays great is "you don't have to be Catholic, you don't have to be anything. It's all about comic situations that just happen to have nuns as the driving force. But it has nothing to do with religion or politics; it's all about zany situations and everyone ends up having a great time."
The Villages' production will have its own quirks because of the individuality of the cast, Bob says. The best part about these plays, he says, is that every cast can make it their own and put their own twists on it. Since the characters do not have any set age, anyone can play any character and do what they like with it, providing a lot of flexibility to the roles. Fans may see the same play in three theaters with three different casts, and though the play itself doesn't change, they won't get bored because the performance will be unique each time.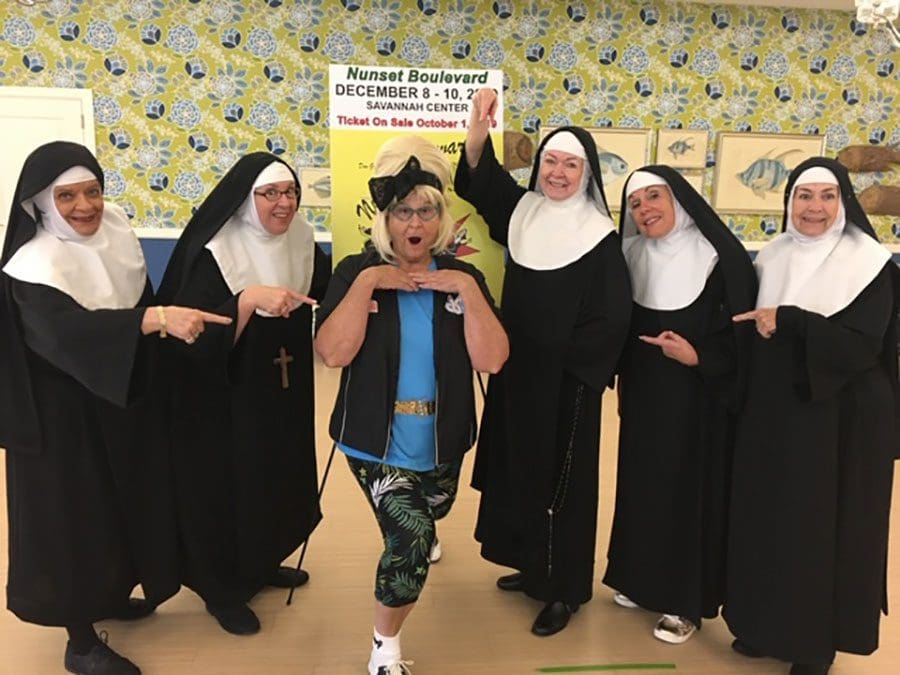 The Villages' staging will include more audience participation than other versions. In most shows, audience members are brought on stage for the bowling scene, but they also will be brought on for "The Price is Righteous" game show scene where the nuns will have to ad-lib because they won't know what the audience participants are going to say.
The nuns will be played by Carolyn Hoffman, Holly Jeske, Sally Spieth, Billie Thatcher and Bonnie Williams, all members of SMASH Productions, a community entertainment group based in The Villages. Choreography is thanks to Barbara Byers, and Mary Ann Rockenbach is responsible for the musical direction.
For tickets or more information, see thevillagesentertainment.com.
Originally from Buffalo, NY, Victoria graduated from Canisius College in 2018 with a bachelor's degree in English and Writing. In August of 2019, she relocated to Eustis, Florida, and soon began at Akers Media Group assisting with social media projects. Later that year, she was promoted to a full-time writing position at the company and has since found her niche telling the stories of so many of Lake and Sumter County's awesome people.
Share This Story!