The Perfect Hire – The Luke Hutchinson Story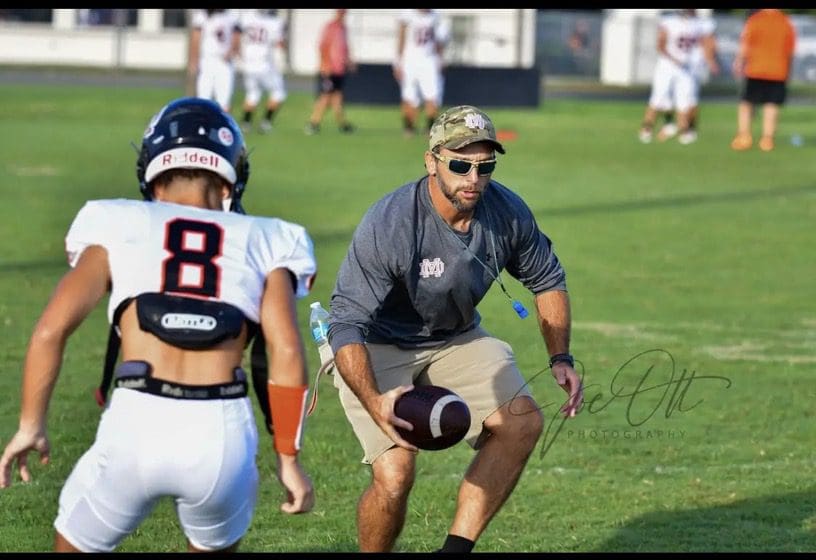 Find out why Coach Luke Hutchinson was the perfect hire for a fledgling football program.
Mount Dora High School has been many things over the years but one thing they haven't been is a winning football program in recent years. Enter Coach Luke Hutchinson and things took a massive turnaround in 2022. The Hurricanes averaged just 2 wins per year since 2018.
Before that the Hurricanes while decent, hadn't made the playoffs since 2014 or had a winning season since 2017. We respect the coaches and players for everything they tried to accomplish in those difficult seasons. For many they learned valuable lessons and made lifelong friendships which means more than winning. However as a team losing does hurt and The Hurricanes were coming off a disappointing season in 2021, something had to change.
That's where Luke Hutchinson comes into the picture. Prior to taking the head coaching position at Mount Dora this year Hutchinson was a defensive assistant at Upland High and a Defensive Coordinator at Riverside Notre Dame High in California respectively. Most recently Hutchinson was a defensive assistant for Doctor Phillips. Why is that important?
Doctor Phillips is an Orlando based team and they know how to win. This is a team that won the State Championship in 2017 so Hutchinson learned a ton when coaching with The Panthers. To put into perspective how good Doctor Phillips was from 2011 until 2021 they never had a losing season. They went to state championships and Luke Hutchinson learned what a winning football team could truly be like.
The seasons spent at Doctor Phillips allowed Hutchinson to develop philosophies for his players. To be a successful football coach you need a team to believe in you. That's exactly the kind of ground base Hutchinson created when he took on the Head Football Coaching position for the Canes.
The Canes were in need of a coach and athletic director Bill Larkin went on an extensive search where he found Luke Hutchinson. His enthusiasm  and outlook for the program was such a breath of fresh air. Hutchinson was going to get the most out of Mount Dora and that's exactly what he did.
The season didn't start off the way Hutchinson or the players of Mount Dora thought. They started 0-2 and some people may have had doubts but not Coach Hutch. He never faltered, he got his team thinking about the next game, preparing like never before and on September 9th of 2022, Luke Hutchinson and Mount Dora got their first win of the season 33-32 in a game that came down to the wire against Leesburg.
That win propelled The Canes to a flurry of wins the next few weeks. In fact Mount Dora went on to win their next 6 games in a row and assured themselves their first winning season in over 5 years! A tremendous accomplishment for a first year head coach! But Hutchinson wasn't alone. He was a defensive coordinator after all and his players believed in every message he sent to the program.
Senior QB Matthew Butler averaged over 16 yards per pass, RB Dante Johnson-Turner was one of the best in state with nearly 2,000 yards on the season and over 26 offensive touchdowns. Even Sophomore WR Tyler Waring was impressive with 600 yards recieveing.
Defensively the Hurricanes also looked better than ever. Junior Russell Fickett lead the team with 83 tackles and not far behind was Senior Cohen O'Hara who had 70 on the year. The players believed in Coach Hutch and Luke Hutchinson believed in them.
The head coaching position requires a lot of Horus and a ton of work so Luke Hutchinson knew he needed the support from his family. His Wife Dana Hutchinson, Son Westin and Daughter Remington are his biggest fans! Even when the going got tough this year the family always believed in him and that's a beautiful thing! 
That kind of family mentality rubs off when coaching. A team is like a family. Family means everything and what Mount Dora has is a family togetherness. It's a tight community and an old school Florida atmosphere. If you've never attended a game at Mount Dora High, it's about as old school as it gets.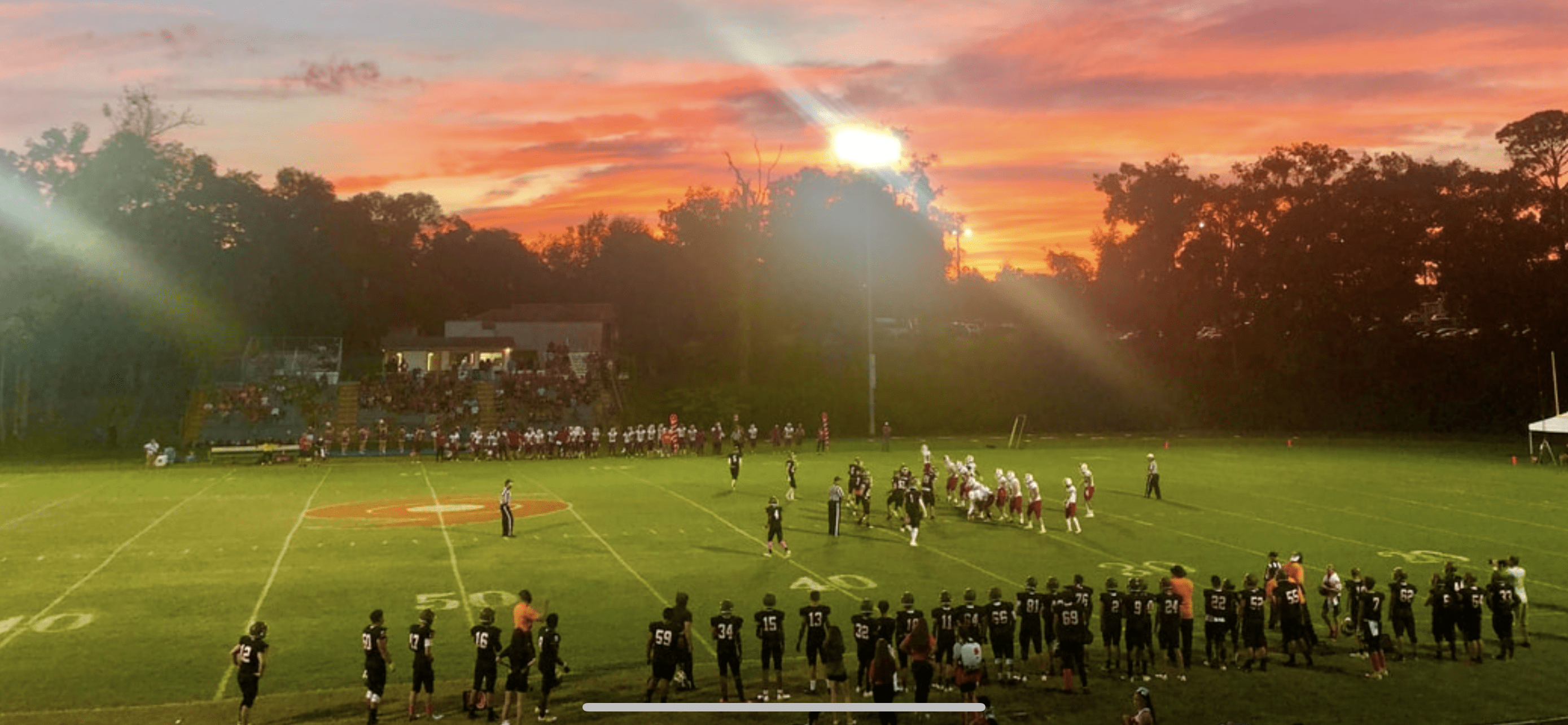 The bleachers are seasoned, the field is nestled below a rolling hill, the entire look seems like it's out of a 1960s football film. Mount Dora High School has so much character built into that field. When the sun sets behind the opposing sideline it's one of the most beautiful scenes in high school football. Believe me it's something you should experience live! 
The field might not have the best amenities and glamor of other facilities of this era but you don't need all that. Mount Dora is classic, it's perfect if you ask me. And it's the perfect location for Luke Hutchinson. What Hutchinson and his team of coaches are building at Mount Dora is a program that's needed that kind of passion for a long time. All the ingredients are there for success. Now we will see if Mount Dora can make their first playoff appearance in nearly 10 years next season!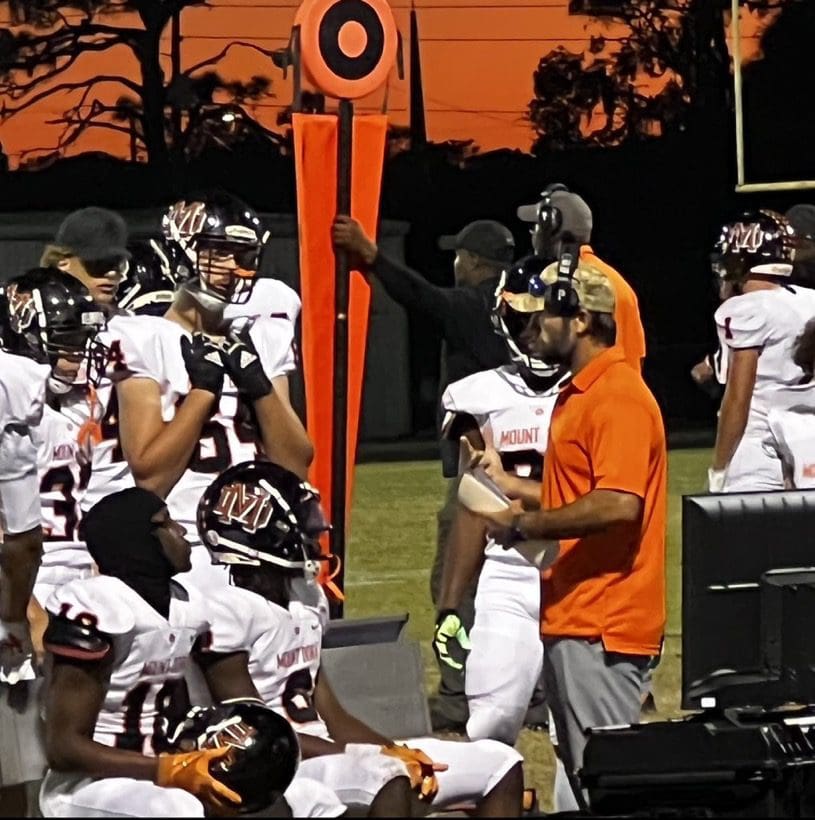 Mount Dora can be proud they have such a great coach and staff who believe in the success of the program! We look forward to the great things this team will do in the near future!
Pictures Provided By –
Luke Hutchinson
Kyle Coppola
Joe Ott Photography
Kyle Coppola was born in Newton, Massachusetts and received his Bachelor of Fine Arts in Communications from Curry College in 2016. After traveling to Florida on a family vacation, he decided he could not get enough of the warm weather and made the move from snowy Massachusetts to central Florida 8 years ago.
For the last decade Kyle has gained valuable experience in social media content creation, marketing and sales, writing, video production, sports announcing and even broadcasting for local radio stations, such as FM 102.9 in The Villages and FM 91.5 in Massachusetts. Every year he volunteers at The Villages Charter High School as a play-by-play sports announcer for the football games as well as a public address announcer for the basketball games, including the annual Battle at The Villages Tournament.
Outside the office Kyle is a husband and father to two beautiful girls along with their cat. In his spare time he likes to spend time with his family, travel, play golf and swim. He is also a huge sports junkie and even bigger motorsports fan and loves to attend racing events when he can.
Share This Story!