The wide world of sports?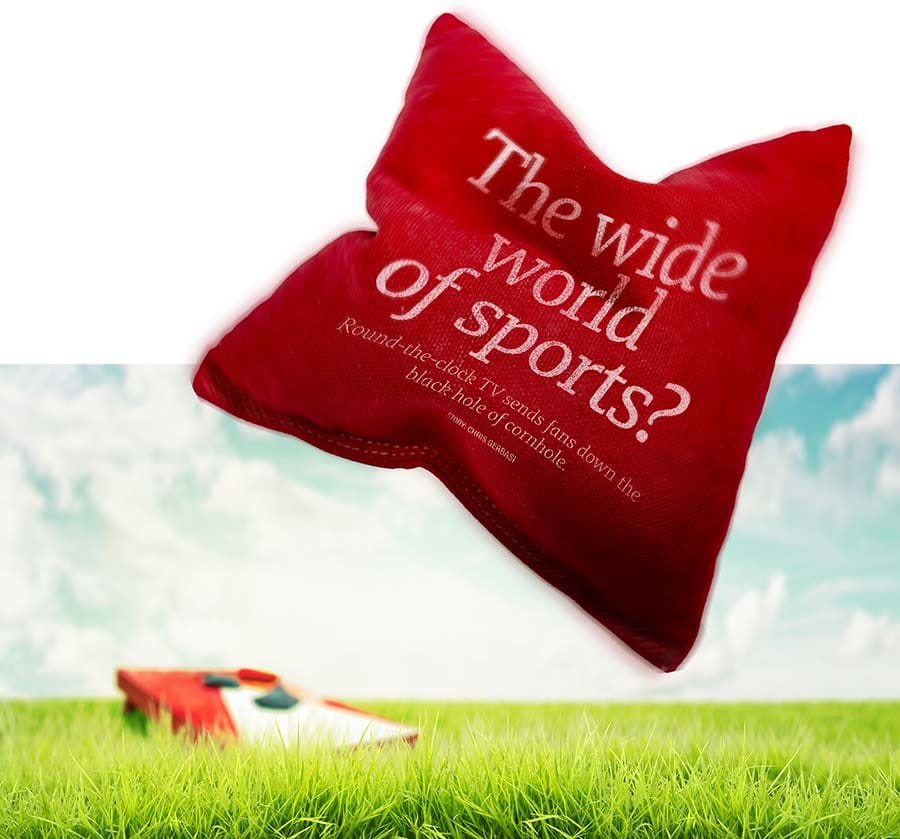 Round-the-clock TV sends fans down the black hole of cornhole.
When I was a kid, I watched every sport imaginable. Of course, in those days, you took what the networks gave you—24-hour sports channels didn't exist. So you'd watch slalom skiing from Switzerland or cliff diving from Acapulco. But they were sports.
Today, with so much programming to schedule, I swear networks are just making up "sports" to fill their lineups. Here is perhaps the lowest of the low: ESPN, the self-proclaimed innovator and leader in sports television programming, presented an entire night of…cornhole! Cornhole, the game with a cheap board with one hole in it and beanbags that your kids throw at each other. Cornhole, the game that sparks drunken brawls between Billy Bob and Bobbi Sue down at the country saloon. "You cheated!" "Did not!"
The American Cornhole Organization (a real thing) is the governing body for the "sport." The ACO website advertises resin-bead bags, stating they're better than corn-filled bags because bugs and rodents are less apt to eat them. How many times have we heard this inspirational story? Hank Aaron in baseball, Tom Brady in football, Brandi Chastain in soccer, and so many other athletes, all were inspired to choose their sports because bugs and rodents were less apt to eat their equipment.
Yes, cornhole has gone pro. Let's listen in to the broadcast…
"Good evening, fans, I'm Buck Howzer coming to you with this week's Cornhole Classic and whoa, Nelly, have we got a barnburner for you tonight: the legend, Biff "Corny" Cornelius, versus the upstart, little Tommy Hayfever. He's just 6 years old, but boy, can he toss the corn. The Cornhole Classic, brought to you by Fritos Corn Chips.
"I'm joined tonight, as always, by Cornhole Hall of Famer Maíz Pelota, the diminutive Dominican Republican whose story is well-known. He learned the game while growing up on the poor streets of Santo Domingo, using cardboard for, well, a board, and a bag filled with beans as, uh, a beanbag. A remarkable story. Welcome, Maíz. Of course, you were on your way to smashing all the cornhole records before you injured your wrist, ironically, when you got your hand stuck in a cornhole hole."
"I still don't like to talk about it, Buck."
"That must have been embarrassing."
"Seriously, don't ask me about it again, Buck."
"OK, the action has started, there's a toss by Tommy and it's in the hole. He's wearing the pink and blue colors of his sponsor, Teddy Bear Day Care. Here's a toss by Corny and it's in the hole. Corny lost his sponsorship deal with La-Z-Boy beanbag chairs after an ill-advised tweet saying he actually prefers armchairs. And a toss by Tommy is in the hole. Maíz, have you ever seen tossing like this?"
"Yes, Buck, pretty much all the time."
"Well, let's do some armchair quarterbacking, ha-ha, what does Corny need to do to win?
"He needs to continue to toss the beanbag into the hole, Buck."
"And there's a pause in the action as the beanbag boys gather up the bags. Tommy takes a drink from his sippy cup, he's probably got some juice, maybe some chocolate milk, and—look out! An errant beanbag has hit Corny in the eye! Corny is down! Corny is down! He can't continue! Little Tommy Hayfever is going to win this match! Maíz, what about this dramatic turn of events?
"Every cornholer knows the risk they take when they step onto the floor. Injuries are part of the game."
"As you well know."
"Really, Buck, don't do that."
"That will wrap up the Cornhole Classic, which is yet another production of ESPN. Stay tuned for the Pro Footvolley Tour, brought to you by the makers of flip-flops."