Total Nutrition and Therapeutics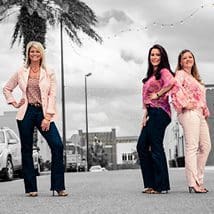 Before
After
The best defense is a good offense.
Lori Esarey, owner of Total Nutrition and Therapeutics, centers her practice around this philosophy. "'Personalized medicine' that starts with understanding your health/wellness goals combined with comprehensive diagnostic testing, designing your unique plan and helping you execute it. Taking a food first approach to healing is our specialty." This proactive approach helps her clients reduce health risks, spend less time and money on pills and aligns more with their desires to LIVE life and enjoy!
"Just because you're not sick doesn't mean you're well," she says. "Our clinic identifies those blind spots so we can take better care of ourselves and boost our body's defense mechanisms."
Two other clinicians work at the practice: Angela Ugarte, a nurse practitioner, and Amanda Ansbaugh, a physician's assistant and former combat medic.
"We're like Charlie's Angels," Lori says. "We come from different backgrounds but share a common goal of helping our clients feel and live their best."
---
Lori Esarey | Nurse Practitioner / Owner
Angela Ugarte | Nurse Practitioner
Amanda Ansbaugh | Physician's assistant
809 County Road 466, Unit 202-C, Lady Lake
352.259.5190 / totalnutritionandtherapeutics.com
---