UF Health sets new visitation policies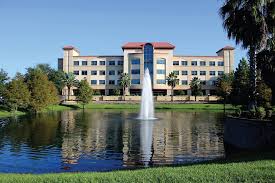 To ensure the well-being of patients and staff during the coronavirus outbreak, officials at UF Health Leesburg and UF Health The Villages implemented a new visitation policy. "To protect the health of our patients and health care providers, no visitors are permitted at UF Health Leesburg and UF Health The Villages Hospital except under special circumstances such as patients receiving end-of-life care or the imminent birth of a child," CEO Don Henderson said in a press release. In addition, nobody under 18 will be permitted to enter either hospital at this time.
Akers Media Group's James Combs has been a staff writer for several local publications since August 2000. He has had the privilege of interviewing some of Lake County's many fascinating residents—from innovative business owners to heroic war veterans—and bringing their stories to life. A resident of Lake County since 1986, James recently embarked on a journey to lead a healthier lifestyle. He has lost 60 pounds and walks nearly five miles a day. In his spare time, he enjoys target shooting, skeet shooting and watching his beloved Kentucky Wildcats!
Share This Story!