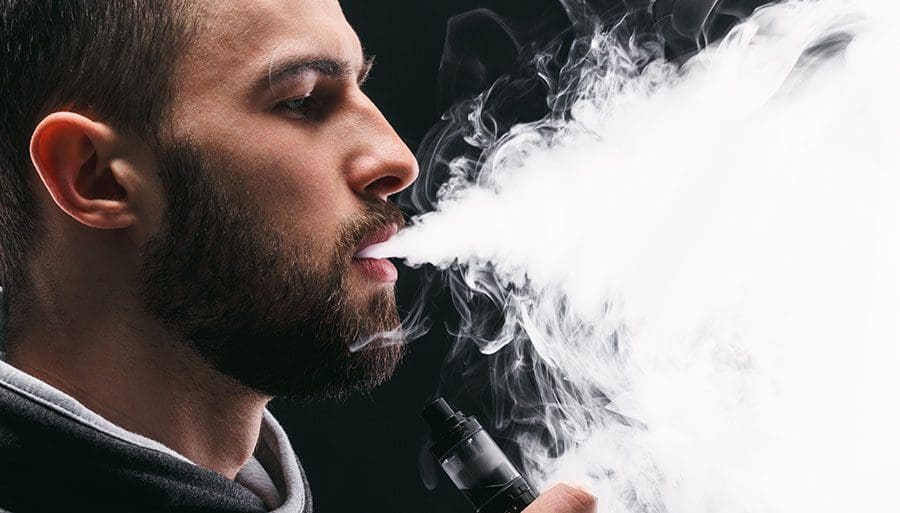 Yes, vaping is better for you than cigarettes, but…
Christina Page recently joined 11 million American adults who use electronic cigarettes…and she's wondering if she made the right decision.
"I'm concerned about the health aspect. I've been researching it, but nobody really knows," says Christina, who resides in Central Florida.
Christina's concern is understandable. The Internet is filled with dire warnings about the dangers of vaping, the act of "smoking" a battery-powered device containing a cartridge filled with liquid that's heated into a vapor the person inhales. Keep scrolling and you'll find a plethora of information extolling the benefits of e-cigarettes.
There are thousands of conflicting opinions about e-cigarettes. What's a person to believe?
Christina was still on the fence after weighing the pros and cons…until her buddy Carolyn nudged her toward vaping. Christina trusted her friend's judgment; at least Carolyn had first-hand knowledge.
"I quit smoking cigarettes about seven years ago cold turkey and never picked another one up. It was not until recently that I felt an immense amount of pressure and felt the urge again. My husband has been a vaper since 2014 and after doing some research on it, I felt that maybe it would be the safer route, so I tried it," Carolyn says.
Carolyn's conclusion after doing research: "No known health issues have been identified from vaping. There is not enough scientific evidence completed regarding the safety issues and potential health concerns resulting from vaping."
Carolyn is right. There isn't much scientific evidence about how e-cigarette vapor affects health. There is no long-term study on vaping; the oldest study is four years old.
Carolyn is also wrong. There are known health issues related to vaping.
Researchers at the University of Mainz (Germany) recently published the world's first comparison of the effects of smoking and vaping on human health and the function of cells that line blood vessels. The findings:
E-cigarette users are 194% more likely to develop COPD than non-smokers.

E-cigarette users are likely to have 7% more arterial stiffness than non-smokers.
Study author Professor Thomas Münzel explained how e-cigarettes hurt the human body: "Vaping leads to increased production of oxygen-derived free radicals in blood vessel tissue that breaks down nitric oxide, which is important for protecting against inflammation and clogging of the arteries. Researchers say the main toxic chemicals in e-cigarette vapor include formaldehyde and acrolein, as well as traces of chemicals called transition metals and volatile organic compounds (VOCs), all of which are known to damage cells."
With that said, the study also showed that cigarettes are much, much more detrimental to your health than vaping:
Cigarette smokers are 704% more likely to develop COPD than non-smokers.

Cigarette smokers are likely to have 10% more arterial stiffness than non-smokers.
There you have it, clinical proof that you're better off vaping liquids than smoking tobacco. A lot better off.
That's good news for makers of e-cigarettes, vape pens, e-liquids, vaporizers, mods (customizable, more powerful vaporizers), tanks, cartridges, atomizers, batteries and other vaping products.
If you're thinking vaping is big business, you're right. The global e-cigarettes market was valued at about $14.05 billion in 2018 and is expected to grow to $29.39 billion by 2022.
Vaping has evolved considerably since the first e-cigarette was sold in 2005. First-generation e-cigarettes, or "cigalikes" as they were often called, were disposable, designed for one-time use, and marketed to tobacco smokers who wanted to quit. That certainly was the case in Carolyn's household. She says vapes, "Made it easier to transition from cigarettes to vape in an attempt to cut back and eventually quit."
Back then, there was just one flavor. Today, there are 15,000, including Gummi Bear, Blue Raz Cotton Candy and Watermelon Wave. With fruity names like that, it's no wonder the vaping industry is accused of trying to get young people addicted to nicotine, even though some juices contain zero nicotine.
Earlier this year, the federal government moved to protect children by raising the minimum age to purchase e-cigarette products from 18 to 21. President Donald Trump's administration also announced plans to ban most flavored e-cigarette products.
Nine states – Massachusetts, Montana, California, Michigan, New York, Oregon, Rhode Island, Utah, and Washington – have taken action on e-cigarettes, especially against flavored products favored by teens and young adults. According to the Public Health Law Center, at least one lawsuit to enact an emergency ban on vaping products has been filed in each state.
Opponents of flavored e-cigarettes frequently cite media reports of acute lung disease, and even death, among youth and young adult vapers. They fail to mention that nearly every case of serious illness attributed to vaping involved individuals who smoked black-market e-liquids containing THC, the drug found in marijuana. There are no documented cases of serious illness or death involving vaping legal e-cigarette liquids containing nicotine.
School of Public Health Professor Michael Siegel says flavored e-liquids aren't the problem. He argues that legislation should focus on nicotine content and formulation, which he calls the real cause of the youth vaping epidemic. Siegel is especially critical of products that use high concentrations of nicotine salts, which allow nicotine to be absorbed into the bloodstream much more quickly. Siegel wants manufacturers to be required to clearly state just how much nicotine consumers will be taking into their bodies. He says "It's not the flavors. It's the nicotine."
---
Cigarette smokers who picked up vaping were 67% more likely to quit smoking.
—physiciansweekly.com, July 15, 2019
Teens who use e-cigarettes are 4 times more likely to try regular cigarettes than their peers who never used tobacco.
— JAMA Network Open, Feb. 1, 2019
E-cigarettes are twice as effective at getting people to quit smoking as nicotine replacements such as the patch and gum.
— New England Journal of Medicine study.
In 2018, 1 in 5 high school students used e-cigarettes.
— e-cigarettes.surgeongeneral.gov, Jan. 10, 2019
---
Vapers are fighting back with convincing arguments. First and foremost, that vaping helped 2.5 million smokers give up the tobacco habit that kills 443,000 people a year. In Canada, controlled trials conducted by National Health Services concluded that smokers increase their chances of quitting smoking by 83% using e-cigarettes compared to any other nicotine replacement therapy. Reason No. 1 continues to be, "It's safer than smoking tobacco." That's because e-cigarette users have full control over their nicotine dosage, they can control the amount of vapor they exhale. Another plus: vaping quickly satisfies cravings.
Smoking e-cigarettes offers potential health benefits because it delivers lower levels of nicotine than old-fashioned cigarettes. E-liquids contain components like vegetable glycerin, propylene glycol, nicotine and food-grade flavoring ingredients.
But e-cigarettes also contain solvents, flavorings and toxicants, which can be potentially harmful to human lungs for chain smokers.
The bottom line: vaping will continue to be a hot topic for years to come. Each person needs to decide for themselves whether to vape or not. There's plenty of reliable information out there, if you know where to look.
Here's what we learned:
Yes, there are risks associated with vaping, risks that have been documented by clinical research. Finding those findings, however, can be a challenge. Keep in mind that the Internet is part of the problem. Much of what you'll find is opinion, and that which appears to be factual may be outdated. To ensure you get the most pertinent information, include words like "clinical study…researchers…" along with words like "e-cigarettes…vaping…"
And research often. Studies are being conducted all over the world, and it seems there's new information about vaping each day. Hopefully we'll know someday soon if vaping is more good than bad.
---
Editors note: This article is based on research studies published in 2019 and 2020 to ensure that information presented here reflects the most recent science.
Gary Corsair began writing professionally while attending high school in Greentown, Indiana. He's spent most of the past 46 years in writing, reporting, editing and producing roles for newspapers, magazines, TV, and radio. He's served as publisher and editor of three newspapers, TV news director, and executive producer of two documentaries about The Groveland Four. Gary's earned more than 65 awards for journalism excellence.
Share This Story!