Near and Far: Visions of Bavaria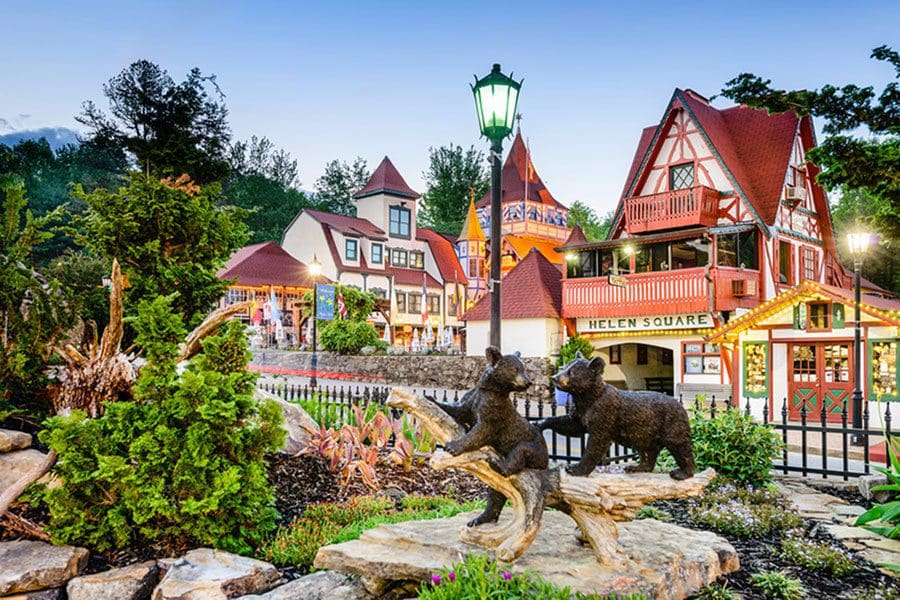 Creating an alpine village in Georgia may have sounded ludicrous in 1969, but 50 years later, Alpine Helen is one of the hottest—and coolest—travel destinations.
Story: Mary Ann DeSantis
Photos: Mary Ann DeSantis and provided by the Alpine Helen & White County CVB
If celebrating Oktoberfest in Germany is not in your budget this year, you can still get an authentic taste of Bavaria without leaving the American South. Alpine Helen, Georgia, is a picturesque village complete with cobblestone streets, Old-World towers, gingerbread-style buildings and a monthlong Oktoberfest celebration that rivals any of those found in Germany.
Now officially called Alpine Helen, the small, north Georgia town on the Chattahoochee River is an amazing transformation story. Like many other small Southern towns in the 1960s where industries had left or declined, Helen had seen better days. But a small group of community leaders got together and discussed ways to improve the town, which in 1968 consisted of 10 buildings. Hoping to increase tourism in the area, they talked to Georgia artist John Kollock about adding some "color" to Helen. John, who had been stationed in Germany with the U.S. Army, had fallen in love with Bavaria. The Blue Ridge Mountains around Helen reminded him of Europe. He took pictures of the buildings and returned to his studio where he "alpinized" the exteriors in drawings.
"The business owners paid to have their own building facades changed to fit the Alpine Bavarian theme that Kollock had shown in his drawings," says Jerry Brown, executive director for the Alpine Helen/White County Convention and Visitors Bureau.
Chattahoochee River

Octoberfest Bier Garden

Helen Square
Work began in January 1969 and by September of that same year, Alpine Helen hosted its first promotional event: the Chattahoochee Trout Festival and Alpine Hoedown. The vision paid off, because today the area receives more than 1.6 million visitors annually and is the third-most visited city in Georgia, behind Atlanta and Savannah, according to Jerry.
October is a popular time to visit because of the fall foliage and one of the town's biggest events: Oktoberfest. The 49th annual Oktoberfest celebration is already underway (it started in September) and will run through Oct. 27. Kegs of German beer flow at the Fussen Biergarten at the Festhalle, located on Edelweiss Strasse, just off Main Street. From oompah bands to Prost, German music fills the air, not only in Festhalle but in most of the bars and restaurants around town.
Getting authentic German cuisine is easy all year with four German restaurants in the area. That's among 29 restaurants overall, but when in town, you definitely want to try a pastry or a gigantic pretzel at Hofers Bakery & Café, which is owned by one of the town's German families. For dinner, head over to the Bodensee Restaurant, where master chef Auril Arodan prepares German specialties, including "tafelspitz" (slow-cooked beef) and "holzfaellersteak" (pork loin). Auril and his wife, Doina, emigrated from Baden-Wuerttemberg about eight years ago after visiting Helen and realizing the town needed a fine-dining German restaurant.
Adventures and Art
While downtown Alpine Helen is a great place to experience German culture and cuisine, the other important draw to the area is nature. On sunny days, the Chattahoochee River is filled with people lazily floating on tubes right through the downtown area.
The newest attraction is the Georgia Mountain Coaster, which opened last summer. This unique ride heads up a mountain ridge and back down through switchbacks and roundabouts before dropping riders back in downtown Helen. The rider controls the speed, so it can be as breathtaking as your courage will allow.
But after all that delicious German food, you may need a hike on one of several trails inside the Unicoi State Park, only two miles from Alpine Helen. I opted for a hike to the stunningly beautiful Anna Ruby Falls, a pair of twin waterfalls that cascade in tandem to a boulder-filled creek. The half-mile paved trail is child-friendly, stroller-friendly and dog-friendly.
Alpine Helen/White County has done an excellent job of promoting the authentic sites near town. The Hardman Farm State Historic Site is an educational experience for all ages. "Hardman Farm was years ahead of its time and very innovative," farm manager Will Wagner shares with visitors on guided tours through the home that still contains original 18th-century furniture.
The most unexpected fun happens at Nora Mill Granary, where Tommy Martin has been grinding grits and cornmeal for four generations. "Keep your nose to the grindstone," Tommy yells as he feeds the grinder and explains why the term came into use. "You never want to smell the (grinding) stone in your grits." Featured on the Food Network a few years ago, the Nora Mill Granary supplies thousands of pounds of grits to restaurants throughout the country, and especially Florida. The guided tour is well worth the time.
Hardman Farm

Octoberfest Parade

Work began in January 1969 and by September of that same year, Alpine Helen hosted its first promotional event: the Chattahoochee Trout Festival and Alpine Hoedown.
Art lovers will enjoy visiting the Folk Pottery Museum and the Gourd Place, both located in nearby Sautee, Georgia. The Sautee Nacoochee Arts Center features works from 47 juried artists in the area and attracts more than 47,000 visitors annually.
No matter which adventure you choose, it's just what Helen's visionary leaders imagined for their beloved town 50 years ago.
---

If you go
Getting There
The main route in and out of town is Georgia State Route 75 (not Interstate 75). Alpine Helen is located 102 miles northeast of Atlanta International Airport.
Accommodations
If you are going to Helen only for a day or two, you will find many well-known hotel brands right in town, making it possible to walk just about everywhere you want to go.
However, if you plan to stay several days, you may opt to stay at one of the nearby lodges or resorts. The Unicoi State Park and Adventure Lodge offers not only a recently renovated lodge but also unique barrel cabins. It takes a minute to get used to the rounded ceiling and walls, but the fully appointed cabins offer unparalleled views of the lush forests and streams.
If your vacation needs to include golf, then the luxurious Valhalla Resort Hotel next to the Innsbruck Golf Course is the place to be. The resort offers a stay-and-play package for the course, which stretches for more than 6,500 yards in the shadow of the Chattahoochee National Forest.