This 'N That: You can see right through this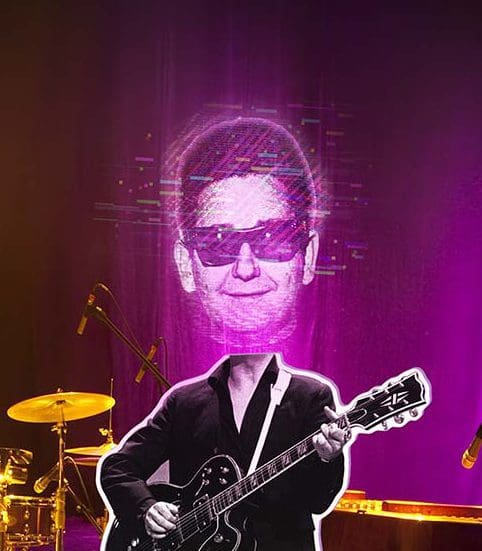 Celebrities never die, they just become digitalized.
I'm going to be big when I'm dead. Decades from now, at theaters spread across what's left of the Eastern Seaboard, my disembodied head will float above a stage and read from a collection of columns on the This N' That N' the Other Tour. I'm recording the audio now, trying to make my voice sound as eerie as possible. I figure fans plunking down bitcoins for a night on the town will expect eeriness from a disembodied head.
That's if I'm lucky, of course. The market for postmortem entertainment will be saturated if today's trend is any indication. Dead celebrities are live commodities.
Just check out the Roy Orbison "In Dreams" hologram tour Nov. 16 at Dr. Phillips Center in Orlando. Fans will see a full-bodied Orbison, the singer of "Oh, Pretty Woman" and so many other hits, who died in 1988. (For my tour, I would prefer just the noggin, to create that "Wizard of Oz" effect. He was ahead of his time.)
In recent years, performers such as Tupac Shakur, Michael Jackson, and Elvis Presley have "appeared" as holograms, but a full-scale tour may be a first. The possibilities are endless. Imagine the vast number of lost legends who could get new life: David Bowie and his Ziggy Stardust to Dust Tour, Prince and his Purple Rain from Heaven Tour, or Chuck Berry and his Roll Over Beethoven, I'm Rollin' Over Too Tour.
Promoters are telling fans they can see Roy in a new, thrilling way as he "comes back to the stage he commanded for decades through breathtaking state-of-the-art, cutting-edge digital and laser technology, and extraordinary theatrical stagecraft."
Wow. It's to die for. Sounds like the show will almost be like seeing a live person. Gives me goosebumps just thinking about it. Tickets cost as much as $525 on scalper sites, if there's a ghost of a chance of getting that price.
But by all means, go see Roy. Looking at him now, he doesn't look a day past dead. Just don't expect much in the way of stage banter. After Orlando, he's got additional Florida dates for three straight nights. That's the beauty of working with a dead performer—the road can't kill him.
The tour was "estate-approved," which means at some point, a conversation among Orbison family members had to take place. Someone had to say, "Yes, let's turn Daddy into a digital freak show!"
So Roy's out there "singing" all his greatest hits accompanied onstage by a live orchestra—a live orchestra and a dead frontman? The producers could have saved themselves a huge expense. But at least fans know Roy will never miss a note or forget a lyric—unless the recording malfunctions and his trademark three-octave range becomes an embarrassing, stuttering warble. "Somebody kick the boombox! Roy's stuck!"
What do you do at one of these shows? Is there a warmup hologram, like Bill Haley & His Comets? Do you applaud? "Gee, technology has never sounded better." Do you shout? "Bust a move, Roy!" Do you call out for songs? "Play No. 23 on the recording!" Does the hologram "walk off" at the end of the set and wait for chanting fans to coax it back out for an encore? "One more phony image! One more phony image!"
The irony is that the basic technology really isn't new. I don't know anything about it, I'm just a headless writer, but the concept of holograms apparently is based on something called "Pepper's ghost," an illusionary technique created for stage shows by John Henry Pepper way back in the 1860s.
Wait a minute. Doesn't that call for a John Henry Pepper hologram show? Promoters could call it the I Can't Believe People Are Still Falling for This Tour.