2nd Annual Lake & Sumter High School Fantasy Football Draft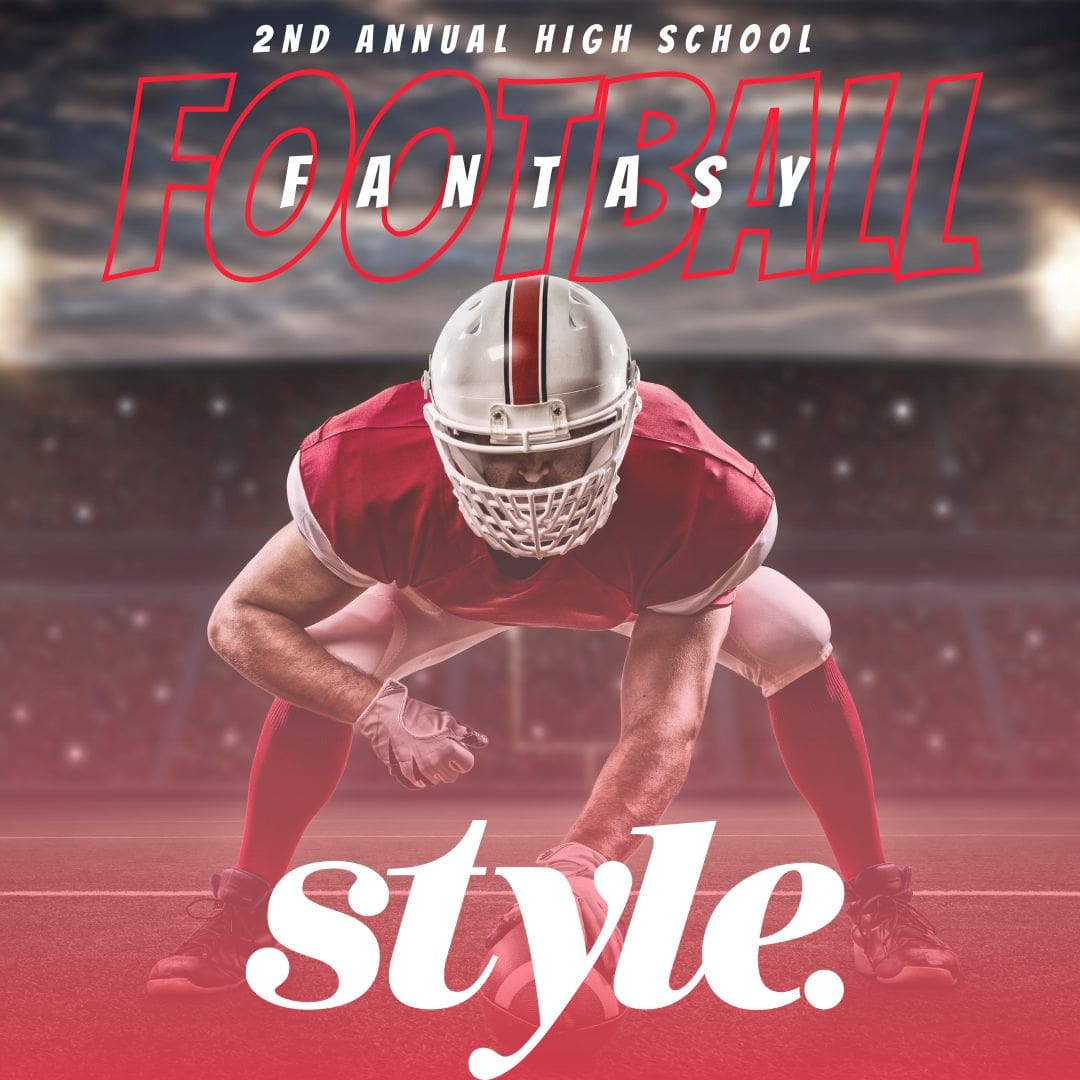 This is the point in the year which we put together our annual Fantasy football team. This is such a fun article and is an annual tradition that I started last year. For those that do not know how to play fantasy football, you take the best players in the league and put them on the same squad. You can read about what a QB1 or QB1 and RB1 and RB2 is which I will include below. So lets get right into it!
QB1 (Top Quarterbacks)
Leesburg High – Salomon Georges #1 (Junior)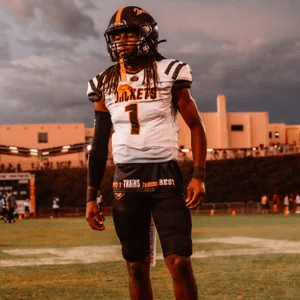 One of the absolute best quarterbacks you will find in any high school draft is Salomon Georges. This kid has nearly 2,000 yards of total offense. He has thrown the ball 130 times completing over 90 passes with ZERO Interceptions! That's right he not only balls out but takes care of the football.
Georges has 27 touchdowns this year. 24 through the air and 3 scored on the ground. He is everything you want out of a fantasy quarterback. He scores points but most importantly takes care of the ball. Georges averages 18.5 yards per throw and certainly slots in for QB1. He would likely go at the number 1 spot in our fantasy draft.
Lake Minneola High – Jackson Hughes #12 (Senior)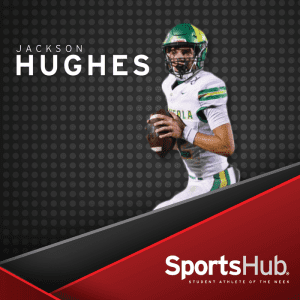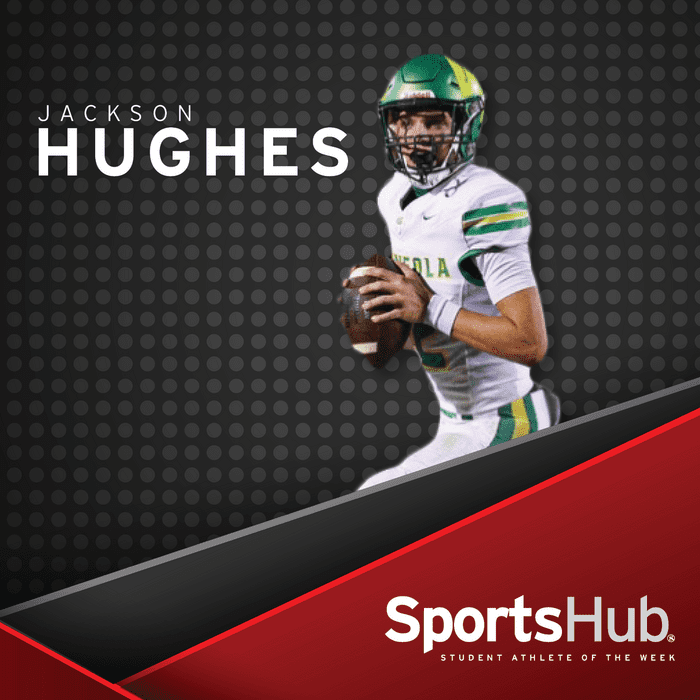 Another player having a monster season is Lake Minneola QB Jackson Hughes. The senior got to watch and observe Quinn Neimann who had an outstanding year in 2022. The then backup has proved everyone he has what it takes to be a QB1 in Lake County.
Hughes has thrown for 1,915 yards. He has taken 194 attempts and completed 118 of those passes. He has 20 touchdowns on the year. 14 through the air and 1 rushing score. Much like Georges, Hughes makes good work of his elite wide receiving corps that includes Braylon Knauth and D'nari Adams. Hughes is averaging 15 yards per throw and only has 4 interceptions this season. He is should absolutely be on the radar as a QB1 who will not disappoint.
Eustis High – Troy Saladin #2 (Junior)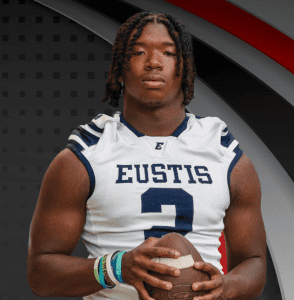 Troy Saladin rounds out our list of QB1 candidates. He has had a great season with 22 total touchdowns. Saladin has thrown the ball 155 times completing 83 of those throws for an average of 16 yards per pass. He has 1600 yards of total offense this year. Saladin does have 6 interceptions on the season, but Eustis has relied on Saladin to throw the ball especially when facing tougher opponents like Leesburg and Tocoi Creek.
He is a mobile quarterback and while he likes to sling the ball in the pocket, Saladin is a capable runner and has 150 yards on the ground. He is a reliable quarterback who brings plenty of score value. If you have the opportunity to pick him up in the draft, you will not be sorry.
QB2 (Best Secondary Options)
South Sumter – Will Ammons #14 (Senior)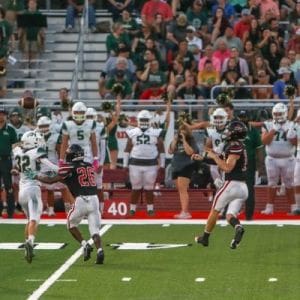 Ammons is a really good quarterback and while his statistics might not be as strong as the other quarterbacks on the list, you are getting a QB who plays in a stronger district than the other guys. If we are talking about a quarterback who is reliable then Ammons fits the bill.
Through 8 games, Ammons has thrown the ball 51 times completing 30 passes for 561 yards of total offense. Coach Ty Lawrence has enjoyed success with some wildcat this year including Tyrese Keiler who has thrown for 174 yards and 2 touchdowns.
There are so many weapons on offense that South Sumter has that it limits Ammons as far as fantasy points go. Having said that he is still one of the top quarterbacks in Lake County. He slots in as a fine QB2 to have on your roster. If you end up taking a running back or wide receiver in the first round, we would highly recommend picking up Ammons in round 2.
Mount Dora High – Jake Sepe #11 (Junior)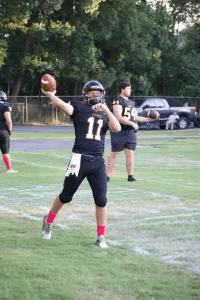 In terms of QB2, Jake Sepe is the top option. With 12 touchdowns scored this season, he is a reliable QB who takes care of the ball. Mount Dora High typically likes to run the ball but also has some good wide outs to help Sepe. Tanner Waring and Zy'shonne Perry have impressed us this year and that has helped Sepe average around 11 yards per throw.
Sepe takes care of the football and only has 1 interception this season. He has thrown the ball 88 times for 57 completions and 640 yards passing. Do not expect him to run much as that is not his strong suit but his offensive line is young which has limited his potential this season. He is still a fine QB2 and if he is around, you should absolutely pick him up.
FA-Leesburg – Cason Cherry #11 (Junior)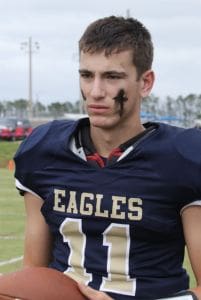 Cason Cherry plays in the Sunshine conference. This is not the most powerful conference in Florida by far but there are some great athletes to be found. Cason Cherry is one of them. He has quietly had a great season at the QB position. He has 706 yards passing and 11 touchdowns this year. He is a scoring machine and that is exactly what you want in fantasy football.
While he does have 3 interceptions, he has been averaging 14 yards per throw. He also leads the team in rushing yards. Being mobile allows for Cherry to chew up yardage on the ground which has helped First Academy-Leesburg to two wins this year. FA-Leesburg is not a powerhouse by any means but there have been some excellent athletes to come through the program over the years. Cherry is also a baseball player and a good one at that. Consider him a low end QB2.
RB1 (Top Running Backs)
Lake Minneola – Dane Thompkins #5 (Junior)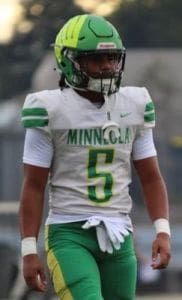 Without a doubt, Dane Thompkins is the number 1 running back in Lake County. Thompkins is averaging 7.6 yards per carry and has 823 yards on the ground and over 100 receiving. He has nearly 1,000 yards of total offense with a few games left in the regular season.
Thompkins has 13 touchdowns this season, 12 on the ground and 1 through the air. He is a reliable back who takes care of the football. The strong offense that Lake Minneola has allows for Thompkins to get plenty of redzone touches. He also has also broken 100 yards rushing in a game four times in 2023. He should be a very sought after running back in our draft.
Tavares High – Troy Davis #3 (Junior)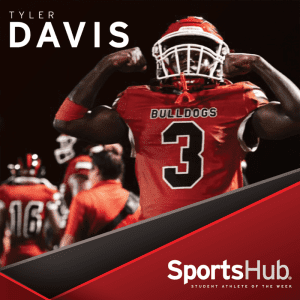 Right up there in terms of volume with Dane Thompkins is Tavares Troy Davis. Davis is a junior and has run for 800 yards of total offense. He has 7 touchdowns this season and has averaged 5.4 yards per carry. He has helped Tavares win football games again, something that the Bulldogs could not do in 2022 after an 0-10 season. This year they are 4-2.
Davis takes most of the early down work with Mike Doster getting carries as well. Doster is impressive too. He has 7 touchdowns but only 42 carries compared to Davis. Davis is a top option and gives you plenty of upside considering he has 5 games of 100 yards or more. He is absolutely an RB1. Slot this guy into your starting lineup for sure.
South Sumter – Tyrese Keiler #26 (Junior) 
Tyrese Keiler has been a standout player this season. We didn't know much about him at the start of the year but this kid has impressed us. Keiler has 9 touchdowns this season. 8 of those are on the ground and 1 through the air.
Keiler has 600 yards rushing and averages 7.8 yards per carry. He has carried the ball 74 times and has had 3 games of which he has run for over 100 yards. This kid is absolutely a lock as a RB1. He has a ton of upside especially with some of the Schools South Sumter plays. The only downside is when The Raiders are blowing out an opponent and makes way for the backups to get in. Overall though he is absolutely one of the top backs on our list.
South Lake – Kevens Charles #6 (Senior) 
Kevens Charles has had a great season so far. While the season has not been pretty for South Lake, Charles has been a bright spot. South Lake did just win their first few games in over 2 years so we cannot knock South Lake at all. Brad Lord has come in and is used to turning around programs. He is doing a terrific job.
Charles has run for 727 yards. While the offense has struggled at times this season, Charles does have 6 touchdowns. His opportunities are sometimes limited but he makes the most of what he has. Charles averages 5.3 yards per carry and has 3 games in which he has run for over 100 yards. His potential upside makes him a low end RB1.
RB2 (Top Secondary Options) 
Eustis High – Tymir Gaines #5 (Sophomore)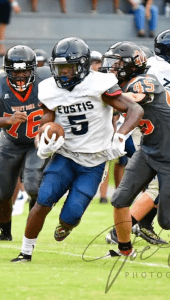 Tymir Gaines is just a sophomore. A lot of people forget that because of how strong this kid is out there on the gridiron. Gaines has 479 yards of rushing with another 88 through the air. He has 6 touchdowns on the season and is a fine RB2. Gaines is having an amazing year for a sophomore. As he continues to mature, he will certainly be in the RB1 category possibly as early as next season. For now, Gaines is a fine RB2 with room for upside.
South Sumter – Ja'kyrian Turner #9 (Junior)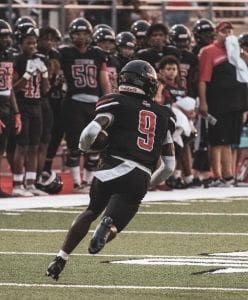 One of the strongest backs in Lake County, Turner is as good of a RB2 as they come. South Sumter has about 1,000 running backs on their roster, so he has to take a running back by committee approach. Even though his touches are limited, Turner is still 2nd on the team in rushing yards with 345 yards on the season.
Turner has 5 touchdowns on the ground and 1 through the air for a total of 6 so far in 2023. While the statistics don't jump off the page in terms of scoring, it's his number of carries that is interesting. Turner has carried the ball just 28 times but has 345 yards. He is a good QB2 option and if anything, ever happened to Keiler, Turner and Jamare Dorsey would take the lead roles. For that reason alone, he is worth a RB2 look.
East Ridge – Darius Daily #3 (Senior)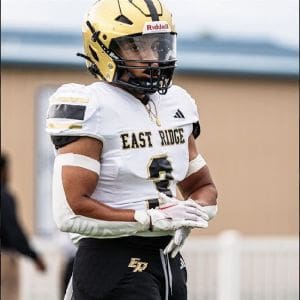 Daily has had a huge workload this year with 114 carries through 6 games. The running back has scored 6 touchdowns and averages 4.2 yards per carry. East Ridge has struggled to make holes for Daily this year, but he does have 2 games of 100 yards or more this season. Although East Ridge is not going to compete with the larger schools, they make the most of the opportunities they have. The sheer volume alone makes Daily a RB2 with RB1 upside if East Ridge is playing a decent opponent.
The Villages – Maleek Williams #4 (Junior)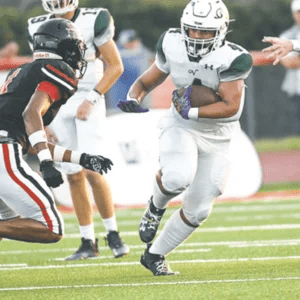 The only Villages offensive player worth mentioning at the RB position is Maleek Williams. He has no touchdowns this season, however he has come close. A LOT! He has 485 yards and has 2 touchdowns. He is finally breaking through as The Villages offense has found a spark recently. He is a strong runner and worthy of a late round pick and a chance on RB2. The Villages has had a tough year offensively, but this guy might be worth a look.
WR1 (Top Wide Outs)
Eustis High – Lashawn Williams #1 (Senior)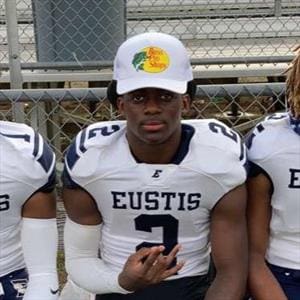 Extremely reliable and has some great hops! Williams uses his athletic ability to contend for balls thrown down the field and it has paid off. Williams has 738 yards of total offense with 8 touchdowns on the season. He is averaging 21 yards per reception which is one of the best in Lake County. With the offensive firepower that Eustis has with Troy Saladin at the helm, this kid is one of the best possible choices you can pick and is a WR1.
Lake Minneola High – Braylon Knauth #3 (Senior)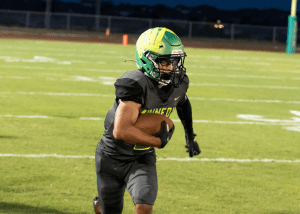 Knauth is having an amazing campaign so far in 2023. He has 39 catches for nearly 700 yards of total offense. Knauth is averaging 17 yards per catch. He has 9 touchdowns so far and has so much talent. Watching this kid's highlights on hudl is a joy. He plays with such passion and hopefully we see him playing at the next level in college. He is without a doubt a WR1. You can plug him in the lineup and keep him there without worry.
Leesburg High – Evan James #3 (Junior)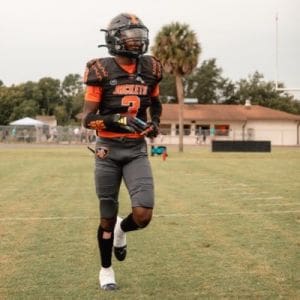 If you talk about big play potential, then Evan James comes to mind instantly. He has a whopping 10 touchdowns this season offensively and a defensive touchdown. He averages 20 yards per reception, so he gets the ball thrown downfield often which makes him an instant WR1 favorite due to the volume that comes his way with quarterback Salomon Georges not afraid to sling it to his receivers. James is an instant WR1 and has some of the most value among our WR1 class.
Leesburg High – Demetrius Mccray #4 (Sophomore)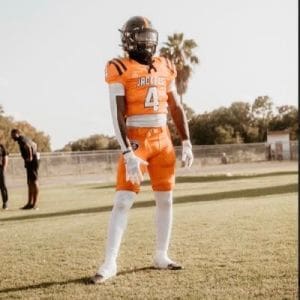 The other Yellow Jacket to get the honor of a WR1 position is Demetrius Mccray. He is only a sophomore, but wow has this kid impressed us this season! He has 437 yards of total offense and 7 touchdowns. He is averaging 23 yards per catch through 7 games played. Mccray has been involved defensively as well with 21 tackles and 2 interceptions. He is a player that can do it all on the field. He is a fringe WR1 but he has plenty of upside potential if Salomon Georges and the Leesburg offense decide to air the ball out on any given Friday night.
WR2 (Top Secondary Options) 
Lake Minneola High – D'nari Adams #4 (Senior)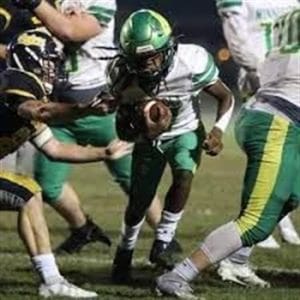 Adams has had a rather quiet but productive year. He has 412 yards of total offense with 4 touchdowns. He is the primary secondary target of quarterback Jackson Hughes and he makes the most of his opportunities. He has 31 catches this year but is averaging 13 yards per catch. Due to the high volume of offense that the Hawks put out every year, he is worthy of a WR2 status and is a fine pickup in a later round.
The Villages – Cliff Bridges #10 (Senior)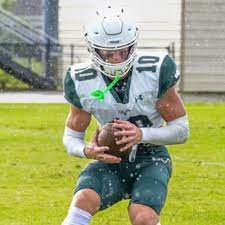 Bridges is The Villages primary wide receiver. He is targeted twice as much as any other Buffalo player. That makes him an easy WR2 due to the sheer volume alone. While The Villages has struggled offensively this season, Bridges has 450 yards of offense and 2 touchdowns. He is the main guy and with the volume he receives he is a fringe WR2 with big upside if The Villages can get the offense going down the stretch.
Eustis High – Damarian Hagins #3 (Senior) 
Hagins is the secondary target for quarterback Troy Saladin. While Williams has nearly 800 yards of offense, Hagins has nearly 300 yards and 5 touchdowns. He gets less of a workload but is one of Saladin's favorite targets in the redzone which makes him an easy WR2 lock due to his big playmaking ability. While he is not targeted as much as Williams is, he brings a senior mentality and is one of the leaders out ther on offense.
Mount Dora High – Zy'Shonne Perry #7 (Junior)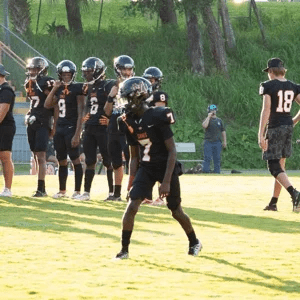 The Mount Dora High offense has struggled at times this season, but Perry is one of the standout players. He has 300 yards of offense and leads the team with 5 touchdowns. Perry is dangerous in the open field and is one of the fastest players in Lake County. He averages 12 yards per reception. While those stats do not warrant WR1 potential he gets enough volume to slot him in at the WR2 area with plenty of upside if the Hurricanes have to rely on the pass.
Mount Dora High – Tanner Waring #5 (Junior)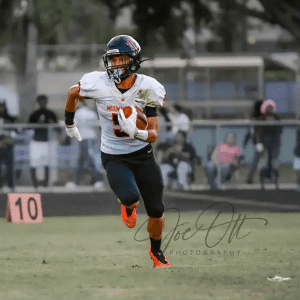 Much like Zy'Shonne Perry, Tanner Waring has a similar stat line. Both players are basically equal in terms of volume thrown their way. Waring has slightly more catches than Perry and is averaging 13 yards per catch. Decent numbers. He can be dangerous downfield. Quarterback Jake Sepe loves throwing the ball to Waring. Waring has another year to develop as well considering he is only a junior. He is a solid WR2 candidate.
Tavares – Omar Alexander-Graham #8 (Junior)
Alexander-graham has 352 yards of offense this yar. He has 4 touchdowns. He is a fringe WR2 with positive upside if Tavares is having a good night offensively. He has really helped the Tavares Bulldogs get back on track this season.
Kicker (Top Kickers) 
Mount Dora High – Cayden Mccoy #24 (Sophomore)
Mccoy is a good choice for a kicker. He is only a sophomore but has attempted 17 extra points hitting 15 of them. He is a solid kicker and hits extra points about 90% of the time which is really good for High School Football. Consider him one of the best choices.
Eustis – Cole O'Reily #7 (Junior) 
Hands down the number 1 kicker in all of Lake County, Cole O'Reily has impressed us this season. He has kicked 34 extra points converting 32 of them. He also has attempted 6 field goals making 4 of them for a total of 44 points this season. His range extends 50 yards out and he should be playing at the next level in college one day. He is one of the best kickers we have seen in Lake & Sumter County in a while. He has NCAA division 1 written all over him and any program would love to have him. He is the top choice in our fantasy draft.
South Sumter – Bryan Hernandez #37 (Senior) 
Hernandez does not get much of an opportunity to kick many field goals but that's ok. He is right on pace with Cole O'Riley in terms of volume due to South Sumter scoring so much on the offensive side of the ball. He has kicked 49 extra points making 44 of them. He has 44 points on the year and if you cannot pick O'Reily up Hernandez is the next best option due to his high volume that he gets out on the field every Friday night.
Defense (Top Defense) 
South Sumter High School
Hands down the South Sumter defense is one of the best in Lake & Sumter County. They have been for years now. Led by senior Jake Mendahl and junior Malakhi Boone they combine for over 120 tackles. The defensive backs are having tremendous years as well. You can trust this defense to score points for you and they are the best overall unit. Plug them in and trust them to deliver big value!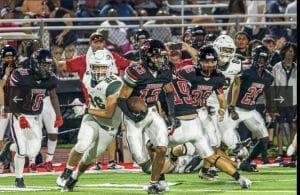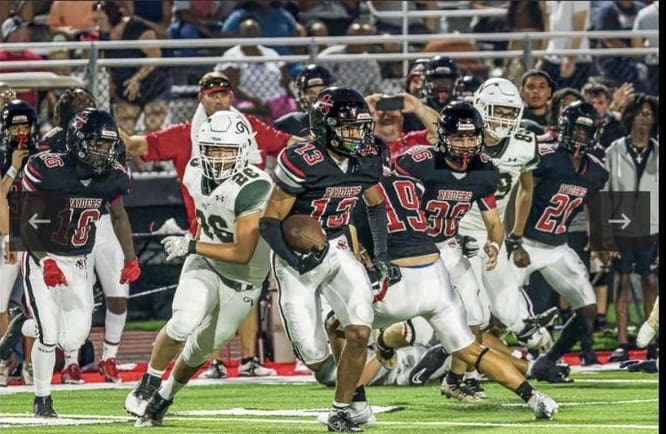 Lake Minneola High 
Every year it seems the Hawk defense improves. This year Andrew Bowles, who is a senior, has been the team leader with 50 tackles. The defense is all over the field and quarterbacks have had trouble throwing against some of the defensive backs this season. Overall, you this is a strong defense that you can trust and will deliver points all year long.
Leesburg High 
Leesburg has a great defense led by Kanye Gaines who is committed to Western Kentucky. The 6"4 Defensive End is everything you want in a defensive player. He has had help from Aden Hall who leads the team in tackles and Evan James, Devin Hammond, Demetrius Mccray and Dejleon Ward who have a combined 9 interceptions this season. This defense is one of the most feared in all of Lake & Sumter County.
Kyle Coppola was born in Newton, Massachusetts and received his Bachelor of Fine Arts in Communications from Curry College in 2016. After traveling to Florida on a family vacation, he decided he could not get enough of the warm weather and made the move from snowy Massachusetts to central Florida 8 years ago.
For the last decade Kyle has gained valuable experience in social media content creation, marketing and sales, writing, video production, sports announcing and even broadcasting for local radio stations, such as FM 102.9 in The Villages and FM 91.5 in Massachusetts. Every year he volunteers at The Villages Charter High School as a play-by-play sports announcer for the football games as well as a public address announcer for the basketball games, including the annual Battle at The Villages Tournament.
Outside the office Kyle is a husband and father to two beautiful girls along with their cat. In his spare time he likes to spend time with his family, travel, play golf and swim. He is also a huge sports junkie and even bigger motorsports fan and loves to attend racing events when he can.
Share This Story!