8 Year Old Wildwood Elementary School Track Star Mila Brown No. 1 In The Nation!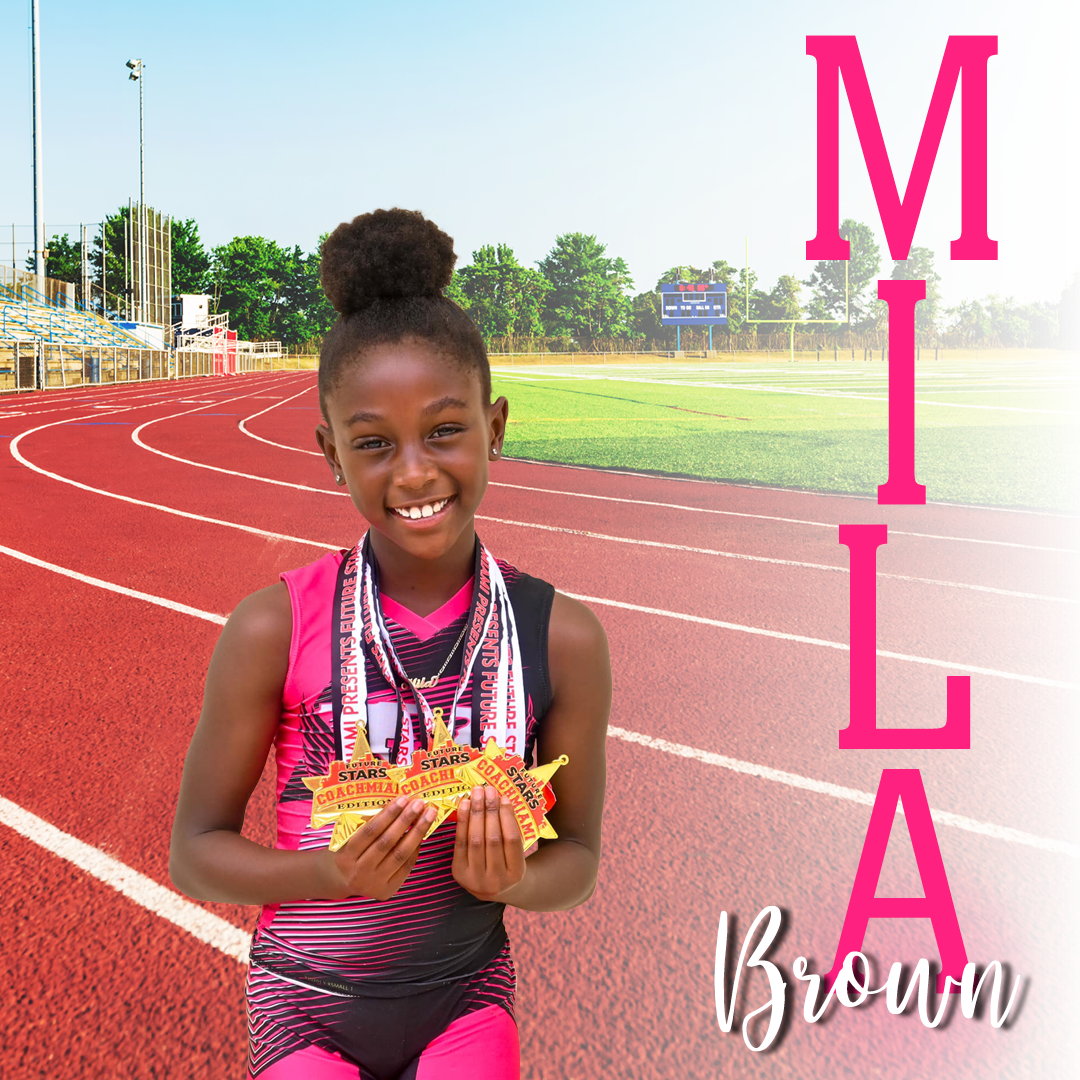 8 Year Old Wildwood Elementary School Track Star Mila Brown No. 1 In The Nation!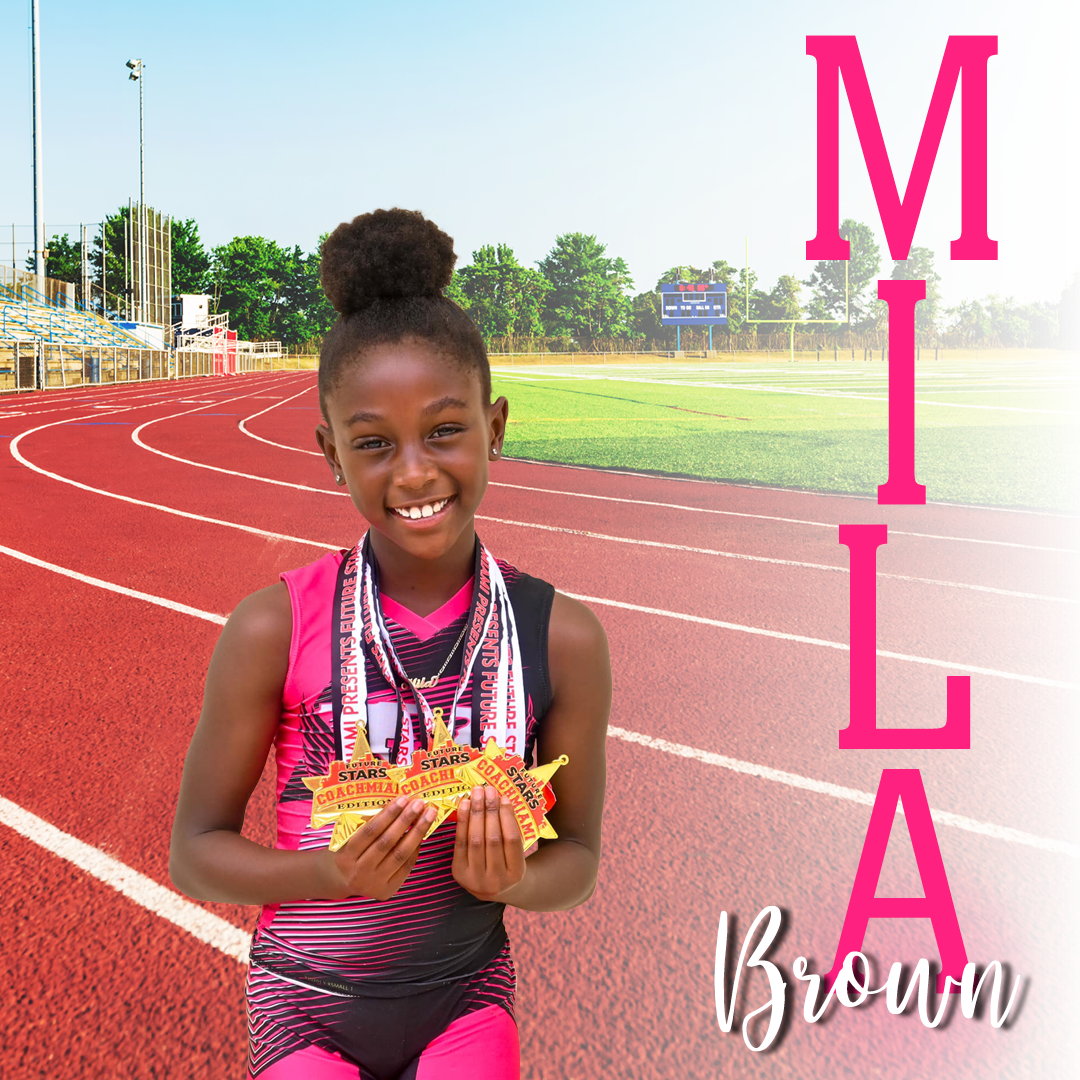 8 year old Mila Brown has accomplished more than pretty much any 8 year old currently in the USA. While Mila may only be 8 years of age, her athletic prowess cannot be understated. The Brown Family has always been athletic. They have been a staple of our community for years. Vernell Brown Jr is a tremendous father and a massive cheerleader to his children's success and so too is mother Emiliana Brown who is a UF Graduate.
Together the family has become one of the best academically and gifted athletic families in our area. Most recently the Browns daughter, Kendall Brown committed to The Florida Gators continuing the Brown Legacy at the program. Meanwhile the Browns son Vernell Brown III is getting offers from Power 5 programs for Football all over the country.
Mila Brown #1 Rated 8 Year Old in USA for Long Jump & 100M Dash 
The family has as ton going on athletically but 8 year old Mila Brown is perhaps impressing us more than any Brown ever has. At just 8 years of age, turning 9 in October of this year, the youngest Brown in the family has already captured the hearts of thousands in the community and the USA.
Due to AAU rules, Mila races with 9 year olds! She continues to win event after event in the 9 year old group as well. She is not just winning events, she is shattering records left and right. Mila Brown is ranked as the #1 athlete in the USA for Long Jump with a 4.34M Jump and the 100M which she runs at 13.97 seconds. All of this at just 8 years of age!
Mila was the national Champion in Long Jump at the 2022 AAU Club Nationals earlier this year. Just recently Mila Brown won TWO Gold Medals in her two events at the AAU Qualifier in Tampa Florida! Every now and then Venell Brown Jr. will share some video of this girl running and my jaw hits the floor everytime I see her run. She looks like Florence Griffith Joyner out there! For those who may not know, Joyner is known as the fastest woman in the world. Mila is not just fast, she is skilled in the long jump.
Mila Brown Competing In 2023 AAU Club Nation July 12th-15th in Orlando!
The Long Jump is a very difficult and technical event in Track & Field. The event takes the maximum concentration an athlete can possess. At just 8 years old, Mila Brown has taken the USA by storm. The Brown family are natural born athletes. Mila is going to do some incredible things. Although she is only 8 years of age she is already nationally known.
Anytime she shows up for a competition, everyone knows she will be the one to beat. This is a very exciting time for the Brown family. They are some incredible people and we are lucky that we get to watch their success academically and athletically. Mila Brown will be competing in The 2023 AAU Club Nation July 12th-15th in Orlando! The future is bright for the Brown family. We will continue to watch Kendall closely and Vernell Brown III as his decision on where to play football looms.
Congratulations to Mila Brown! Keep up the great work and good luck at The 2023 AAU Club Nation in July! We will all be rooting for you!
Photos Provided By:
Elite Factory
Vernell Brown Jr.
Graphic Design Provided By:
Brittany Fogt
Akers Media Group
Kyle Coppola was born in Newton, Massachusetts and received his Bachelor of Fine Arts in Communications from Curry College in 2016. After traveling to Florida on a family vacation, he decided he could not get enough of the warm weather and made the move from snowy Massachusetts to central Florida 8 years ago.
For the last decade Kyle has gained valuable experience in social media content creation, marketing and sales, writing, video production, sports announcing and even broadcasting for local radio stations, such as FM 102.9 in The Villages and FM 91.5 in Massachusetts. Every year he volunteers at The Villages Charter High School as a play-by-play sports announcer for the football games as well as a public address announcer for the basketball games, including the annual Battle at The Villages Tournament.
Outside the office Kyle is a husband and father to two beautiful girls along with their cat. In his spare time he likes to spend time with his family, travel, play golf and swim. He is also a huge sports junkie and even bigger motorsports fan and loves to attend racing events when he can.
Share This Story!