9 East Ridge High School Athletes Sign College Commitments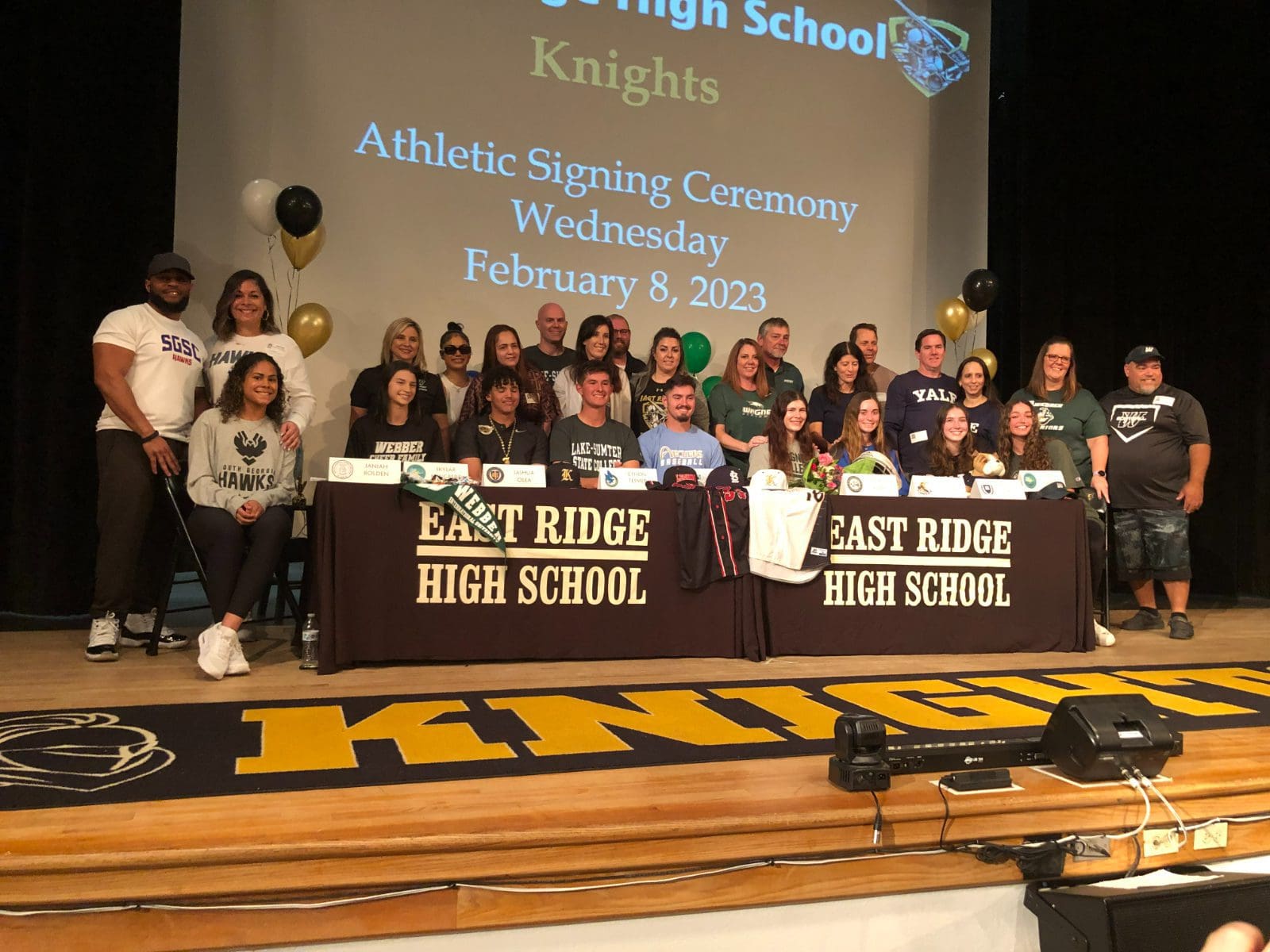 East Ridge Player Signings
Congratulations to all the athletes who have continued to help East Ridge High School grow. Their commitments have allowed them the opportunity to continue their academic and athletic playing careers as they look to the next chapter in their lives. East Ridge High School has sent 9 players in this round of college signings to the next level. This was a momentous day and we are proud to have them represent Lake & Sumter Counties. Lets take a look at some of the athletes and where they are headed.
Kaitlyn Oikle – Yale University
The biggest signing of the evening was Kaitlyn Oikle who is headed to play for the Yale Bulldogs. The Ivy League commit has had a terrific few years playing for the Knights. Oikle is a 4 year starter on the Knights roster. Some of her achievements include The One Night Award which she won her Sophomore year. She was also a varsity basketball player for the knights and a National Merit Semi Finalist. Perhaps what she is best known for is being a scholar. Oikle is headed to an Ivy League school which means Academics comes before anything else.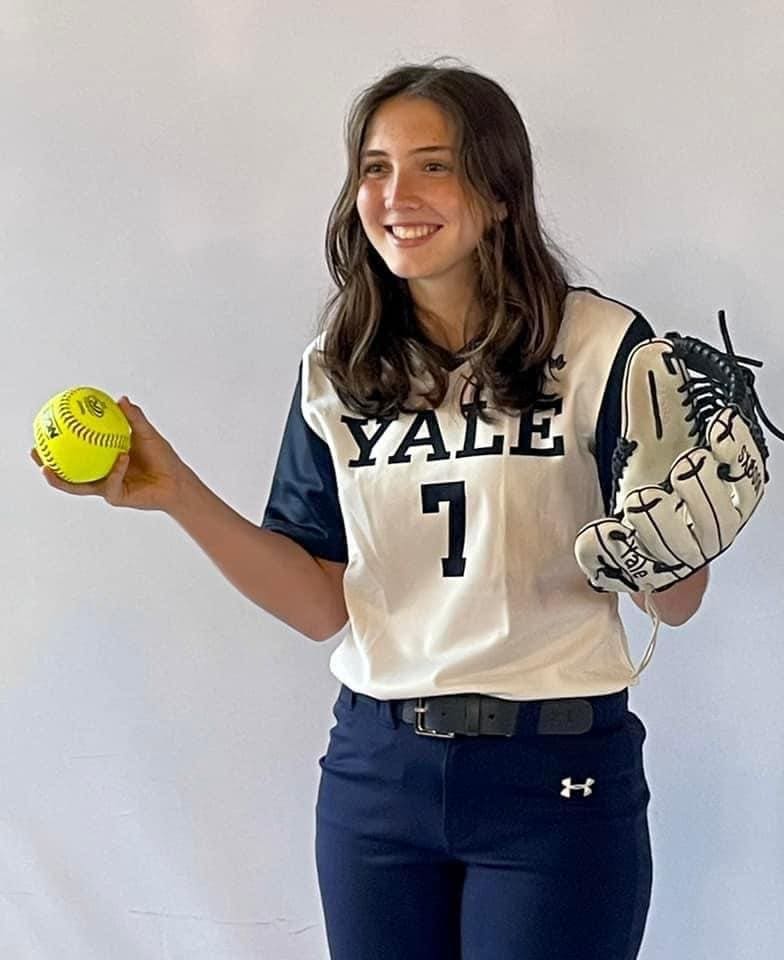 Oikle is a AP Scholar with Distinction. She has an incredible 5.2 GPA. That kind of GPA could get her into any school she wanted to go to. Oikle chose Yale University which is an amazing Ivy League program nestled in the beautiful rolling hills of Connecticut. She plays 2B, Outfield and Short Stop. Oikle is a well rounded player and that will significantly help the Bulldogs as they look to build their program this upcoming season. We cannot wait to see what Oikle does this upcoming senior season. We wish Kaitlyn and the Oikle family the best of luck this year!
Thalia Romero – Webber International University
Thalia Romero plays 1B and Outfield for the Knights. She has played 4 consecutive years of Varsity softball. She has also played 3 years of Varsity Golf for the Knights. The multi sport athlete is best known for her play on the diamond. She is a hard nose player and always gets the job done when they need her to. Romero will certainly help Webber International University who have been on the rise recently. She will fit right in with this school. The program is lucky to be getting a player and academic scholar such as Romero! We congratulate her family and friends on this terrific accomplishment and wish her the best of luck!
Alyssa Filmer – St. Petersburg College
Alyssa Filmer has signed with St. Petersburg College. Filmer has been a huge asset to the Knights the past four years. The Catcher has had an amazing career and it will be difficult to replace her at the catcher position as the Knights are also losing Grace Avery after this season. She also plays Short Stop and Outfield. Filmer was a multi sport athlete who also played Basketball for the Knights.
She was voted the Knights Most Improved Player during her Sophomore year. Filmer is a 3 year Varsity Softball player. She was also voted team MVP her Junior year. Filmer is a Summa Cum Laude Latin Honor Award winner. Filmer is also duel enrolled at Lake Sumter State College. Congratulations to the Filmer family on their daughters continued athletic and academic career!
Grace Avery – Wagner College
Grace Avery is headed to Wagner College to continue her athletic and academic career. Grace Avery is a 4 year Varsity Softball athlete. Avery is a multi sport athlete who also competes in golf for the Knights. Avery is a utility player for the Knights. She mostly splits catcher duties with Alyssa Filmer but is well versed in other positions when not catching. Avery is graduating for Lake Sumter State College with her Associates Degree and is also a member of the National Honor Society at East Ridge. Congratulations to the Avery family and we cannot wait to watch her play at the next level!
Joshua Olea – Warner University
Congratulations to Joshua Olea who is headed to Warner University. Olea has played 3 seasons on Varsity. He will be headed to a good program in Warner University. We wish him the best of luck with the remainder of his senior year along with the transition to college later this year!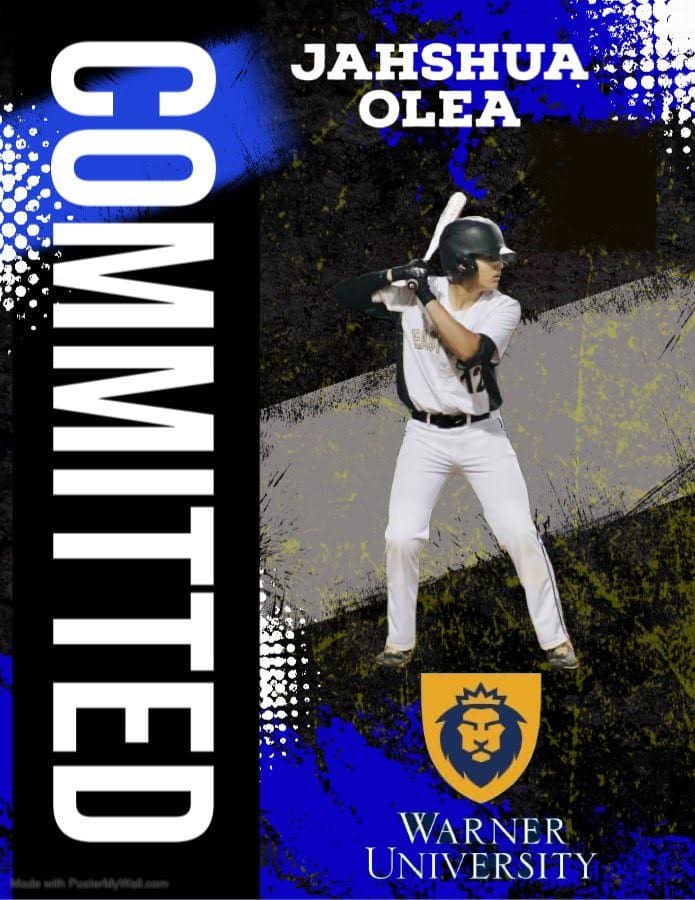 Ethan Tesmer – Lake Sumter State College
Ethan Tesmer signed his commitment letter to play for LSSC. The 2 year varsity athlete has been a great asset to the Knights over the course of his playing career. Tesmer is also a multi sport athlete who runs Cross Country for the Knights. Tesmer has a 4.6 weighted GPA. He is going to do great things for LSSC which continues to be a baseball force in the Central Florida Region. We wish Tesmer the best in his senior year along with his LSSC endeavor later in the year!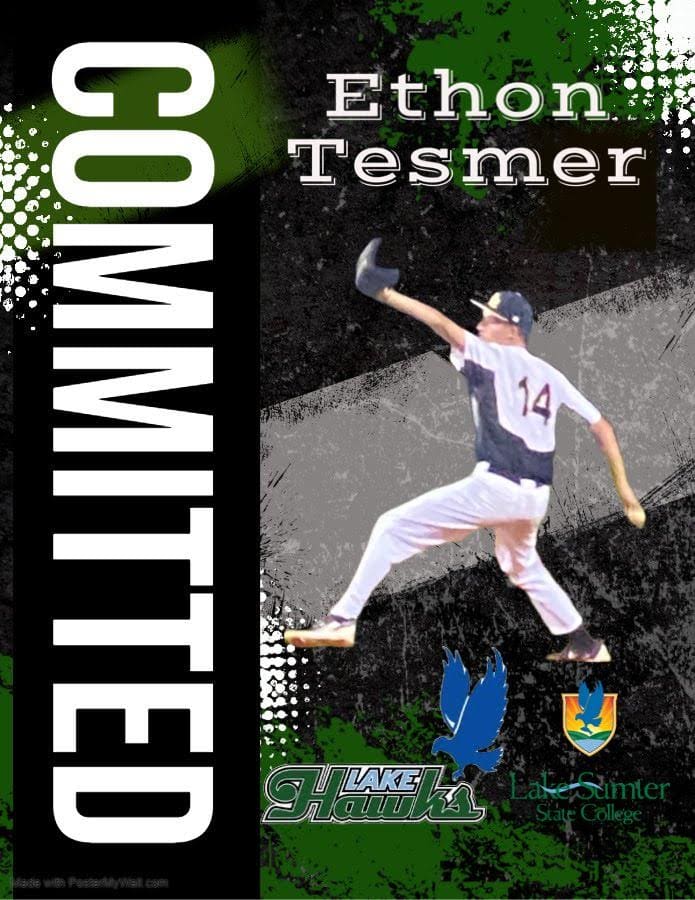 Austin Wilson St. Louis Community College
Austin Wilson is headed to St. Louis Community College. Wilson has been playing baseball since he was little. He has 14 years of experience playing the game. He also is a multi sport athlete, competing in Football and Volleyball. Wilson is a 3 time Perfect Game All Tournament Team member. He was part of the Knights District Championship winning team in 2022. Wilson is also a VECSA All State athlete. We are excited for Austin and the Wilson family on his continued athletic and academic career!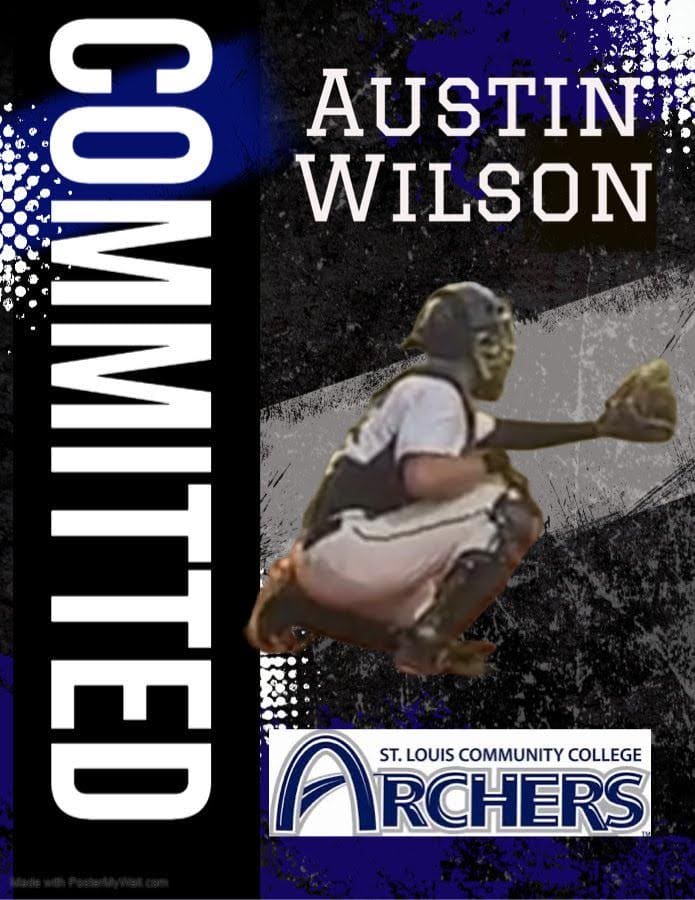 Other Knight Athlete Signings
Skyler Klingberg – Webber International University
Congratulations to Skylar Klingberg who will be attending Webber International University in the fall of 2023. Klingberg has competed all 4 yards on Varsity Competitive Cheer. Klingberg was part of the 2022 State Championship winning team that was the first ever state championship in school history. Klingberg is a 3 time UCA National Champion and she will be one great addition as she attends Webber in the fall of 2023. Congratulations to the Klingberg family as she continues her academic and athletic career.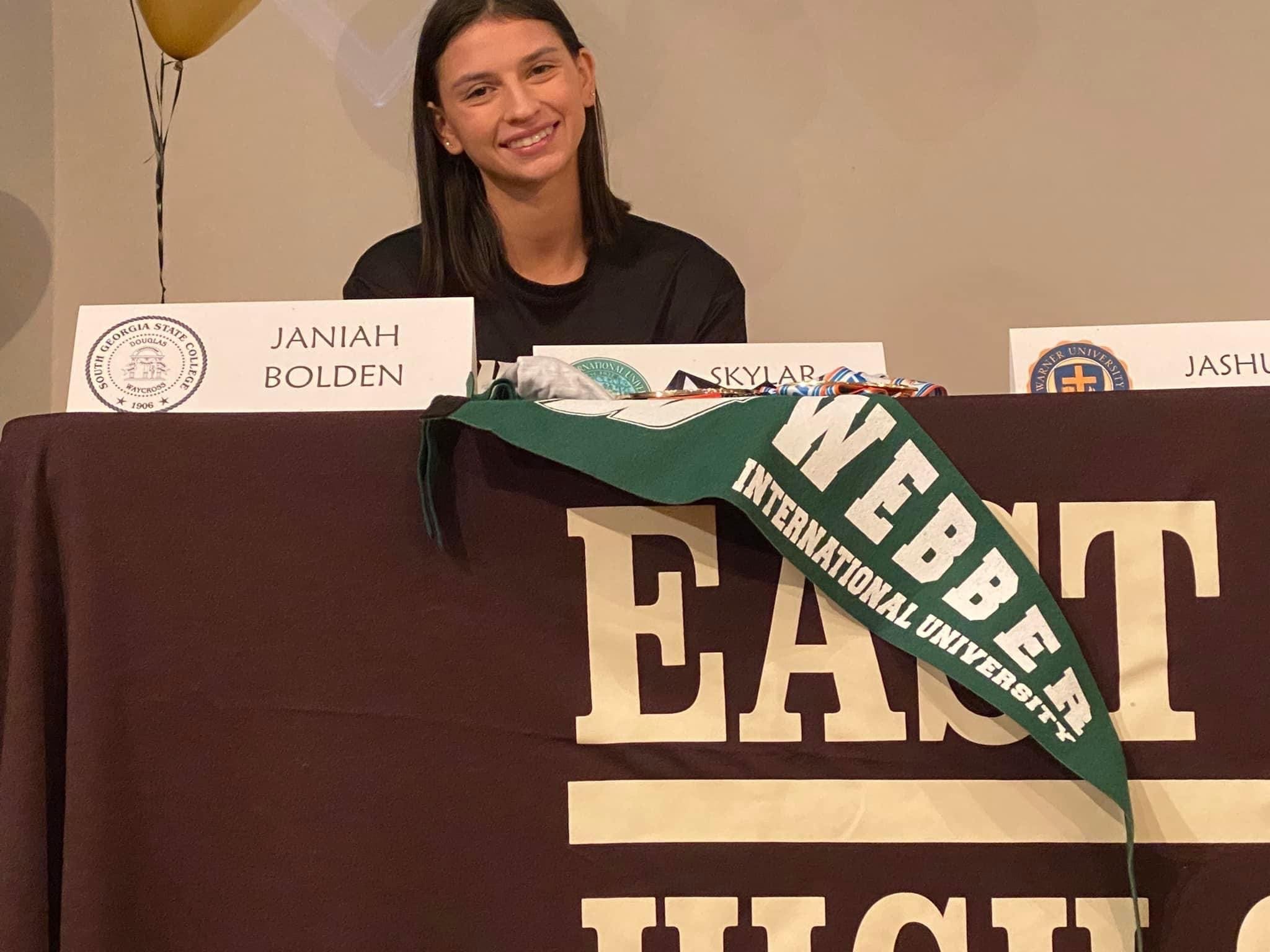 Janiah Bolden – South Georgia State College
Janiah Bolden has signed to play for South Georgia State College. She is a three year Varsity soccer athlete. Bolden is an MVP award winner, MVP Offensive award winner, Rookie award winner, Best New Corner award winner, Player of the Year and also is an All-State 1st Team athlete. Bolden was admitted into the National Honor Society of Leadership and Success at Lake-Sumter State College for 3 years running. Bolden will look to elevate South Georgia State offensively. This is a great pickup for SGSC and we are excited to see Bolden succeed at the next level! Congratulations to the Bolden family.
Photos Provided By –
East Ridge High School
Kyle Coppola was born in Newton, Massachusetts and received his Bachelor of Fine Arts in Communications from Curry College in 2016. After traveling to Florida on a family vacation, he decided he could not get enough of the warm weather and made the move from snowy Massachusetts to central Florida 8 years ago.
For the last decade Kyle has gained valuable experience in social media content creation, marketing and sales, writing, video production, sports announcing and even broadcasting for local radio stations, such as FM 102.9 in The Villages and FM 91.5 in Massachusetts. Every year he volunteers at The Villages Charter High School as a play-by-play sports announcer for the football games as well as a public address announcer for the basketball games, including the annual Battle at The Villages Tournament.
Outside the office Kyle is a husband and father to two beautiful girls along with their cat. In his spare time he likes to spend time with his family, travel, play golf and swim. He is also a huge sports junkie and even bigger motorsports fan and loves to attend racing events when he can.
Share This Story!