A Caring Management Team Leads Lake Square Mall Into New Era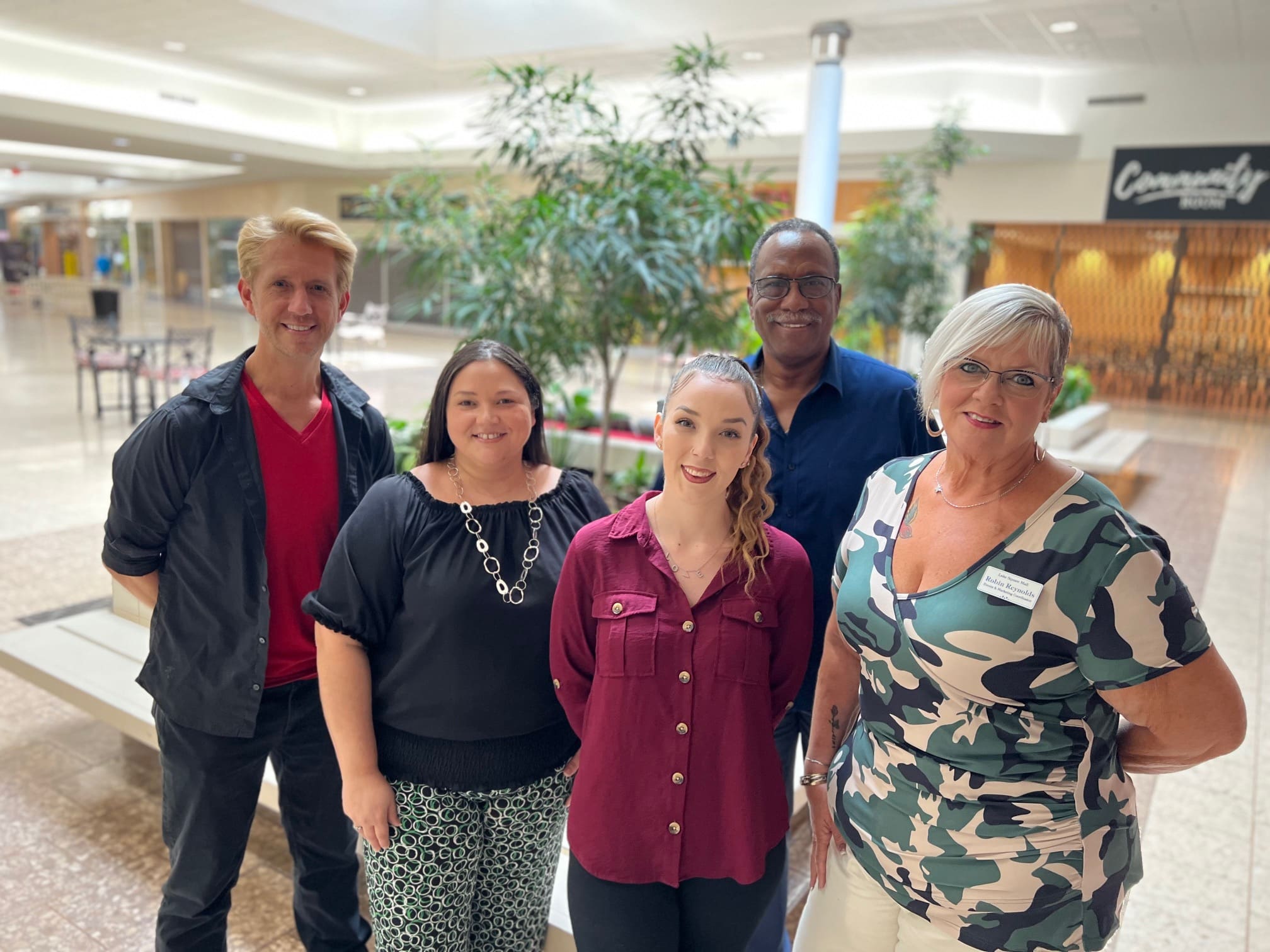 Recently, we got to meet with the team that operates the Lake Square Mall in Leesburg. Before walking into the meeting, we didn't know what to expect out of it. However, upon entering the facility and talking with the team of people who put their love and soul into this mall, it was evident to me that the Lake Square Mall is in good hands.
General Manager Max Parker Jr., along with his incredible team, have big ideas in store for the Lake Square Mall. They believe in the mall, and they want people to come to the mall and experience it for themselves.  "We are growing good foundations within the community," Max says. "We offer many events and local businesses are opening all over the mall. We even have four new local businesses having their grand openings on September 9. It is a very exciting time, and we continue to get interest from bigger stores as well."
Max is an amazing person. The way he speaks about his team of people speaks volumes about the kind of person he is. A veteran of Leesburg Law Enforcement, Max served as Leesburg Deputy Chief of Police. He was also a police officer in Tampa and knows a thing or two about building community relationships, and that starts with communication.
"The one thing that changed when I took over here is that the communication got better with the management staff," he says. "We have quarterly meetings with the business owners who share their concerns and ideas, and we take those ideas to heart. We are always thinking of ways to improve things daily."
One of the ways Lake Square Mall is building relationships within the community is taking a local business approach. Vonda Parker, who is Max Parker Jr.'s wife, is the head of property management at the Lake Square Mall.
"I believe in the mall," she says. "But we need the community to believe in the mall as well and come out to support it."
That is something that was reiterated during our time with the management team. Like her husband, Vonda believes in the mall. She spoke very highly of her team and she is dedicated to continuing the relationships with current and future tenants of the mall. She has been a big reason that the mall has seen continued success.
In order for the mall to attract the bigger types of retail stores, the mall needs the foot traffic. That is exactly what this team is building. By increasing the local businesses that are within the mall, the opportunities will continue to rise. This is not the 1990s. Consumer habits have changed and the Lake Square Mall is adjusting to those changes.
Robin Reynolds, who is Lake Square Mall's Marketing and Events Coordinator, was very enthused by the interest shown in the mall, especially in recent years. She was around in the 1990s and had her first job at Bath & Body Works, right inside the mall. While consumer habits have changed a lot since then, Robin has been working hard with the team to create positive experiences for guests.
Robin has worked hard with her team to develop themed events, centered around local businesses, that has seen great success. That success is only going to grow as the population continues to rise in our area.
"Covid was obviously a big impact on everyone, but small businesses are leading the way to success," Robin says. "Every big chain store that exists one time started out with just one store location. That is what we provide at Lake Square Mall. We host community events; haunted houses and we believe in this place. We just need the community to do the same and come out and support it."
The Lake Square Mall offers many fun things to do during the year, which are planned out by Joshua Blake.
Joshua Blake has an incredible natural ability for creativity. You can see his creative side throughout the mall, which has his artwork all over the place to brighten up the facility. Joshua took a chance on a haunted house last year that did incredibly well in the month of October. "We literally had people running out of their shoes it was so scary last year," he said.
Blake has been a huge supporter of Lake Square Mall. "I just see the value in a place like this," he says. "You have a movie theatre, bowling, arcade, go karts, local shops and other great stores located here." Blake was joined in these comments by fellow marketing team member, Ailime Diaz, who worked as a vendor at the Lake Square Mall before coming onto the team full time.
"Why go to Orlando when you have entertainment here?" Ailime says. "We have good prices and entertainment. You could spend an entire day at Lake Square Mall and get just as good of entertainment as a day in Orlando. From bowling to movies to shopping, Lake Square Mall is a good place for family entertainment."
We also got a chance to talk with Kalin M. Cohen, who is an administrative assistant. She lived right down the street from Lake Square Mall growing up. The mall has always been a part of her life and she had her first job there. Now she is working for the mall itself.
"Me and my friends used to hang out here all the time when I was in high school and now it's come full circle," Kalin says. "I believe in this place just like the rest of the team does."
What I want to get across is that this team is dedicated to the well-being of this facility. People who have negative thoughts about this mall should walk into it and meet the people who run it. They are true leaders and they are working their tails off to make good things happen at this place. With more local businesses opening including OMG Coffee, Self, Gamers Lounge and even a United Boxing Club, the mall will see more activity.
"We continue to build a foundation that we can be proud of," Max Parker Jr. says. "People come from all over the state come to this mall. The people who work here are passionate. We communicate our ideas to one another, and we do what we can to make them a reality."
One thing is for certain, Max Parker Jr. is the right man to have in charge at Lake Square Mall. Talking to him, I got a great sense of his enthusiasm of what is to come. That goes for the entire Lake Square Mall team. I think Robin Reynolds says it best – "When you look at a person on the outside and judge a person on just the exterior looks, are you able to get a full read on the person?"
That one line really stuck with me. Just because things are as they appear, does not mean things inside appear that way. Lake Square Mall is unlike any other mall I have visited. While other malls may have a corporate feel, this mall has a family feel. That is exactly how the management team makes you feel as you walk in there.
Lake Square Mall also has a 24-hour security watch. We were unable to speak with Eric Tom, the security manager, but were told by Max that he does an amazing job at keeping the mall safe at all times. Eric Byrne is the Maintenance Manager and we were also told that he does a terrific job keeping the property up and running.
These are good people who have the best interests of the mall at heart. They want to see it be a viable source for local and corporate businesses for a long time to come. We hope that people support this mall. In a recent article, we saw people posting about what they wish would come to the mall. The way to get those big companies in here is getting foot traffic.
So we ask you all to please come out and support local business. Walk around on September 9 and see all the new great additions to the Lake Square Mall. You should also follow the mall on Facebook. Make sure to give them a like and follow. We want to thank the entire Lake Square Mall team for taking the time to talk with us. We truly appreciate what Max Parker Jr. and amazing team are doing for the mall. With this group of people in charge, I firmly believe that this mall can and will be viable for many years to come.
Kyle Coppola was born in Newton, Massachusetts and received his Bachelor of Fine Arts in Communications from Curry College in 2016. After traveling to Florida on a family vacation, he decided he could not get enough of the warm weather and made the move from snowy Massachusetts to central Florida 8 years ago.
For the last decade Kyle has gained valuable experience in social media content creation, marketing and sales, writing, video production, sports announcing and even broadcasting for local radio stations, such as FM 102.9 in The Villages and FM 91.5 in Massachusetts. Every year he volunteers at The Villages Charter High School as a play-by-play sports announcer for the football games as well as a public address announcer for the basketball games, including the annual Battle at The Villages Tournament.
Outside the office Kyle is a husband and father to two beautiful girls along with their cat. In his spare time he likes to spend time with his family, travel, play golf and swim. He is also a huge sports junkie and even bigger motorsports fan and loves to attend racing events when he can.
Share This Story!