A Game Worth Playing For – A Fitting Tribute to Sherman Vannoy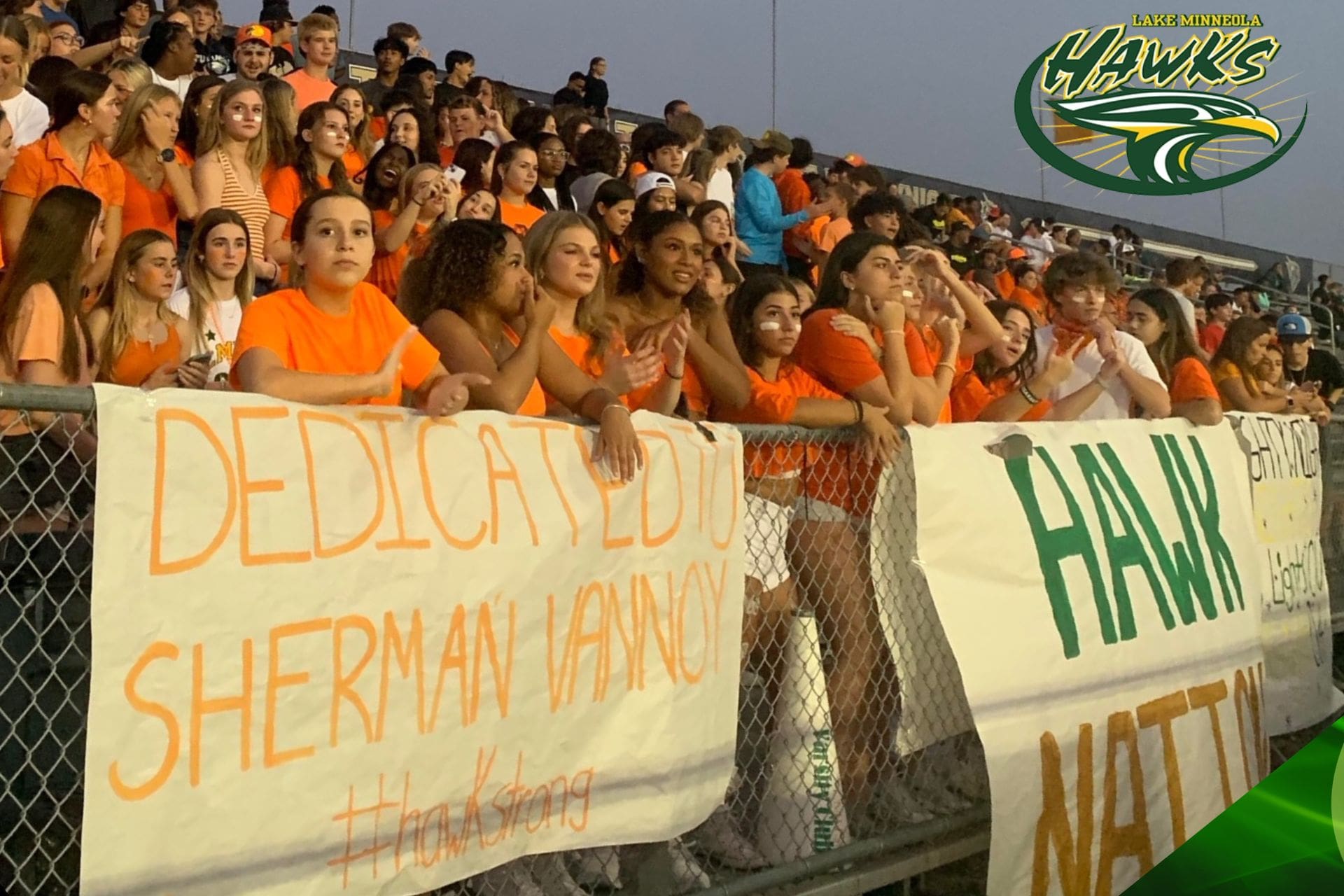 By the time Lake Minneola High School took the field on Monday night, the emotions of the day far exceeded any thoughts of the game that evening. All home athletic contests at Lake Minneola High School were cancelled. However all away contest were to be played as scheduled. For the Lake Minneola High Football team they would have to carry what seemed to be the weight of the entire world upon their shoulders.
Earlier that morning Sherman Vannoy had been struck and killed by a bus while riding his bike to Lake Minneola High School that morning. Vannoy was 17-years of age and was involved with the school theatre department. He was a great kid who made everyone around him smile. As news spread about the fatal accident the football team would have to go to East Ridge that evening and play a football game under the toughest of circumstances.
There were many parents lobbying to have the game cancelled in tribute to Vannoy. However the Vannoy family came out in support of the team and said that their son Sherman would want the game to go on. And so the game did go on. Monday night will go down as one of the single most difficult nights of High School football we have ever had to witness and it was not due to the play on the field.
As the teams, family members and students arrived they were asked to wear orange to the game, in tribute to Sherman Vannoy. As the game time drew near, the stands were packed with a sea of orange. From band members to the cheerleaders. Even East Ridge High showed solidarity and many members of their school including the cheerleaders wore orange to support Vannoy.
As the game kicked off Lake Minneola played better than they have all season long. The team scored touchdown after touchdown and eventually made it a running clock in the second half. They would win the game 47-3. Following the game the band would play the school alma mater. There were many tears shed and almost a sort of realization of what had happened that day. For the players and coaches it was business as usual. But now at the end of the game, reality set in.
The reality is that a young man was tragically lost. Vannoy was loved by so many and we have been praying every day for his parents and his family during these difficult times. It was so encouraging to see our community come together in support. It shows a bond that Lake County has. We may not be the largest county in Florida or have some of the things that the larger city schools have, but we have each other. We have the support of everyone in our community and right now the family needs that support more than ever.
Lake County is one of the most giving and caring counties you can possibly choose to live in. That is why so many call it home. For the people of Clermont this stings. But it gives us a moment to pause and realize how precious life is. After this event happened I went home and I hugged my family. I kissed my babies and I told my family how much I love them. I think if it's one thing to come out of all of this, it's that we need to always take a moment and appreciate the ones we love most. You never like to think about something like this happening but unfortunately it did.
We want to thank East Ridge High for being so respectful at the game. To be honest the game didn't really matter at that point. It did from a statistics, rankings and logistics standpoint but the thing we saw most was a community coming together. Signs of support, words of encouragement. That is the Lake County we know. We will continue to pray for the family and we hope that whatever changes be made, they are positive ones to never allow this to happen at this intersection ever again.
Photos Provided By: Linda Adams Gill
Kyle Coppola was born in Newton, Massachusetts and received his Bachelor of Fine Arts in Communications from Curry College in 2016. After traveling to Florida on a family vacation, he decided he could not get enough of the warm weather and made the move from snowy Massachusetts to central Florida 8 years ago.
For the last decade Kyle has gained valuable experience in social media content creation, marketing and sales, writing, video production, sports announcing and even broadcasting for local radio stations, such as FM 102.9 in The Villages and FM 91.5 in Massachusetts. Every year he volunteers at The Villages Charter High School as a play-by-play sports announcer for the football games as well as a public address announcer for the basketball games, including the annual Battle at The Villages Tournament.
Outside the office Kyle is a husband and father to two beautiful girls along with their cat. In his spare time he likes to spend time with his family, travel, play golf and swim. He is also a huge sports junkie and even bigger motorsports fan and loves to attend racing events when he can.
Share This Story!