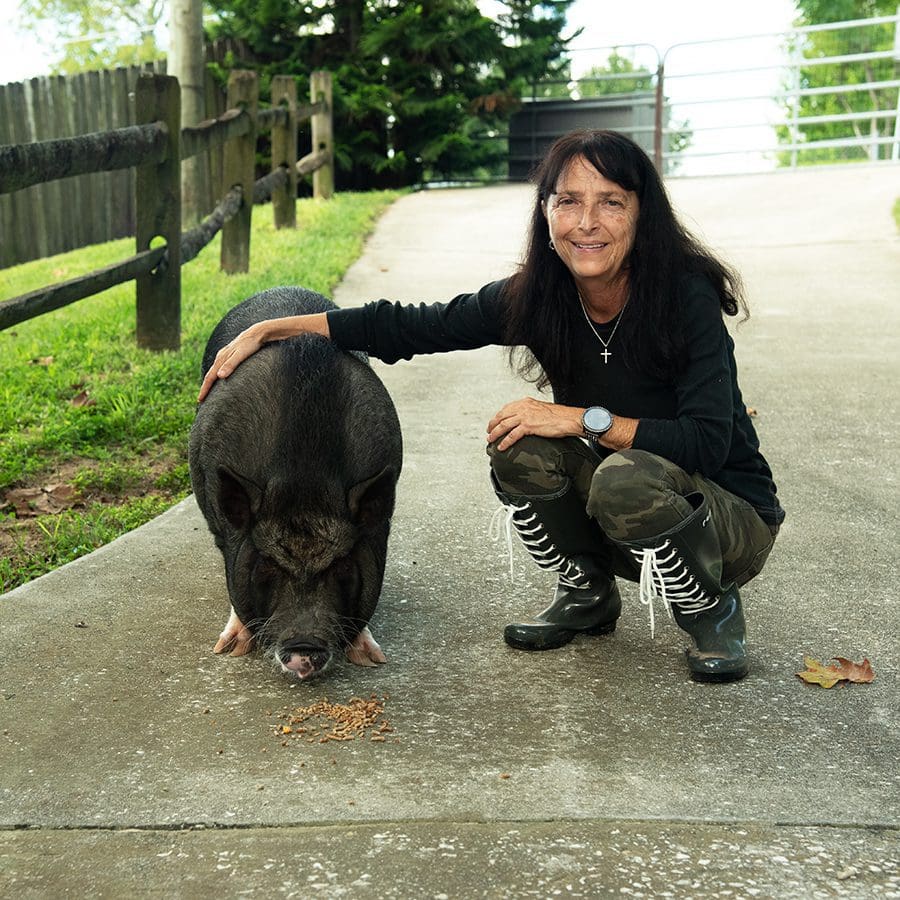 Changing
 

the World One

 

Generous Heart

 

at a Time
One decade ago, GivingTuesday debuted as a day for people to show generosity.
Today, 80 countries boast official GivingTuesdays, and every country in the world has participated at some level. What began as a noble idea in 2012 has grown into a global movement.
This year, GivingTuesday falls on Nov. 29, the Tuesday after Thanksgiving, so you should start thinking now about which worthy charities will use your donation to make a difference locally.
Don't know where to start? Here are some suggestions:
Sugarloaf Mountain Ranch (pictured above)
Passionate animal advocate AnnMarie Roberts has come a long way from her early years in New York's fashion industry when she didn't have a single pet.
Everything changed when her husband Keith bought her a potbellied pig in 2006. Determined to help animals in need, the couple bought a small farm in Clermont on Sugarloaf Mountain, Florida's highest viewpoint at 312 feet.
Since 2007, AnnMarie and her 501(c)(3) nonprofit Sugarloaf Mountain Ranch, Inc. has saved hundreds of animals – from pigs and cattle to emus, alpacas, donkeys, turkeys, geese, chickens, ducks, tortoises and more.
"We're a sanctuary; we take the animals nobody else will. Every single animal here has a story to tell," says AnnMarie, noting that each one now has a safe, happy, forever home.
With expenses running $2,000 a week, the sanctuary's greatest need is donations to help care for 300-plus animals. Donate on their website or contribute to their accounts at Tractor Supply Company in Groveland or Irish Trails Feed Store in Clermont.
Sugarloaf Mountain Ranch, Inc. 813.766.0379  /  sugarloafmountainrescue.org
Boys & Girls Clubs of Lake & Sumter County
Boys & Girls Clubs of Central Florida's four Lake County branches offer an entertaining, safe, inspiring environment for children ages 6-18 after every school day and all summer long.
With nearly two dozen programs—in music, arts, dance, STEM and much more—there are endless opportunities to learn and excel.
"We serve the children who are most in need of support at little to no cost to their families," explains Betsy Owens, vice president of marketing and community relations for Boys & Girls Clubs.
The goal is to help kids achieve academic excellence, healthy lifestyles, good character and citizenship, all in a fun way.
In 2021, the programs helped just over 10,000 children in Lake County. Pre-COVID involvement was about 16,000, and Betsy says the organization continues to inch closer to that number.
To keep your donation dollars local, go to the website's donate page and click on "Lake County Support."
Boys & Girls Clubs of Lake & Sumter County 352.348.3656  /  bgccf.org/donate
Cornerstone Hospice
November is not only the month of GivingTuesday; it is also Hospice Month.
"Hospice provides a place of comfort at the most critical time in their lives – settings to share stories, laugh, cry, and celebrate a life well-lived. Our loving team of professionals provide quality care that respects the sanctity, dignity, and spiritual welfare of all," says Raquel McCormick, executive director of Cornerstone Hospice Foundation.
Hospice houses allow patients with limited life expectancy to live their final days in a private room while receiving compassionate, individualized care in a comfortable, family-friendly environment.
There are five Cornerstone Hospice houses in Lake and Sumter counties, which exist specifically because of donations.
Many donations are made as memorial gifts in honor of loved ones.
"It is up to all of us in the community to open our arms, and our hearts to our neighbors," says McCormick. 
Cornerstone hospice 888.411.5472  /  cornerstonehospice.org