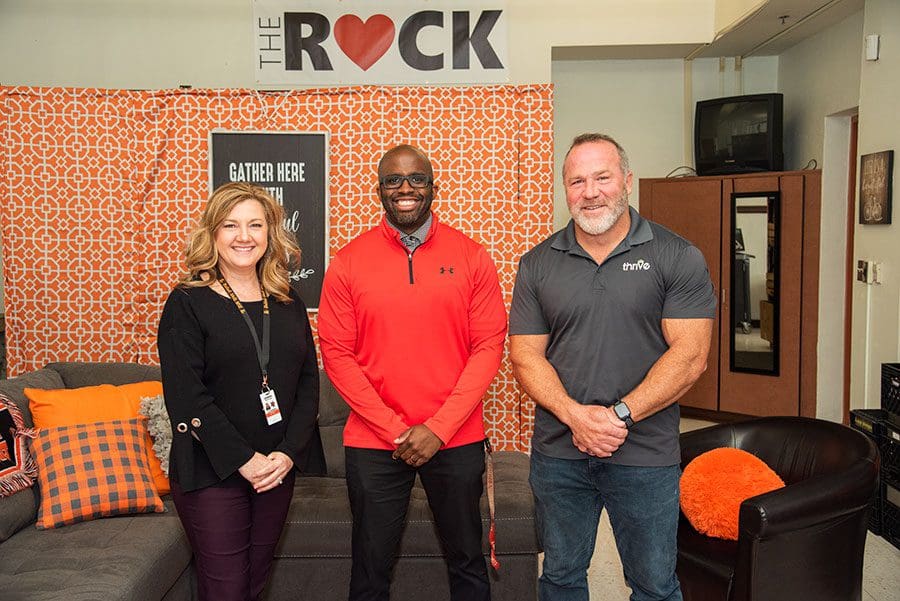 School and community come together to positively impact students with tools needed for academic and personal success.
Photos: Nicole Hamel
Senior Armoni LaSane, 17, says there's great comfort in knowing there's somewhere to go if you have a need, and that you can get it fulfilled, no questions asked, all judgment reserved.
At Leesburg High School, where she attends, that place is The Rock, a room that encompasses a faith-based program many consider a Godsend.
"The Rock is basically a home inside a home, because the school itself is a home when we're here; we're all family," Armoni says, explaining that although she works at The Rock as a teacher assistant, assisting students navigate the program, she previously visited the center for things like hoodies to warm up when it got colder than she'd expected. 
"Say an emergency happens, or there's stuff going on at home, you need a bit of food, something to wear, or just someone to talk to; you can come here. You may not feel comfortable going to anybody else, but I feel like you should feel comfortable coming here because we honestly don't judge. It's really just to help; like a safety zone."
Students can visit The Rock, located in Building 1, Room 111, from 8:30 a.m. to 2:30 p.m. Monday through Thursday – with a purpose and a teacher-issued pass in hand – for essential needs like food to eat at school or to take home, clothing, hygiene products, school supplies, peace and quiet, help with schoolwork, a listening ear, books, blankets, socks and under garments, gym shorts, a prayer or uplifting word, and more, depending on specific student needs.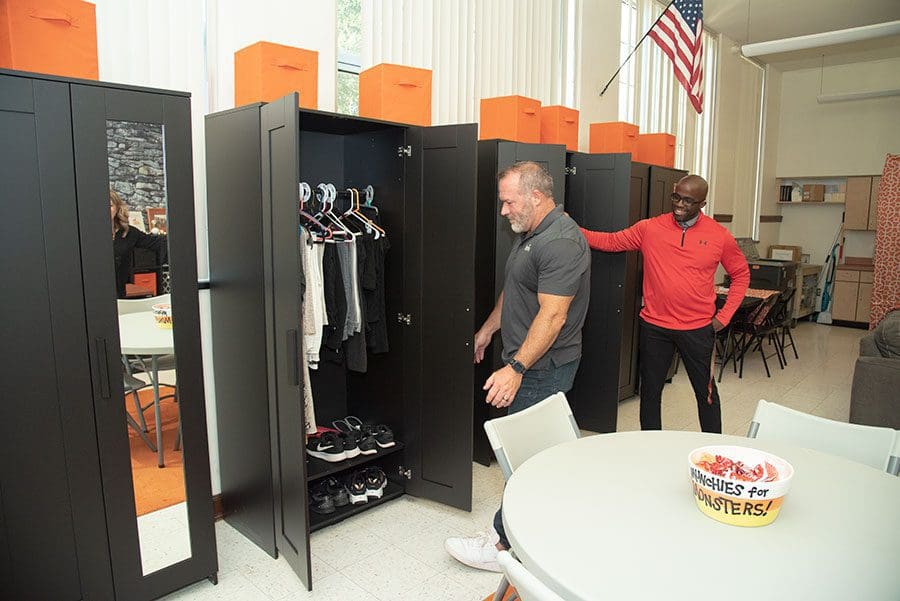 Parent and Family Resources Potential Specialist Lori Humphrey, who runs the program, says every item available at The Rock is donated by local churches or businesses, civic organizations, individuals, and local residential communities.
 She says in the three years since the program began, no student need has gone unfulfilled.
"When they come in here, first of all, we're gonna love them. Second of all, we're gonna listen to them, and then after that, we're gonna find out what they need. If we don't have it here, we're gonna try to find it for them, and lastly, we follow up," Lori says. "That's the piece that's missing sometimes with other agencies. They don't have the manpower to follow-up with each person they help, but we're able to since it's our students we're dealing with."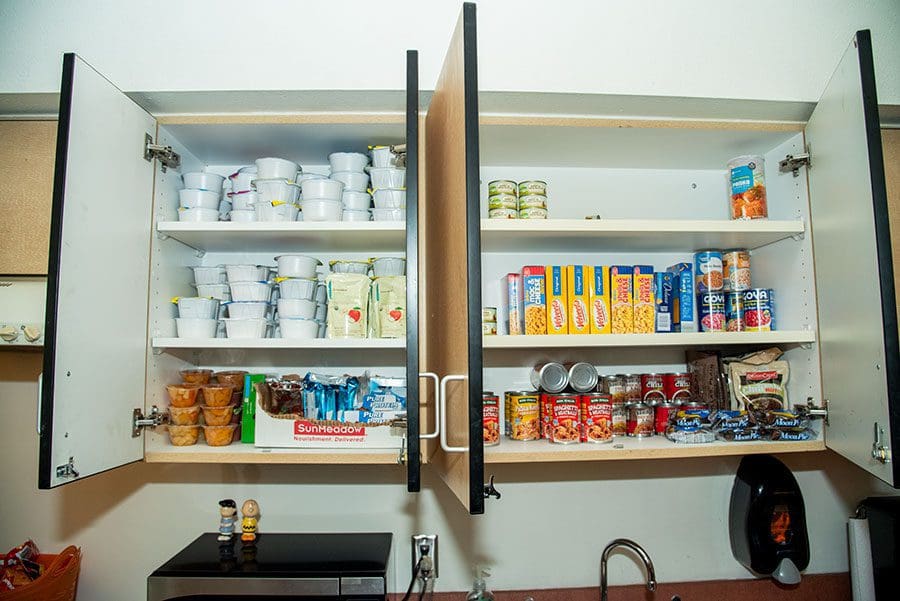 In Lake County, Leesburg High's Rock is the first and only program of its kind at the high school level. Rocks have also been started at Oak Park and Umatilla Middle Schools and Rondo Fernandez, owner of the MoJo Grill and Catering in Leesburg, is behind all of them. 
Rondo says his eventual goal is to have the program instated at every Lake County school, much like what he did in Marion County, starting with Lake Weir High School where he went.
Rondo says attending school there, and living in the big scrubs area just outside of the Ocala National Forest, motivated him into making a difference, based on his own experiences.
"The rural poverty out there, and growing up with kids who didn't have their basic necessities each and every day, and therefore, no confidence, just really opened my eyes to the need," Rondo says. "We never had positive role models, we never had success stories, we lacked food, clothing, washers, dryers, so many things." 
Reflecting back, he's glad he was able to overcome those adversities, and now uses that to help encourage others.
"I lived such a crazy life growing up, so it's great to realize that things can change and that you can have a purpose in your life. It's a good feeling and that's what we want these kids to realize for themselves," Rondo adds. 
Rondo says when he saw what the first Rock at Lake Weir did, he knew he wanted to reach more kids, so he began partnering with local community members to grow the program at other schools. 
"When we put our first rock at Lake Weir high school, it immediately changed the culture of the school, and that's what's been happening at every Rock location ever since," Rondo says. "First, it becomes a refuge, then it becomes a foundation, but we knew that part would happen, which is why we called it "The Rock."
"What we didn't realize is how much purpose it would end up giving these kids," he explains. "It's impossible for us to expect students to go out and excel when they are walking in the hallways with body odor, broken glasses, broken spirits, hungry, and with such a sever lack of their basic needs." 
To get Leesburg's Rock started, Rondo approached Mike Matheny, the pastor of Church of the Lake, who he'd met through the restaurant.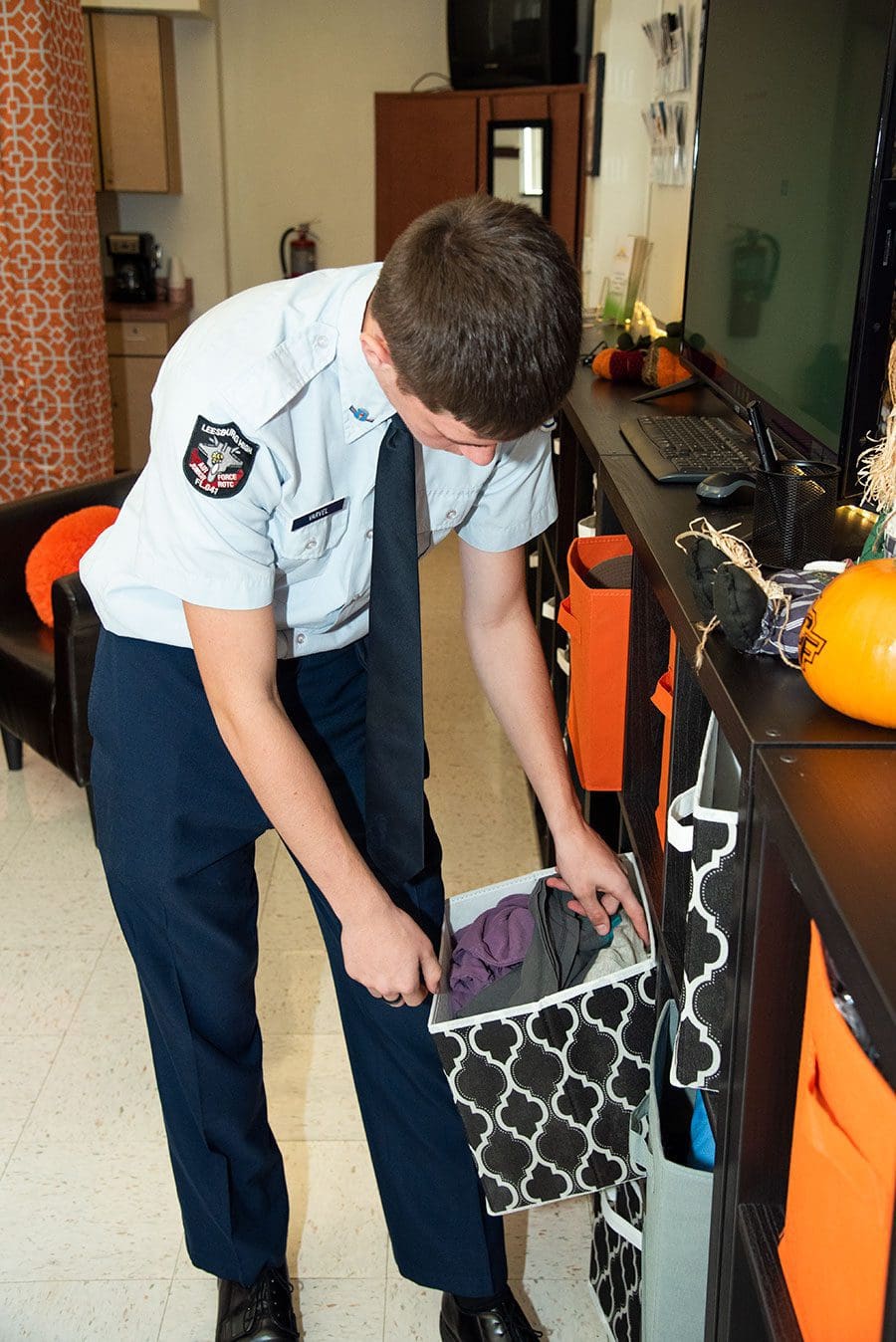 Mike was on board with the program and immediately turned to Leesburg High School's Principal Mike Randolph, who also loved the idea.
When Lori was asked to oversee the program, she was so enthralled by its potential for making a real difference, that she decided to forego retiring after 25 years with the school system, like she'd been planning on doing.
"I never dreamed I'd be working in the same room that was my senior English class," Lori says, adding that she feels blessed to be part of the program. "I tell my kids, I'm not a counselor, I'm not a mental health specialist, but I'm a momma, and sometimes, that's all they need; just a momma." 
Principal Randolph says before The Rock, there was a help program that offered food and clothes, but it was a literal mess. 
Today, The Rock is far from that and thriving, just like the kids using it. 
"What we had before made these kids feel like their circumstance, so now, our goal is for this room to feel like it doesn't matter what your circumstance is, you are welcome here," Principal Randolph says. "It's about creating a good environment."
Pastor Mike says he wants every student who walks through the door to leave feeling motivated and inspired.
"I don't want them to come through here and just get something to meet their need; I want them to be proud of it. I want them to come in here and feel like it's a real home, a place that puts some value in their life," he says.
Most of all Principal Randolph says he truly believes The Rock is a place of hope. He says the impact it has had on the school's culture has been the best thing he's seen since joining the Leesburg High family five years ago.
"Oftentimes, you'll hear teachers say, "We have your back, we're gonna support you," but can you actually have tangible evidence of what that looks like? Principal Randolph asks. "Well, The Rock is Leesburg High School's tangible evidence of telling our students we have your back. Anything you need, we have for you right here."
"In the last five years, our graduation rate has improved by 21 percent, and I credit that to programs and partnerships like The Rock that have aided that," he adds.
With that, Lori says if people are interested in helping, they can search 'The Rock Leesburg High School' on Facebook.
Lori says she uses the page to post success stories, volunteer opportunities and happenings, but also to let people know what items are on her wish list for the students. 
She says currently, The Rock's top needs are hygiene products, snacks, and food items for their kitchen store, plus gift cards or monetary donations that can be put towards Christmas gifts and special student needs; like for instance, black shoe polish Derek Varvel, 15, needs for ROTC and asked for last month.
Derek says he is new to the school after having moved from Eustis where he was living with his dad, to Leesburg, where is now staying with his mom.
Derek says as a family, they are trying to keep their heads above water, so any help they can get is greatly appreciated. He says he and his mom were thrilled about the opportunity for him to join ROTC because it was not offered in Eustis but did not consider the costs associated with the program, which includes keeping his shoes polished, and uniform dry-cleaned.
Derek says when he found out about The Rock, he was taken aback.
"I was kind of surprised. I didn't know that any school had anything like this, but it's really helped me," Derek says. "I just wish more students knew about it because a lot of them are struggling right now with clothing, food and other things."
"If I were introducing The Rock to students, I'd tell them that this is just a way for people who care, to provide them with extra help, and that it's nothing to be embarrassed about."
Lori says last year, 1,500 student check-ins were recorded at The Rock and as of November, the program is on track with reaching similar numbers for the 2021-2022 school year. 
Rondo says he hopes those students receiving help will accept what also comes along with every item.
"Everything we give comes with a message of 'Keep holding on, keep fighting, you'll be OK, you are loved, you're amazing, be great,'" he says. "We make sure to say those things every day because we realize that a lot of kids never hear those words, and they should."  
Originally from Nogales, Arizona, Roxanne worked in the customer service industry while writing independently for years. After moving to Florida in 1999, Roxanne eventually switched her career path to focus more on writing and went on to become an award-winning reporter for The Daily Commercial/South Lake Press newspapers for 16 years prior to coming on board with Akers Media as a staff writer in July 2020 – her dream job come true.
Share This Story!