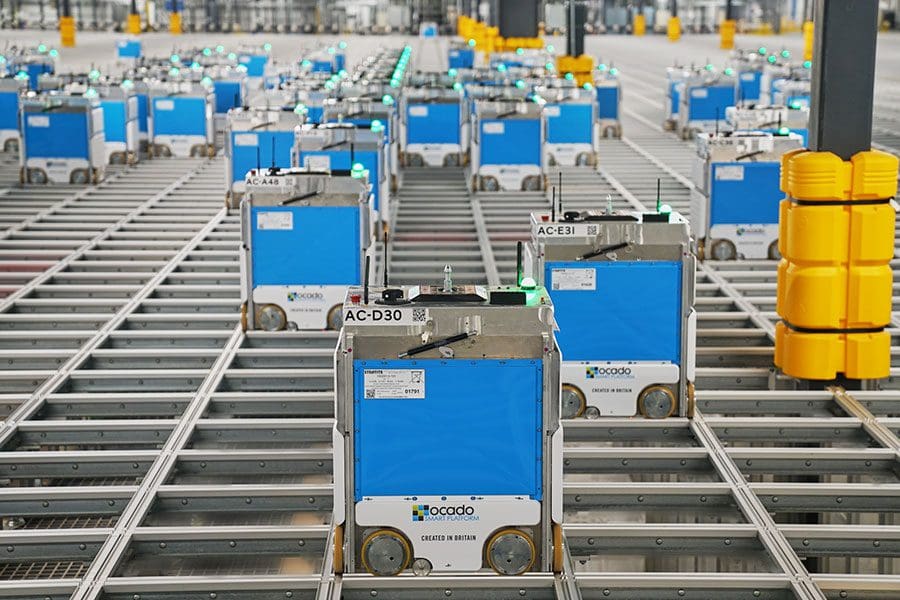 Technology, quality, service, community involvement makes grocer giant Kroger, located in Groveland, a welcomed Florida asset.
Photos: Courtesy of Kroger
Anyone who lives in or has recently visited Florida, has surely noticed an abundance of Kroger delivery vans on the road driving alongside local traffic.
It's become a common sight, as the fleets are on route all day long, oftentimes until about 10 p.m., to people's homes delivering blue bags full of groceries, and rightfully so, since Groveland now serves as the main hub for the company's second-ever grocery fulfillment and distribution center in the country.
The first is in Ohio and its third is set to open in Atlanta later this fall.
In Groveland, Kroger broke ground on the 375,000-square-foot facility in July 2018, and with its technology-based U.K. partner Ocado Group, wowed officials, and area residents with talk about what was to come.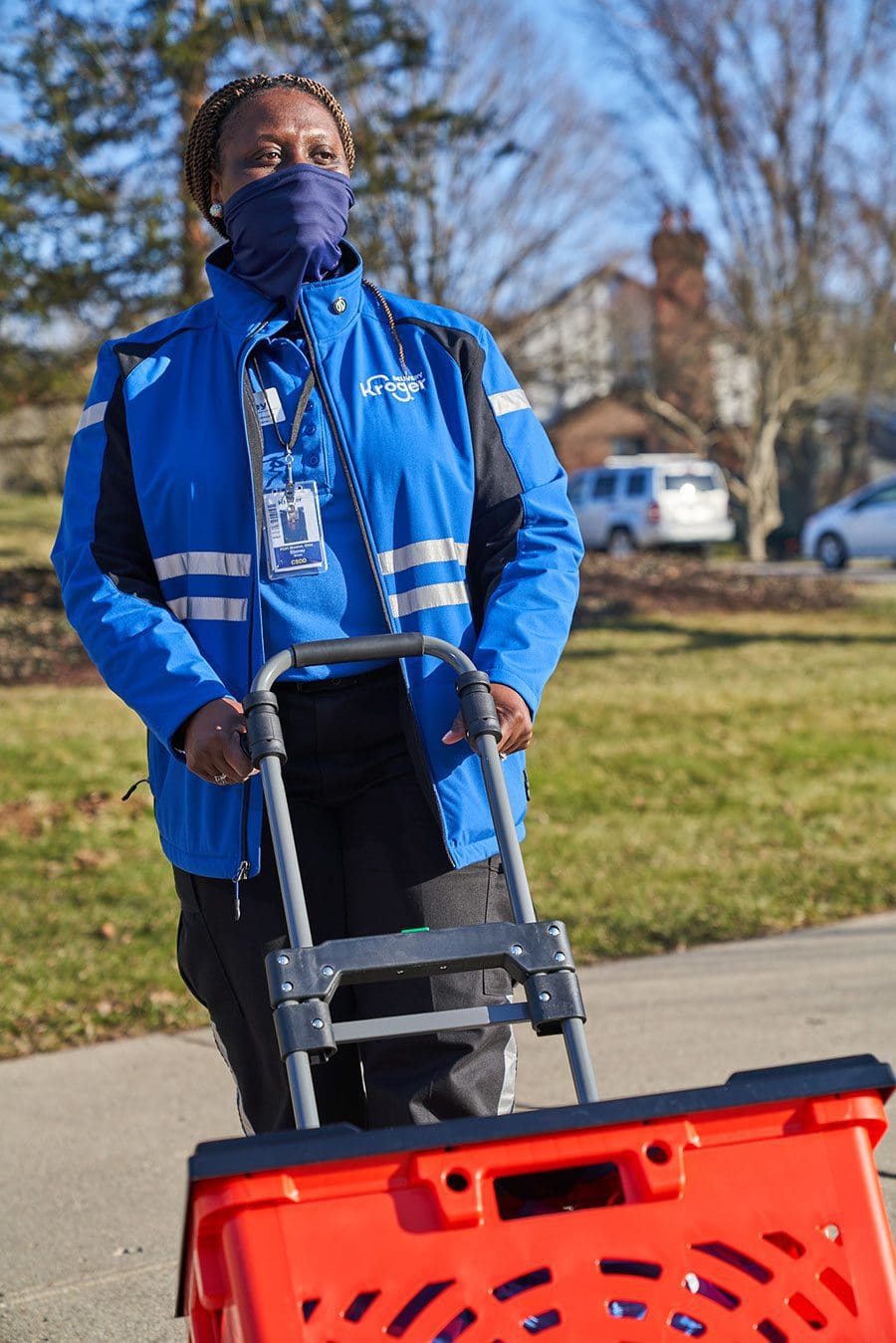 Fast forward to April 2021, Kroger started its friends and family soft-rollout and by June 2021, was in full swing making deliveries throughout Central Florida and beyond.
"If you look at the zip codes we're covering, we're literally delivering from Sarasota to Daytona, Jacksonville, almost all the way to Georgia, and everywhere in between," says Brandon McBurney, general manager of the Kroger Fulfillment Network, stationed in Groveland.
Brandon says what's more, is that Kroger delivers to customers in rural areas where no other food delivery service will go, and in temperature-controlled vans to boot.
"We've heard from so many customers in rural areas, especially not far from here, saying, 'We are so happy that somebody's finally delivering to us,' and 'It's just exciting that Kroger can deliver to people in places where no one else will,'" Brandon says, explaining that the company is just as excited as those customers to be able to offer the service in part, because of Kroger's specially designed vans that make it possible to ensure groceries will arrive fresh, cold and still frozen when dropped at customers' doors.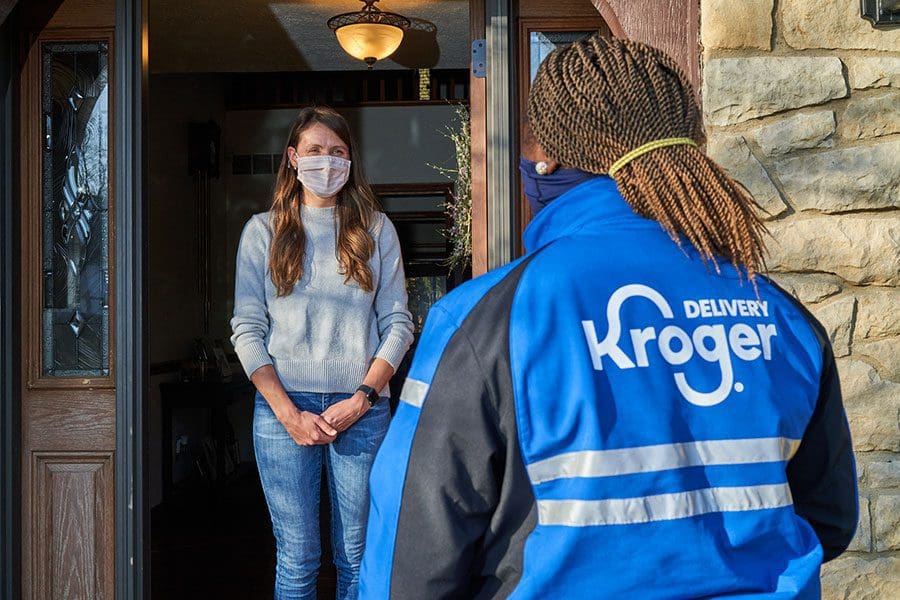 He adds: "We deliver to every zip code across Central Florida, in some cases where our competitors don't deliver; and we can ensure every item arrives at the perfect temperature.  We're thrilled to help customers who don't have any other option. Some people just can't get out because maybe they don't have a car or for some other reason, so to me, it's great we can make this available."
Even before any deliveries take place, however, hundreds of human associates, along with hundreds more robot counterparts, are working behind the scenes at the fulfillment center to make sure every order is picked, bagged, and loaded with the utmost efficiency and care.
And all landed in Groveland because according to company officials, it is ideally situated in the middle of the state, providing quick and easy routes to Orlando, Tampa, and Jacksonville to efficiently deliver to customers throughout Central Florida.
"We are very excited to be here and be a part of this community. Everyone really showed us a lot of love and people here really embraced us in so many ways," Brandon says. "That has helped us with our staffing because we have linked with community partners to make sure everyone understands what we stand for here at Kroger, which is fresh food for everyone, delivered to homes in a convenient manner, to deliver the highest quality food possible to our customers."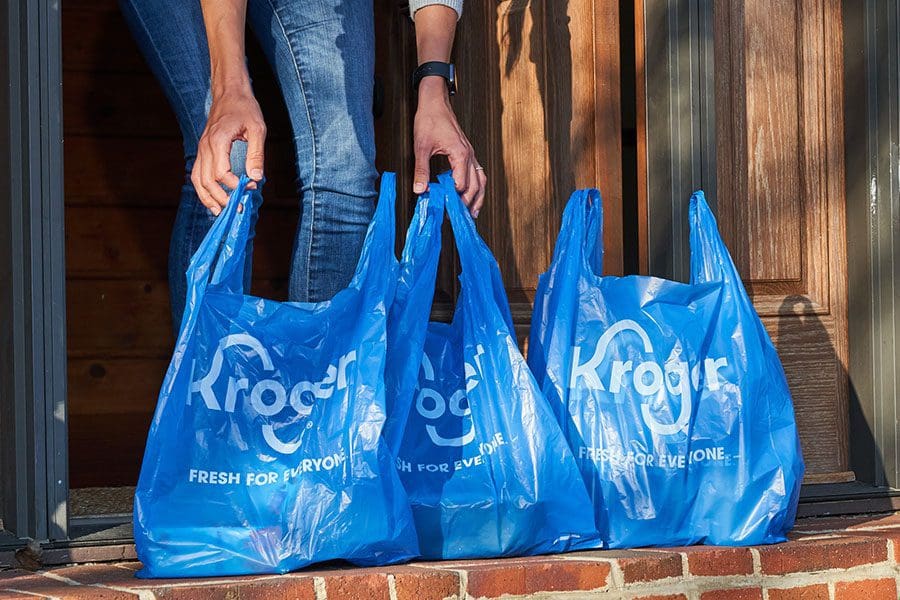 Overall, Kroger is America's largest grocery retailer with $132.5 billion in total sales in 2020 and nearly 500,000 associates employed company wide.
In some markets like Atlanta and Ohio, there are physical Kroger grocery store locations, but in Florida, Kroger is focused on the eCommerce model that is doing quite well. Officials say, "Our business is robust and continues to grow," and verified it does the business of 20-25 stores. 
In fact, upon touring the three-story massive and very impressive Groveland facility, one can easily see why that is.
Brandon, who led Style on a tour of the Groveland hub, explained how it all works, starting with the ground floor, which contains delivery bays where merchandise arrives and is separated between ambient or chill, then stacked and organized accordingly in large vertical and horizontally gridded storage areas 21-deep on the ambient side and 8-deep on the chill side called hives. Brandon says the area "goes about the length of a football field," and that in all, the warehouse holds about 30,000 products from groceries, paper products, small household items, spirits and more.
From there, delivery totes are bagged and made ready to fill by associates at picking stations where they pick and sort customer orders.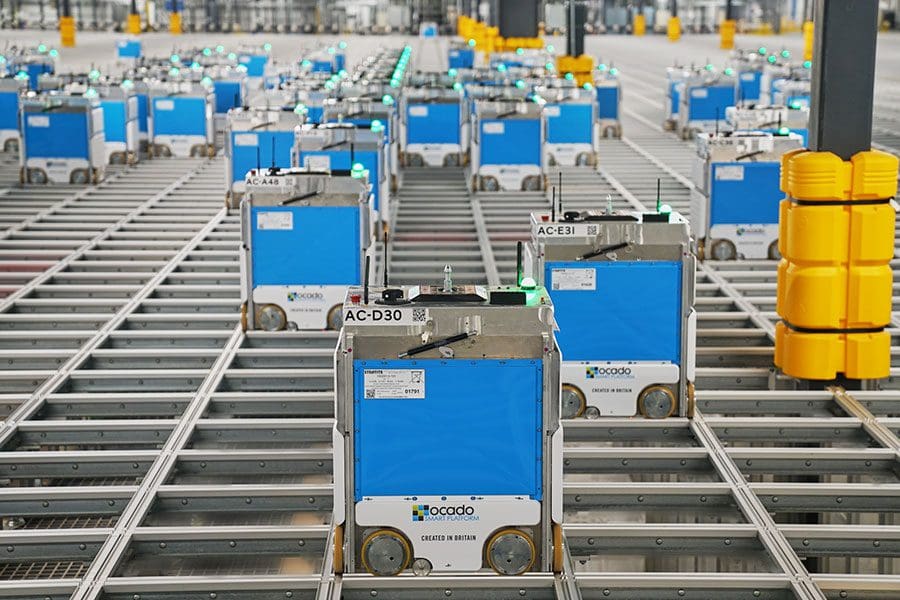 Brandon says associates use Ocado technology software to confirm every item description, UPC code, and expiration date to ensure accuracy and when bagging, associates are prompted, as far as which items go in what bag, to make sure products are not crushed or damaged in the process.
With all that in mind, Brandon says associates can pick customer orders quickly and efficiently.
"In a traditional grocery store where someone may be using a traditional delivery service, it would take an employee about 30 seconds to pick one item, where here using our system, it takes us five seconds to do it. That means, to pick an entire order, between, chill, ambient and frozen, takes about 15 minutes." 
There are other stations within the facility's first two floors dedicated to quality assurance and loading, but the third floor contains Ocado's robots, which are constantly on the go pulling product. The robots select items that they place in their "bellies," then drop onto conveyor belts where they are moved to picking areas. 
"Our strong relationship with Ocado and their robot technology is the reason our order process is so efficient. The automated robots keep the hive organized and bring product to warehouse associates to fulfill orders," a brochure detailing Kroger's operation reads. 
Brandon Barkley, the operations manager for Ocado oversees the hive and works with 48 fellow Ocado specialists watching over the bots.
"We have a little over 500 robots between the two different chambers – chill and ambient. The bots move and transport products, so they are actually picking and placing and sorting all the items, then taking what we bring in for a customer order to an outload," Ocado's Brandon says, explaining that the bots move about 5-milimeters between each other and at a speed of about 4-meters per second.
Brandon adds: "They are covering ground pretty quick. They work on a 4D wireless network, similar to that of an aircraft control center, and that's how they are communicating with each other to avoid crashes and interference." 
As for Kroger as a whole, Brandon McBurney says there is more to it that meets the eye when you consider associate and community relationships they are building upon every day.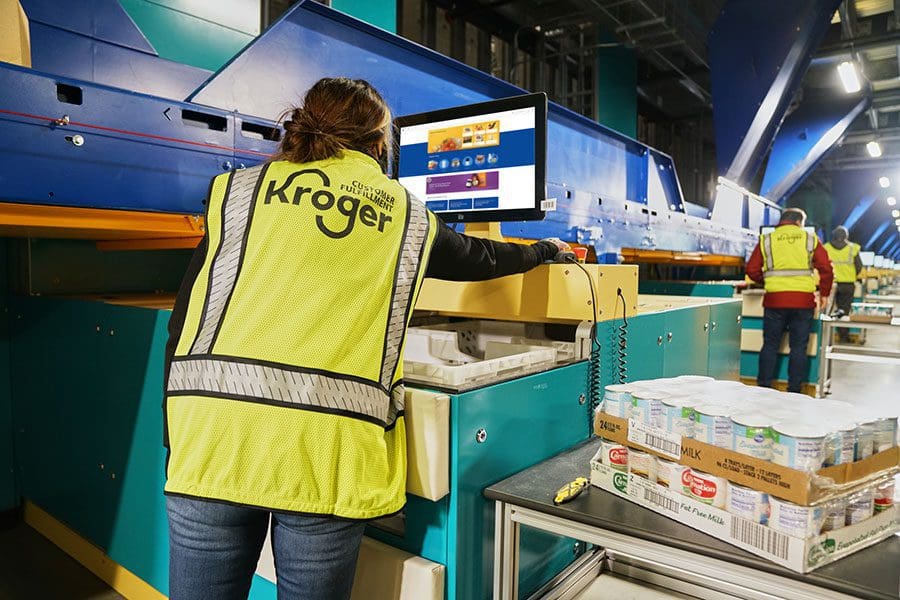 Andrea Colby, Kroger's eCommerce corporate affairs and communications manager agrees and says, "Kroger is invested in this building and in the community that's around us. We want to build partnerships and be a good neighbor."
She says Kroger makes it common practice to donate food to organizations that help feed those in need, and they appreciate the partnerships developed with local non-profits and businesses since opening to help do that. 
"We want to be the employer of choice, we want to be the grocery option of choice and we want to be a good community neighbor," Andrea says.
On the same note, Brandon says Kroger has already donated 770,000 pounds of food to various food banks in the area. 
The company's main partner is Second Harvest Food Bank, but they also work with other local organizations and with the city of Groveland sponsoring community-strong events like its Founder's Day and Fourth of July celebrations. 
Most recently, Kroger partnered with the Education Foundation of Lake County and provided all the food area high school students and local chefs, in turn, prepared and served at the Stepping out for Education fundraiser that benefits teachers and students throughout Lake County. 
Not only that, but sometime down the line, Kroger plans to work with area schools bringing students in for tours so they can see firsthand how the STEM concept can be applied to real life and work situations. Part of the goal is to inspire, motivate and pique student interest in robotics by showing them firsthand what robots can be programmed to do.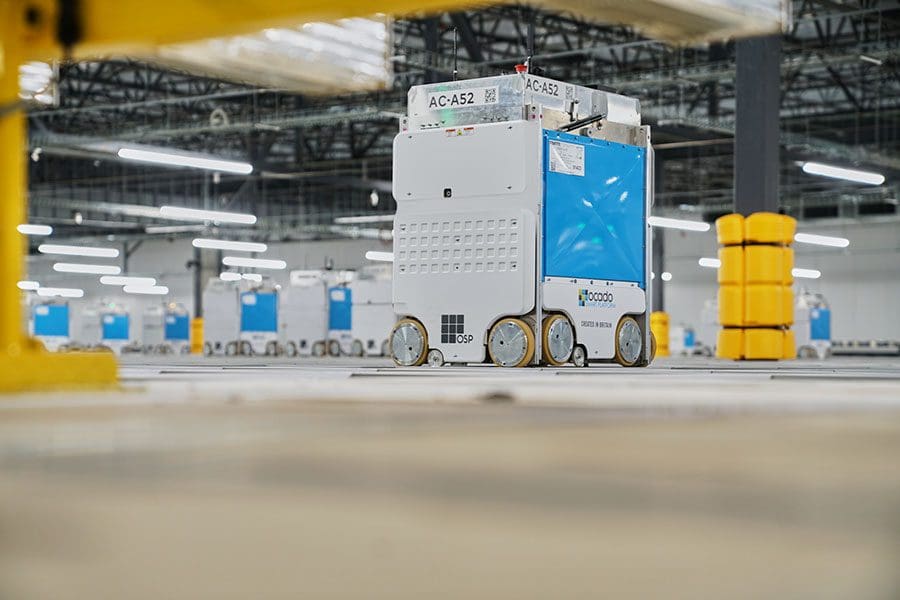 "It's a commitment to our community, to give back as much as they give back to us," Brandon says.
As for employees, Brandon says Kroger is still hiring and encourages people to apply. "We currently have about 500 associates in Groveland and plan to add another 250-300 more before the end of the year," he says. 
Brandon says he personally has been with the company for 17 years and couldn't be happier. He started out as a temporary worker counting pick slots in the freezer and doing data entry on the graveyard shift many moons ago, and the rest is history.
"I came for a job and stayed for a career which is what we are really trying to create here. I love how this company can be that for so many of our employees. We really have that career path mentality for those who want that type of opportunity in their lives," Brandon adds.
Abdool Ghani, a customer service delivery driver from Leesburg who has worked for Kroger for several months, says he appreciates the great leadership at the Groveland facility and what Kroger stands for.
"I gotta tell you, I would have to say 99.9 percent of the customers I've had the pleasure of speaking with love what we do. They appreciate us, they love us, they love the customer service, and they love our groceries and products. They appreciate how fresh it is and some of them come to the truck because it's interesting to think there is a fridge and a freezer in the truck for our deliveries," Abdool says. "They are interested, so I will open the doors and show them my truck and when they say they love Kroger, I say I love Kroger, too."
Brandon says all those things combined is what makes Kroger strong and for those who think technology and automation will take jobs, he says, "It's a misnomer and the opposite for us. The automation here allows us to be more efficient, it allows us to service more customers and therefore, have more jobs for our community."
For information or to place an order from Kroger, visit Kroger.com or download the Kroger app on your smartphone. A $10 delivery applies to most orders, but a current promotion allows unlimited deliveries within a one-year period for $79.99.
Originally from Nogales, Arizona, Roxanne worked in the customer service industry while writing independently for years. After moving to Florida in 1999, Roxanne eventually switched her career path to focus more on writing and went on to become an award-winning reporter for The Daily Commercial/South Lake Press newspapers for 16 years prior to coming on board with Akers Media as a staff writer in July 2020 – her dream job come true.
Share This Story!