Alisha Blake passionate about wining and dining anyone who steps in her Garden.
Alisha Blake passionate about wining and dining anyone who steps in her Garden.
Time to wine down
Alisha Blake enjoys cooking and drinking wine. 
She also likes to share her favorite pastimes. That's why she purchased the historic Magnolia House in downtown Leesburg and opened The Sipping Garden and Bistro, "a unique wine bar with small fare," in November 2022.
"I wanted something quaint, where I could offer great wine and food to everyone out of a place that feels welcoming and like an extension of my home," Alisha says.
That concept has been ingrained in Alisha's heart since childhood. It's something she witnessed almost daily at her parents' popular diner in Ocklawaha. 
As an adult, Alisha managed a pizzeria for 11 years before changing her career path entirely. 
"After my parents sold the restaurant, I decided to go to x-ray school," Alisha explains. "I became a CT tech and I've done that for the past 13 years."
Somewhere in between, Alisha also discovered that there's much more to wine than simply drinking it. 
"Besides appreciating the taste of good wine, I became interested in its roots and origins. There's so much to learn about wine; it's fascinating," she adds. "For the past 8-9 years, I've been learning wine. I became a Level 1 and Level 2 sommelier, certified through the Wine & Spirit Education Trust (WSET)."
Then COVID happened. 
Alisha, who was working in the healthcare industry at the time, says she felt burnt out following the height of the pandemic.
That's when she toasted to the idea of opening a place where she could teach people all about wine and please their palates with delectable treats, all in one sitting. 
"I basically got to my peak of being an X-ray tech and thought, 'Ok, time to learn something new, let's open a bistro.'"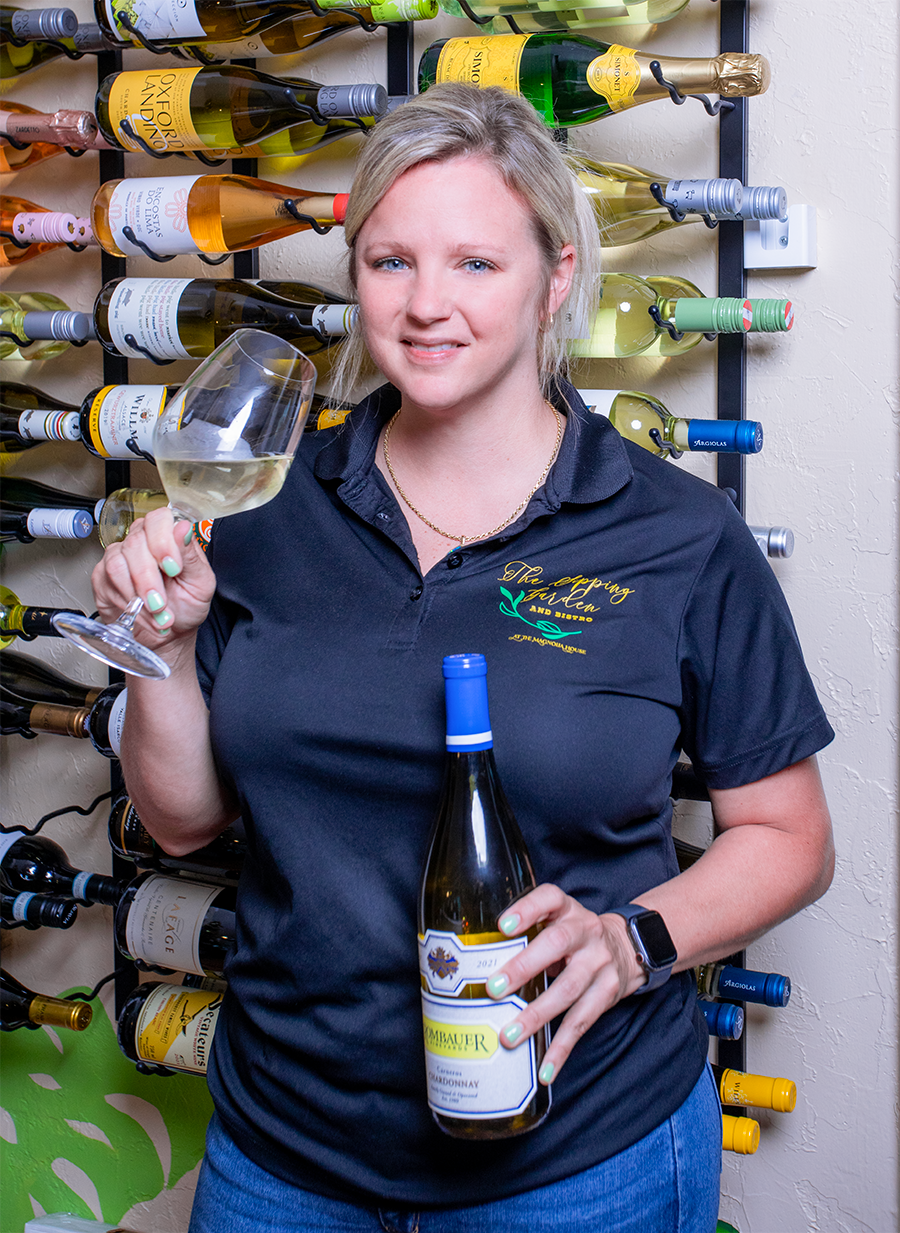 And what a charming bistro it is. 
Style Photographer Nicole Hamel and I were immediately impressed with The Sipping Garden when we recently visited.
Walking in, were enticed by vibrant colors and hunger-inducing aromas coming from the kitchen.
We also noticed plenty of wine bottles—old and new world varieties, reds, and whites—on racks throughout the place, and couldn't help but fantasize about one being uncorked, poured into a couple of glasses, and set on the table in front of us.  
The best thing, however, was that feeling of home Alisha was so intent on creating that The Sipping Garden exudes. The center of the bistro looks like a living room straight out of Better Homes & Gardens.
And the menu . . . from charcuterie boards, creamy burrata, and salads, to crostini topped with chicken salad, or prosciutto and Brie, mini crab cakes, cordon blue bites, and petite beef wellingtons, everything sounded tasty and well thought out. 
Additionally, Alisha daily makes homemade soup. We enjoyed her delicious broccoli cheese soup served with two slices of toasted crostini.
We also tried, and loved, the beef wellington and her award-winning prosciutto Brie bites— freshly made crostini topped with fig spread, sliced fruit, brie, prosciutto, and balsamic glaze—dubbed 'best appetizer' at the Leesburg Area Chamber of Commerce 2023 Taste of Lake & Business Expo in March.  
"Mostly, the menu is curated to my taste; things that I would want to choose if I were to go somewhere. And I love making soups. Soups are big for me, so I do a different one every day," Alisha says. Her well-loved flavors include tomato basil, sausage potato kale, chicken and dumplings, black bean, and split pea. "Although it's a lot of work making a homemade soup every day, it's worth people knowing it didn't come in a bag from a distributor but was made fresh and with love."
Each day, Alisha takes to Facebook and posts The Sipping Garden's soup of the day, new wines, pictures of small bites, and upcoming entertainment.  
The venue features live music on select nights and hosts private parties. On the third Tuesday of every month, Alisha, in her element, offers a reservation-only 'Wine and Cheese Pairing' event.
"It's not about tasting the wine; it's about experiencing the wine, and that's what I try and emphasize. I love talking to people about wine, explaining where it came from, the tasting notes and what it may remind them of, and I like hearing what they think about it," Alisha says. "When customers take that first sip of wine, or their first bite of food here, I really like seeing them smile and hear them say, 'Mmmm,' or 'Wow, that's so good.'"  
"It's all about making people happy through their stomachs." 
Originally from Nogales, Arizona, Roxanne worked in the customer service industry while writing independently for years. After moving to Florida in 1999, Roxanne eventually switched her career path to focus more on writing and went on to become an award-winning reporter for The Daily Commercial/South Lake Press newspapers for 16 years prior to coming on board with Akers Media as a staff writer in July 2020 – her dream job come true.
Share This Story!