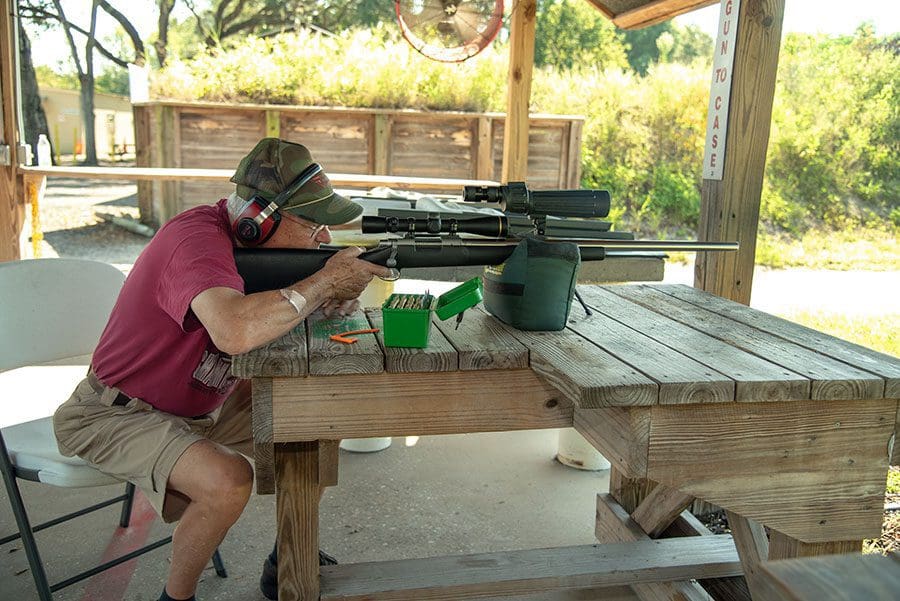 Members of the Eustis Gun Club feel at home on the range.
Photos: Nicole Hamel
On the rifle range, Leesburg resident Jeff Binneveld's Remington 40X rests on a sighting vise. Looking through a high-powered scope, he zeroes in his rifle at 100 yards to ensure pinpoint accuracy when he hunts prairie dogs in western states. 
On the shotgun range, a trap machine launches a small, orange disk into the air. Tom Bazzolo, a competitive skeet shooter from Mount Dora, squints down the barrel of his 12-gauge shotgun, traces its path, and shoots. The clay target shatters and showers the ground like a million fire sparks. 
At the pistol berm, loud pings fill the air and lead disintegrates into dust as Betty Woodburn of Grand Island shoots two single-action revolvers, a lever-action rifle, and a shotgun at steel targets. Betty is a member of the Lake County Pistoleros and competes in cowboy action shooting, a sport where competitors dress the part of the Old West and shoot guns from that period in a contest based on speed and accuracy.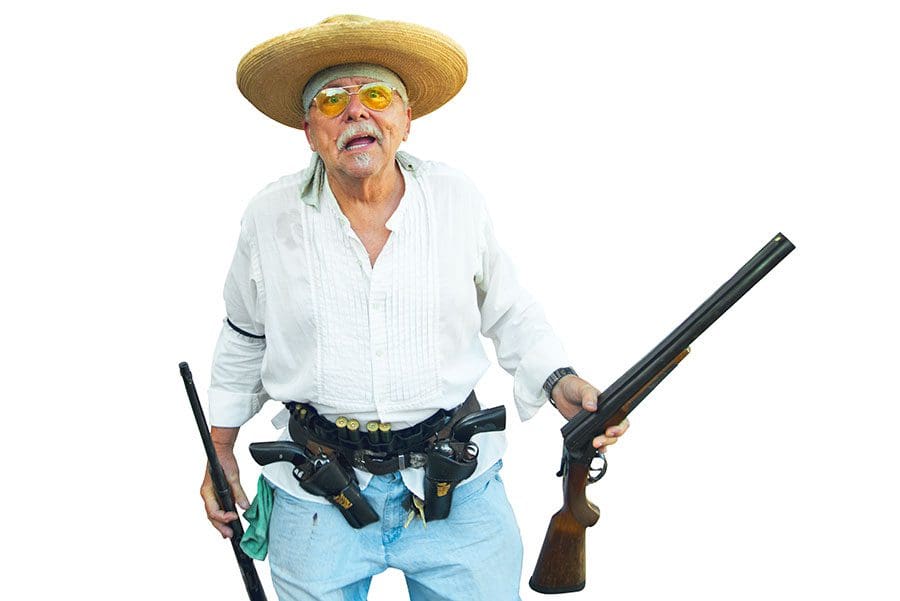 Although Jeff, Tom, and Betty enjoy different shooting disciplines, they all have one thing in common. They're members of the Eustis Gun Club and feel they receive a big bang for their buck. 
"This is a very fine shooting facility," Tom says. "It's on par with any high-end gun club in the country." 
For Betty, the Eustis Gun Club was one of the primary reasons she and her husband moved from South Florida to Lake County 16 years ago. 
"We'd drive here to compete in cowboy action shooting matches, and we liked the location, the friendliness of the people, and the way the club is maintained," Betty says. "It's a safe place to shoot."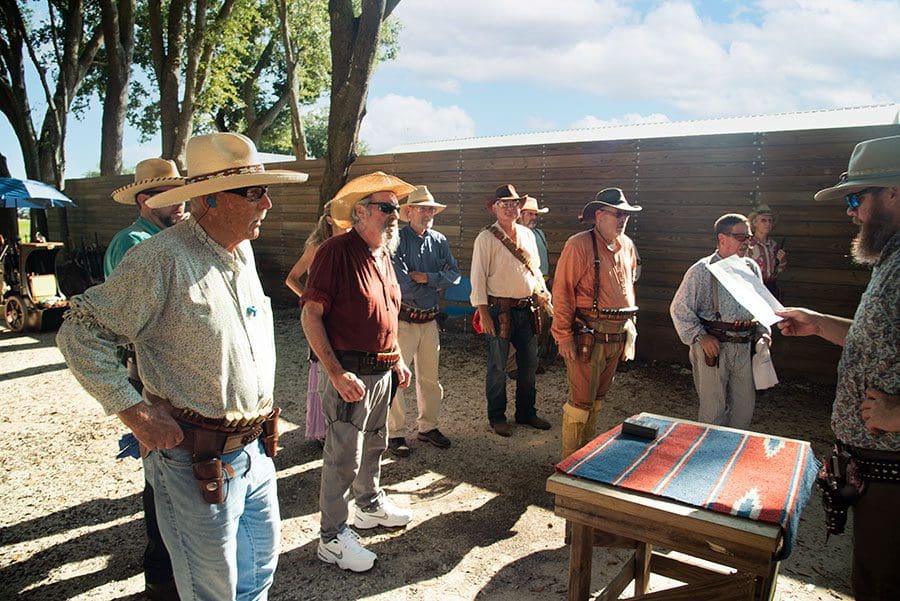 The club was established 100 years ago in Eustis. In 1969, board members moved the club to a 27-acre property off Frankies Road in Tavares but kept the name intact.  
Today, the private club has approximately 2,000 dues-paying members who have access to different outdoor ranges, allowing them to shoot at various distances with pistols, shotguns, and rifles. Members can sharpen their shooting skills and cultivate friendships 364 days a year. The club closes on Christmas.  
"One day, I came to the range with members of the Lake County Sheriff's Department and Howey Police Department, as well as a Howey city councilman," says Bruce Formhals, a club member who is actively involved in youth shooting events. "We sat in the pistol berm and fired 40 types of handguns. Seriously, members can come to the range and make a day of it. They can start on the shotgun range, move to the pistol berm, then shoot at the rimfire range with a .22-caliber rifle or pistol and then shoot an AR-15 or hunting rifle at our 200-meter range. The people you find here are patriotic and caring. They go out of their way to help others."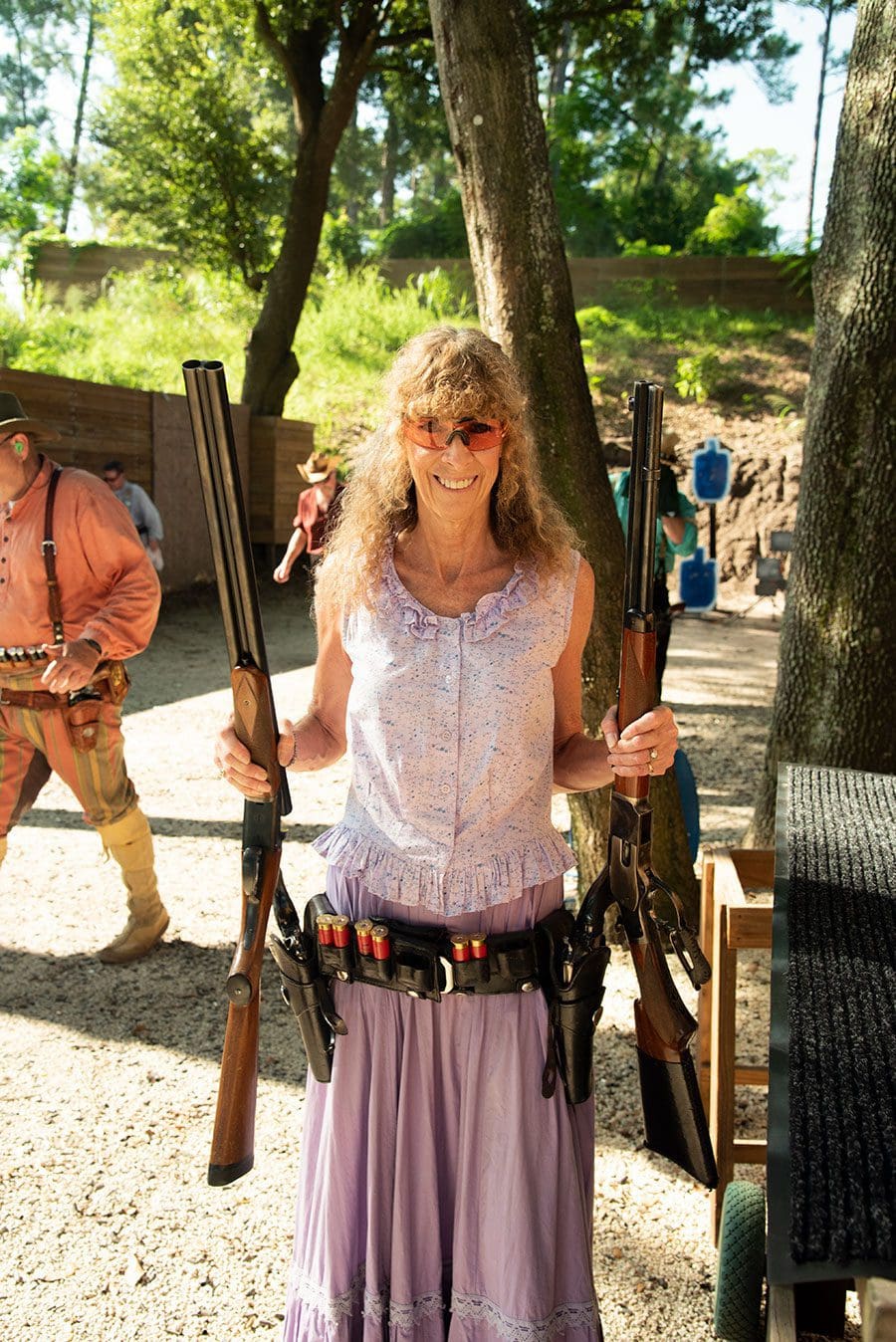 Marc Ouellette, who serves as treasurer of the club, echoes those sentiments. One of the biggest benefits of becoming a club member, he says, is connecting with others who have a shared interest.
"The friendships forged here are key," he says. "You meet new people, make good friends, and even improve your skills by watching others perform at a high level. Becoming part of a community that enjoys shooting as much as I do is very rewarding." 
Safety is paramount
The primary focus of the Eustis Gun Club's eight board members is providing a safe and secure facility where members can enjoy their shooting sports. They've maintained a successful track record, as evidenced by the fact that there has never been a firearm-related accident in club history.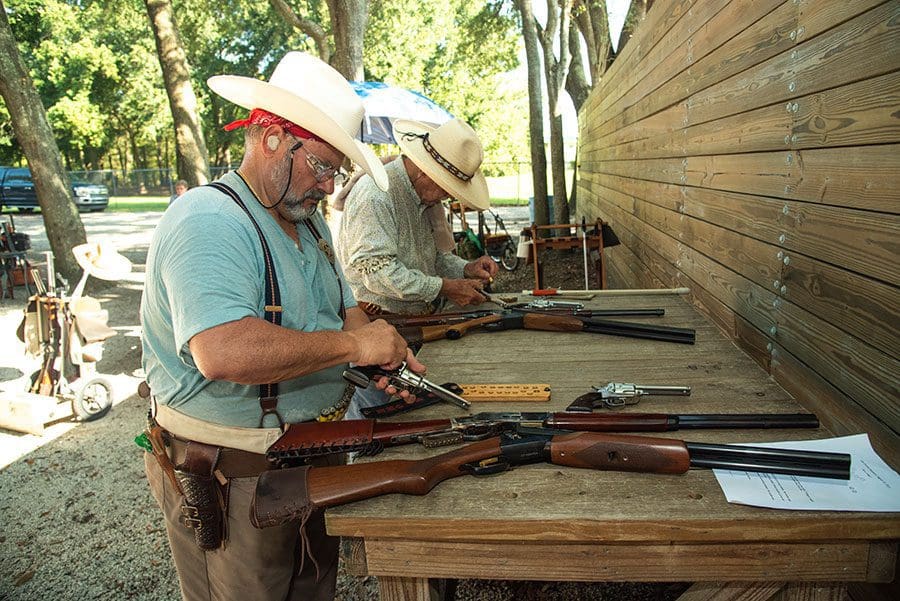 "Shooting is the safest sport in the country," Bruce says. "When you compare shooting to other sports like football and soccer, you see that shooting has fewer injuries. The reason shooting is a safe sport is because our members police one another. All members are very conscious about safety and that helps create a very safe atmosphere." 
New members attend a safety briefing and receive a handbook that explains the rules for each shooting range. From there, members are placed on a probationary status until they demonstrate safe handling of a firearm on three separate occasions while being observed by a range safety officer. 
A range safety officer is always present to ensure members properly follow rules. 
"Safety is our primary concern," says David Guminski, who has spent two years as a range safety officer at the Eustis Gun Club. "I make sure shooters are not pointing their muzzles at other shooters and that they keep their guns pointed downrange. We don't want anyone getting hurt."
With training in first aid and CPR, range safety officers are adequately equipped to handle not only gunshot wounds but also medical emergencies. They are trained in operating automated external defibrillators, which are portable, life-saving devices designed to treat people experiencing cardiac arrest. 
The emphasis on safety is the main reason why Mount Dora resident Christopher Edwards joined the Eustis Gun Club in August. He enjoys shooting outdoors, but his only other option is an unsupervised range in the Ocala National Forest, a potentially dangerous situation he wishes to avoid. 
"You expect a quality person to spend money to shoot at a quality range," says Christopher, a U.S. Army veteran. "Here, I don't have to worry about riffraff or shooting next to people who have never handled a firearm and act recklessly."
Environmental safety is equally important. Because high-powered bullets can travel up to a mile, each range has a berm, or mounds of dirt and rock to stop a bullet. Since the backstop berms become packed with lead, board members have hired a lead abatement company to remove it regularly, since it can easily be inhaled or ingested when airborne. 
In addition, several safety and facility upgrades have been completed in recent months.  The gravel road that winds around the Eustis Gun Club has been covered with stone to prevent flooding, and trees were trimmed in preparation for hurricane season. 
"There isn't any other gun range like this in Central Florida," says Marc, the club treasurer. "Lead gets cleaned up, trees get trimmed, and we maintain beautiful landscaping and greenery. We didn't alter the environment for the gun range. We used what was here, respected the environment, and built the gun range around the environment."
A gracious host
For gun owners, competitive shooting sports are one of the best ways to enjoy their favorite firearms while simultaneously improving their skills. 
Members of organizations such as Cowboy Action Shooting, the International Defensive
Pistol Association (IDPA), and American Trapshooting Association (ATA) utilize the Eustis Gun Club's various ranges for events and sanctioned matches. The matches attract everyone from novices to world-class competitors. 
For 21 years, Leesburg resident Mark Kraemer has competed in IDPA, a handgun-centric sport based on simulated self-defense scenarios where shooters are scored on speed and accuracy. Mark currently serves as president of the Lake County IDPA. 
"This club offers us an outstanding venue to participate in our sport," says Mark, who is also a member of the Eustis Gun Club. "The facility is well-kept and organized. You're not going to find a finer shooting club in Central Florida."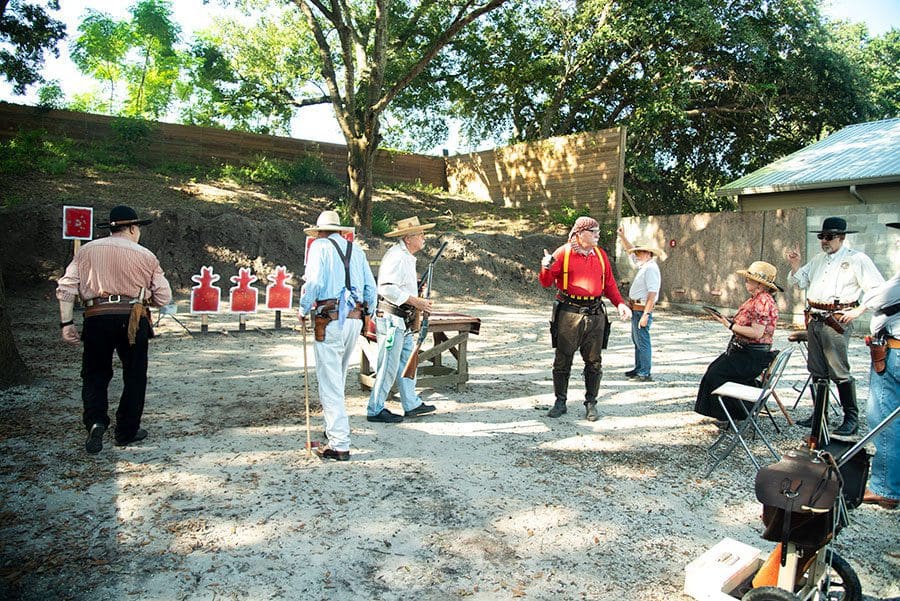 Tom, the skeet shooter from Mount Dora, has competed in ATP tournaments for 12 years. Each Wednesday, he practices at Eustis Gun Club to hone his skills. 
"I always feel safe out here, and I appreciate that each member has been vetted," he says. "The culture of this club is very positive."
As is the case with any sport, the question arises as to how adults will pass the love of shooting on to the next generation. Several shooting programs are held at the Eustis Gun Club to engage youth in shooting sports. One is the American Trap Association's youth program AIM, which stands for Academics, Integrity, and Marksmanship. Another is Project Appleseed, a nationwide program that teaches marksmanship skills, as well as the heritage and history of the traditional rifle. Children and teenagers enrolled in Lake County 4-H come to the club to learn skeet shooting, clay shooting, and trap shooting. 
Kids are attracted to the level playing field of competition shooting, a sport where size and gender mean very little in how successful one can become. Board members of the Eustis Gun Club are ecstatic to see kids become involved in shooting sports. 
"Some of us are getting older," Marc says. "One day, the younger generation will be operating the Eustis Gun Club, and we need them to maintain the passion we have for shooting firearms and also keep our membership levels where we want them."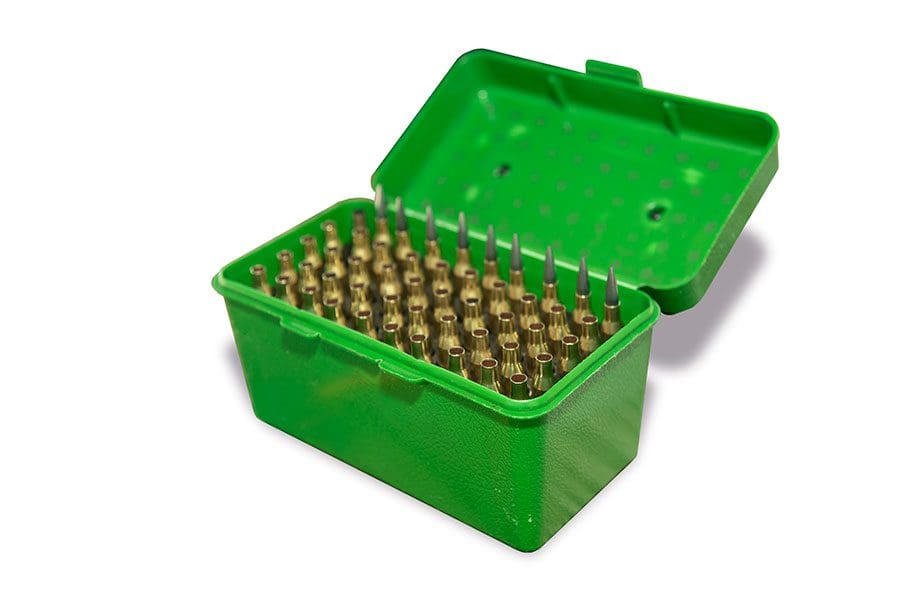 Akers Media Group's James Combs has been a staff writer for several local publications since August 2000. He has had the privilege of interviewing some of Lake County's many fascinating residents—from innovative business owners to heroic war veterans—and bringing their stories to life. A resident of Lake County since 1986, James recently embarked on a journey to lead a healthier lifestyle. He has lost 60 pounds and walks nearly five miles a day. In his spare time, he enjoys target shooting, skeet shooting and watching his beloved Kentucky Wildcats!
Share This Story!