All Lake County High Schools Now Have Unified Special Olympics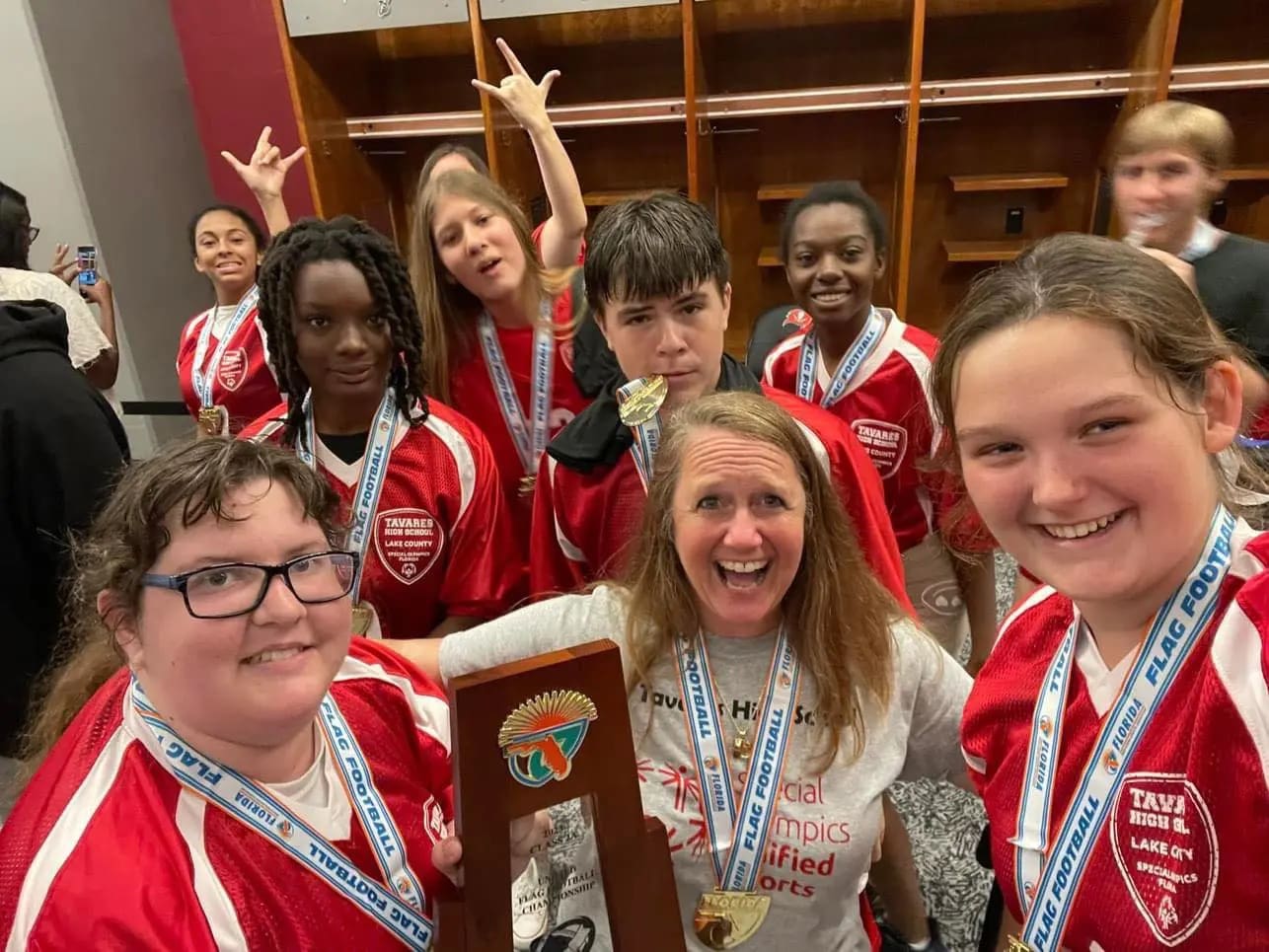 We have some great news to report! All eight of the Lake County high schools now have Unified Special Olympics teams. This is the first time this has ever happened and we are proud that all Lake County high schools are taking this initiative. Michelle Metheny, who is a coach at Tavares High for Special Olympics has been instrumental with getting the rest of the schools onboard in our community. She has often posted about wins on social media and provided a platform to get the word out about USO teams.
Metheny says "Having so much support for inclusive activities such as Unified Special Olympics for students with special needs makes my heart happy! Last school year when the Tavares High School Unified Flag Football team won the FHSAA Division 2 State Championship, the kids felt like rockstars! The real FHSAA trophy and medals were very cool, but seeing the look of pure excitement and joy on the faces of our team was priceless. The team had the same reaction when our Principal did a walk-through parade with the band throughout the school to celebrate their success."
And they did! The success of the Tavares program along with other Lake County schools provided a talking point among parents and athletic directors. As luck would have it all eight programs have decided that in 2023 they will field a competitive Unified Special Olympic team at some level. This is a huge deal in our community and one I am proud to write about.
Michelle Metheny says "I am most looking forward to seeing many other Lake County Schools at competitions both in Central Florida and throughout the State of Florida. When our athletes and unified partners get the chance to meet other local teams, it builds a greater community and provides more opportunities for our teams to make new friends. Too often our athletes (people with intellectual or developmental disabilities, IDD) are alienated or not completely a part of something bigger, now they are."
This is an opportunity for Lake County to showcase that on a grand scale. With all eight high schools dedicated to this great program, children who would have otherwise never have had the opportunity to shine athletically, will be given a chance to do so on a Unified type of platform.
Metheny had an amazing take on these athletes. She says "I am so dedicated to the students who qualify as athletes and their non-disabled peers because they ARE people and too often people without disabilities miss out on meeting someone of the most genuine and innocent people who demonstrate unselfish and unconditional love on a daily basis. I want all of our students with and without disabilities to know they are valued and are a part of something bigger. I want them to have the self-confidence to go after their dreams in life."
Metheny became one of the Lake County School Special Olympics Co-Coordinators with Michelle Long and had a discussion about some form of Unified Special Olympics at every school. Those discussions took less than a year to come to fruition and now it is truly a reality! "It's great for Lake County Schools and students with IDD. The only drawback is now Tavares High has more competition, which is a good problem to have!"
Lindsey Silvester who is one of Lake County Unified Special Olympic Partners says "Being a unified partner has taught me many valuable lessons but I feel compassion, which was the most valuable lesson. Even with competitiveness, I have seen compassion in everyone who is a part of this program unlike many traditional sports. We all felt a feeling of fulfillment after all our work payed off winning the championship game at Tavares"
Silvester went on to say "After we won the football championship game, I noticed that instead of complaining the other team was congratulating us. People at Unified Special Olympics treat one another kindly and with respect. Tavares High showed its support when the athletes marched up and down the hallways and the entire school recognized our hard work and cheered. Our team is like one big family where we joke and we learn with one another so having that time out of school was like a family vacation."
The Tavares Unified Special Olympics Team was almost used as a guinea pig for what this could grow into. Methany does not do the coaching of the teams alone. She is joined by Jordan Talmage who does a lot of the coaching. Coach Talmage has the knowledge of sports and Methany says that she has the knowledge of organizing, motivating and encouraging the athletes/partners and families.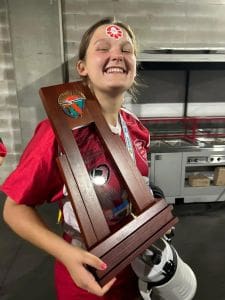 The schools participating this year include Tavares High, Umatilla High, Mount Dora High, Eustis High, Lake Minneola High, East Ridge High, Leesburg High and Eustis High. They also plan on getting new middle school and elementary programs involved as well. The goal would ultimately provide opportunities at all levels in the Lake County community for these student athletes.
We are so blessed to see the Unified Special Olympic teams getting the recognition they deserve! We wish each and every athlete, coach, partner and faculty member the best of luck in the 2023 Special Olympics Unified Season!
Kyle Coppola was born in Newton, Massachusetts and received his Bachelor of Fine Arts in Communications from Curry College in 2016. After traveling to Florida on a family vacation, he decided he could not get enough of the warm weather and made the move from snowy Massachusetts to central Florida 8 years ago.
For the last decade Kyle has gained valuable experience in social media content creation, marketing and sales, writing, video production, sports announcing and even broadcasting for local radio stations, such as FM 102.9 in The Villages and FM 91.5 in Massachusetts. Every year he volunteers at The Villages Charter High School as a play-by-play sports announcer for the football games as well as a public address announcer for the basketball games, including the annual Battle at The Villages Tournament.
Outside the office Kyle is a husband and father to two beautiful girls along with their cat. In his spare time he likes to spend time with his family, travel, play golf and swim. He is also a huge sports junkie and even bigger motorsports fan and loves to attend racing events when he can.
Share This Story!