Amare Williams The Fastest Man At Eustis High School!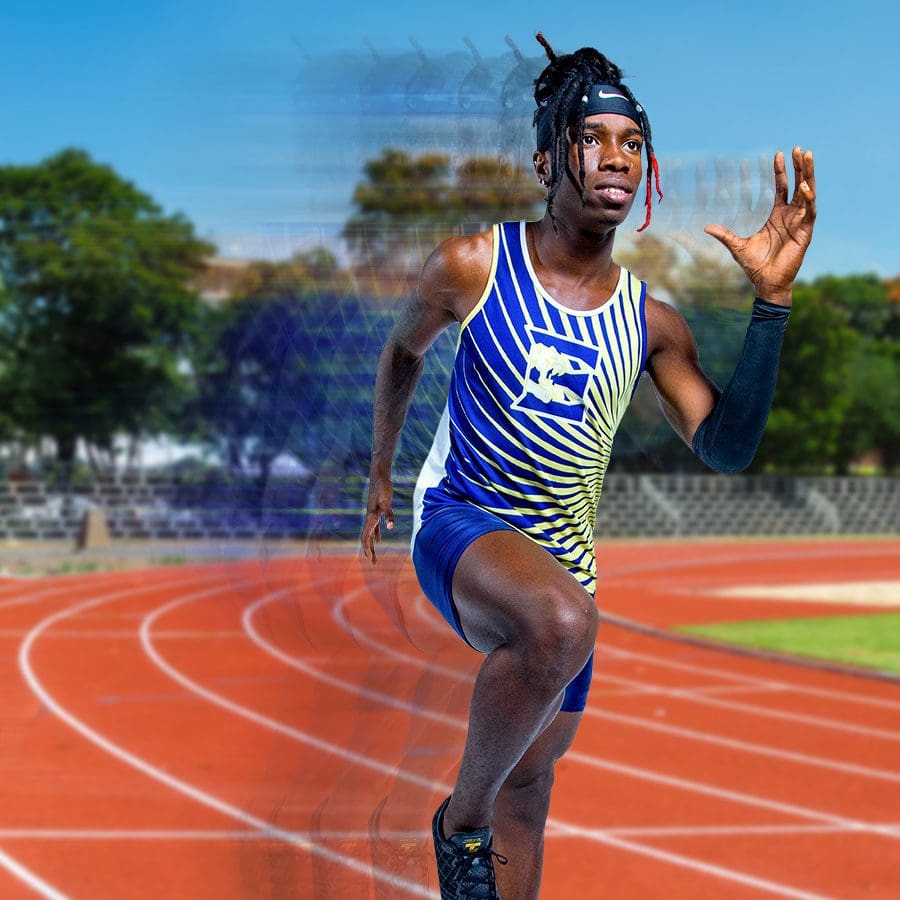 Amare Williams is the fastest athlete to ever come through the Eustis High School Program. Williams is a terrific kid with big goals in mind. He grew up in Eustis and his family has been a big part of his success over the many years he has competed in sports. Williams might have broken the record, but what if I told you that this was his first year ever competing in Track & Field!
That's right Amare played football for most of his high school career. Williams played for Lake Minneola and played running back and safety for the Hawks. During the late summer going into his Senior year, his mother Courtney McNealy got an opportunity to become the coach of the JV Girls Cheerleading squad at Eustis High School. The family decided to move from the Minneola area and relocate back to Eustis.
The move was one of the best refreshing things to happen to the family as they love Eustis. Unfortunately it was too late for Amare to join the Eustis Football team who would go on to win the first District Championship since 2005. However his mother Courtney pushed her son to try out for the Track & Field team. Amare thought long and hard about it and decided to give it a go!
Williams was a bit nervous as he had never attempted Track & Field in his life. Everything he learned was from YouTube! Believe it or not many of us use YouTube to study how projects are done or how to do specific tasks. Williams watched videos on how to get off the starting blocks correctly, how to pass a baton in the relay and more! In fact his mom Courtney credits YouTube for saving the family $3,500 on an A/C repair they did themselves and cost almost nothing! That's taking initiative! It's something Williams is good at, he's not afraid to do things himself and that kind of mindset is terrific for a young man.
The record for the Eustis High School 200 Meter has stood since 2018 when Adrian Sanders ran a 22.50. But the 100 Meter has stood since 2011 at Eustis. That record was set by Diron Crooms who ran a 11.20 in the 100 Meter over 12 years ago. All that was about to change as Williams prepared for the District Championships this year. Amare beat Sanders' time in the 200 by running a school record 22.25 on April 1st of this year. But it gets even better for the young athlete!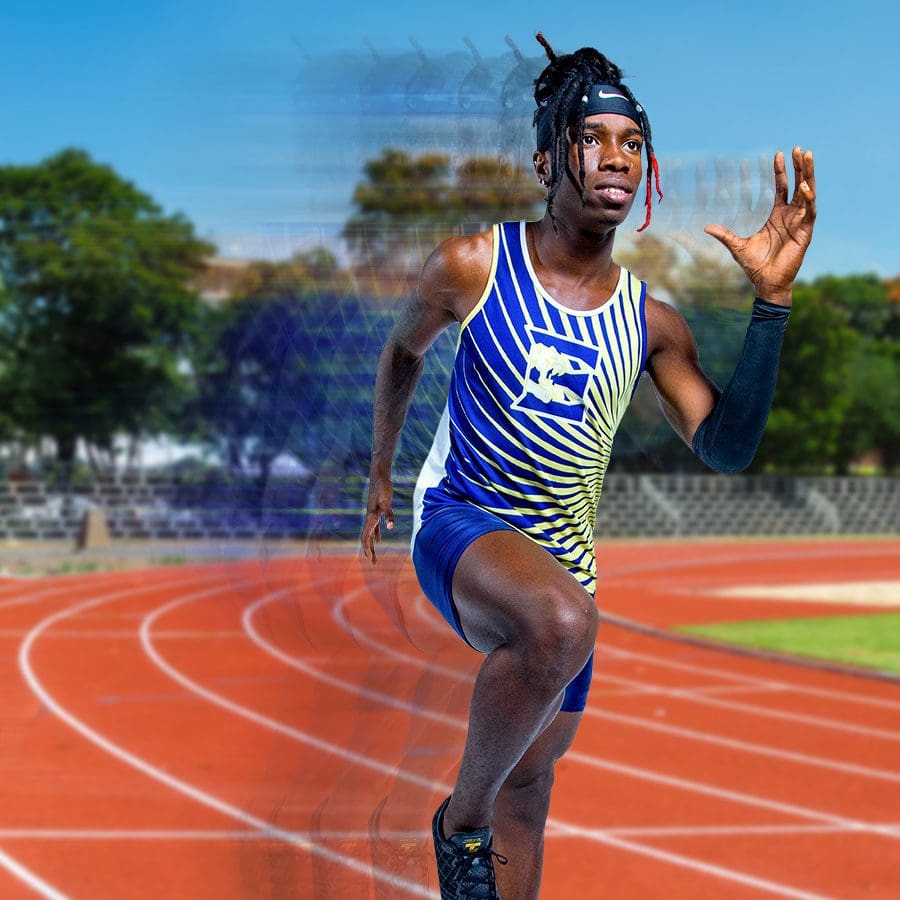 Williams wanted to be remembered as the fastest athlete to ever come through the program at Eustis. He already proved he could do that in the 200 Meter, but he wanted to do it in the 100 Meter as well. Having both records would cement his legacy at Eustis and move him into the history books. As the 100 Meter event approached Williams tried to stay calm and collected but like any athlete there's that nervous energy that creeps in. Anytime Willimas gets nervous, he closes his eyes and says to himself "I am speed" A quote many will recognize from the Disney Feature Film "Cars" with lead character Lightning McQueen using that as his motto.
That saying has a lot of meaning behind it. His mother Courtney has always said "There is nothing you can't do. Anything you put your mind to, is attainable" Williams mother Courtney is a massive influence on his life. So too is his step father Daquwan who has been in Amare's life since he was just a baby. Courtney credits Daquwan as being one of the best things to happen in Courtney's & Amare's life. Daquwan is a role model to all step fathers out there. He accepted Amare as his own and since then the McNealy's have gone on to have 4 children ranging from 13-6 years of age.
As Amare opened his eyes he looked down the track one final time. At the end of the track standing there was his mother who always stands looking right at Amare as he blazes down the track. Amare took comfort in that and his tension always eases when he sees his mom down there rooting him on. Amare took one final breath as he took his mark and got set. As the gun went off, Amare had the best start of his life. Within 2 seconds he was clear of the field. It was now Amare Williams vs Diron Crooms for the title as fastest man in Eustis High School history.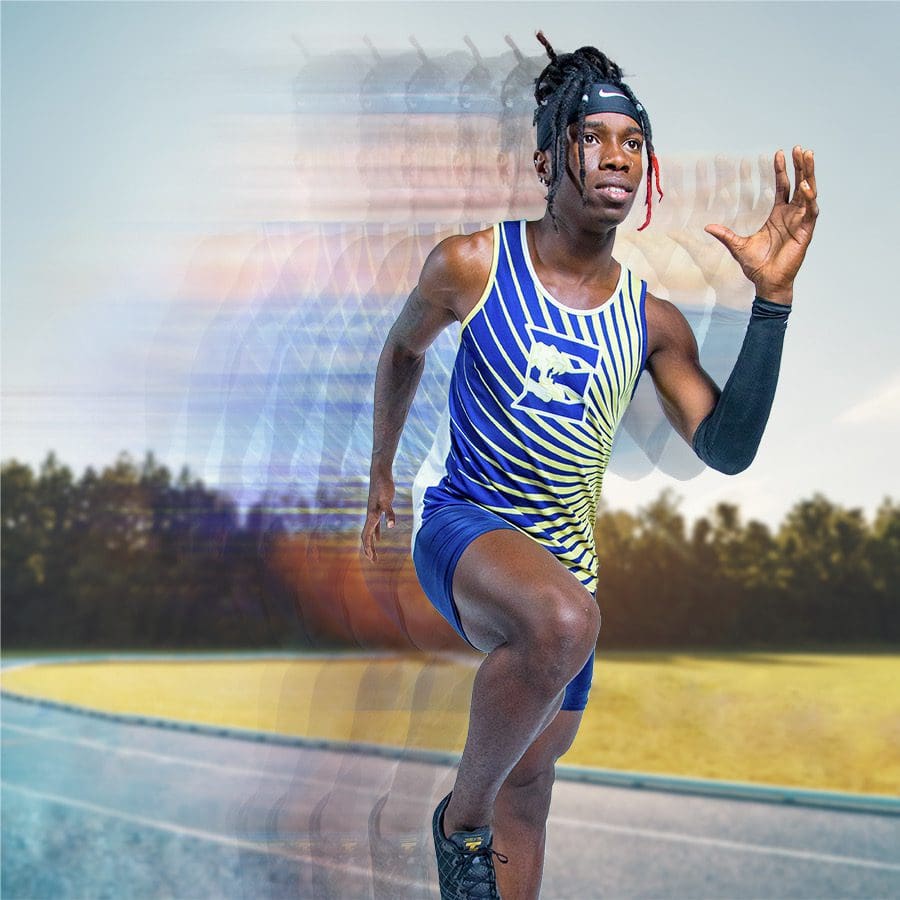 Amare Williams Fastest Man In Eustis High School History! 
As the finish line approached Williams knew it was going to be close. He pushed just a little harder as he lunged for the line. The time clock stopped and for a few seconds it seemed as if time itself had stopped. Williams finished slowing down and then heard screaming, not only from his mom but his teammates who came running down the track. Amare didn't even have to look at the clock because Courtney enveloped her son in a massive hug.
The hug by his mom was different than previous times. It was a hug as if to say "I always knew you could do it. I'm so proud of you." In that moment and in that embrace, Amare knew he had broken the school record. He just didn't know by how much. As the rest of the Eustis team came down to hug Amare he then realized he shattered the previous record. One teammate said "Amare you just ran a 10.75 in the 100 Meter!" That's all it took as everyone began celebrating the tremendous accomplishment.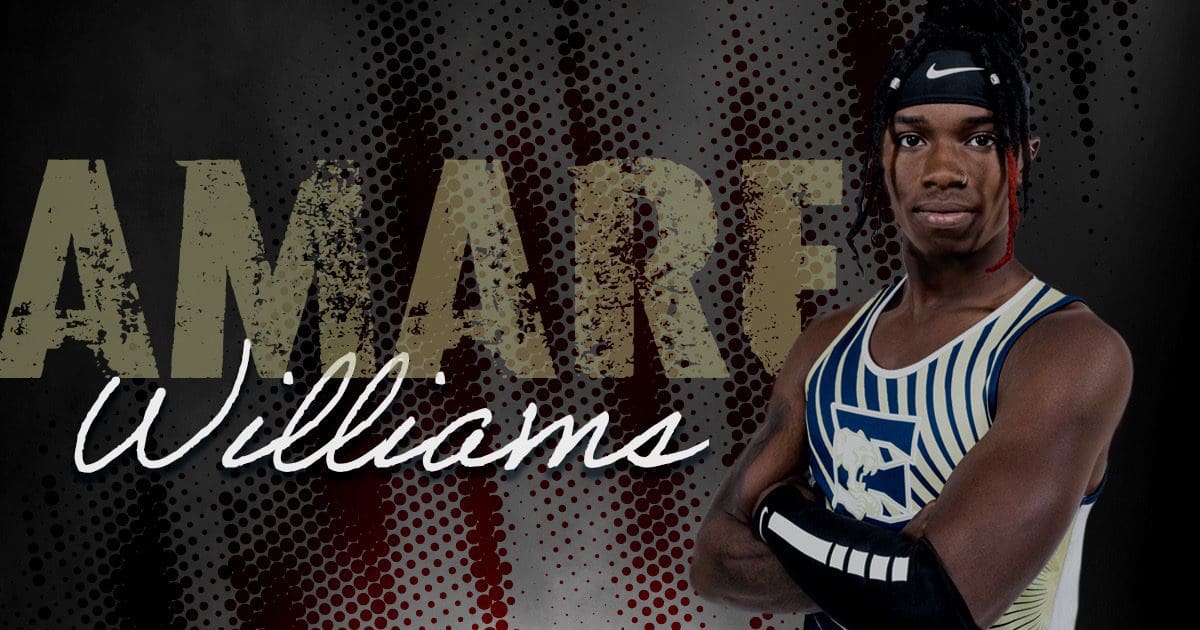 Everyone was stunned at the number. The first year track & field athlete broke a record that had stood for well over a decade. In fact it had been 12 years since anyone came close to breaking Crooms record. Amare now stood at the top of the pedestal as not only the fastest athlete Eustis has ever had, but the new athlete to beat! What an incredible few weeks it's been for Amare Williams!
Williams Commits to Webber International University!
Williams was being looked at by Webber, Warner and a few other college programs such as Bethune-Cookman and more. Williams attributes his success to his coach Jennifer McKillop. He says "She is straightforward and holds all team members accountable. She pushes us to be the best we can be." Williams now heads to the Regional's where he looks to qualify for the State Championships in a few weeks.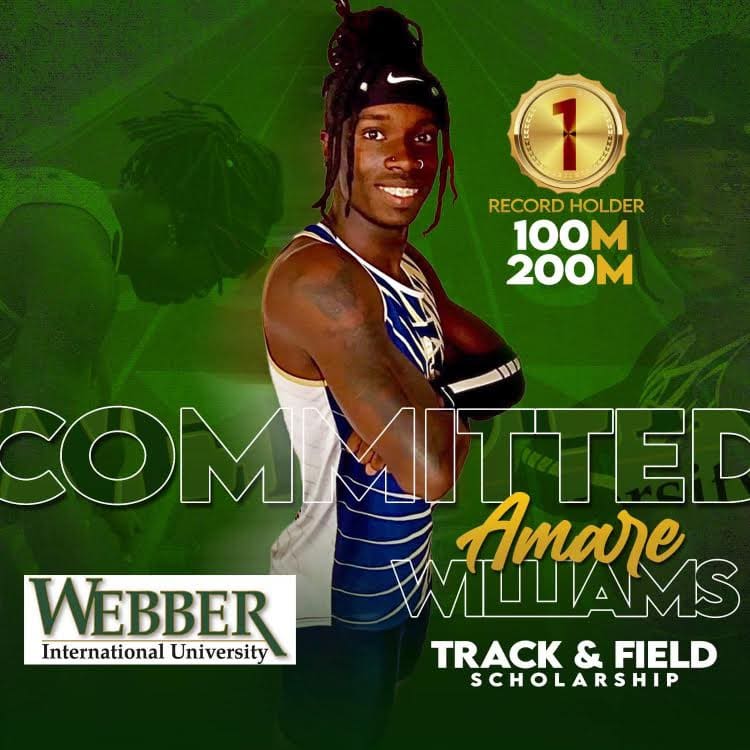 As we were writing this article and about to finish it, we were told that Amare has committed to Webber International University to continue his academic and athletic playing career. We are so excited for the Williams family and we wish Amare nothing but success as he transitions to Webber for his Freshman year in a few months. Will Amare try out for the football team? That remains to be seen but he will ultimately be one of the fastest kids on the Webber Track & Field team that's a given.
It's been a tremendous year for Eustis Athletics. Tyree Patterson is going to play for UCF for Football, Noel Rodriguez is headed to Webber to play Football as well. Webber recruited some of the top athletes Eustis has to offer with Rodriguez and Williams. We want to congratulate the McNealy family on their son's great accomplishments. We also want to wish him luck as he continues to follow his dreams to further his Academic and Playing career at the next level! Go Amare!
Photos Provided By: 
Akers Media Group
Nicole Neola
Graphic Design Provided By: 
Shawnee Coppola
Kyle Coppola was born in Newton, Massachusetts and received his Bachelor of Fine Arts in Communications from Curry College in 2016. After traveling to Florida on a family vacation, he decided he could not get enough of the warm weather and made the move from snowy Massachusetts to central Florida 8 years ago.
For the last decade Kyle has gained valuable experience in social media content creation, marketing and sales, writing, video production, sports announcing and even broadcasting for local radio stations, such as FM 102.9 in The Villages and FM 91.5 in Massachusetts. Every year he volunteers at The Villages Charter High School as a play-by-play sports announcer for the football games as well as a public address announcer for the basketball games, including the annual Battle at The Villages Tournament.
Outside the office Kyle is a husband and father to two beautiful girls along with their cat. In his spare time he likes to spend time with his family, travel, play golf and swim. He is also a huge sports junkie and even bigger motorsports fan and loves to attend racing events when he can.
Share This Story!