Athlete Of The Week: Kevens Charles South Lake High Football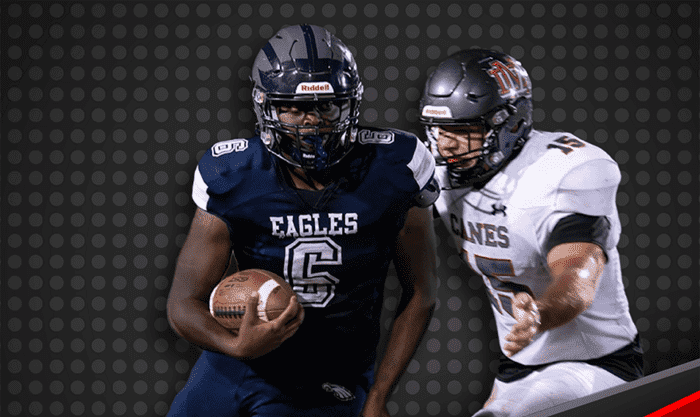 Kevens Charles is having one stellar senior season. The running back has literally put the South Lake Eagles on his back and was a huge reason that South Lake was able to get their first victory in over 2 years last weekend against Forest in a 18-14 shootout.
Charles enters his final year of High School as one of South Lake's best offensive superstars. He is a two sport athlete and also plays basketball. At 6"2 215 lbs Charles is one of the bigger running backs in Lake & Sumter County. The kid is an absolute beast and is just a natural athlete.
The 2023 season has been good to Charles. The offensive line has opened up holes and allowed him to take a monstrous 108 carries through only 5 games this season. Charles has 563 yards on the ground and 63 through the air for a total of over 600 yards of offense this season. He has 5 touchdowns and has been the backbone of the Eagles offense. Down below we have a link to his hudl showing the touchdown that would ultimately help South Lake to their first victory in 2 years.
https://www.hudl.com/video/2/20657/6519972adfe3190c1489bd5c
While South Lake may not have the statistics of a South Sumter, Leesburg, Lake Minneola or Eustis, they have in the heart of the team. South Lake has had it rough for many years. They went on a historic 2 year losing streak which was one of the longest in school history. South Lake recently let go of its head coach but hired Brad Lord, the longtime head coach of Foundation Academy who has turned the program around.
No one expected South Lake to contend for a district championship right off the bat or make the playoffs. All we wanted to see was some progress. South Lake won a football game and has played other teams in tight matchups this year. That alone is more progress than we have seen this team take in many years. And that is due to players like Charles and head coach Brad Lord who is taking lessons learned from his time at Foundation Academy and building something that South Lake athletes and alumni can be proud about.
Kevens Charles not only is a leader on the offense but even on special teams. Charles has some kick returns this season and has averaged 30 yards per return. Charles is just an extremely reliable player. He has shown that time and again. No matter what sport he chooses to play be it football or basketball he just makes teammates around him better.
Congratulations to Kevens Charles and South Lake High School for winning their first game in 2 years! Hopefully more wins will be on the horizon soon!
Kyle Coppola was born in Newton, Massachusetts and received his Bachelor of Fine Arts in Communications from Curry College in 2016. After traveling to Florida on a family vacation, he decided he could not get enough of the warm weather and made the move from snowy Massachusetts to central Florida 8 years ago.
For the last decade Kyle has gained valuable experience in social media content creation, marketing and sales, writing, video production, sports announcing and even broadcasting for local radio stations, such as FM 102.9 in The Villages and FM 91.5 in Massachusetts. Every year he volunteers at The Villages Charter High School as a play-by-play sports announcer for the football games as well as a public address announcer for the basketball games, including the annual Battle at The Villages Tournament.
Outside the office Kyle is a husband and father to two beautiful girls along with their cat. In his spare time he likes to spend time with his family, travel, play golf and swim. He is also a huge sports junkie and even bigger motorsports fan and loves to attend racing events when he can.
Share This Story!