Athlete Of The Week Mount Dora High Volleyball Sydney Guthrie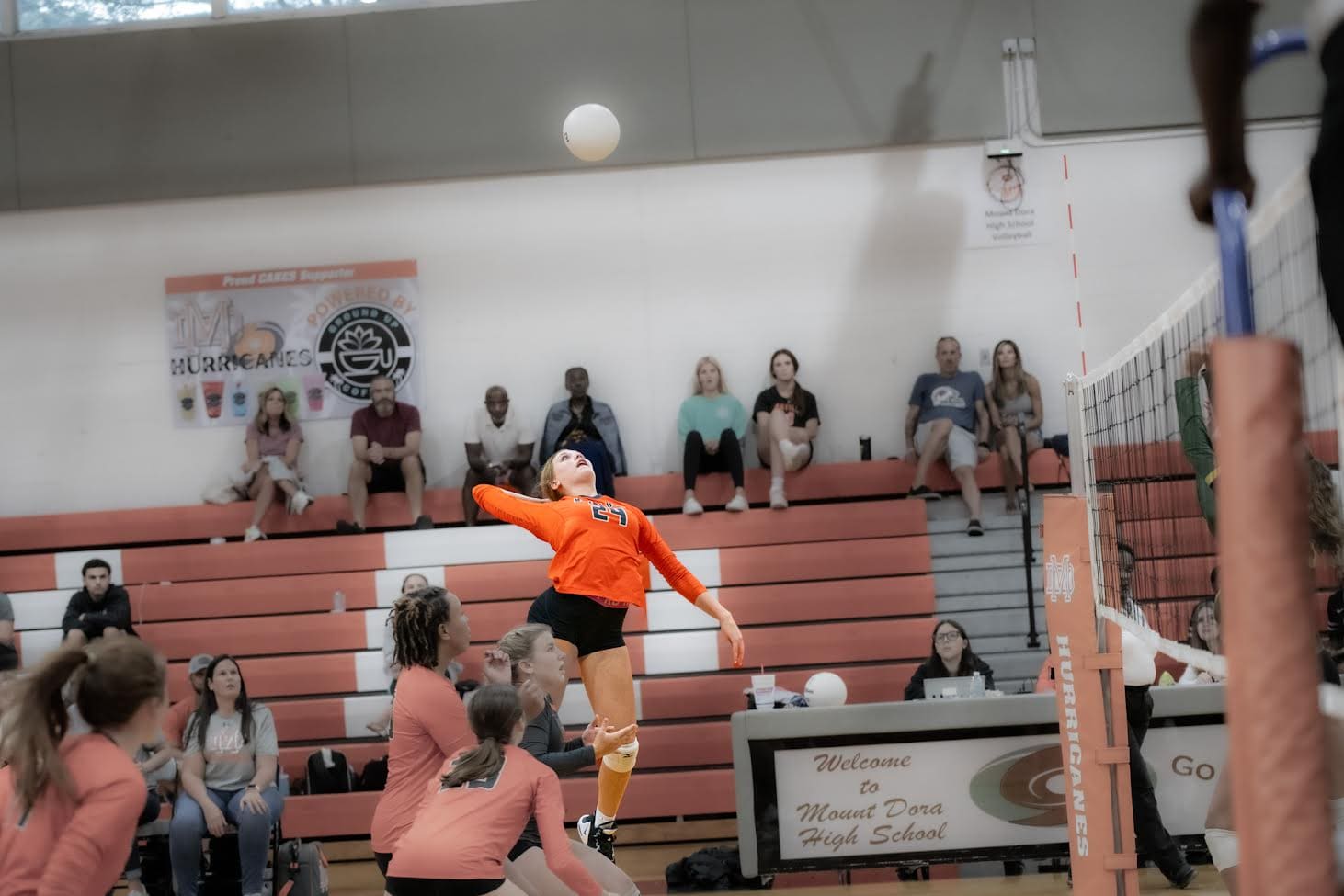 Our student athlete of the week is Mount Dora High School Volleyball junior, Sydney Guthrie. She has had a tremendous start to the 2023 FHSAA Volleyball season. She is a team leader and has been a huge reason why Mount Dora High School is having one of their best seasons statistically in over a decade!
Guthrie is an all around incredible athlete. She leads the team in kill shots which is when a player goes up to spike the ball. She has 146 kills which ranks in the top 40 in the state of Florida. She is currently 13th in the state for juniors. She is also ranked 5th in kill shots in all of region 4A. Head coach of the Hurricanes Kevin Gifford has said "Sydney Guthrie has been crushing it for us. She has been absolutely terrific."
Those statistics speak for themselves. Guthrie has put the team on her back at times this season but she also gets a ton of help from her teammates who have assisted her in the dominance being displayed. Some other statistics include her having a 38% kill percentage and she's also been dominant at serving the ball, she has 15 aces this year.
To put into perspective how good Sydney Guthrie is, the next closest teammate in kills is senior #10 Kylie Clements who is also a great player but only has 49 kills compared to Guthrie's 146.
While Guthrie is dominant in the front of the net we need to give a shoutout to some of the players who make that happen including Blakely Kite who has taken the most punishment on the team as the labero. She takes most of the incoming serves which makes her one of the most important players on the team. It's also when the ball is moving at a very high rate of speed making her even more important as the role is a key defensive position. Kite is a 5"4 junior and also plays on the softball team.
Kite has taken 272 total serves while Sydney Guthrie has taken 150 of them. We also have to give it up to freshman #3 Skye Douglass who leads the team in assists with 200 of them. She has been a huge reason for Sydney Guthrie's success this year. Sydney's younger sister freshman #23 Kate Guthrie is 2nd on the team with 86 assists.
The list could go on and on but Sydney Guthrie is absolutely having a monster year and this week will see Mount Dora have games against Tavares and Eustis which will be fun contests to watch.
Congratulations to Sydney Guthrie for winning our Athlete of the week along with her teammates for helping her standout and be a star! We hope that Mount Dora High continues to have success. The team is having the best season in over a decade so we will see just how far this team is capable of going as districts inch closer.
Photos Credit:
Joe Ott Photography "Fan Zone"
Kyle Coppola was born in Newton, Massachusetts and received his Bachelor of Fine Arts in Communications from Curry College in 2016. After traveling to Florida on a family vacation, he decided he could not get enough of the warm weather and made the move from snowy Massachusetts to central Florida 8 years ago.
For the last decade Kyle has gained valuable experience in social media content creation, marketing and sales, writing, video production, sports announcing and even broadcasting for local radio stations, such as FM 102.9 in The Villages and FM 91.5 in Massachusetts. Every year he volunteers at The Villages Charter High School as a play-by-play sports announcer for the football games as well as a public address announcer for the basketball games, including the annual Battle at The Villages Tournament.
Outside the office Kyle is a husband and father to two beautiful girls along with their cat. In his spare time he likes to spend time with his family, travel, play golf and swim. He is also a huge sports junkie and even bigger motorsports fan and loves to attend racing events when he can.
Share This Story!