Attractions: Extended legacy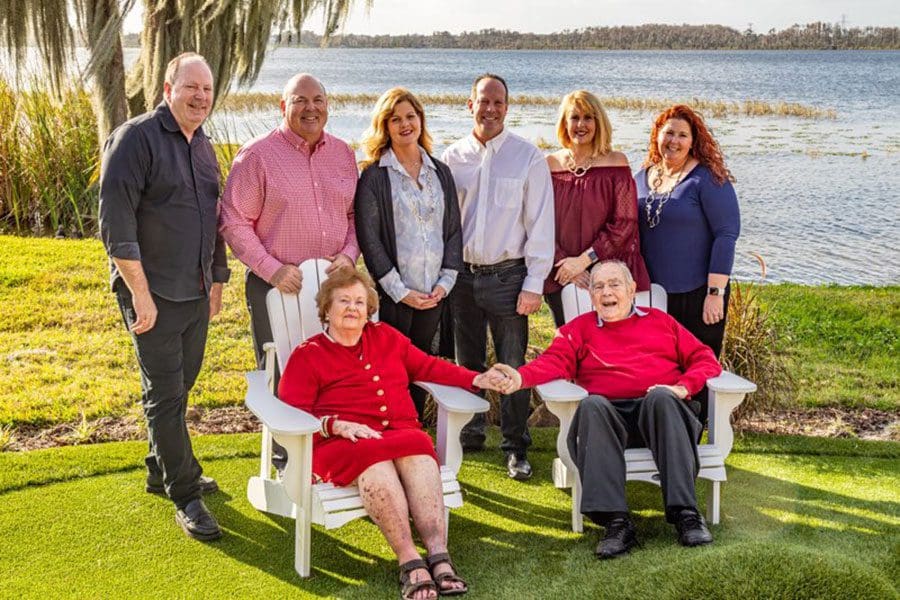 Family taking Presidents Hall of Fame museum to the next level.
Photos: Nicole Hamel
The six children of John and Jan Zweifel, owners of the Presidents Hall of Fame in Clermont, have come together with a plan.
It involves sprucing up and re-inventing the museum, plus giving people more insight about its history and of the famous miniature White House replica it houses; all in their parents' honor.
That's because Jan, 83, died on June 2, 2020 of natural causes and John, 84, died Dec. 30, 2020 from blood clots in his legs.
"We would actually love to keep up our parents' legacy because it's what they would have wanted and because we were so involved with the miniature as youngsters," says Randy Zweifel, 50. "We're trying to figure all this out." 
The siblings are working with Tommy Candido, longtime design coordinator and curator, to ensure that the museum continues to educate visitors and promote patriotism. The family says those things meant more than anything to John.
Randy says John spent most of his life, Jan by his side for 61 years, advocating for patriotism via the many displays he built, along with showing presidential and other Americana themed collections he'd acquired over the years.
His pride and joy: a 1,200-square-foot, 10-ton replica of the White House he and Jan, with help from the children, built starting in the 1970s. To accomplish the feat, the Zweifels were allowed into the actual White House to measure and study every room, and through the years, the family met and became good friends with several presidents, first ladies and longtime White House curator Rex Scouten. 
In its heyday, the miniature was shown all over the world, including England, Japan and the Netherlands, and in all 50 states, including in 12 presidential libraries, political conventions and events.
"When you walk in and see the replica, it's overwhelming. It's truly amazing to think of all the places it's been, but also, it's amazing to think about how we had to cut it in half to get it into certain buildings, or how we had to crane it to different areas," Randy says. "But no matter where it went, it attracted lines of people who waited hours just to get a look at it. It's those types of stories that people don't know much about and that we would like to tell."
Today, the mini White House sits in the Clermont museum as a testament to the family's life's work.
Brothers Jack, Randy, and James Zweifel and sisters Kathryn VanderMeer, Janet Bittick and Julia Edmondson, have vowed to keep their father's dream alive.
"It was our dad's sandbox and he put everything he had into it," says the family's oldest son Jack, 59, who explains that since January, they've painted, cleaned and sorted through things at the museum and a huge warehouse in Orlando where John stored countless other items and collections.
Tommy is helping with improvements and promoting the museum on social media.
"As kids, we spent a lot of time traveling with our parents and working on the replica," says Jack, who personally hand-carved many of the mini furniture pieces. "The White House was always special and hopefully, we can get back the patriotism we had before. It has nothing to do with Democrats or Republicans, but about America and our history."
Originally, the 62-year-old Presidents Hall of Fame was a wax museum owned by Ferdinand John "Jack" Toole. The Zweifels purchased it in the early 1990s after Toole died.
Today, the museum includes wax figures of every president (minus Joe Biden, coming soon), many first ladies in their gowns, some of America's founding fathers, and a younger John working on the miniature.
There are hundreds of other displays, including a State Dining Room set-up and dioramas of 12 detailed Oval Offices, a resolute desk replica people can sit at, an elaborate animatronic display of the White House being built, a small custom carriage that carried Tom Thumb to his wedding, memorabilia from both Democrat and Republican conventions the Zweifels attended every year since 1947, and much more. Outside, people can take pictures with replicas of Mount Rushmore, the Statue of Liberty, and the Lincoln Memorial.



Randy says he and his siblings would like to see the community and City of Clermont get behind the museum. After all, it's one of Florida's oldest roadside attractions.
Their goal is to attract a younger crowd so that the Presidents Hall of Fame is never forgotten. 
"It's just neat for people who will never get to go the White House," Randy says.
Changes and expansions are planned, but they do not want the museum to lose its charm.
"We like that it's a roadside attraction. We like the Route 66 kind of style where people seek it out. We just need more people to find Route 27," says Randy. "I know we can get people excited once we get them through the door; it's just letting them know what's there."
Jack says they plan on giving it their all, in the spirit of their parents. "It should be phenomenal. Our mom was a wonderful woman, and our dad was the kind of guy who had about 200 projects going on, but he never gave up." 
---
Presidents Hall of Fame
123 N. Highway 27, Clermont
Hours: Monday-Saturday 10 a.m. to 4 p.m., Sunday 12 p.m. – 4 p.m.
352.242.2836
thepresidentshalloffame.com
Originally from Nogales, Arizona, Roxanne worked in the customer service industry while writing independently for years. After moving to Florida in 1999, Roxanne eventually switched her career path to focus more on writing and went on to become an award-winning reporter for The Daily Commercial/South Lake Press newspapers for 16 years prior to coming on board with Akers Media as a staff writer in July 2020 – her dream job come true.
Share This Story!