Attractions: Naturally invigorating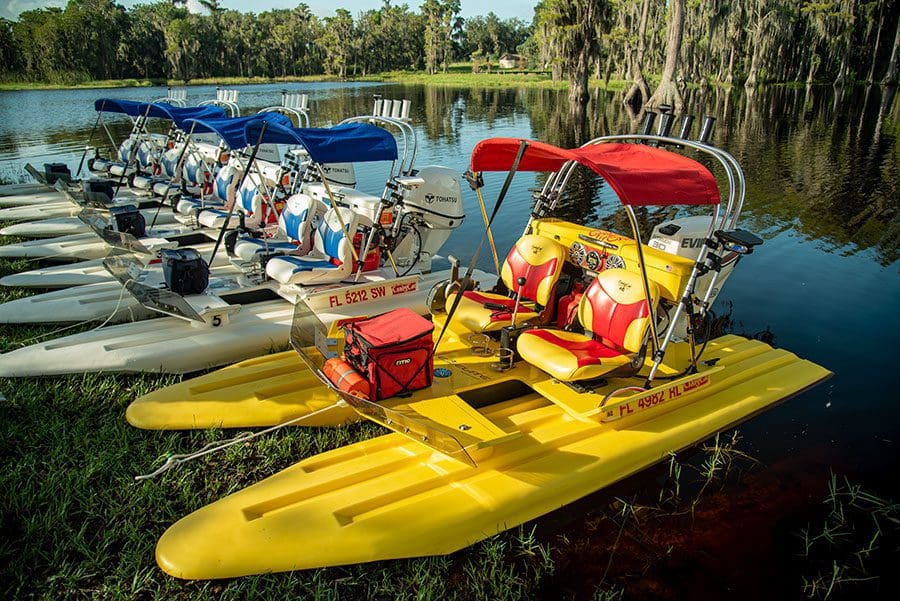 A Clermont boat tour company provides up-close views of the Clermont Chain of Lakes' unspoiled beauty.
Photos: Nicole Hamel
Glen Barclay and Nate Crawford have enjoyed fun and lucrative careers in the entertainment industry. 
As a musician and executive producer of Orlando-based IBA music, Glen has produced live shows for Central Florida's theme parks and provided live music entertainment for private and corporate clients. Nate is a stunt man for Walt Disney World's Indiana Jones Epic Stunt Spectacular show and once spent a year performing alongside Brittany Spears in a circus tour. 
Unfortunately for them, the coronavirus pandemic proved to be a showstopper. But as they say in show business, the show must go on. The two friends decided to become entertainers of a different sort by forming a business partnership and opening a boat tour company. 
Before opening their company, Nate spent considerable time visiting various waterways and lakes throughout Central Florida. When he came across the Clermont Chain of Lakes, he was instantly mesmerized by the unspoiled beauty.
Mirror-like water reflecting the images of clouds and other verdant beauty surrounding it. Massive osprey nests resembling a disorganized pile of sticks are perched on treetops. Ancient cypress trees dripping with lush Spanish moss nestled along the shoreline.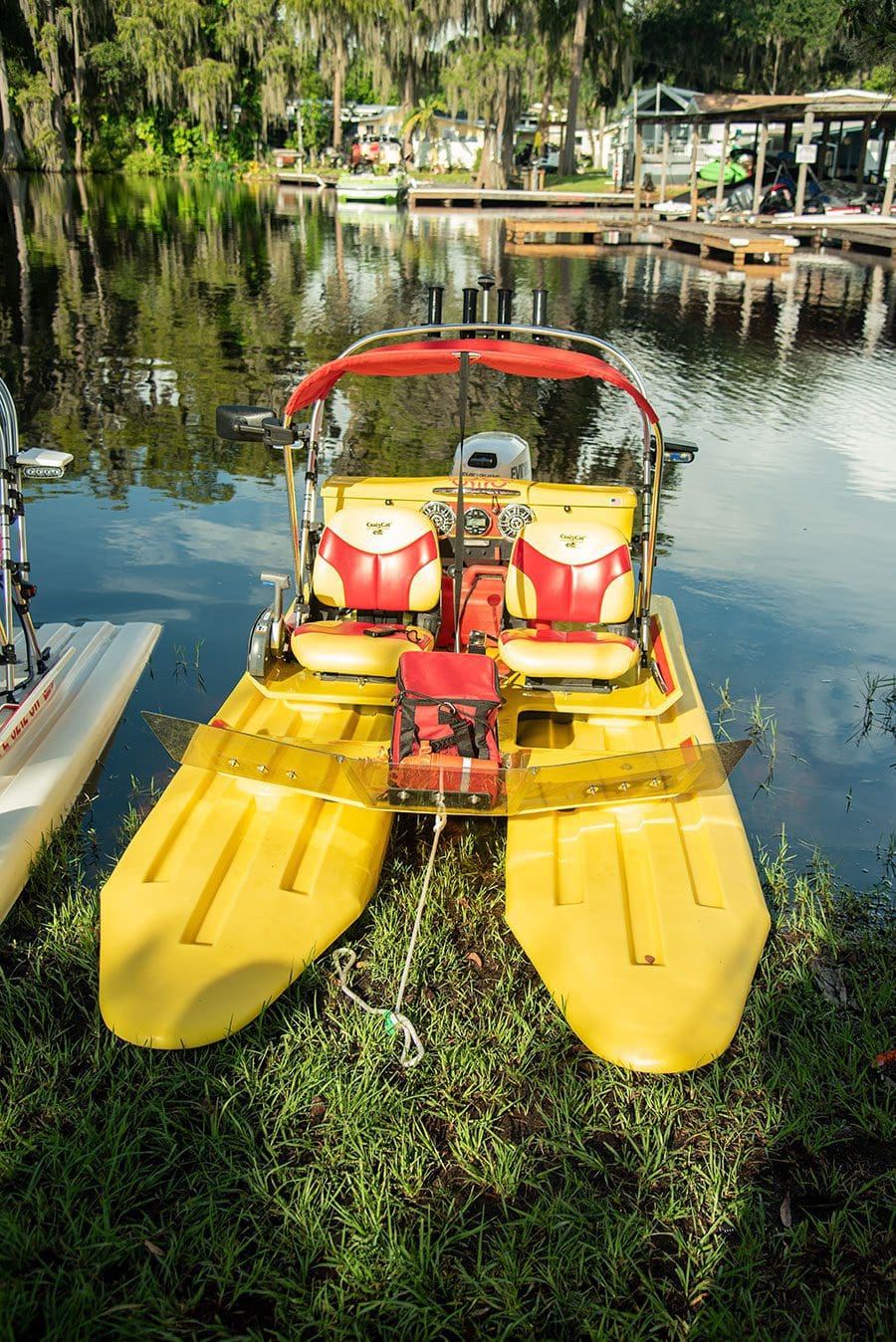 "The Clermont Chain of Lakes is a special place," Nate says. "There is so much natural beauty out here that people have never experienced. I knew this was the ideal place to start our company."
Their company, Catboat Escapes, operates out of Cypress Cove Marina in Clermont. The two-and-a-half-hour narrated boat tour begins on Lake Minnehaha and heads north to Wilson Lake before turning south to Lake Louisa, the largest lake on the Clermont Chain of Lakes. In-between, tour-goers experience the majesty of the winding, narrow Palatkahaha River, as well as Lake Minneola, where Clermont's popular Citrus Tower can be seen in the distance.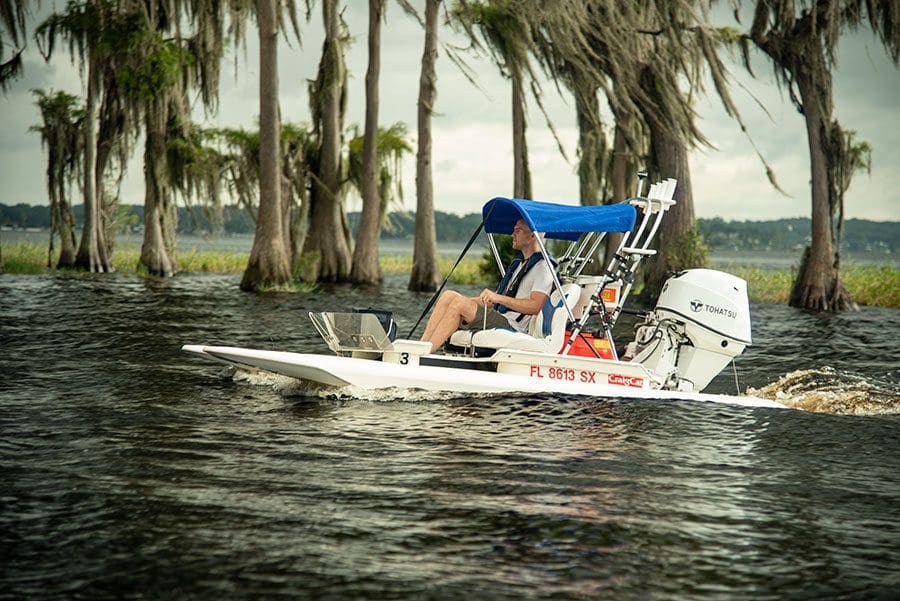 Throughout the trip, guests see towering cypress trees, lily pad-lined waterways, and a variety of flourishing subtropical flowers. Breathtaking views of opulent private homes and exquisite estates sprawling along the shore are also a key feature of the scenic tour. 
"Having a tour boat company gives me an opportunity to perform in a different way," Nate says. "When I point out an alligator and I see a passenger light up with excitement, that really drives me. We've even had Clermont residents who have taken the tour and had no idea all this natural beauty and fascinating history exists here. By having a guide, people are going to experience so much more than if they rented a boat and went out by themselves. I want to blow people's minds."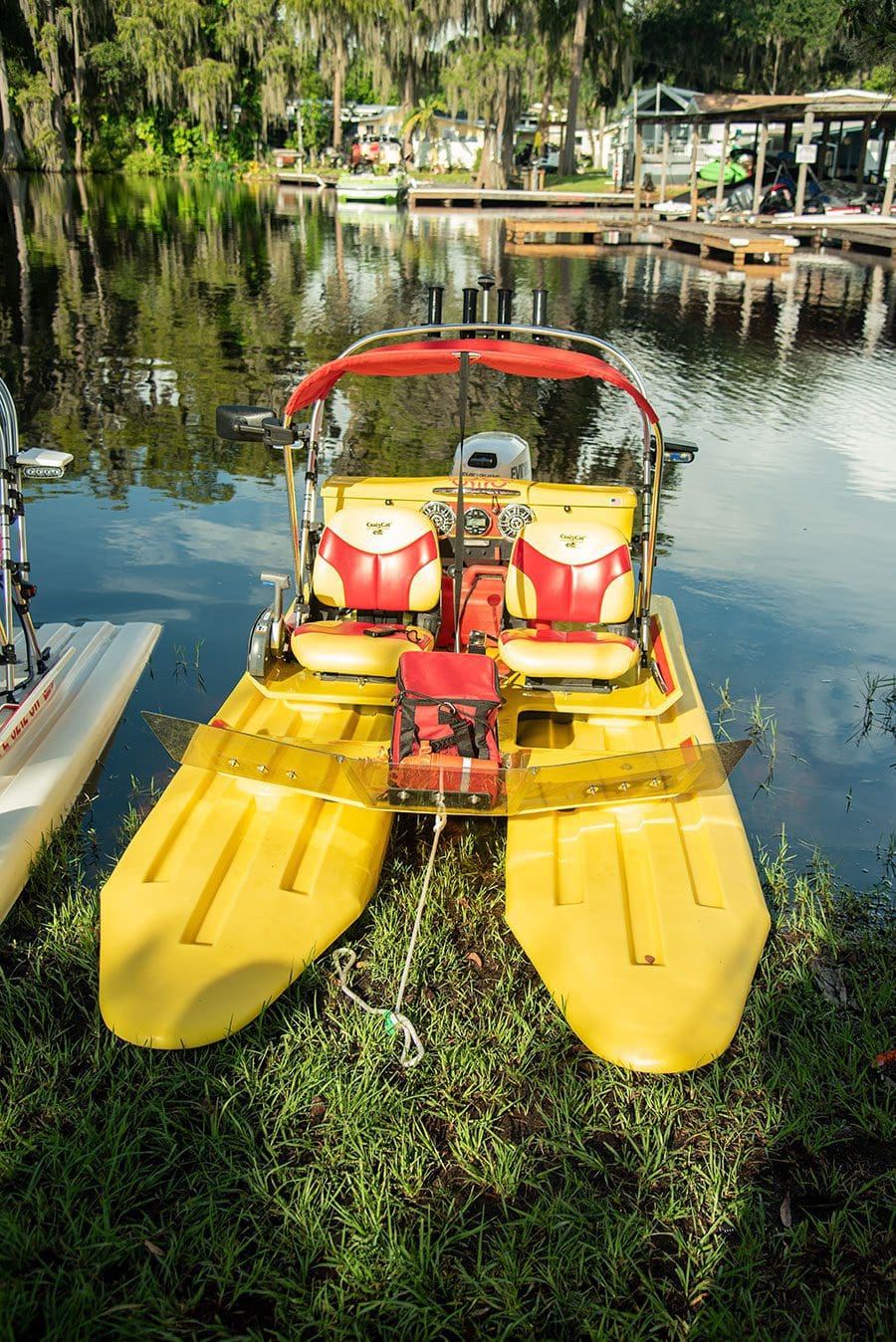 Nate and Glen amped up the fun with their fleet of five mini catamarans called cat boats. These two-passenger vessels feature comfortable bucket seats, a bimini top, and dual pontoons to keep the boat stable and both high and low speeds. Each is equipped with a cooler and dry storage for personal belongings. 
The passenger who sits on the right operates the cat boat. Don't worry, though. The easy-to-operate controls make it a simple task. Right hand goes on the throttle to increase or decrease speed, while the left hand goes on the control stick to steer the vessel. Passengers learn this during a pre-tour safety briefing.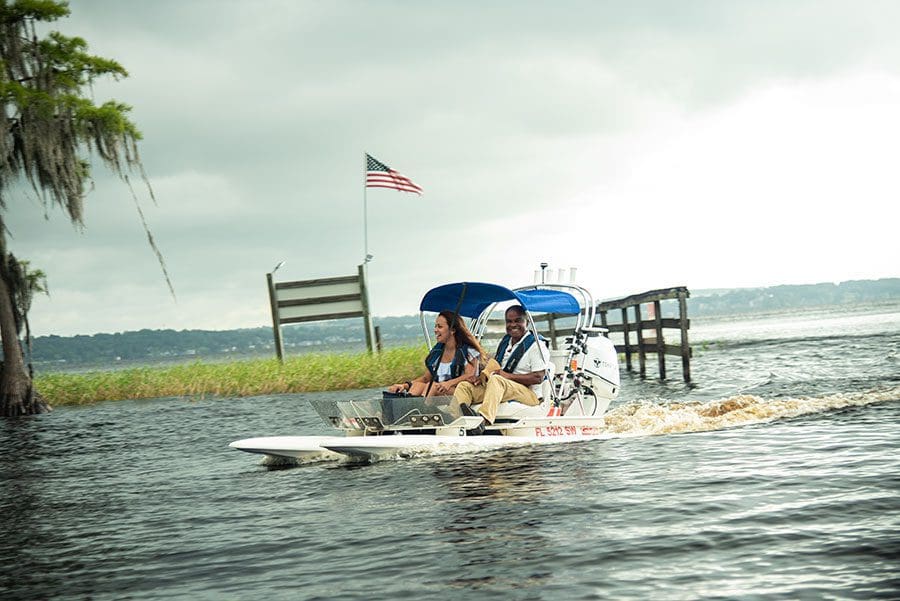 Cat boats have a maximum cruise speed of 25 miles per hour. As they cut through open water, wind to the face and soft splashes of water to the legs will temporarily make passengers forget about Florida's brutal summertime humidity. 
"Not everybody owns a boat, and our tour gives them an opportunity to drive one," Glen says. "Plus, people like getting a little wet on hot days. The cat boats represent a fun way to experience the waterways."
Passengers are equipped with radios, which is how Nate communicates information about the flora and fauna and wildlife seen throughout the tour, as well as interesting facts about South Lake County's history.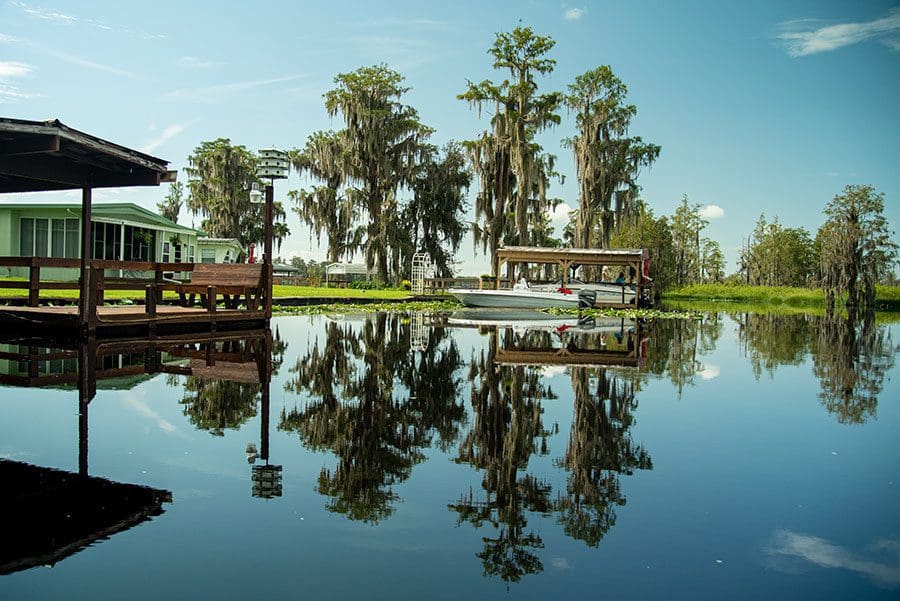 Here's a sampling of what passengers learn:
Some scenes from the 1998 movie "The Waterboy" featuring Adam Sandler and Kathy Bates were filmed on the Crooked River.

 

Lieutenant Dean Gilmore, a decorated World War II fighter pilot, died when his aircraft crashed into Lake Louisa in November 1944.

 

Cyrus Wilson planted the area's first orange grove in the 1800s on an island off Wilson Lake.

 

In the late 1800s, State Road 50, which crosses over Lake Palatkahaha, was a wagon trail. It took 6-7 hours to drive from Clermont to Orlando.

 
Nate also discusses the significance of the 560,000-acre Green Swamp, which he says is the "heart of Florida's aquifer." Because the swamp is situated on the highest point of the aquifer in peninsular Florida, it acts as an underground water tower and is essential to keeping rivers and springs flowing. 
"I want people to know they're in a place of significance," Glen says. "The Green Swamp is the maestro that conducts the flow of water throughout the state and supplies fresh water to much of Florida's population." 
Seeing beautiful sights, soaking up sun, and learning about the area's fascinating history make for an enjoyable boat tour. Best of all, your worries melt away in a matter of minutes 
"When I'm out on the water, I leave my problems somewhere distant on shore," Nate says. 
For more information about Catboat Escapes, call 323.447.6283 or visit catboatescapes.com. 
Akers Media Group's James Combs has been a staff writer for several local publications since August 2000. He has had the privilege of interviewing some of Lake County's many fascinating residents—from innovative business owners to heroic war veterans—and bringing their stories to life. A resident of Lake County since 1986, James recently embarked on a journey to lead a healthier lifestyle. He has lost 60 pounds and walks nearly five miles a day. In his spare time, he enjoys target shooting, skeet shooting and watching his beloved Kentucky Wildcats!
Share This Story!