Attractions: Picturesque ride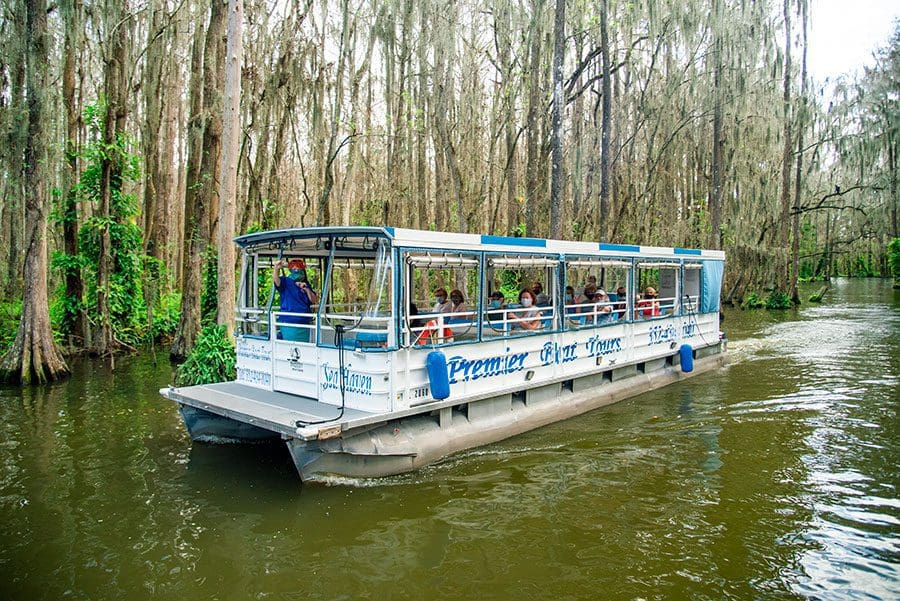 Dora Canal pontoon boats carry passengers back in time to Old Florida.
Photos: Nicole Hamel
Premier Boat Tours' Captain Nate Jordan says "Welcome to the Dora Canal," on a recent warm, sunny afternoon while entering the picturesque waterway that links Lake Dora to Lake Eustis. 
The air turned to a cooler breeze for passengers aboard the pontoon boat while Nate's partner for the tour, Captain Bob Bartlett, steered the vessel slowly under a thick canopy of jungle-type greenery in the wetland swamp nestled between giant Cypress trees draped with Spanish moss along both sides of the canal.
Nate pointed to one of the largest Cypress trees and revealed that a research study found it to be 2,250 years old; the oldest tree in Dora Canal. Passengers, on the two-hour-tour, were also able to see a wide array of wildlife, including sunbathing alligators, a few baby alligators, water snakes, osprey, turtles, bald eagles, white egrets, anhinga, and more. 
"Old Florida" views and feeling the breeze is one way to enjoy a relaxing afternoon or one-hour sunset evening cruise into Lake Beauclair.
The boat cruises drew Tudor Barratt-Scands and his wife Laura to move from England 10 years ago and buy the business. They wanted to live in Florida, and the opportunity to own Premier Boat Tours sparked their desire to fly to Lake County for a week and check out the business. After waiting six months, the couple received a residency permit that allows them to remain in the U.S.
"The Dora Canal was very special and everything that is there," Tudor recalls of his first boat tour. "The Spanish moss was new to us and it was just beautiful going through the canal. I enjoy seeing the anhinga and I think they are just fantastic birds because they are so different; they are always my favorite." 
The anhinga (black for males and brown heads for females) spear fish underwater and once they bring their catch back to the surface, Tudor says, "they have to flip it off their bill and catch it, and it is very cool to watch." 
He says most passengers are eager to see alligators. Bald eagles are also a popular attraction.
Spring is the busiest time of year for Premier Boat Tours, which is celebrating 30-plus years of operation. "In the spring, we may take over 100 people a day," says Tudor, pleased that business has been picking up after being slowed by the coronavirus pandemic. "Hopefully, we will have a decent spring season." 
He's also pleased by repeat business. "It always makes us very happy when we get people coming back; they are so excited to see the same things again on the Dora Canal." 
Passengers have included foreign exchange students from China and Australia, and visitors from all over the world. "You hear it in the accents," says Tudor. "We have a lot of people here from England. At the moment, a lot of people are from Florida and most of our customers live in The Villages. They will come three or four times a year with different visitors." 
He recalls that one customer booked 10 boat tours in one year. 
"For me, this is tour No. 206,011 (and counting)," says Captain Bob, who enjoys driving the boats and being on the water. "And when you have fun people, you have a fun tour." 
Bob also has officiated several weddings on the private boat tours, where the bride and groom select a special spot on the canal to say their wedding vows.  
Captain Nate relishes discovering new critters on the tours and doing research to learn more about them. 
"My favorite are the little green herons; they are super brilliant," he says. "It's exciting because every day going into the canal there is always something different to see." 
Captains Bob and Nate are among seven captains and three crew members with the company. 
---
Premier Boat Tours
100 N Alexander St., Mount Dora
Premier Boat Tours depart from the dock at Lakeside Inn in Mount Dora.

 

The company has two luxury, all-weather pontoon boats and one smaller pontoon, which are regulated by the U.S. Coast Guard. Life jackets are underneath passengers' seats and the company is following social distancing rules.
The boats are easily accessible with one small step. Those with push wheelchairs and walkers can ride on the vessels.

 

The company is open daily with two-hour narrated tours at 11 a.m. and 2 p.m. The evening, one-hour sunset tour departs at 7:30 p.m., and passengers may bring a beverage to enjoy at sunset.

 

Private tours are also available.
Reservations are required by calling 352.434.8040 or visiting doracanaltour.com
Originally from Anderson, Ind., Theresa worked for The Herald-Bulletin for many years. After experiencing a winter with 53 inches of snow, her late husband asked her to get a job in Florida, and they headed south. Well known in the area, Theresa worked with The Daily Sun and The Daily Commercial prior to joining Akers.
Share This Story!